British luxury boat manufacturer, Fairline Yachts, announces its exciting line-up for this year's Palma Boat Show, featuring both new and used Targa and Squadron models together with an immersive 3D virtual reality experience.
Visitors to the Fairline stand will be able to explore the highly anticipated Targa 63 GTO, the first of the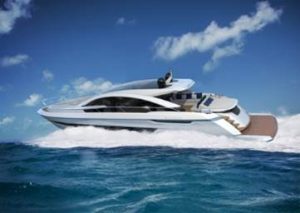 Alberto Mancini-designed Fairline yachts, in a virtual reality showcase that brings the boat to life ahead of its launch later this summer. Back in the real world, the Fairline display includes the new Targa 53 OPEN and Squadron 65 Hardtop, together with pre-owned examples of the Targa 44 and Squadron 50, both popular models on the used market.
Russell Currie, Managing Director of Fairline Yachts, says, "Palma Boat Show is a great opportunity for our two dealerships on the island, Fairline North Mallorca and Fairline South Mallorca, to come together and show what Fairline has to offer. Fairline has started 2017, our 50th anniversary year, strongly, exhibiting at shows in the UK, Europe and the United States, and we are looking forward to continuing the success seen so far this year."
Fairline's impressive line-up of boats on show at Palma Boat Show 2017 includes:
Targa 53 OPEN
Launched at the Southampton Boat Show last year, the new Targa 53 OPEN express cruiser maximizes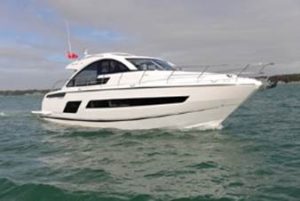 the feeling of freedom and fun on the water by providing uninterrupted entertaining space above decks and in the spacious 2 cabin layout on display in Palma, exceptionally comfortable accommodation below.
This sleek and stylish cruiser is emphasized by an eye-catching, tapered hull glazing that accentuates the dynamic character of this sporty Targa model.
The Targa 53 OPEN offers a choice of two shaft driven engine options from Volvo, offering a minimum fully loaded top speeds in excess of 30 knots and a range of at least 300 nautical miles at a cruising pace. There is also the ability to add stabilization, with the boat engineered to accept a Seakeeper gyroscopic stabilizer, ensuring the highest levels of comfort on board.
Squadron 65 Hardtop
The attractively proportioned Fairline Squadron 65 is now available with a factory fitted hardtop. The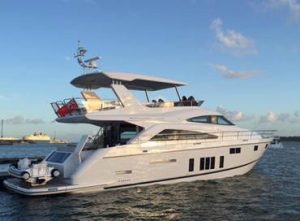 sleek hardtop contains a canvas, sliding sunroof and adjustable mood lighting.

Sumptuous furnishings and hand-worked cabinetry are classic hallmarks of Fairline's Squadron range and nowhere is it more elegantly expressed than in the long, wide single-level interior – a testament to the 65's flat floor design. Having such uncomplicated, single floor levels usually being the reserve of much larger yachts, but Fairline's designers have achieved it on this 65-footer.

The huge flybridge provides ample space with three distinct social areas – a forward cruising chaise longue and sun pad, aft facing sunbeds and a seating/dining area, offering a truly relaxing lounge area to enjoy. Fairline has designed and implemented a number of beautiful interior updates, including an updated galley layout, stone inset and leather panel detailing.

best boat, Best boat buying website, best boat marina website, best boat travel website, best place to rent a boat, boat accessories, boat angler, boat boondocking, boat buyers guide, boat camper, boat camping, boat dealers, boat DIY, boat Fishing, boat Fixer, boat Home, boat information, boat insurance, Boat Maintenance, boat marinas, boat marinas in Alberta, boat marinas in BC, boat marinas in Canada, boat marinas in Manitoba, boat marinas in Saskatchewan, boat marinas in the USA, boat marinas near me, boat products, boat rentals, boat repair, boat road test, boat sharing, boat sites near me, boat supplies, boat Tech, boat tips, boat touring, boat trade, boat Travel, boat traveling, boat travelling, boat vacation, boat vacation cost, boat websites Canada, boating Canada, Boating Canada's Boat Lifestyle Magazine, Boating Lifestyle Magazine, boating website, Canadian marina websites, expert boat information, find a boat dealer, how much does a boat cost, how much does marina cost, how to choose a boat, how to drive a boat, marina products, marina supplies, motor boat, power boating magazine, top boat website, used boat reviews best boat, Best boat buying website, best boat marina website, best boat travel website, best place to rent a boat, boat accessories, boat angler, boat boondocking, boat buyers guide, boat camper, boat camping, boat dealers, boat DIY, boat Fishing, boat Fixer, boat Home, boat information, boat insurance, Boat Maintenance, boat marinas, boat marinas in Alberta, boat marinas in BC, boat marinas in Canada, boat marinas in Manitoba, boat marinas in Saskatchewan, boat marinas in the USA, boat marinas near me, boat products, boat rentals, boat repair, boat road test, boat sharing, boat sites near me, boat supplies, boat Tech, boat tips, boat touring, boat trade, boat Travel, boat traveling, boat travelling, boat vacation, boat vacation cost, boat websites Canada, boating Canada, Boating Canada's Boat Lifestyle Magazine, Boating Lifestyle Magazine, boating website, Canadian marina websites, expert boat information, find a boat dealer, how much does a boat cost, how much does marina cost, how to choose a boat, how to drive a boat, marina products, marina supplies, motor boat, power boating magazine, top boat website, used boat reviews