Thirteen million years ago, glaciers scraped gouges and strips into the granite base that has evolved into the beautiful lakes and rivers of Muskoka. The four main lakes in Muskoka – Lake of Bays, Muskoka, Joseph and Rosseau – were the first area lakes to be explored and developed. As more and more tourists came to visit Muskoka from cities in both Canada and the USA, a multitude of hotels were built along the waterfront to meet the demand. These summer hotels and lodges flourished, and as a result family cottages began being built.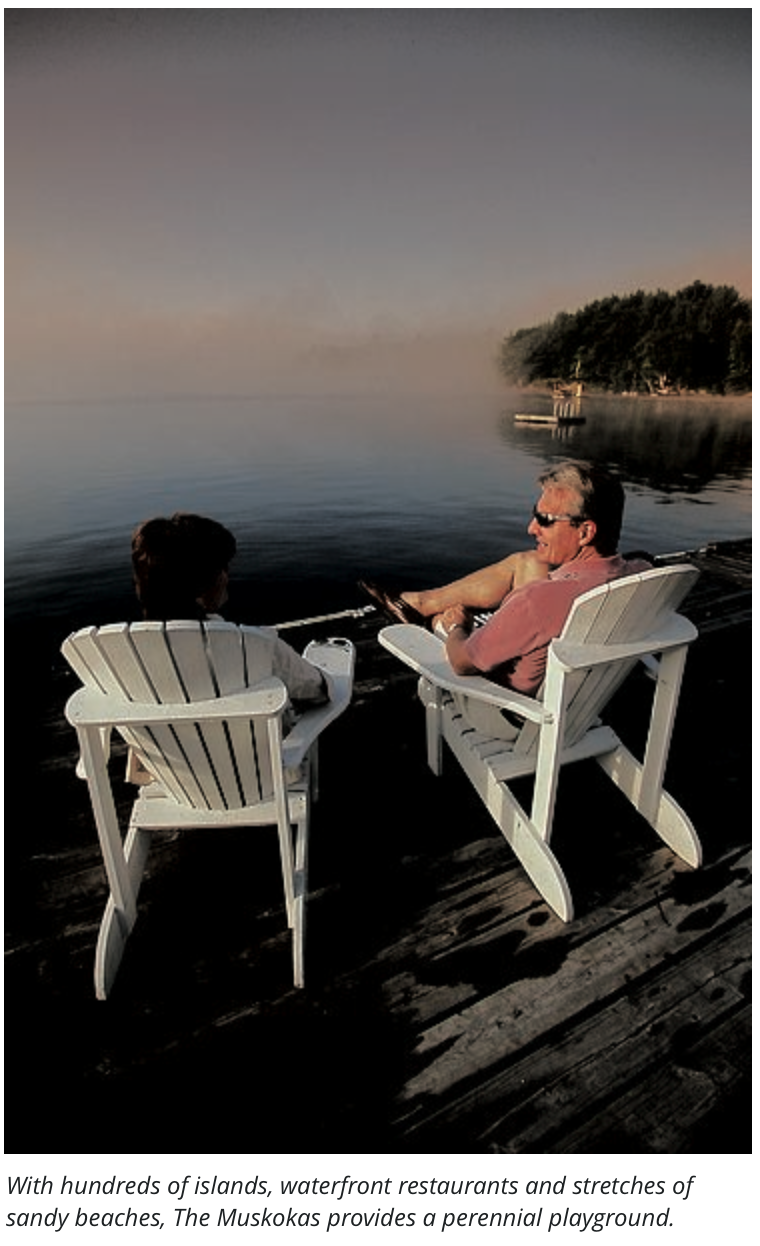 Today, the beautifully restored commercial steamboats and numerous private classic wooden boats that ply the waters help Muskoka retain its' heritage. It's a good feeling to cruise alongside the RMS Segwun in your own boat and wave to the passengers. The combination of new and historic hotels provides many stopping points where you can relax and dine.
Most of these establishments do not require advanced reservations and you can always obtain recommendations and 'local knowledge' from the lakeside marinas. In Gravenhurst, at the south end of Lake Muskoka, The Muskoka Hotel and Navigation Company continues to operate three historical vessels, the Wenonah II, the Wanda III and the steam powered RMS Segwun. These vessels offer visitors a variety of lake cruises that give a sense of Muskoka's history. The RMS Segwun is North America's last remaining commercial coal burning steamship in operation, and still carries the Canada Post designation as a Royal Mail Ship. Watch the crew work in the engine room, then enjoy fine dining as you pass by extraordinary summer homes. Whether it's for a summer afternoon cruise with the family, an intimate sunset cruise with your spouse, or the fall colour tour, you are transported back into yesteryear the moment you board. While in town, the Gravenhurst town dock complex offers plenty of parking for both boats and if you need to launch, there is a ramp to the west side of the docks.
Cruising northeast on Lake Muskoka, you can take a leisurely side trip up the  Muskoka River to Bracebridge. Town docks sit at the base of a large waterfall and a few yards from the main street of town. You can easily spend a couple of hours shopping and dining here. Bracebridge is well known for local crafts and delicious bakeries.
Continuing north, you pass the famous homes of "millionaires row", a favorite with the tourists. Crossing to the west side of the lake you enter the town of Bala. The Bala "Key", originally famous for hosting big bands from Guy Lombardo to Jimmy Dorsey, now features some of today's top rock groups.
At the top of the lake, just north of Seven Sisters Islands, you travel up the Indian River through Mirror Lake, into the town of Port Carling. There are two separate locks – one for small craft and one for larger boats – to raise your boat into Lake Rosseau. You'll want to stop at the new and expanded town docks on the north side of these locks to browse through the shops of Port Carling. Be sure to check out the historical displays at the Muskoka Lakes Museum, located right at the locks. Throughout the summer months you will see a continuous flow of runabouts and classic wooden boats that motor to town for supplies.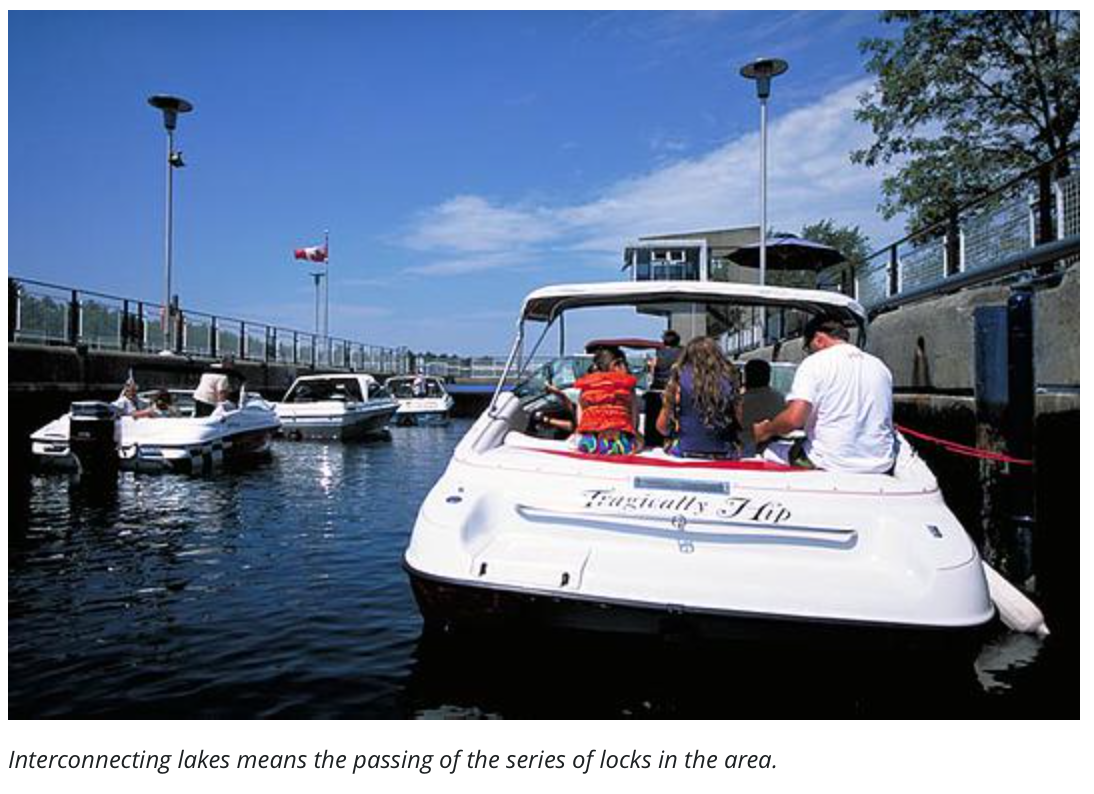 Thirty-five kilometers northeast of these three lakes, the large town of Huntsville, offers everything for the vacationer including a wide choice of excellent dining and shopping. Lake Vernon sits to the west of Huntsville and Hunters Bay to the east leads you into Fairy Lake and further east to Peninsula Lake. Lake of Bays, with its 500 kilometre shoreline although not connected to other lakes offers plenty of interesting stops, with Dwight to the north, Baysville to the southwest and Dorset to the southeast. And you're never too far from a launch ramp in these towns to begin your cruise from.
West of Muskoka is Haliburton County. Visit the popular lookout tower in Dorset to gain an overview of the Algonquin Highlands. You will find Green's mountain, and Minden Wild-Water Reserve, the southern gateway to Algonquin. Haliburton is a holiday haven with hundreds of smaller, more isolated lakes. The area is unmatched in natural beauty and local marinas will give you plenty of ideas as to where to stay or where to set up your campsite. If you're lucky they will even share information on some of their secret fishing holes.
Muskoka and Haliburton are a boater's paradise. Today, thousands of people enjoy the picturesque waterfalls, pine forests and clean air of Muskoka and Haliburton. Whether or not you own a cottage, you can find accommodations and visit one or more of the countless events and festivals in the area. If you own a boat you can tow it to one of many public launch ramps or marinas in the area that are ready to serve your every need. If you don't own a boat, it is easy to rent one as many marinas offer a wide selection of reasonably priced runabouts and personal watercraft. If you prefer a more leisurely exploration, canoes, kayaks and rowboats are also available.
Bill Jennings