Marine 360 is a boat dealer in Saint-Paul-de-l'Île-aux-Noix, Québec. Frederic Thiffault, Marine 360's Co-Owner in charge of the sales department, paints a scenic picture of the area: with around a thousand residents in the municipality, there are more boats than people. Is it any surprise, then, that boating is so ingrained in local culture? Frederic says that countless people go sailing on Lake Champlain and enthusiastically support the marine industry as a whole. There are clearly many in Saint-Paul-de-l'Île-aux-Noix with riveting tales to tell from their time on the water.
One such story comes from Marine 360 themselves. They met a customer last winter in Miami; this man was considering a new boat and came to see the dealer's Galeon stock in March. Discussions continued into the spring, and the gentleman decided to make a purchase. Matters, however, became complicated: the COVID lockdowns hit, blocking this customer from entering the store and sailing off with his purchase. Marine 360 realized it would need a creative new way to deliver its Galeon. Thus began Frederic's journey.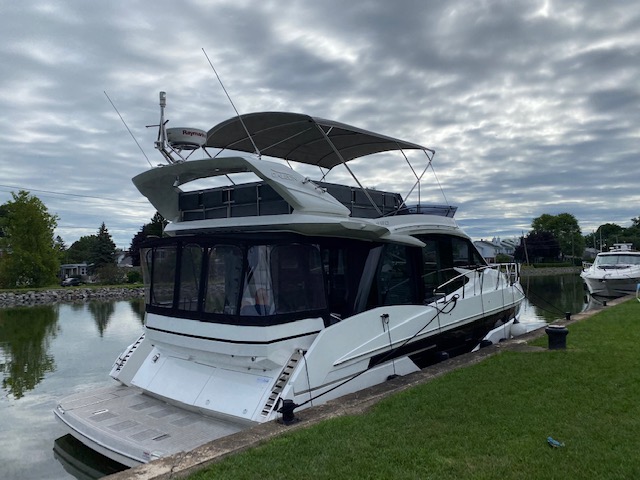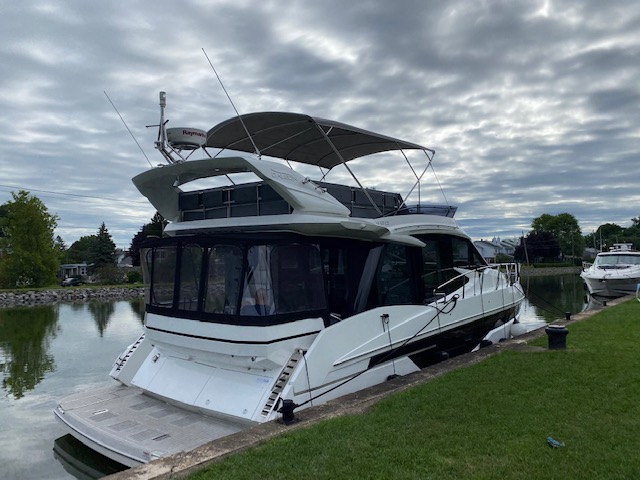 The plan seemed straightforward: if the customer could not come to the Galeon, Marine 360 would bring the Galeon to the customer. The trip would take some time – after all, they were to meet the customer in Newfoundland – but would not be overly complicated for such experienced professionals. Frederic, bringing the Galeon, departed the second week of July. He and his team arrived at the Magdalen Islands within the Gulf of Saint Lawrence after five or six days. From there, it would have been a straight shot to Newfoundland itself.
There was, however, one problem: the crew experienced an issue with the temperature sensor and had to wait seven days for new parts. They were "stuck" on the Magdalen Islands for a week. As Frederic soon learned, however, "stuck" was the furthest thing from the truth. The Magdalen Islands, Frederic says, are the place you want to be when you have mechanical issues. The crew were welcomed by the islanders, given lobster meals every day, and treated with the utmost of cordiality. When it was finally time to leave, Frederic received gifts of lobster and steak. If anything, the pitstop on the islands turned into a welcomed vacation with wonderful hospitality.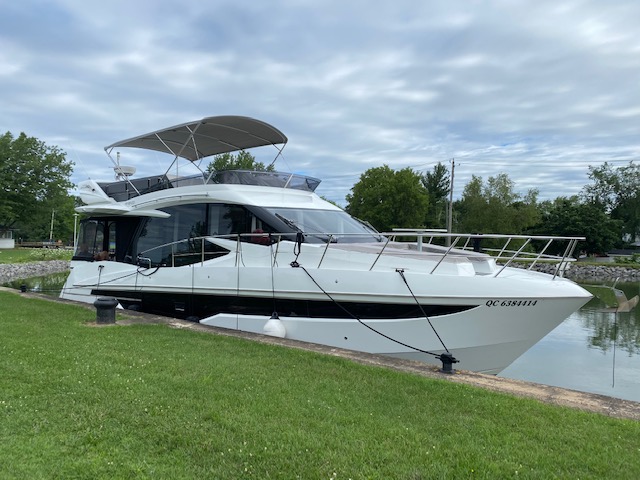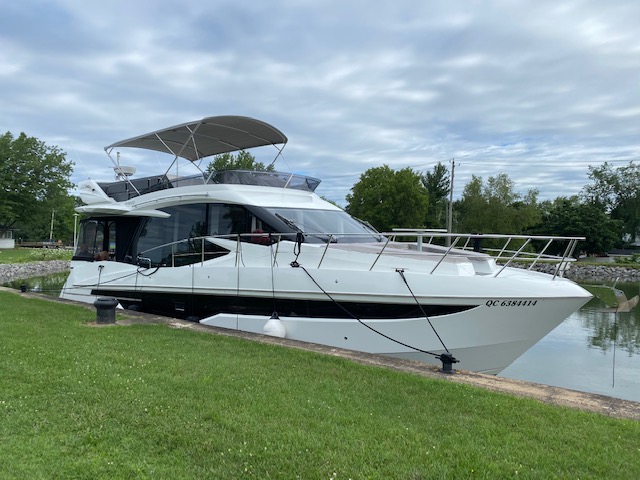 The next leg started, crossing into Newfoundland and seeing journey's end in sight. Yet Frederic's adventure had one more surprise: each marina at which they stopped was out of fuel, meaning Frederic had to order fuel at every checkpoint. Finally, after sixteen days, Frederic delivered the Galeon to his customer's private dock. The boat was well received, and Frederic happily took a plane back home. Despite the challenges, Frederic speaks highly of his trip. The weather was warm without rain or wind, and he saw a few whales and dolphins in the distance. Frederic encourages others to take the journey, travelling up the Saint Lawrence River and stopping on the Magdalen Islands.
Marine 360, meanwhile, continues its adventures. In 2021, they will have the first two Canadian Aquila 44s and the first Absolute 52 and 62 yachts in Canada. Marine 360 plans to pick up an Aquila 44 in New Orleans and deliver it to their customer in Canada, meaning new tales will be sure to sprout. You can be sure that, when all the dust has settled, Frederic and his team will have something fascinating to report.


Absolute, Aquila, best boat, Best boat buying website, best boat marina website, best boat travel website, best place to rent a boat, boat accessories, boat angler, boat boondocking, boat buyers guide, boat camper, boat camping, boat dealers, boat DIY, boat Fishing, boat Fixer, boat Home, boat information, boat insurance, Boat Maintenance, boat marinas, boat marinas in Alberta, boat marinas in BC, boat marinas in Canada, boat marinas in Manitoba, boat marinas in Saskatchewan, boat marinas in the USA, boat marinas near me, boat products, boat rentals, boat repair, boat road test, boat sharing, boat sites near me, boat supplies, boat Tech, boat tips, boat touring, boat trade, boat Travel, boat traveling, boat travelling, boat vacation, boat vacation cost, boat websites Canada, boating Canada, Boating Canada's Boat Lifestyle Magazine, Boating Lifestyle Magazine, boating website, Canadian marina websites, expert boat information, find a boat dealer, Galeon, how much does a boat cost, how much does marina cost, how to choose a boat, how to drive a boat, marina products, marina supplies, Marine 360, motor boat, power boating magazine, top boat website, used boat reviews Absolute, Aquila, best boat, Best boat buying website, best boat marina website, best boat travel website, best place to rent a boat, boat accessories, boat angler, boat boondocking, boat buyers guide, boat camper, boat camping, boat dealers, boat DIY, boat Fishing, boat Fixer, boat Home, boat information, boat insurance, Boat Maintenance, boat marinas, boat marinas in Alberta, boat marinas in BC, boat marinas in Canada, boat marinas in Manitoba, boat marinas in Saskatchewan, boat marinas in the USA, boat marinas near me, boat products, boat rentals, boat repair, boat road test, boat sharing, boat sites near me, boat supplies, boat Tech, boat tips, boat touring, boat trade, boat Travel, boat traveling, boat travelling, boat vacation, boat vacation cost, boat websites Canada, boating Canada, Boating Canada's Boat Lifestyle Magazine, Boating Lifestyle Magazine, boating website, Canadian marina websites, expert boat information, find a boat dealer, Galeon, how much does a boat cost, how much does marina cost, how to choose a boat, how to drive a boat, marina products, marina supplies, Marine 360, motor boat, power boating magazine, top boat website, used boat reviews