Lake Simcoe and Lake Couchiching are the largest lakes on the Trent Severn waterway. Both are long time cottage destinations in the heart of south central Ontario. In the era when the only way to get here was by train, sportsmen would come to the wilderness to fish for the area's active muskellunge, whitefish, bass and more. They'd shoulder their rifles and stalk moose, bear and deer. Today, the moose and bear have trundled farther north but these two lakes still have faint echoes of the north woods with the call of evening loons or the early morning white throated sparrows.
Lunker bass, whitefish and muskie still lurk in the weed beds. Perch and other panfish are so plentiful that it only takes an hour or two to catch a stringer full. The area is also exciting on land with several shore side communities that are great places to visit with excellent dining, entertainment, and shopping – many within walking distance of the local transient boat slips.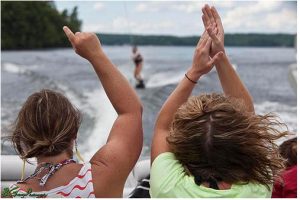 Entering the locks at Gamebridge leads to Lake Simcoe and all the summertime action it has to offer. The largest body of water in Southern Ontario (with the exception of the Great Lakes) Lake Simcoe is nearly round with two large bays, Kempenfelt and Cook's, and while it may only take an hour (or less) to cruise from one end to the other, it's recommended to spend some time and enjoy its several summertime communities.
Boaters heading upstream will first come to Lagoon City, a boater's haven featuring beautiful homes that line its canals. Most have slips as part of their backyard where they moor their boats and there's a nearby full-service public marina.
"Cruising further south leads to a series of communities along Lake Simcoe's southern shoreline…."
While the Atherley Narrows between Simcoe and Couchiching are located nearby to explore, perhaps remain on Lake Simcoe and head southwest toward Beaverton, and enjoy its many antique stores and shops in its nearby downtown district. If you're looking for additional antiques or collectibles, Beaverton is known to host the Annual Antiques and Collectables Show and Sale in June. There's also the local Beaver River Museum and The Old Stone Jail to visit here or stock up on some fresh produce at the seasonal Farmer's Market.
Cruising further south leads to a series of communities along Lake Simcoe's southern shoreline – Pefferlaw, Sutton and Jackson's Point. While there are many services and amenities, of special interest for families and theatregoers is Jackson's Point, which is home to the Red Barn Theatre – one of the country's oldest summer stock theatres where visitors can take in plays and countless other performances throughout the summer.
Leaving from Jackson Point, boaters will round into Cook's Bay where another series of communities are located along the shore. A popular one is Keswick, which is home to three accommodating marinas (two of which offer transient docking) as well as an action-packed shoreline that includes public and private beaches plus the popular Stephen Leacock Theatre. For more adventure, perhaps explore the Holland River, which is located a little further south of Keswick. This easily navigable cruising route leads to Bradford where there's a farmer's market to stock up on more fresh produce. If you happen to notice a large anchor by the shore of the East Branch, it's been there since the War of 1812. A team of oxen dragged it from Kingston, however the war ended before it could be delivered to the British.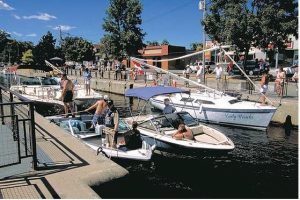 On the west side of Cook's Bay are more communities including Gilford, Lefroy and Bell Ewart where transient cruisers are most welcome with its series of accommodating marinas and several services.
Further north, you round Big Bay Point and head west down into Kempenfelt Bay and into the city of Barrie. The largest community on the lake, Barrie is a bustling port with transient docks and downtown boutiques (with more shopping just a short taxi ride away), a big annual attraction here is Kempenfest – a celebration every August that brings boaters from around the lake and beyond.
From Barrie, cruising north onto Lake Simcoe again leads back to the Atherly Narrows. While this is a busy summertime spot with many docks and marinas, it's hard not miss the diehard anglers wetting their lines in the reeds in hopes of catching that trophy catch.
Once past the narrows, boaters will be cruising onto Lake Couchiching. The largest community on the lake, Orillia recently installed new docks along the waterfront. Full services marinas, shopping and shore side amenities are all near by. Come summer, the area bustles with excitement with its many events such as the Spring Boat, Cottage and Outdoor Show in June and the Orillia Waterfront Festival in August. As a special day trip, try your luck at the local Casino that offers a shuttle service from the port. But, if you'd rather stay out on the water, the sandy anchorage on Big Chief Island is a popular gathering spot. This is native land and burial grounds and thus going ashore is discouraged. Long weekends there usually mean party time!
The trip from here to Georgian Bay west down the remainder of the Trent Severn takes only a few hours, and the channels and rivers that cut their way through the precambrian granite offer peace and quiet along with spectacular scenery. The lock at Washago lies at the north end of Lake Couchiching, under the bridge at Hwy 11 – not a place you'll want to spend the night on the wall. The three remaining locks in the system are some of the most exciting for boaters: Swift Rapids is the deepest lock on the Trent system; the famous and amazing Marine Railway at Big Chute is a technological marvel to this day. If you ask, the kids may be able to assist the lockmasters with opening or closing the hand-operated Lock 45 a at Port Severn. Get out your charts and remember that the bouys change direction as you enter Georgian Bay because from here you're heading upstream towards Thunder Bay.

This area of Central Ontario abounds with events, festivals, concerts, performances and much more. Check out these websites and plan your visit to coincide with one or more.
Kempenfest
Orillia Perch Festival
Barrie
Beaverton
Keswick
Lagoon City
Orillia
Port Severn