It was 1833 when the first lock in what would eventually become the Trent Severn Waterway was opened between Pigeon and Sturgeon Lakes. It took the next 87 years to complete the 240 mile waterway from Trenton on the shores of Lake Ontario, up to Lake Simcoe, and onto Georgian Bay at Port Severn.
Perhaps the best part about the Trent is that it is open to all boats of all sizes because of the relatively protected waters. A days' travel on this historic waterway will have you pass everything from antique boats powered by woodfired boilers, to canoes to paddleboats to large cruisers, family runabouts and even the latest in purpose-built fishing boats.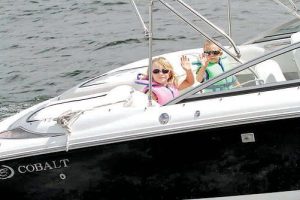 Speaking of fishing, having fresh fish for breakfast is one of the life's little pleasures that you get to experience when boating on the Trent Severn waterway. You'll find fish in all the waters from end to end – pickerel, bass, pike, muskellunge, perch and other panfish. Many boats troll a line as they travel. You'll see kids of all ages hopefully tossing a lure off the lock walls. Serious anglers head to Rice Lake for the monster muskellunge. Wherever you are, all the marinas will be able to tell you where the best local fishing holes are. Many offer tackle and bait to go with the good advice.
If you have a runabout, you'll find suitable waters all along the waterway. Smaller lakes and rivers offer protected waters to explore and municipalities, and marinas all along the way have launch ramps with parking nearby so you can daytravel the Trent Severn by car, launching your boat where the adventure takes you next.
If you have a cruiser or larger motor yacht, you could make the trip from one end of the Trent-Severn System to the other – Lake Ontario to Georgian Bay – in less than a week. However, it's more fun to take your time and stop and shop along the way. Many of the locks are in or near the welcoming communities where you'll find some of the greatest mom-and-pop stores, restaurants, deli's, and of course ice cream stores you could ever wish for. So slow down, take in all the sights and enjoy all the fun stuff.
All along the waterway channels, meandering rivers and their "no wake" zones give way to long stretches of open water. Here you'll find plenty of room to get up on plane, stretch out your engines and enjoy the cooling breeze on your cheeks, so don't rush and please respect the speed limits.
There are several side trips you can take that lead to new adventures. Just around Pleasant Point in Sturgeon Lake, for instance, you can head up the Scugog River to Lindsay and stay overnight to enjoy live performances at the Academy Theatre right downtown all summer long. The next day you can venture a little farther and head to the Scugog River into Port Perry, the birthplace of D. D. Palmer, the founder of chiropractic.
All along the waterway channels, meandering rivers and their "no wake" zones give way to long stretches of open water
Quiet anchorages abound all along the route, but please respect the cottagers privacy. If you feel beckoned by the lights and sounds of a downtown, head over to Peterborough's Little Lake, at the confluence of the Otonabee River and the Trent Severn waterway. There you'll find live concerts, fireworks and a parade of lights on most weekends all summer. All along the Trent waterway you'll find clean, well-equipped overnight docks and always a friendly welcome. Don't miss a chance to ride up and down in the world's largest hydraulic lift lock at Peterborough.
You can swim virtually anywhere the water is deep enough. You'll find sand beaches, rocky shoals, and deep water where the bottom's too far away to see. On those days when no one feels like cooking and the galley fridge is empty, you'll always be able to find a place to eat. Whether it's a quick snack, a hearty lunch or an evening of fine dining, you'll find them all within walking distance, or you can call for delivery right to your boat.
The towns and cities along the Trent Severn waterway all started at the waters edge and grew outward. Today's water highway is strictly for fun, not commerce anymore as it once was, but the waterfront remains a vital part of these town's warm weather life. At Fenelon Falls, you might feel like you're on stage! The canal travels through the downtown and people line the banks to watch the boats come through.
There's also a very popular dairy bar right next to the canal and many in the audience are enjoying their sky-high cones. Throughout this popular summer-escape region,you'll find fishing derbies, regattas and community picnics, fairs, concerts and other gatherings on the docks and in waterside parks. Every weekend is busy and the one closest to Canada Day Weekend brings pancake breakfasts and barbecues and explosions of fireworks across the sky in many communities.
At Buckhorn the annual Wildlife Art Festival and Sale draws art lovers from all over. A little farther upstream, you can take the side channel to Curve Lake Reserve and the Whetung Art Gallery.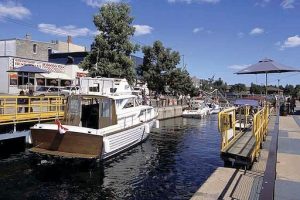 The history of both the construction of the Trent Severn waterway, and the history of the communities themselves is told at nearby museums. In some towns, the history is "live" in restored and reconstructed settlers' homes. At Lang's Pioneer Village on Rice Lake and in Bobcaygeon's Settlers' Village, you'll find a taste of life as it was in centuries past. You can experience life in the 1850s and talk to people who know the history well. You will also find hints of the ancient past, where the original people honoured their spirits and asked for blessings. No matter what vessel you and your family decide to experience the Trent Severn waterway in, it is for sure a trip you'll remember for a long time to come.
This region is home to countless small towns and villages, in addition to modern cities, all nestled into the stunningly beautiful landscape of south-central Ontario.

If there isn't a festival or event in one city the weekend you visit, there is in just the next town over. Visit the websites and plan your Trent cruise to take advantage of everything this area has to offer:
Parks Canada
Fenlon Falls
Hastings
Havelock
Kawartha Lakes Region