Smart Sized – Evinrude is taking aim at the heart of the recreational boating industry with three brand new outboards.
By Bill Taylor
For decades, Evinrude has been one of the big-time players in the outboard world. Along with sister company Johnson, Evinrude developed some of the most memorable motors in history including the first V-8s. For the 2020 model year, Evinrude decided to take things in a different direction with three new outboards rated at 115, 140 and 150 hp, all built on a 1.9-liter inline 3-cylinder aluminum block.
Evinrude introduced the motors to members of the press from around the world at an event that I was honoured to attend as Publisher of Power Boating Canada, at the Charleston Harbor Resort & Marina in Charleston, S.C., in May. After a welcome cocktail reception on May 15, Tracy Crocker, the president of BRP Marine and other key team members presented the new motors to the assembled crowd on Thursday morning before letting us experience them ourselves later that afternoon.
Presentation Notes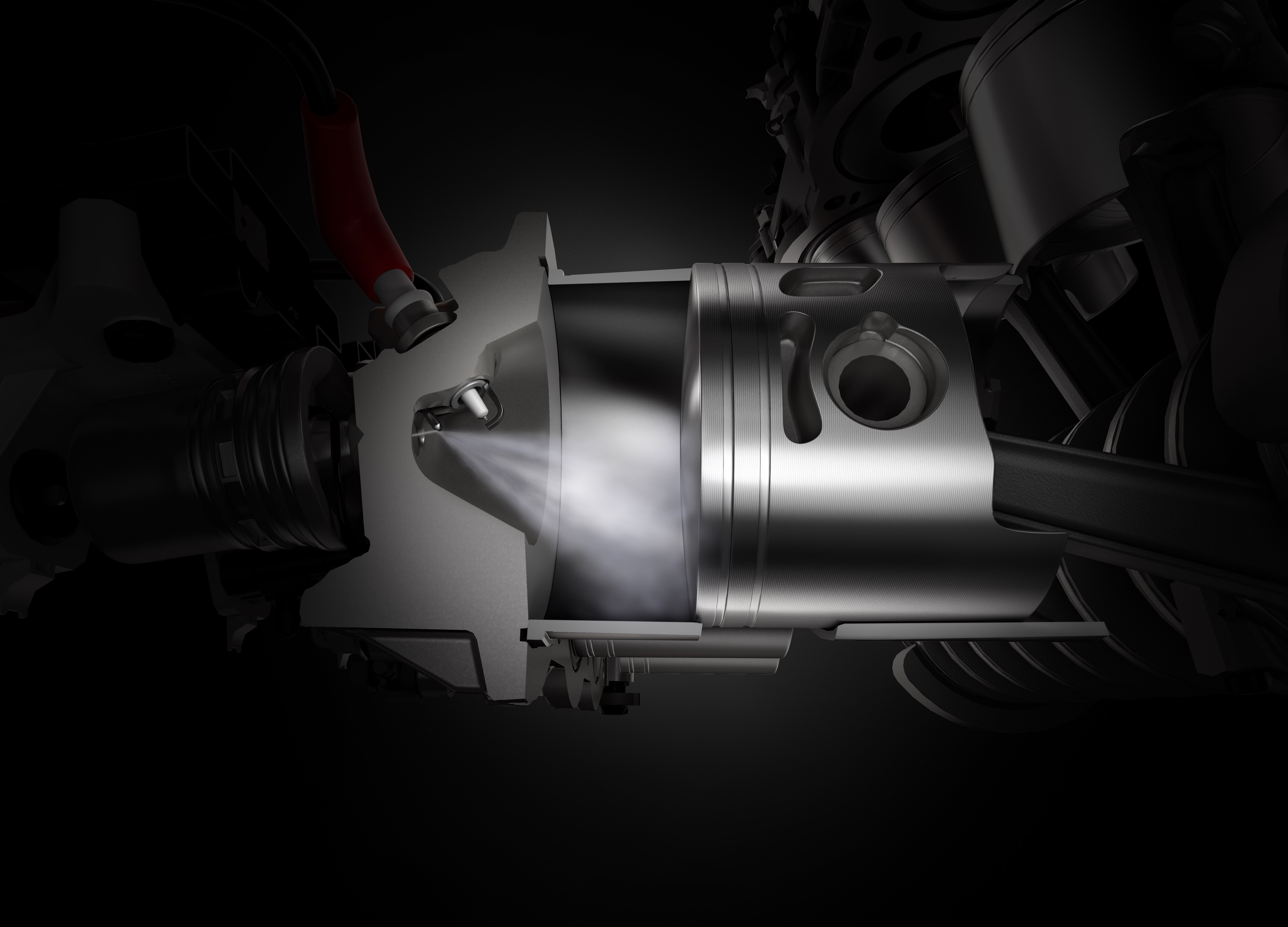 Evinrude designed the new motors to be easier to rig and easier to drive with electronic shift and throttle, automatic trim, digital instrumentation and custom cowling colors. "We're bringing that bigger boat user experience down to smaller boats," says Karl Sandstrom, owner of Sandstrom Marine Consulting and a former product manager for BRP.
Evinrude's all-new in-line three-cylinder all-aluminium engine block has a bore and stroke of 3.854" by 3.25". With a 20" shaft, the 115 HO has an estimated weight of 390 pounds, while the 25" shaft 150hp engine weighs just 430 pounds.
What's truly unique about these engines, is that Evinrude is the only outboard manufacturer using direct fuel injection in a motor of this size range. In this system, each cylinder has its own high-pressure injector and the fuel is broken down into a finer mist in a process called stratification. Evinrude says this results in 30 percent more torque than previous models and between 15 and 50 percent better fuel economy. Emissions with the new motors are 75% lower than their predecessors, according to Evinrude and the company said that if emissions regulations become more restrictive, they can meet those numbers without needing a catalytic converter.
Historically, it can be a challenge to get an in-line engine with an odd number of cylinders to run smoothly, so Evinrude installed balance gears on the top and bottom of the new motors' crankshafts. Think of it like a harmonic balancer on the crankshaft of an inboard or stern drive engine. The lower motor mounts are also set at a 25 to 30-degree angle to dampen vibration.
For gauges, Evinrude offers the Nautilus, a 3.5-inch diameter instrument plus 7.0-inch and 4.3-inch digital iCommand screens. The company has recently made the motors compatible with Simrad and Lowrance. They already have been working with Garmin and in the future, engine information will be displayed on Humminbird and Raymarine/FLIR products.
As far as joystick compatibility, Sandstrom would only say, "Stay tuned."
In the past year, Evinrude has acquired Alumacraft, Manitou and Telwater boats from Australia, all manufacturers of aluminum boats. Crocker said that the aluminum segment is a good place to start for Evinrude to build its market share.
On Water Test

We drove the boats with the now retired USS Yorktown aircraft carrier looming in the background on the Charleston waterfront. I was impressed with the power of these compact motors on a variety of boats that included Zodiac rigid-hulled inflatables, a Stingray 212 deckboat, a Key West and a Blazer single-engine center consoles, and even an Alumacraft with a 115 HO outboard with a tiller handle!
One of the running characteristics of their current generation of E-TECs two-stroke outboards that Evinrude has been challenged by customers to improve on is running noise. Those concerns have been addressed with the new motors. On every boat I drove, the motors were as quiet as any four-stroke I've operated. Additionally, the holeshot and mid-range punch were strong, which should make the motors good for towing watersports and for getting fishing boats on plane quickly.
The new outboards' 1.9-gallon two-stroke oil tank should last for about 50 hours, which is a typical season of use for most people. The midsection is new and no longer has a setback. It can be set up for cable, external hydraulic or available power steering that has to be ordered from the factory. Power steering adds about 25 pounds to the engine weight.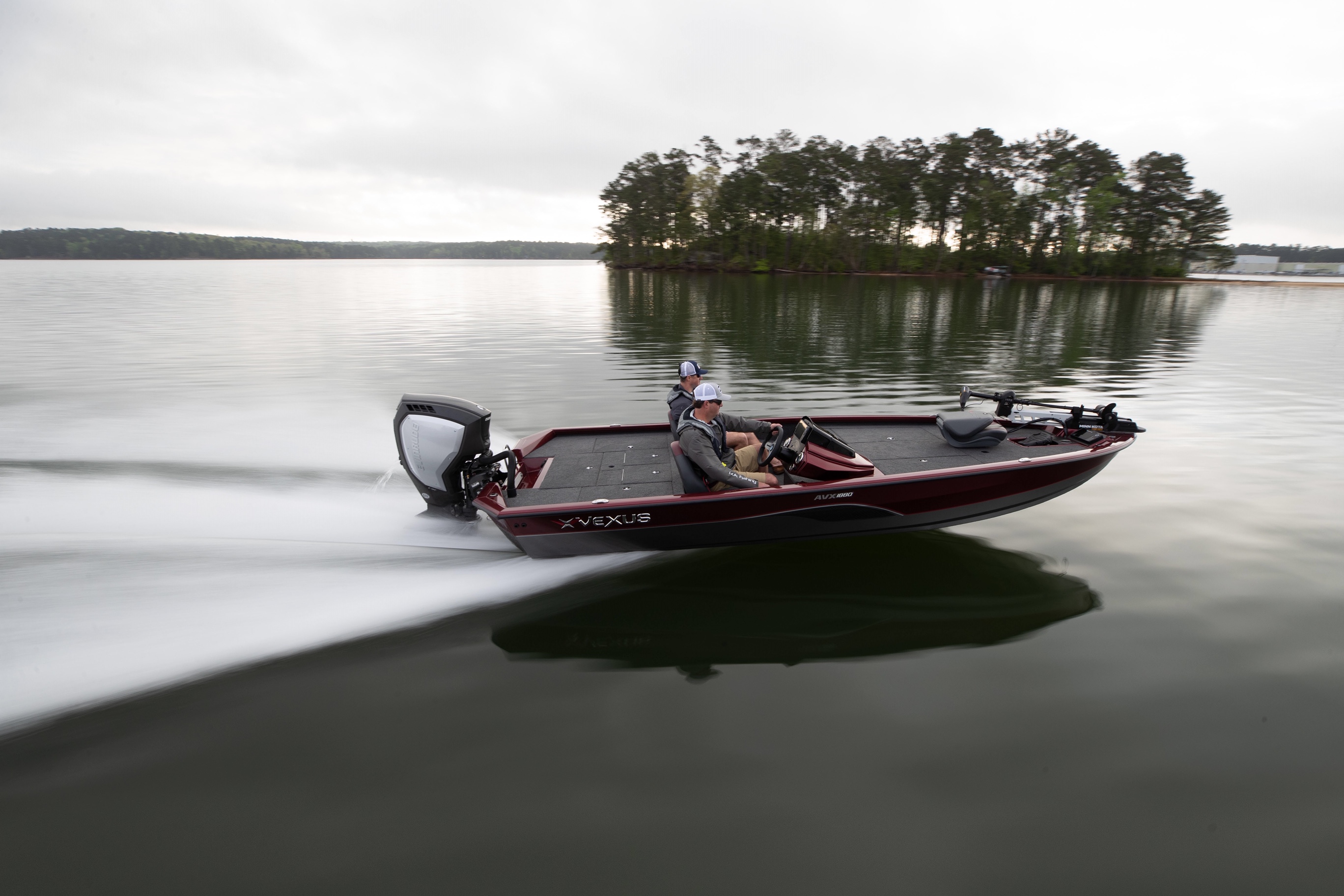 With the more compact design, the new motors can be installed on 26" centers, which makes them a good candidate for twins on a narrow-beam boat. This could make them popular for re-powering on a boat like an older center console for an owner who wants the redundancy of two engines when he heads offshore to do some fishing. Evinrude has also made a sensor plate to convert mechanical controls to digital shifting and it can be retrofitted.
Down low, the gearcase features a new shape and different water pickups. Evinrude has come out with RX3 and RX4 stainless-steel propellers. The RX3 provides more traction in turns and better reverse thrust, while the RX4 is designed for more overall bite for a variety of applications.
Instead of the removable side panels found on the current generation of E-TEC outboards, the new motors have a two-piece cowling that latches at the front. Owners can get the motor in white or graphite and colored side panels are available as an option. Additionally, customers can get the panels in primer and finish them on their own.
Summary
It looks like these new outboard motors – placed right in the heart of the mid-range power segment – could just be the start. Over the next five years, Evinrude plans to make product introductions every six months. Some will be motors and some will be boat specific. Just don't expect them to follow trends set by anyone else.  We'll test them all.
75% lower emissions than before
best boat, Best boat buying website, best boat cleaning supplies, best boat marina website, best boat travel website, best new boat products, best place to rent a boat, boat accessories, boat angler, boat boondocking, boat buyers guide, boat camper, boat camping, boat chairs, boat checklist, boat cleaning supplies, boat dealers, boat DIY, boat equipment, boat Fishing, boat Fixer, boat furniture, boat hacks, boat Home, boat information, boat insurance, boat Lifestyle Products, Boat Maintenance, boat marinas, boat marinas in Alberta, boat marinas in BC, boat marinas in Canada, boat marinas in Manitoba, boat marinas in Saskatchewan, boat marinas in the USA, boat marinas near me, boat products, boat rentals, boat repair, boat road test, boat sharing, boat sites near me, boat supplies, boat Tech, boat tips, boat touring, boat trade, boat Travel, boat traveling, boat travelling, boat vacation, boat vacation cost, boat water purifier, boat water softener, boat websites Canada, boating Canada, Boating Canada's Boat Lifestyle Magazine, boating equipment, boating gear, Boating Lifestyle Magazine, boating website, BRP, Canadian marina websites, evinrude, expert boat information, find a boat dealer, how much does a boat cost, how much does marina cost, how to choose a boat, How to clean a boat, how to drive a boat, how to level a trailer, how to set up a boat, marina products, marina supplies, motor boat, must have boating gear, new boat products, outboards, power boating magazine, top boat website, used boat reviews, water softener best boat, Best boat buying website, best boat cleaning supplies, best boat marina website, best boat travel website, best new boat products, best place to rent a boat, boat accessories, boat angler, boat boondocking, boat buyers guide, boat camper, boat camping, boat chairs, boat checklist, boat cleaning supplies, boat dealers, boat DIY, boat equipment, boat Fishing, boat Fixer, boat furniture, boat hacks, boat Home, boat information, boat insurance, boat Lifestyle Products, Boat Maintenance, boat marinas, boat marinas in Alberta, boat marinas in BC, boat marinas in Canada, boat marinas in Manitoba, boat marinas in Saskatchewan, boat marinas in the USA, boat marinas near me, boat products, boat rentals, boat repair, boat road test, boat sharing, boat sites near me, boat supplies, boat Tech, boat tips, boat touring, boat trade, boat Travel, boat traveling, boat travelling, boat vacation, boat vacation cost, boat water purifier, boat water softener, boat websites Canada, boating Canada, Boating Canada's Boat Lifestyle Magazine, boating equipment, boating gear, Boating Lifestyle Magazine, boating website, BRP, Canadian marina websites, evinrude, expert boat information, find a boat dealer, how much does a boat cost, how much does marina cost, how to choose a boat, How to clean a boat, how to drive a boat, how to level a trailer, how to set up a boat, marina products, marina supplies, motor boat, must have boating gear, new boat products, outboards, power boating magazine, top boat website, used boat reviews, water softener