We asked Alex Sim, the Water Treatment Product Specialist at Arbourdale, to describe the new Huwa-San water treatment solution from Belgium.
With the onset of boat season comes the usual start-of-season maintenance. Boat owners everywhere know that de-winterization can be a time-consuming, tedious and occasionally expensive endeavour, especially when it comes to ensuring the cleanliness of a plumbing system.
Fortunately for boaters, there is a new way to make maintenance safer and easier, with Huwa-San!
Produced by Roam Technology in Belgium, Huwa-San Peroxide is a stabilized hydrogen peroxide solution designed specifically for the safe and efficient disinfection and treatment of freshwater holding tanks and plumbing systems. Huwa-San provides powerful elimination of all varieties of viruses, bacteria, fungi, and algae, ensuring that boat freshwater holding tanks – and the water stored in them – are kept as clean as possible!
However, this powerful disinfection does not come at the same cost as other tank-cleaning products! Because Huwa-San is a hydrogen peroxide formula, it kills 99.9999 per cent of all infectants without creating toxic, corrosive, or harmful by-products. Instead, all that is left behind is water and oxygen! That means boat owners and their loved ones can stay safe with the knowledge that their freshwater tanks have been cleaned using a non-toxic, non-corrosive formula that is safe and organic, unlike the bleach-based products sold for the same purposes!
After the disinfection…
But what happens after the tank is clean?
Well, Huwa-San continues to work to your benefit!
In smaller doses, Huwa-San's disinfecting power is useful for not only cleaning freshwater tanks, but also treating the water stored within those tanks! Thanks to its stabilized formula, Huwa-San is able to last long periods without breaking down, allowing it to continually clean water and keep it fresh as it sits in a boat's tank and works its way through the plumbing system. This means that a little bit of Huwa-San goes a long way towards creating clean, pure and safe drinking water!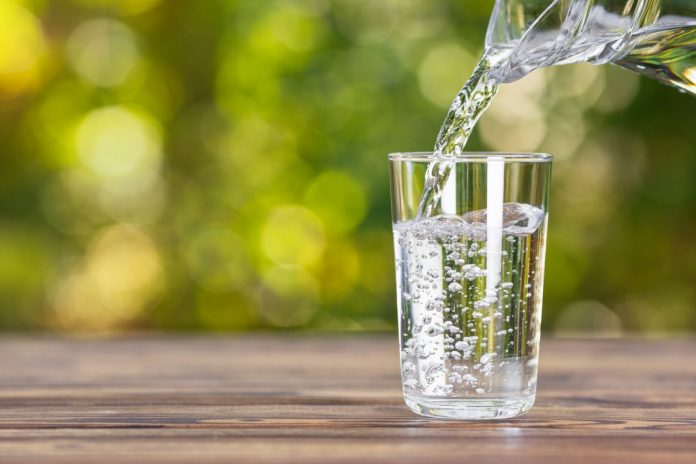 Cleaning freshwater tanks and cleaning drinking water is as simple as adding a little bit of Huwa-San to your tank prior to filling. The Canadian distributors of Huwa-San, Arbourdale, go the extra mile towards simplifying the process by providing an easy-to-use treatment guideline that is adaptable to holding tanks of all sizes.
Additionally, containers of Huwa-San are supplied along with a set of hydrogen peroxide testing strips, allowing boat owners to rest assured that their watercrafts are getting the proper treatment they need for the safest and cleanest drinking water possible. A simple, one-step, one-ingredient solution to water treatment is something that is sure to set any boat owner's mind at ease before a long journey!
Perfect for your boat, RV, cottage, or home…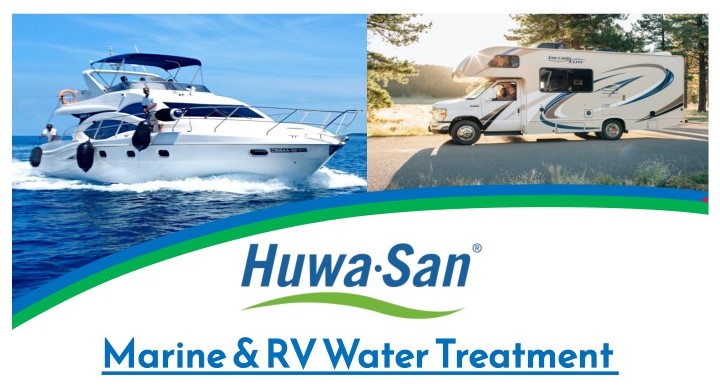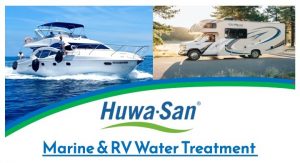 Why buy multiple products for one job, when you can have one that does it all, year-round? Huwa-San's stabilized formula makes it effective at a wider range of temperatures than similar disinfecting products. This means that going on adventures in the coldest winters and the hottest summers won't stop Huwa-San from giving you clean water to drink! On top of that, the stabilized nature of Huwa-San gives it an unmatched shelf-life when compared to other peroxide solutions, so you can rest assured that you will have a safe and powerful disinfectant whenever and wherever you need it!

Boat season is upon us, so while you plan out your adventures, let Huwa-San handle the maintenance of your freshwater system so that you can focus on focus on making memories!

Visit our friends at www.Arbourdale.com to learn more about Huwa-San Peroxide for your boat!

best boat accessories, best boat cleaning supplies, best new boat products, boat accessories, boat chairs, boat cleaning supplies, boat furniture, boat Lifestyle Products, boat products, boat supplies, boat water purifier, boating checklist, boating equipment, boating gear, boating hacks, boating tips, How to clean a boat, how to level a trailer, how to set up a boat, how to stabilize a boat, must have boating gear, new boat products best boat accessories, best boat cleaning supplies, best new boat products, boat accessories, boat chairs, boat cleaning supplies, boat furniture, boat Lifestyle Products, boat products, boat supplies, boat water purifier, boating checklist, boating equipment, boating gear, boating hacks, boating tips, How to clean a boat, how to level a trailer, how to set up a boat, how to stabilize a boat, must have boating gear, new boat products