The following article was written by Harold Shields. It originally appeared in Power Boating Canada Volume 7 Number 1.
It is easy to lose your heart to a seductive beauty like Charmelee, even though she is no longer young, and particularly when you realize that her slim curved shape carries impressive dimensions like 35-feet overall and6′ 6″beam. To Ken MacStephen it was a case of love at first sight when rumors of her existence proved true, and Ken finally saw her revealed in the dim light of the old boathouse that had been her home for many years.
Charmelee II is a 1914 Gilbert, totally complete and original, and restored to perfect condition, obviously happy to be rescued from her long storage, and returned to her natural water environment.
A long-time collector and knowledgeable boatman, Ken was immediately impressed by her extraordinary condition and completeness. It was also only the third Gilbert he had ever seen in his life; a unique launch, one of only seven known survivors from the St. Lawrence River factory operated by father and son which began production before the turn of the century.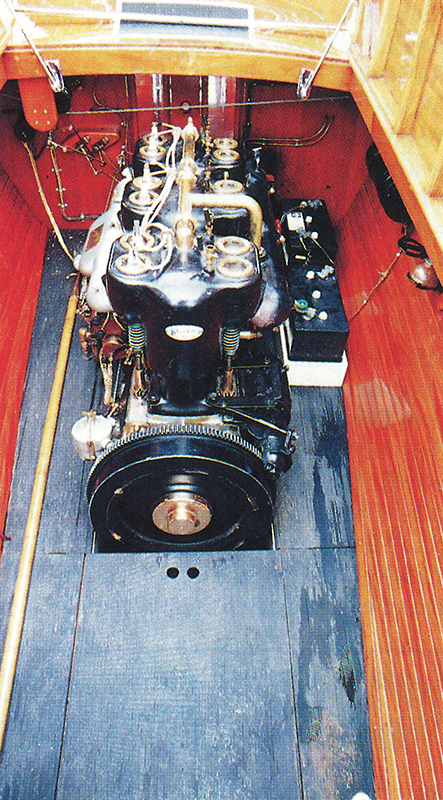 Nelson Gilbert, the father in the building team, was a skilled wood worker who also had experience in foundry work.
His son Fred, born in 1877, grew up in river towns Gananoque and Brockville, where eventually father and three sons all worked for the Canada Carriage Works. While still in Gananoque, Nelson established a sideline business utilizing his woodworking skills in the building of canoes.
Two of his best were shown at Chicago's Columbian Exposition of 1894, where the company was awarded a Gold medal and a Diploma for the Gananoque and the Miss Canada.
In 1977, the owner of Miss Canada traded her in on a new model, still in excellent condition after 83 years of service. Fred Jr., grandson of the builder, and great grandson Christopher are presently planning to refinish Miss Canada in time for the 1992 celebration of the 500th Columbian anniversary.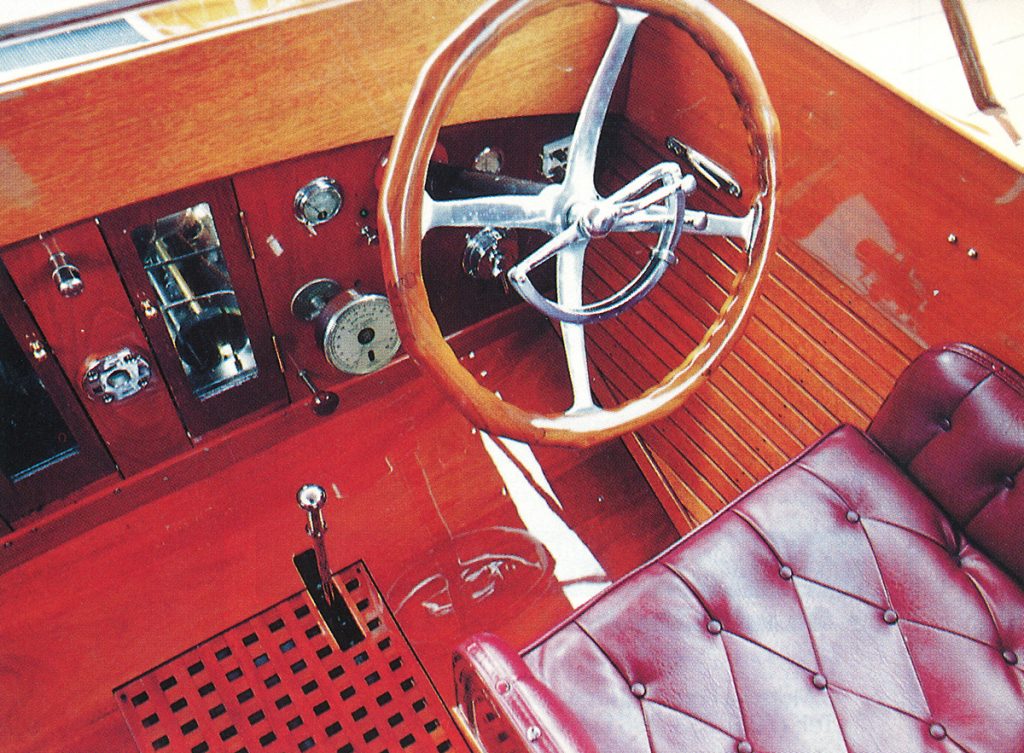 In 1892 the boatyard was moved to Brockville, still adjacent to the Thousand Islands vacation area in the St. Lawrence River, now becoming a favored summer playground for rich Americans and Canadians. Summer regattas featured canoe racing and sailing, and the Gilbert canoes became consistent winners. Fred quickly developed into a skilled competitor, designing many canoes for his own use, and assisting others to maintain their championships.
For many years, the American Canoe Association held its annual regatta at Sugar Island near Gananoque where in 1920 about 250 competitors spent two weeks deciding championships in various classes. Leo Friede of New York City won [first place in seven events using a decked Gilbert sailing canoe. Rolf Armstrong in second place, as well as Thomas Zuk, and Frank Palmer of Connecticut were also using Gilbert canoes].
By 1925, Gilbert success was even more impressive with first, second, third and fourth place wins, with the venerable Leo Friede, in Mermaid, nosing out Ted Coggin of Chicago in another Gilbert canoe. Interestingly, the fourth-place winner sailed Mab, built 30 years previously by Nelson Gilbert.
The advent of the automobile brought the Gilbert company into the production of motorboats where they soon developed an international reputation and clientele. In 1904 the Brockville Evening Recorder described the company as " the originator, designer, and manufacturer of the famous Gilbert Motorboats which are now used all over Canada." Production sizes ranged from 20 to 35 feet, cedar hulls finished with butternut and mahogany.
Smalley engines built in Bay City, Michigan were used, and one of their vessels reportedly "won a gold cup in Toronto for the fastest motorboat in Canada." This event probably marked the design debut of 30-year-old Fred, as the 1907 vessel was named the Smalley, apparently to honour the engine builder.
A series of fast runabouts named Doris I, II, III and IV were built for R.J. Tooke of Montreal. Powered by Sterling engines from 45 to 180 horsepower they were all about 35'x 6'beam. For seven consecutive years these vessels captured the La Presse Cup in a 100-mile regatta held at Lachine, Quebec, with Fred Gilbert driving and a Sterling mechanic tending the motor.
Company literature of the time describes Doris as fast, roomy, comfortable, with seating for twelve, and operated exactly like a motor car with auto wheel and dashboard. Dyke's Instruction Number Three published in 1915, illustrates Doris lV powered by an eight-cylinder Sterling150/180 hp. engine. Everyday speed is stated to be 35 mph.
World War I intervened in Fred's career, with service in the Royal Navy from 1915 to 1919. Following courses in navigation, gunnery, and engineering, he commanded a submarine chaser in the famous Dover Patrol, participated in the battles at Zeebruge and Ostend, and returned to Canada as a Senior Lieutenant, RNVR.
Navy experience with larger vessels eventually led to construction of larger custom pleasure craft in the twenties with Carryall, a 40-foot sedan, being built for Andrew Mellon, banker, and former Secretary of the Treasury. For Colonel Victor Sifton he built the Skylark, a 60-foot double cabin cruiser, the largest craft of its type at that time.
Earlier, Insurgent, a 40-foot racer was built to defend the Gold Challenge Cup held by the Thousand Islands Yacht Club, while Kathleen, a 35-footer in cedar was designed for the 100-mile event at Lachine. Powered by a 100 hp Scripps engine she reached speeds of 30 mph in1910. The bread-and-butter model in1911 remained the 30-foot runabout with five-foot beam capable of 25 mph, and many wealthy customers ordered these fast boats for use on Lake Champlain, the St. Lawrence River, and the Muskoka Lakes.
In 1914, Charmelee II was built as an elegant day-cruiser, with comfortable leather seating for eight, a canvas auto top, a folding windscreen, and other deluxe appointments. Her 35-foot length offered a smooth ride on inland water sand her Sterling engine provided cruising speeds of 15-20 mph with a top speed of 26 mph. Nothing is now known of her earliest years, nor of the origin of her fascinating name.
In 1925, she was bought by Dr. Robert C. Griffith and transported to his summer home at Griffith lsland on Stoney Lake, a rock-studded vacation paradise, part of the Kawartha chain and the Trent canal system. Here she saw regular but limited service until the death of Dr. Griffith in 1935.
Then began her first period of extended storage which was to last until 1950. at the Brown Boat Company in Lalib field.
Dr. Griffith's son Barrett had her brought back to her island boathouse for a brief period in the fifties but his career in New Jersey allowed him little time for the annual needs of a major vessel. A second long period of storage at Gordon's Marina in Bobcaygeon followed with Ken MacStephen discovering her in 1985.
Ken vividly recalls his first encounter with the dust-covered beauty.
"When I recovered from my original shock, I was amazed to find how complete and original she was. Despite years of neglect, she was in extraordinary condition, very little wood needed replacing, all her mechanical systems were intact, her deck hardware was all there, in fact the only complete replacements needed would be the canvas top and her leather upholstery.
I knew she was unique, only the third Gilbert I had ever seen, and a rare example of a pre-World War I passenger launch. I was immediately committed to restoring Charmelee to her original beauty."
That restoration began in 1987 at the Campbellford boatyard of the Clarion Boat Company, well-known as restorers and the builders of a modern gentleman's racer the 25-foot Gold Cup designed by Steve Killing. When relaunched in July,1988, CharmeIee had truly been re-born.
Dwight Boyd of Clarion had completely rebuilt her, replacing only a very little wood, fashioning a new one of the wooden hoops that supported her roof canvas, rebuilding her original Sterling engine, a model B 50/85, 970 cubic inch T-head 6cylinder, and applying eight coats of varnish inside and out.
Her badly rotted canvas top had served as a pattern for the new covering, and her cracked leather seats were also used to duplicate the diamond pattern in her new wine coloured leather upholstery. In the careful stripping-down process of reconstructing the seating, an interesting discovery was made.
A woman's name and a 1914 date were found penciled on a seat back and thought to be a good luck wish from the original upholsterer.
Under her long foredeck, a conical-shaped, baffled, copper gasoline tank,5.5 feet long, holding about 40 gallons, was removed, inspected, subjected to minor repairs, and reinstalled. In here engine room the aluminum floors were also carefully removed, cleaned, and replaced in position. Fully lined in planked cedar, this spacious compartment offers roomy access to the Sterling engine, plus storage area for fenders and deck lines.
Starting this ancient engine requires a thoughtful priming procedure which is wondrous to watch. Mounted atop each of the six cylinders is a priming cup which must be filled from a small container of gasoline.
As each cup is filled, the turn of a valve handle allows the gasoline to drain down into the cylinder. Originally a chrome plated crank was then fitted to the engine through two plate glass doors installed amid ships in the firewall near the driver's feet. The6 volt Bosch dual ignition system was switched to "coil", the engine cranked, and after starting was switched to "magneto".
Sometime in the twenties, a starting motor was fitted to end the probably dangerous hand-cranking, but the original crank is still carried and could be used today, if necessary.
The Sterling engine is remarkably reliable, rumbling into life following Ken's careful repetition of the exact starting procedure. Her slow revolutions seem to demonstrate an old-time reliability as she appears to be able to cruise forever at 700 rpm, cruising at about i5 mph, while her top revolutions of 1000 will produce a smooth ride at26mph, with almost no detectable change in hull attitude.
Underneath her vee-shaped transom, a 22″ x 32″, three-bladed propellor converts the torque delivered by a 15-foot-long steel shaft of two inches in diameter. Above the water a huge Canadian red ensign of I9I4 style flies majestically from a varnished staff, the large size being true to her appearance in vintage photographs.
Her launching on July 31,1989, was necessary for Charmelee to motor to her first scheduled appearance at the Clayton, New York, annual show, where she arrived on her own bottom, via the Trent Canal and Lake Ontario.
After winning top honors in the high-speed launch class, Ken then proceeded via the Rideau canal to the Ottawa show of the Manotick Boat Club where she again was a winner in her class.
Back again at her home waters in the Bay of Quinte near Picton, she had covered some hundreds of miles, passed through 107locks, operated more than 100 engine hours, all in her first summer since refurbishment.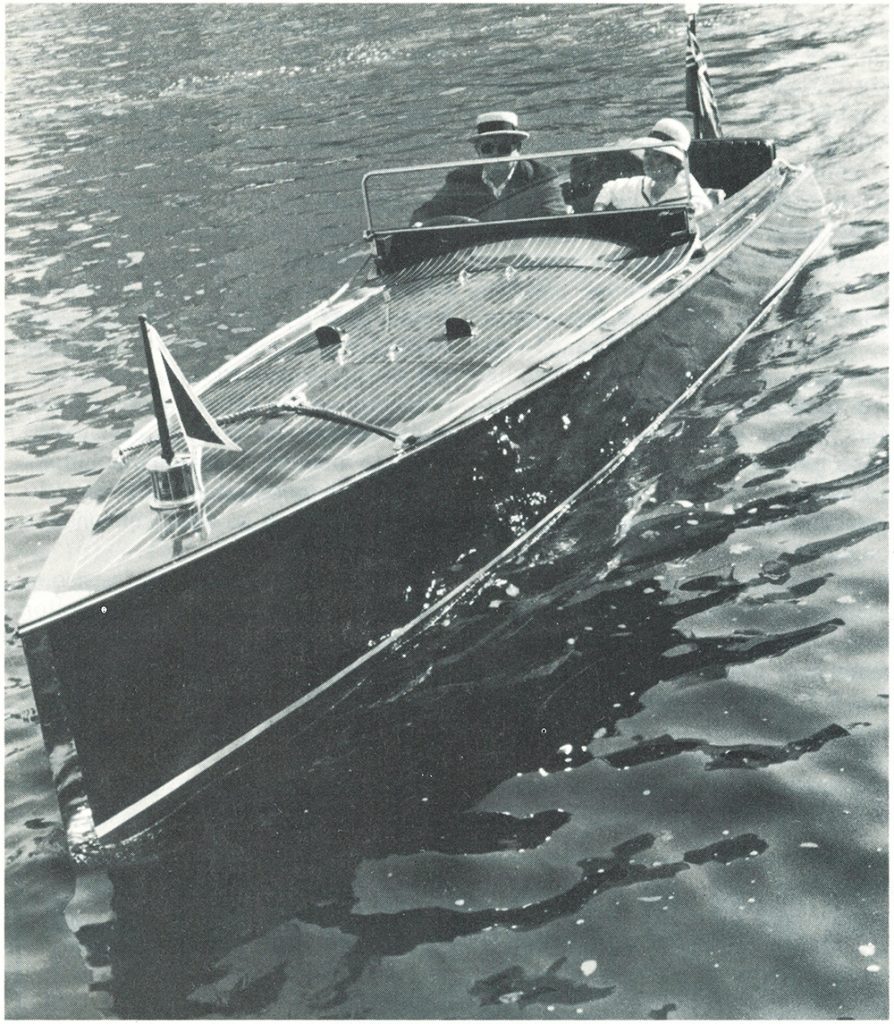 From the driving Position her long varnished deck stretches forward seemingly for yards, bridging several waves, and rising only imperceptibly as her speed increases. Her eight passengers lean back in leather armchair comfort as he rushes effortlessly through the water, her cutwater slicing through the waves, and her 4300 Pound displacement smoothing out her passage.
In a concession to modern comforts, an insulated drawer was installed under a starboard side seat aft, where a cruise-size supply of cold drinks can be carried. This is, of course, exactly what Charmelee was built to do; elegant day-cruising, in superb comfort.
She is one of only a few examples of the Gilbert production of narrow round-bilged launches. On April 1, 1923, a fire swept through the factory, destroying the building and its contents. Fifteen motorboats of various sizes, 10 belonging to Private owners, were consumed in the inferno. Nine completed racing canoes along with six more in construction, all destined for the American Canoe Association annual regatta at Sugar Island, were victims of the flames.
Yet, all but one owner was covered by insurance, and the plant was rebuilt in time, surviving to this day as a marina on the Brockville waterfront. In 2019, Gilbert Marine also faced struggles to stay afloat during devastatingly high-water levels.
By 1928 the day of the custom-designed displacement launch was ending, and the stock market collapsing the following year reduced the market even further' Fred Gilbert, sensing the market change, developed two new designs – a 19-foot and a 2 1-foot vee-bottomed runabout, both of which could be built from the same patterns and the same wooden form. This was the start of a successful production that ensured the company fortune, until 1939 again brought world conflict and ended peacetime prosperity.
These twin cock pit forward turnabouts were built in the Gilbert tradition of the finest materials, mahogany planking, oak stems, fir chines and keels, butternut frames, cedar inner planking, elm for intermediate stiffeners with brass or bronze fastenings.
A double-bottom design, they featured an inner diagonal planking of cedar, a layer of embedded canvas, and mahogany longitudinal outer planking. This honest construction, plus the workmanship for which the factory was famous, gave these runabouts an enduring reputation as the best in the area.
Following Fred Gilbert's death in1945, his brother Merril, then 66, responded to several requests for. -21.-footers, by building six more in which the stem, originally quite straight, was raked forward into a more pleasing and modern line.
His retirement in 1950 marked the end of boat production, but the Gilbert business remains as a full-service marina to this day with Fred Jr' and son Christopher still carrying on the marine tradition of this Thousand Islands boating family.
A Gilbert launch is a wonderful rarity. an echo from the past, but thanks to the dedication of People like Ken MacStephen a few magnificent examples have survived.
Says Ken, "Charmelee has character and soul. She was built by the hand, heart, and eye of a craftsman, and she was built in wood, a natural material that is elegant and graceful. She stands a tribute to her builders and will remain a joy for years to come."
The legendary Harold Shields was part of Power Boating Canada writers' team since its inception, as well as he sat on the Power Boating Canada editorial advisory board. He was the founder of the Toronto International Boat Show and is an honorary life member of the Canadian Boating Federation.
1914 Gilbert, 21-footers, American Canoe Association, Antique, archives, beauty, Belle, boat, boat builder, boat building, Boat Restoration, boat review, Boating, boating life, Brockville, Canada, Canadian Boating Federation, Canadian Boating Society, Charmelee II, Chicago, Columbian, Columbian Anniversary, Custom, custom boat, custom boat design, custom design, elegant, Engine, From the Vaults, Gananoque, Gilbert, Gilbert Canoe, Harold Shields, History, Magazine archives, manufacturer, marina, Miss Canada, Motor, Old, old-fashioned, power boat, power boating, Power Boating Canada, powerboating, re-run, Restoration, River, river town, success, the roaring 20s, Toronto International Boat Show, Vee-shaped