By Discover Boating – special to Power Boating Canada Magazine 
The boating lifestyle offers an experience like no other recreational activity, bringing boaters closer to nature in a unique environment that fosters social connections and memories that last a lifetime.
Making sure you boat safely is something every captain wants to handle as easily as possible.  The rules and guidelines for boaters are designed to contribute to a safe and positive boating experience, but with myriad regulations it can seem daunting. The good news is there's finally a comprehensive app to help make that job easier for the Canadian captain and crew.
Just launched in Canada, it's the Discover Boating Safety app. If you're a boater in Canada, you will want to download this free bilingual app from the Apple or Google Play stores.  Visit www.DiscoverBoating.ca/Boat-Safely  for direct links to download the app.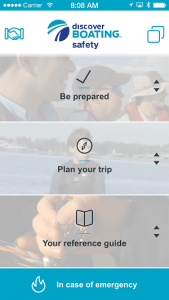 Indispensable to the Canadian boater, the new app features everything you need to ensure a safe and fun time on the water, no matter where or how you go boating. An interactive and easy to use source of information, it covers a range of regulations, guidelines and best practices that make being prepared easier so you can focus on fun.
Most content in the app is easily accessible whether or not you have access to the internet when you're on the water.  And, it's organized for ease of use into four basic areas; 1. Be Prepared, 2. Plan your Trip, 3. Reference Guide and 4. Just in Case of Emergency. Here's what you'll find in each section:
Be prepared! This pre-boat launch section provides several handy checklists to help make your departure a breeze. It provides the minimum legally required safety equipment you need on your boat (no matter the boat type or length), passenger briefing notes, basic boating safety suggestions, a handy trailering checklist and more.
Why not get a double check that everything on board is ship shape? Links are included to request a free boat check from the Canadian Power and Sail Squadron. A volunteer from their national network will visit your boat and provide a free review ensuring you are ship shape before your ship out.
Plan your trip! Before you leave land, every boater knows to check the weather first. With guidelines on what to look for, links to active online marine forecasts as well as national radio and phone services, you can easily check the latest weather before you go. With that done, it's time to create a float plan.
A float plan is a brief summary with details of your boat, crew, destination and ETA.  This app guides you through an easy to use interactive tool that helps you build a plan for every trip, and easily share it via email with someone you know on shore before you go. If something unexpected happens, that person can email your float plan to notified authorities to help find you and your crew. No one likes to think about things going wrong but a little planning can go a long way. It also includes a variety of on-water resources, nearby marinas and more.
Reference Guide! Filled with everything from lifejacket basics to visual references for navigation buoys and more, this section has the most information and is an encyclopedia you will reference time and again. It includes links to rules and regulations and best practices for a variety of topics.
You'll also find tips on green boating and boater's etiquette just to get you started. In addition, a list of activity guidelines, starting with boating with kids, how to load your boat properly, and boat safety in the marina are included. Tips and tricks for boat handling to improve your anchoring and docking basics round out the handy information at your fingertips.
Our favourite section features all the Canadian Aids to Navigation, making it easy to match a buoy or beacon and quickly check on the description and definition for each.
What do to in an Emergency! This section includes safety procedures as well as contact numbers for Search and Rescue, RCMP, and most municipal marine police units. We encourage you to review all aspects of this section in advance so  you have an idea of what you need to do, just in case.
The Discover Boating Safety app is a 'must have'. It takes care of all your safe boating needs before you leave shore. Best of all, the majority of this content is available on your phone whether or not you have cell or internet access.
With a little preparation on land, you can get prepared to boat safely, allowing you to focus on having fun and making memories to last a lifetime.
Visit www.DiscoverBoating.ca/Boat-Safely for details and links to download the free Discover Boating Safety app from the Apple and Google Play stores. Boat safely from port to port.
best boat, Best boat buying website, best boat marina website, best boat travel website, best place to rent a boat, boat accessories, boat angler, boat boondocking, boat buyers guide, boat camper, boat camping, boat dealers, boat DIY, boat Fishing, boat Fixer, boat Home, boat information, boat insurance, Boat Maintenance, boat marinas, boat marinas in Alberta, boat marinas in BC, boat marinas in Canada, boat marinas in Manitoba, boat marinas in Saskatchewan, boat marinas in the USA, boat marinas near me, boat products, boat rentals, boat repair, boat road test, boat sharing, boat sites near me, boat supplies, boat Tech, boat tips, boat touring, boat trade, boat Travel, boat traveling, boat travelling, boat vacation, boat vacation cost, boat websites Canada, boating Canada, Boating Canada's Boat Lifestyle Magazine, Boating Lifestyle Magazine, boating website, Canadian marina websites, expert boat information, find a boat dealer, how much does a boat cost, how much does marina cost, how to choose a boat, how to drive a boat, marina products, marina supplies, motor boat, power boating magazine, top boat website, used boat reviews