When it comes to big game fishing, the Bahamas are arguably some of the greatest waters in the world. The crystal-clear ocean is home to prized big game fish including mahi-mahi, marlin, sailfish and tuna.
The Alcabos islands in the Northern Bahamas hosts tournaments throughout the summer with some of the sport's richest payouts. Even with the prized fishing grounds just 50 miles by boat from Miami, anglers can still be reluctant to visit the Bahamas.
Either they don't want to cross the open Atlantic Ocean in their boat, or they are intimidated fishing in a foreign country. To help ease those fears, we checked in with Betty Bauman who has fished the Bahamas "countless times."
Bauman runs the popular "Ladies, Let's Go Fishing!" seminars that teach women and families fishing skills throughout Florida. The Fort Lauderdale resident has done charters to the Bahamas and kept her personal boat there, so Bauman knows the islands better than most anglers.
Charters are plentiful in the Bahamas or take the family center console and stay in a marina. Bauman encourages anglers to take their own boat because you have your own rods, reels and lures. You have greater flexibility if the weather doesn't cooperate, she said.

Planning Ahead
The Bahamas offers a great planning guide (bahamas.com) for first timers or even those who visit the islands semi-regularly. A cruising permit is required to sail in Bahamian waters and upon arriving must clear Customs and Immigration at the "nearest designated Port of Entry."
U.S. citizens must present a passport and fill out an Immigration Arrival/Departure card. The card is dropped off at the last Bahamian port you visit when returning to the United States.
Fishing permits run $150 annually or $20 per trip. Keep in mind boats (sport charters) that use more than six reels pay a $10,000 annual fee. It's highly encouraged to get the permit in advance, but it can also be done at the point of entry.
The Bahamas is friendly to anglers, but it's important to know the local rules and regulations. If you are unsure about a regulation or limits, the Department of Marine Resources will likely have the answers.
Bauman encourages visitors to build in some extra time to enjoy the islands.
"It's not just the fishing, it's the Bahamas—it's special," Bauman said. "It's the beautiful beaches, the wonderful people, the other experiences and the quaintness you don't get in the United States in the out islands."
Popular Fishing Areas
Fishing spots in the Bahamas are abundant but for Bauman's money she prefers the quaint out islands over fishing near the big cities such as Freeport, Nassau and Paradise Island.
One of Bauman's favorite spots is Eleuthera and Harbour Island to fish for bonefish. The area, on the eastern side of the islands, are known for its famous pink beach. An outlying coral reef protects the beach, resulting in turquoise clear water that is popular for snorkeling and swimming.
"Even if you're going offshore or inshore, the Bahamas offers those beautiful turquoise waters," Bauman said. "We have some turquoise waters in the (Florida) Keys but nothing like you're going to see in the Bahamas."
The Cherokee Sound in the Abaco Islands is great for catching tuna, marlin, mahi-mahi and wahoo offshore, while inshore the bonefish and tarpon is abundant, she said.
Bauman suggests talking to locals at the docks on what fish they're catching and bait to catch it.  Bahama's Department of Marine Resources encourages the use of local fishing guides, but it's not necessary.
Bimini is a popular fishing spot because it's only about 50 nautical miles from South Florida. Bauman has organized "Ladies, Let's Go Fishing!" trips to Bimini, but it's also a popular daytrip for some anglers.
"If you have a boat capable to go to the Bahamas, take your own boat," Bauman said.

Catch Limits
While the Bahamas may be a bucket list fishing trip, it doesn't mean you can come home with bags full of fish. Bahamians are protective of their natural resources and returning to the U.S. over fish limits could cause legal problems.
As of early 2023, current limits are a total of 18 pelagic fish (tuna, kingfish, dolphin and wahoo), six conchs and up to 60 pounds of fish such as snapper or groupers. A boat is limited to 10 lobsters when in season, which is typically from August through March.
Anglers aren't allowed to keep any billfish unless fishing in an approved tournament. Otherwise, the marlin, sailfish or swordfish must be returned to the sea unharmed. Shark fishing in the Bahamas has been protected since 2011 and any shark hooked must be released.
The Bahamas doesn't limit the number of rods that are onboard a boat, but anglers can only use six or less rods at one time. With more than six lines in the water, the boat moves into the sports fishing category that requires a $10,000 permit.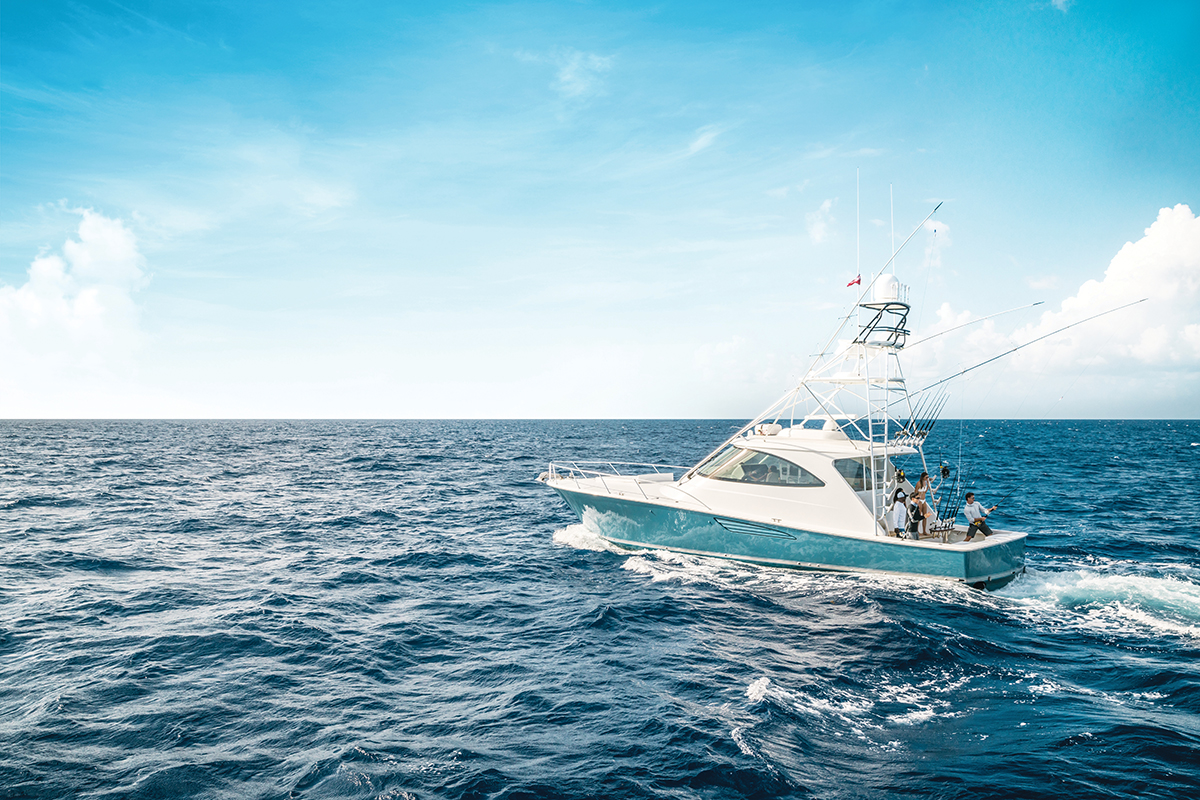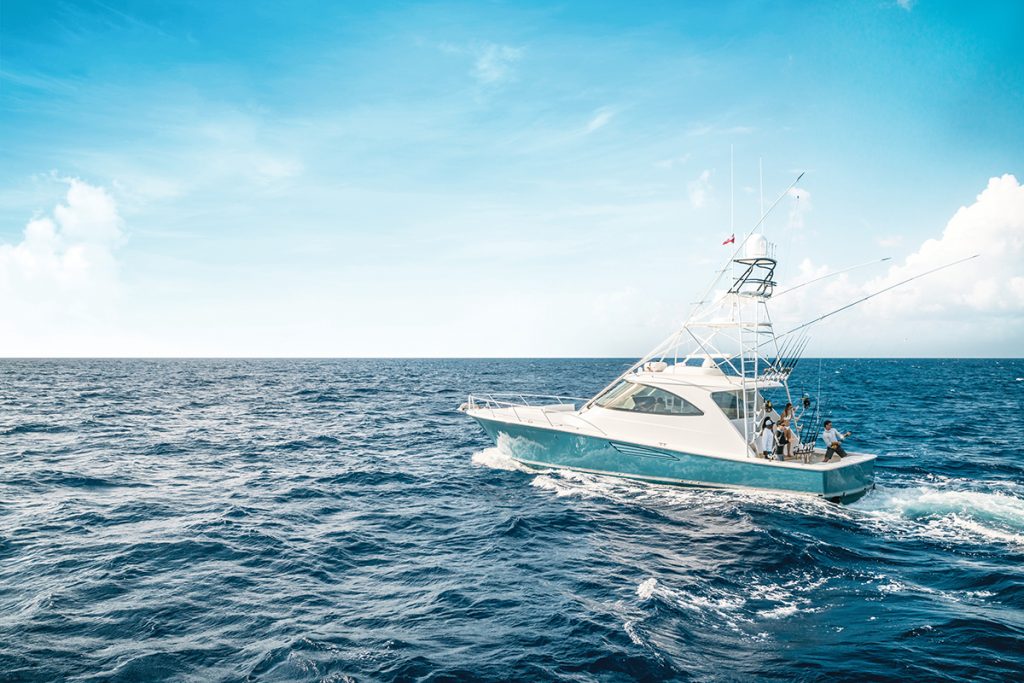 Electric reels are allowed but the use of nets to gather bait fish must be specifically authorized. Anglers must request use of a net and the approval will be specified on the permit.
When returning to the United States by boat, visitors are required to declare exit at a port of entry and Bahamian Customs will provide a certificate of departure. Leave rods locked away as travel through U.S. federal and Florida state waters must be continuous.
U.S. Customs and Border Patrol has specific laws for bringing catch back from the Bahamas and the U.S. Fish and Wildlife Service is a good resource.
Reef fish such as snapper or grouper can be brought back as fillets, but the skin must remain on. Two fillets, regardless of size count as one fish toward the bag limit. When it comes to lobster, it must be intact and can only be transported into U.S. waters during the Florida recreational season (August-March).

Enjoy the Journey
Bauman times her fishing trips to the Bahamas just outside of hurricane season, though there are no guarantees when it comes to the weather.
"You can have great fishing during hurricane season but just be aware you are in hurricane season and may have to evacuate without much notice," said Bauman, adding it's important to have connectivity to weather and tides.
Bauman recommends staying a couple of extra days as the weather or strong winds can keep you off the water. It's also an opportunity to explore local communities and enjoy the Bahamian culture and hospitality.
Whether it is going full tourist and staying at the iconic Atlantis on Paradise Island or swim in the beauty of Dean's Blue Hole (the second deepest hole known to man), the Bahamas will keep you coming back. 
"The Bahamas has a lot to offer in addition to fishing," she said. "It's a great place to plan a vacation around, whether you're taking a charter or your own boat."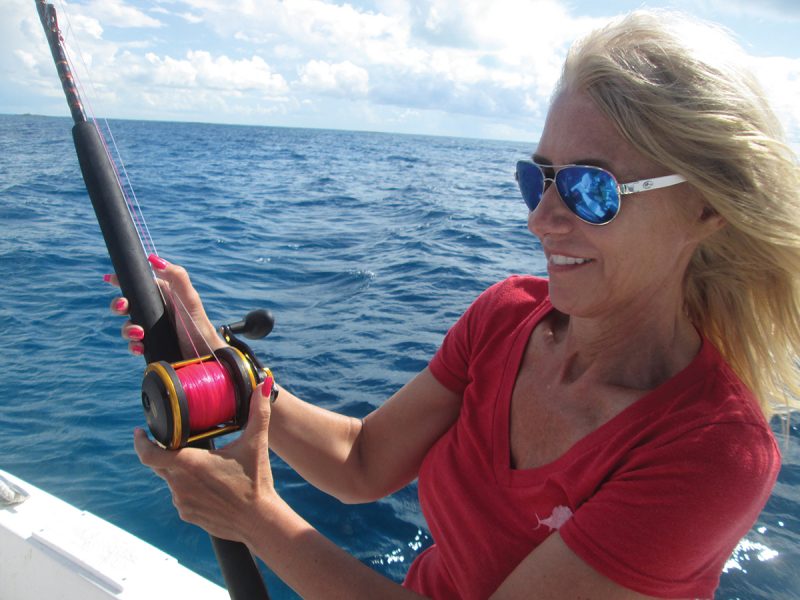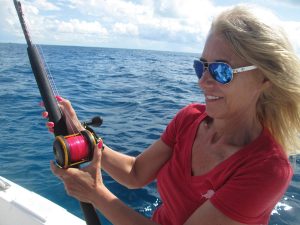 Ladies, Let's Go Fishing Foundation (LLGF) is a nonprofit organization founded by Betty Bauman dedicated to attracting women and families to fishing while encouraging conservation and responsible angling. Bauman leads seminars throughout the state of Florida.

Learn more about the organization at www.ladiesletsgofishing.com

Abaco Islands, Anglers, bahamas, Betty Bauman, bimini, Caribbean fishing, center console, electric reels, fishing, fishing in bahamas, kingfish, Ladies lets go fishing, mahi mahi, marlin, Nassau, Paradise Island, salfish, shark, tuna, wahoo Abaco Islands, Anglers, bahamas, Betty Bauman, bimini, Caribbean fishing, center console, electric reels, fishing, fishing in bahamas, kingfish, Ladies lets go fishing, mahi mahi, marlin, Nassau, Paradise Island, salfish, shark, tuna, wahoo