Discover Boating makes it easier to boat safely.

You could win $10,000 towards the purchase of your boat!
Download the free Discover Boating Safety app and enter for your chance to win!
Contest entry ballot is accessible within the app until September 30, 2018.
Now available in English, Français, and 中文
Download the Safety App here:   Google Play Store   iTunes App Store
If you're a boater in Canada, you will want to download the free Discover Boating Safety app.
Indispensable to the Canadian boater, it features everything you need to ensure a safe and fun time on the water, no matter where or how you go boating. An interactive and easy to use source of information, it covers a range of regulations, guidelines and best practices that make being prepared easier so you can focus on fun.
Most content in the app is easily accessible whether or not you have access to the internet when you're on the water.  And, it's organized for ease of use into four basic areas; 1. Be Prepared, 2. Plan your Trip, 3. Reference Guide and 4. Just in Case of Emergency. Here's what you'll find in each section: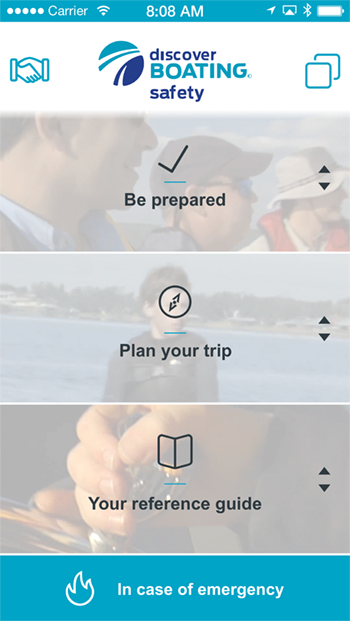 Be Prepared! Use our interactive checklists to make sure you have everything you need onboard in working order before you are underway.
Plan Your Trip! Check your equipment, check your weather forecast, know your signals and know your destination. It's easy, and smart!
Reference Guide! Filled with useful boating tips, and everything from PFDs to visual references for navigation buoys and more, this section is full of info you will reference regularly.
Emergency! Just in case, we've got contact numbers for Search and Rescue, RCMP, most municipal marine police units, as well as some basic emergency procedures.
The Discover Boating Safety app is a 'must have'. It takes care of all your safe boating needs before you leave shore. Best of all, the majority of this content is available on your phone whether or not you have cell or internet access.
With a little preparation on land, you can get prepared to boat safely, allowing you to focus on having fun and making memories to last a lifetime.
Boat safely from port to port. Good luck at earning you $10,000.

best boat, Best boat buying website, best boat marina website, best boat travel website, best place to rent a boat, boat accessories, boat angler, boat boondocking, boat buyers guide, boat camper, boat camping, boat dealers, boat DIY, boat Fishing, boat Fixer, boat Home, boat information, boat insurance, Boat Maintenance, boat marinas, boat marinas in Alberta, boat marinas in BC, boat marinas in Canada, boat marinas in Manitoba, boat marinas in Saskatchewan, boat marinas in the USA, boat marinas near me, boat products, boat rentals, boat repair, boat road test, boat sharing, boat sites near me, boat supplies, boat Tech, boat tips, boat touring, boat trade, boat Travel, boat traveling, boat travelling, boat vacation, boat vacation cost, boat websites Canada, boating Canada, Boating Canada's Boat Lifestyle Magazine, Boating Lifestyle Magazine, boating website, Canadian marina websites, expert boat information, find a boat dealer, how much does a boat cost, how much does marina cost, how to choose a boat, how to drive a boat, marina products, marina supplies, motor boat, power boating magazine, top boat website, used boat reviews best boat, Best boat buying website, best boat marina website, best boat travel website, best place to rent a boat, boat accessories, boat angler, boat boondocking, boat buyers guide, boat camper, boat camping, boat dealers, boat DIY, boat Fishing, boat Fixer, boat Home, boat information, boat insurance, Boat Maintenance, boat marinas, boat marinas in Alberta, boat marinas in BC, boat marinas in Canada, boat marinas in Manitoba, boat marinas in Saskatchewan, boat marinas in the USA, boat marinas near me, boat products, boat rentals, boat repair, boat road test, boat sharing, boat sites near me, boat supplies, boat Tech, boat tips, boat touring, boat trade, boat Travel, boat traveling, boat travelling, boat vacation, boat vacation cost, boat websites Canada, boating Canada, Boating Canada's Boat Lifestyle Magazine, Boating Lifestyle Magazine, boating website, Canadian marina websites, expert boat information, find a boat dealer, how much does a boat cost, how much does marina cost, how to choose a boat, how to drive a boat, marina products, marina supplies, motor boat, power boating magazine, top boat website, used boat reviews