This is the kind of over-the-top meal guests will talk about for days afterward and it's simple to prepare.  Crab, ground pork and a host of Asian condiments create delicious mouth-watering flavors.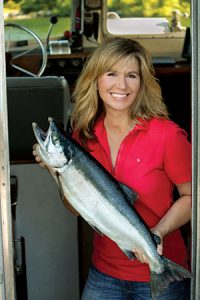 By LaDonna Gundersen
Ingredients
2  tablespoons cornstarch
2  cups reduced-sodium organic chicken broth
¼ cup rice wine
2  tablespoons low-sodium soy sauce
1  teaspoon granulated sugar
1  teaspoon fresh ginger, minced
¼ teaspoon ground black pepper
1  tablespoon extra-virgin olive oil
2  large garlic cloves, minced
½ pound unseasoned ground pork
2  cups fresh Dungeness crabmeat (about 2 crab, cooked and cleaned)
4  green onions, chopped
2  eggs, slightly beaten
1  teaspoon sesame oil hot cooked jasmine rice
Directions
Stir together cornstarch, broth, rice wine, soy sauce, sugar, ginger and pepper in a small bowl until sugar is dissolved, set aside.
Heat the oil in a large skillet or wok over medium-high heat.  Add the garlic and pork and stir-fry until pork is no longer pink.  Stir in the cornstarch mixture and bring to a boil.  Add the crabmeat, reduce heat and simmer until thickened.  Stir in the chopped green onions.
Pour the eggs over the crab, stirring gently until the egg is just set.  Drizzle with the sesame oil and serve over hot cooked rice.
Recipe hint: Pasteurized crabmeat comes in three forms: lump, backfin or claw.  All work as fine substitutes in this recipe, but pick through the meat for bits of shell.
Simple Steamed Rice: Bring 2½ cups water to a boil in a medium saucepan.  Stir in 1 cup long-grain white rice and ½ teaspoon salt.  Return to a boil over medium-high heat. Reduce heat and simmer covered until rice is tender and has absorbed all the water. 16-18 minutes.  The rice will be studded with steam holes when ready.  Remove from heat and let stand covered for 10 minutes.  Fluff with a fork before serving. 
Makes 4 servings
best boat, Best boat buying website, best boat marina website, best boat travel website, best place to rent a boat, boat accessories, boat angler, boat boondocking, boat buyers guide, boat camper, boat camping, boat dealers, boat DIY, boat Fishing, boat Fixer, boat Home, boat information, boat insurance, Boat Maintenance, boat marinas, boat marinas in Alberta, boat marinas in BC, boat marinas in Canada, boat marinas in Manitoba, boat marinas in Saskatchewan, boat marinas in the USA, boat marinas near me, boat products, boat rentals, boat repair, boat road test, boat sharing, boat sites near me, boat supplies, boat Tech, boat tips, boat touring, boat trade, boat Travel, boat traveling, boat travelling, boat vacation, boat vacation cost, boat websites Canada, boating Canada, Boating Canada's Boat Lifestyle Magazine, Boating Lifestyle Magazine, boating recipes, boating website, Canadian marina websites, crab recipes, expert boat information, find a boat dealer, how much does a boat cost, how much does marina cost, how to choose a boat, how to drive a boat, marina products, marina supplies, motor boat, power boating magazine, top boat website, used boat reviews