Mitigating the killer corner.
No matter how much we work on our docking skills, a sudden puff of wind or a missed shift can result in our making a costly contact with the corner of the dock. Depending on what your dock is made of, you might want to consider adding some guards to help you avoid those nasty scuffs and gashes.
There are numerous ways to mitigate risk to your hull when docking, from professional boat handling lessons to the use of boat fenders and dock guards. Lessons are a no-brainer, but some thought should be given as to where to hang your boat's fenders and whether dock guards should be added to reduce your stress level. 
Boat Fenders
First and foremost, make certain your fenders are the correct size, properly spaced, and at the correct height. I recommend three on the dock side of the vessel at a height where they won't roll up as you maneuver in or out of the slip. But don't hang them too low or they will become slimy from touching the water. And if you are in a slip beside another boat, add two more fenders on the opposite side.  Once done, check your fender placement by pulling the boat up against the dock to make certain they are doing the job.
Next, look at your dock and consider adding some form of protection where you are likely to make contact with the hull. Most commonly, this is the end corner and at the back of the slip. Its the end corner of the dock that bites you the hardest and most often, and boat fenders aren't designed to guard you against this type of hazard. You can choose to attach some form of guard to the corner such as a piece of old carpeting or car tire. If done neatly, its inexpensive, does the job, and doesn't look too bad.
If you are finnicky about the look and don't mind spending a few dollars, there are dock guards sold at marine stores that will do the job.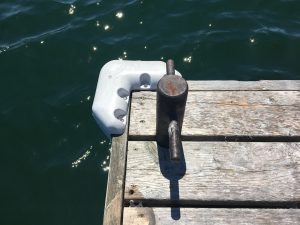 Corner Guards
Corner guards are, in my opinion, the least you should add for hull protection. They are inexpensive and easy to install. You may still have to do some buffing if you run against them too hard, but at least you won't get the can-opener affect of rubbing the hull against an unguarded 90-degree dock corner – that perhaps has a rusty nail in it.
Dock Wheels
Dock wheels are what all the cool kids are using. They cost a little more, but they pretty much eliminate any scuffing action on the hull. If you have a tight, single slip with a finger dock on either side, two wheels can help guide you in. Choose the correct size of wheel and be careful not to hit them hard or you might knock them off the corner of the dock.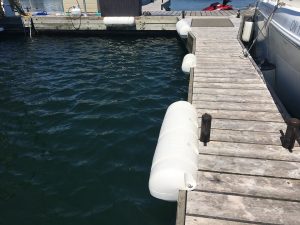 Dock Guards

Dock guards are a good choice and they come in different sizes and shapes.  I prefer them installed at the back of the slip, but they can be used along the side. Note that your boat's fenders will compete with side guards and will likely pop up or push you away from the dock when they connect. You might choose to go with either one or the other, but not both for best results.

Whatever you add for protection to your dock, your objective should be not to hit or rub against anything. I like to use the term, "kiss the dock" with the fenders. Remember that neutral is your friend and that you should always keep your speed to a minimum when docking.

Have a safe, wonderful boating season!

best boat, Best boat buying website, best boat marina website, best boat travel website, best place to rent a boat, boat accessories, boat angler, boat boondocking, boat buyers guide, boat camper, boat camping, boat dealers, boat DIY, boat Fishing, boat Fixer, boat handling, boat Home, boat information, boat insurance, Boat Maintenance, boat marinas, boat marinas in Alberta, boat marinas in BC, boat marinas in Canada, boat marinas in Manitoba, boat marinas in Saskatchewan, boat marinas in the USA, boat marinas near me, boat products, boat rentals, boat repair, boat road test, boat sharing, boat sites near me, boat supplies, boat Tech, boat tips, boat touring, boat trade, boat Travel, boat traveling, boat travelling, boat vacation, boat vacation cost, boat websites Canada, boating Canada, Boating Canada's Boat Lifestyle Magazine, Boating Lifestyle Magazine, boating tips, boating website, Canadian marina websites, expert boat information, find a boat dealer, how much does a boat cost, how much does marina cost, how to choose a boat, how to drive a boat, marina products, marina supplies, motor boat, power boating magazine, top boat website, used boat reviews best boat, Best boat buying website, best boat marina website, best boat travel website, best place to rent a boat, boat accessories, boat angler, boat boondocking, boat buyers guide, boat camper, boat camping, boat dealers, boat DIY, boat Fishing, boat Fixer, boat handling, boat Home, boat information, boat insurance, Boat Maintenance, boat marinas, boat marinas in Alberta, boat marinas in BC, boat marinas in Canada, boat marinas in Manitoba, boat marinas in Saskatchewan, boat marinas in the USA, boat marinas near me, boat products, boat rentals, boat repair, boat road test, boat sharing, boat sites near me, boat supplies, boat Tech, boat tips, boat touring, boat trade, boat Travel, boat traveling, boat travelling, boat vacation, boat vacation cost, boat websites Canada, boating Canada, Boating Canada's Boat Lifestyle Magazine, Boating Lifestyle Magazine, boating tips, boating website, Canadian marina websites, expert boat information, find a boat dealer, how much does a boat cost, how much does marina cost, how to choose a boat, how to drive a boat, marina products, marina supplies, motor boat, power boating magazine, top boat website, used boat reviews