Cruisers Yachts' 50 GLS truly is a dream boat.
By Chris Kourtakis
Unveiled this past year at the 2022 Fort Lauderdale International Boat Show, the all-new 50 GLS was a showstopper and head turner. This yacht has it all! The design, styling, handling, and performance set this yacht far above anything else in its class. It has countless amenities for the adventure seeking captain and their family.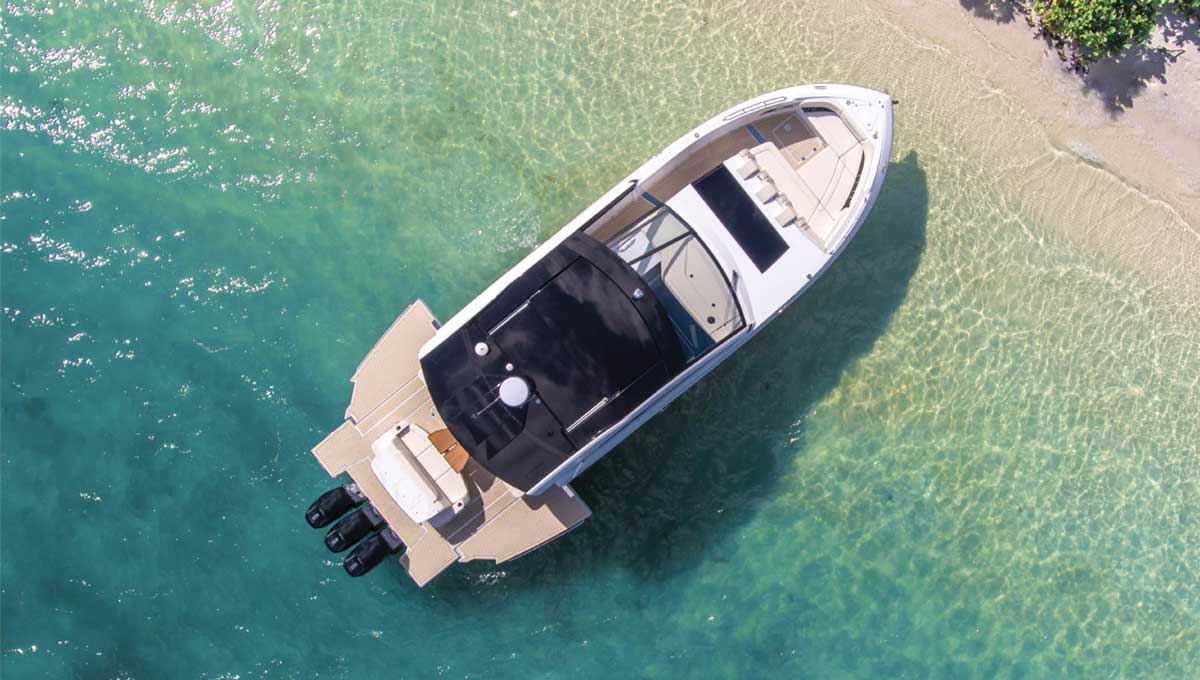 This yacht has so much to offer it's hard to figure out just where to start. Equipped with triple Mercury 600 HP Verados, the 50 GLS can reach speeds of just over 53 mph with a time to plane right at 5.0 seconds. Acceleration is quick as 0-30 mph in a mere 9.0 seconds.
The helm on this bad boy is something that you have to truly appreciate as the functionality of the layout is something that you normally do not find in a boat of this size. The raised three display panel is angled perfectly for easy use and visibility.
These displays provide engine information and systems controls for most of the boat. The VFS radio, stereo control, Sea Keeper, and bow thruster control pads are strategically placed and integrated so that they do not look like an afterthought.
The digital throttles and joystick control are ergonomically mounted at the correct height. The three across helm seating is large, spacious, and comfortable with an adjustable wood-like finish footrest mounted forward or a flip down step directly below the seats.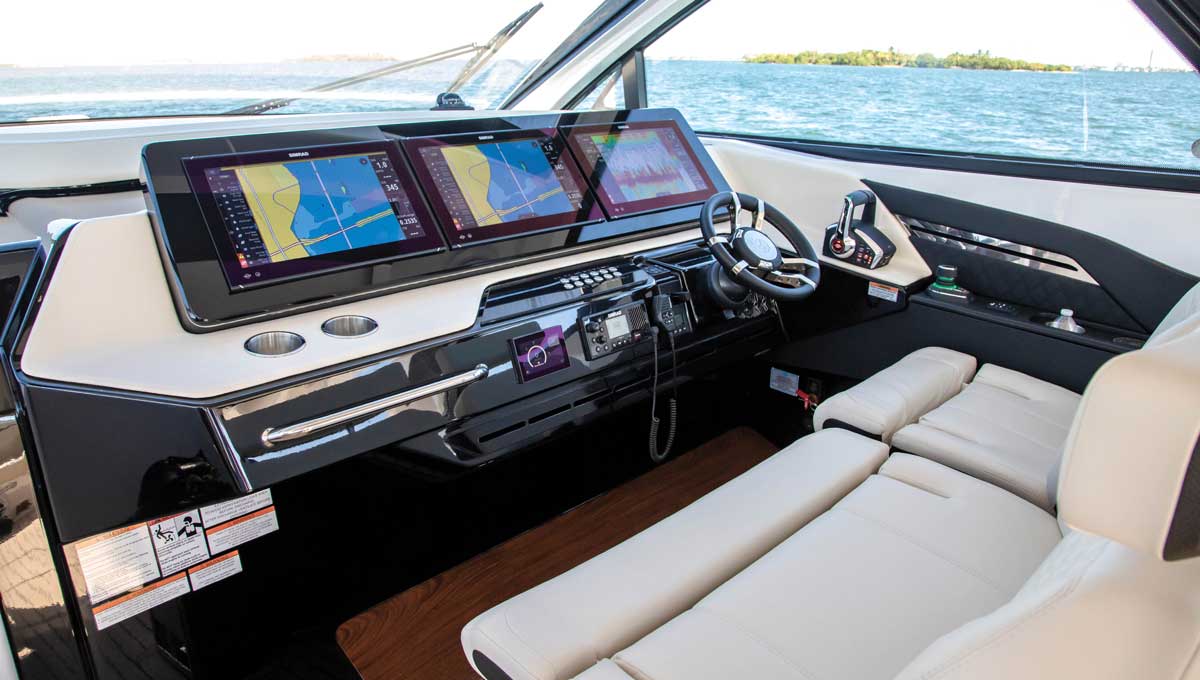 The comfort features for your passengers are endless. The outdoor event center that Cruisers calls a cockpit was designed for a king or a queen. Two electric grills and a recessed sink are built directly into the transom and are perfectly located away from your guests while providing ample room to access them from the massive swim platform. The bench across the transom is plush and has two removable pedestal tables.
Just forward are two large L-shaped loungers on either side of the yacht. Both the port and starboard gunnel can be lowered by the flip of a switch to provide additional space and access to the water. The extended aweing adds additional protection and comfort while on the water or at the dock.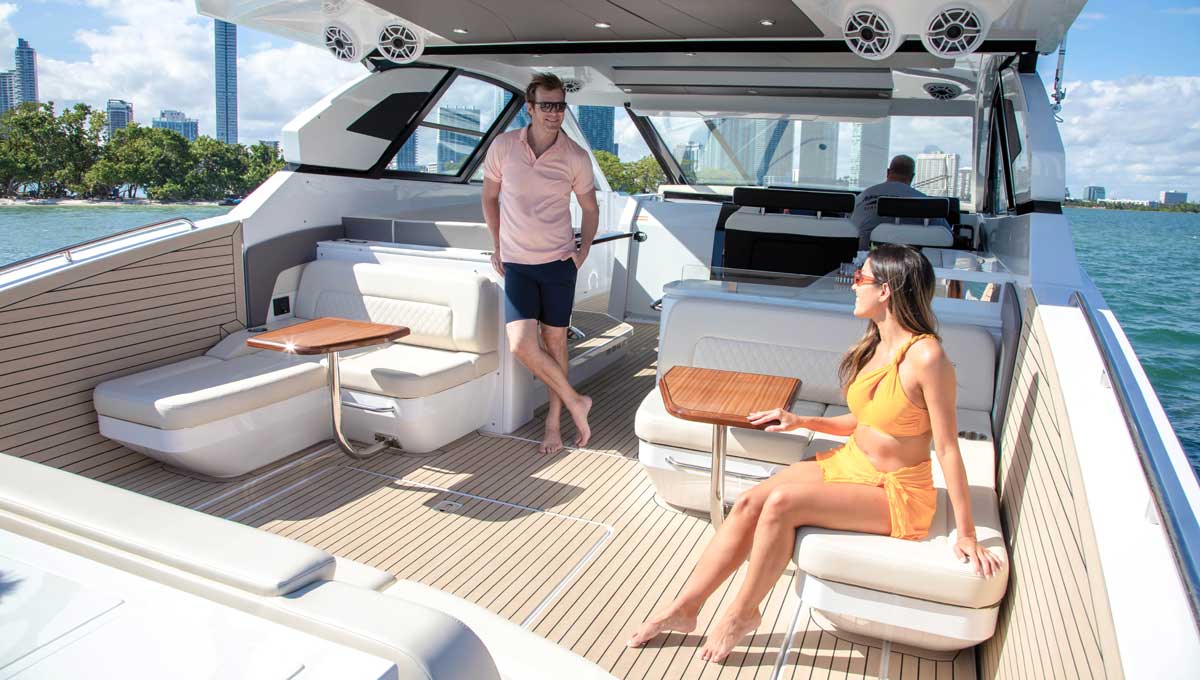 As you move forward, there is a deluxe L-shaped lounger to the port with a folding dinette table that can be raised or lowered. Immediately across is the L-shaped galley with all of the amenities that you could ask for including a 55" flat screen tv that is hidden and can be raised with the electric lift. Power windows and a sunroof allow for additional air flow throughout if you don't want to use the cockpit AC.
Heading down the stairs into the cabin of this Cruisers Yacht you will find two staterooms, head and small galley with a microwave and a refrigerator. The forward stateroom can be easily accessed through two double doors.
The v-berth is typical, but what separates this master from others is the abundance of large skylight windows above and large windows on both the port and starboard side of the cabin with an integrated opening port for fresh air. The aft sleeping quarters are versatile and designed like your typical aft area with filler cushions for sleeping or an additional sitting area when removed. The head area has a walk-in show, functional vanity with storage and sky lights to allow for natural lighting.
Whether you are looking for an extraordinary day boat or a weekender for island hopping, the 50 GLS is a must add to your list for your on the water summer fun.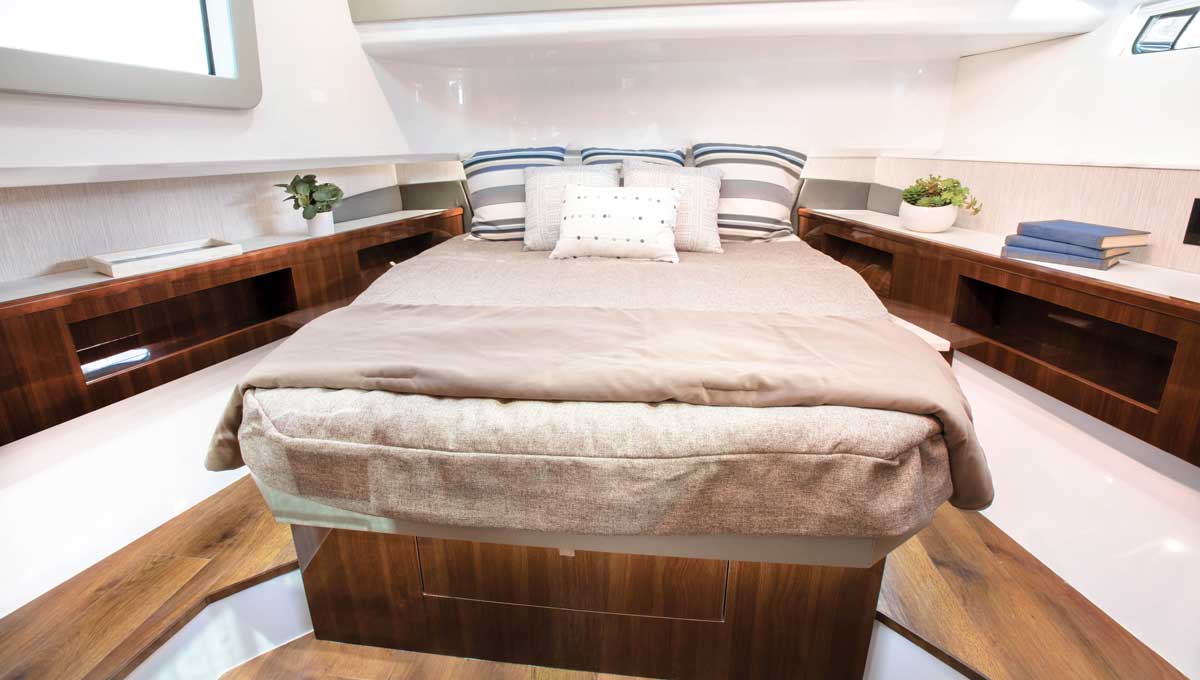 Specs: Cruisers Yachts' 50 GLS

L.O.A. 52'4" / 16 m
Beam 14'6" / 4,4 m
Bridge Clearance (Top of Mast Light) 13'10 / 4 m
Draft Up 34" / 0,86 m
Draft Down 47.5" / 1,2 m
Fuel Capacity (Gas) 660 gal / 2498 L
Water Capacity 100 gal / 379 L
Waste Capacity 50 gal / 189 L
Weight – Gas, Dry 38,000 lbs / 17237 kg
MSRP $2,389,476 USD Base price

For more information about this model, please visit CruisersYachts.com.

2023 BOATS, Boating, cruisers, GLS, new boats, new yachts, Yachts 2023 BOATS, Boating, cruisers, GLS, new boats, new yachts, Yachts