Cruisers Yachts, a brand of KCS International, Inc., is introducing its latest Cantius model set to debut at the 2017 Yachts Miami Beach boat show taking place February 16-20. The all-new 50 Cantius is a luxury cruiser with the features the amenities you'd expect on a much larger vessel.
"We are thrilled to keep the momentum going in our Cantius line," said Dan Zenz, Vice President of Sales at KCS International, Inc. "The 50 Cantius is a perfectly sized addition that bridges the gap between the 45 Cantius and 54 Cantius."
The 50 Cantius features many similarities to the 54 and 60 Cantius yachts, from sleek exterior looks to unrestrained, free-flowing spaces designed for entertaining in chic style.
Main Deck
Stepping aboard the 50 Cantius, boaters will find a stunning exterior entertaining space. Ample seating abounds, with a u-shaped dinette and a reverse aft-facing sofa. A wet bar for serving cocktails and a grill can be found on the transom. Both food and beverages can be kept chilled and handy with a cooler box located nearby. Water toys and gear can be easily stowed with plenty of storage space.
Passing through a stainless steel sliding glass door, boaters enter the climate controlled galley and upper salon. On the starboard side is a sofa that puts guests in the center of conversation. A dinette, located portside, brings diners together indoors. Above, an operable sunroof invites sunlight and see breezes inside. The stylish interior boasts fine craftsmanship and can be accented with charcoal oak or walnut cabinetry.
The helm is equipped with advanced electronics and joystick controls powered by Volvo IPS engines. On the foredeck, boaters will enjoy integrated seating that can be converted to a chaise lounge for sunbathing.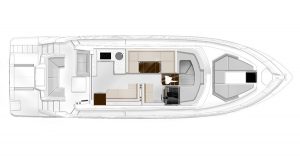 Accommodations Deck

Below deck, spectacular staterooms await you and your guests. Large windows allow for ample natural light throughout. A well-appointed, full-beam master stateroom is found amidships and features a private head with refined details and a walk-in shower. A roomy forward VIP stateroom provides superior accommodations for guests. A third stateroom with bunk beds is located to starboard.

Yachts Miami Beach Debut

The 50 Cantius will be unveiled for the first time at Yachts Miami Beach, taking place along Collins Avenue February 16-20. Attendees will have a chance to tour this yacht, along with others in the Cruisers Yachts lineup, including the best-selling 39 Express Coupe, 54 Cantius, 54 Flybridge, 60 Cantius and 60 Flybridge.

50 Cantius Specifications

L.O.A Including Swim Platform                   49′ 4″                     15.04 m

Beam                                                                    15′                          4.6 m

Fuel Capacity                                                     400 gal                  1,514 L

Water Capacity                                                 80 gal                     302 L

Waste Capacity                                                 50 gal                     189 L

Weight Approximate—Diesel                     34,750 lbs.           15,762 kg

Engine                                                                  Volvo Penta IPS 600, 435 hp

For more information visit: www.cruisersyachts.com

Adventure, boat, boat life, boater, Boating, boating adventures, boating daily, boating fun, boating life, boating season, boating with family, boating with friends, Boats, Cruiser, Cruiser boat, cruiser boats, cruisers, Cruisers yachts, discover boating, experience, lets go boating, luxury, luxury boat, luxury boating, luxury boats, luxury cruisers, luxury yachts, marine, marine life, Marine Max, maritime, nautical, ocean, on the water, powerboat, powerboating, powerboats, safe boating, safety, sea, travel, Watercraft, watercrafts, Yacht, Yachting, yachting fun, Yachting Life, Yachts Adventure, boat, boat life, boater, Boating, boating adventures, boating daily, boating fun, boating life, boating season, boating with family, boating with friends, Boats, Cruiser, Cruiser boat, cruiser boats, cruisers, Cruisers yachts, discover boating, experience, lets go boating, luxury, luxury boat, luxury boating, luxury boats, luxury cruisers, luxury yachts, marine, marine life, Marine Max, maritime, nautical, ocean, on the water, powerboat, powerboating, powerboats, safe boating, safety, sea, travel, Watercraft, watercrafts, Yacht, Yachting, yachting fun, Yachting Life, Yachts