By Karly Blats, Special to Power Boating Canada
Drag boat racing on central Vancouver Island in British Columbia is taking off—as it once did many decades ago—thanks to a passionate and committed group of boat fanatics.
Fifteen minutes west of the town of Port Alberni, lay the fresh waters of Sproat Lake, a favored destination for water enthusiasts, tourists and boaters of all sorts. Sproat Lake, more than 25 kilometers in length, is home to the renowned Martin Mars water-bombers, the world's largest flying boats ever flown operationally and the last of their type.
Not only does Sproat Lake boast the enormous aircrafts, it serves as a race track for the annual Sproat Lake Regatta. This July marked the Regatta's third year of revival after a 51 year hiatus.
Typically taking place in mid-July, the regatta is a weekend of drag boat races that recruits racers from throughout Canada and beyond. Racers rip across the lake on a quarter-mile drag strip in varying race categories from 10 horsepower and under, up to 260 horsepower.  The boat races were extremely popular on Sproat Lake from 1953 to 1963 and would attract upwards of 5,000 spectators and 200 racers.
Close to 40 racers took part in this year's regatta, the best turnout for the revival so far. "It's gradually building up again but it takes time," said Joe Van Bergen, a founder of the original regatta.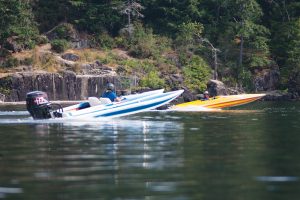 Van Bergen, who today is 90 years old, still holds a Canadian speed boating record from 1963, said in the 1960's the original regatta eventually ceased due to a lack of volunteers available to sustain the rigorous planning and organizing of the event.
Reviving the Regatta
Wanting to see boat racing back on Sproat Lake, a determined group of boat enthusiasts from the Alberni Valley Regatta Association (AVRA) came together several decades later to plan a revival for the beloved boat races. The group was supported in part by the local marina Breakers Marine, in Port Alberni, a Suzuki dealer.
Mike Nass, professional boat racer and AVRA facilitator, grew up on Sproat Lake and had long dreamed of the day when boat racing on Sproat would no longer be a thing of the past. "I grew up my whole life on this lake. I was addicted to boat racing from four years old, I was hooked on it," Nass said. "My dream my whole life was to have boat racing back on this lake." The races historically took place near the north shore of Sproat Lake, an area that became a provincial park in June 1966.  A skeptical Nass was sure the government wouldn't allow boat racing to take place in the park.
"The dream of ever having a race there, to me, was impossible," Nass said. "My thought was the government will never let us do that."  However, the possibility of a regatta revival become feasible when Nass' parents, Ray and Pat, also very active and long-time members of the AVRA, Van Bergen and a couple other members from the association announced their plans to approach the B.C. government to ask for approval in holding the races at Sproat Lake Provincial Park.
Low and behold the government approved the association's request, a 10 year permit was obtained from BC Parks and Nass began rigorously planning for the first regatta revival.
The Fraser Valley Drag Boat Association—that folded close to 10 years ago—provided the regatta with much-needed equipment, including a light tower, a rescue and service boat and $3,500 in leftover funds.
Nass was the last president of that Mission, B.C. club and said his fellow founding members were more than enthused to donate the remaining supplies to the AVRA.  "I was protecting those assets for the last 10 years because I really had this dream that maybe one day some young guy was going to come along and get boat racing going again and if we keep it together we can keep that dream alive," Nass said.
Today the regatta weekend draws crowds of more than 1,000 spectators eager to catch a glimpse of the drag races and hear the loud rip of the power boat's engines. Observing the races is best done along the shore of Sproat Lake Provincial Park or on a boat in the area.

2016 Regatta Results
The winner in the Flat Bottom/V Drive was Bert Henderson with runner up being Kajula. Tyler Mearns took first place in the Jet Boat Class with Gerry Matheson as runner up. In the 260hp and under Superstock Tunnel, high performance category, Paul Fraser took first and Dennis Griffith as runner up. The 200hp and under Pro Stock, Tunnel, high performance class saw Jake Kimmerly as the winner and Justin Forsyth as runner up. Port Alberni's Al Peffers took first place in the 200hp and under Ski Boat Class with Justin Forsyth as runner up. Brodie Coombs from Port Alberni took first place in the 100hp and under class with Chris Dalton as runner up.
Port Alberni's Neil Peffers took first in the 40hp and under class with runner up being Ashton Stacey.  Nass said it is common for competitors to race in two or three different classes and that the fastest speeds this year were about 150 miles per hour.
Nass, who raced two boats in this year's regatta—a personally designed "Nass Tunnel V" and an F1 capable of 140 miles per hour—took first place in the F1 category, first in the Unlimited Class Outboard and runner up to Sproat Lake's Stan Kajula in the Unlimited Class.
Regatta Extras
Adding to the spectacle of the regatta weekend, four Formula 1 tunnel boats cruised around the lake for viewers' entertainment, which they have for all three years of the revival, and even a Top Fuel Hydro, with 4,000 horsepower and capable of almost 200 miles per hour, was on the lake for show.
In addition to the drag boats, a favoured attraction for spectators and competitors alike was the record-breaking, fully restored Miss British Columbia drag boat. The 18-foot-long hydroplane dragster was once the fastest drag boat in Canada.
"It was the first boat to go over 200 miles per hour on earth and it ran right in front of my parents' house [at Sproat Lake] when I was 12 years old," Nass said. "A friend of mine restored it to exactly how it was back in the day and brought it to race this year."  The beautiful showpiece now belongs to Mo Davidson of Surrey, B.C. who hauls it to various boat shows.
With boating embedded deep in his blood, Nass now resides in Vancouver and owns his own manufacturing company, Haulin Nass Race Boats.
His dad, Ray Nass, was the founding president of the AVRA and fondly remembers watching the regatta in the 50's and 60's.  "I was there from as long as I can remember," Ray said. "There used to be 250 race boats, it was a very exciting time. I would hitch hike out and spend all day there."
The Future
Determined to sustain the regatta and continue in growing the races, the father-and-son duo spent time at the Seattle Seafair this month promoting the Sproat Lake boat races and recruiting top racers. "The best advertising is the people who come [to Sproat Lake] and go back and say how beautiful it is," Nass said.
For more information, visit the Regatta website at http://www.sproatlakecommunityassociation.ca and follow the action on Facebook by searching Alberni Valley Regatta Association (https://www.facebook.com/groups/138538763007530/) .