Finding the Silver Lining
By Karen & Jeff Dyck, MV Secondmates
It has been another wonderful summer of cruising on the west coast, with quiet and peaceful anchorages everywhere.  As we have in the past many times, we chose one of the many anchorages in Desolation Sound.  'The Sound' is located at the north end of the Sunshine Coast, a well-known area from the town of Gibsons north to the village of Lund on British Columbia's mainland.
This is the first year that our 1989 40' Symbol Convertible SecondMates, has newly installed solar panels to give us extra comfort and peace and quiet without the noise of our genset each day. Sadly after a couple of weeks, the weather decided to bring a change with a few days of rain and cloud.  Our free energy tap from the sun disappeared, and, after two weeks of enjoying never having to start the genset, it became necessary to charge our house batteries. As luck would have it, we started the genset only to find a pulley for the raw water pump had split in half. We had no genset and we needed a plan. Since Campbell River was the closest place where we might solve our problem, we decided to head there to get a replacement pulley to continue our summer cruising.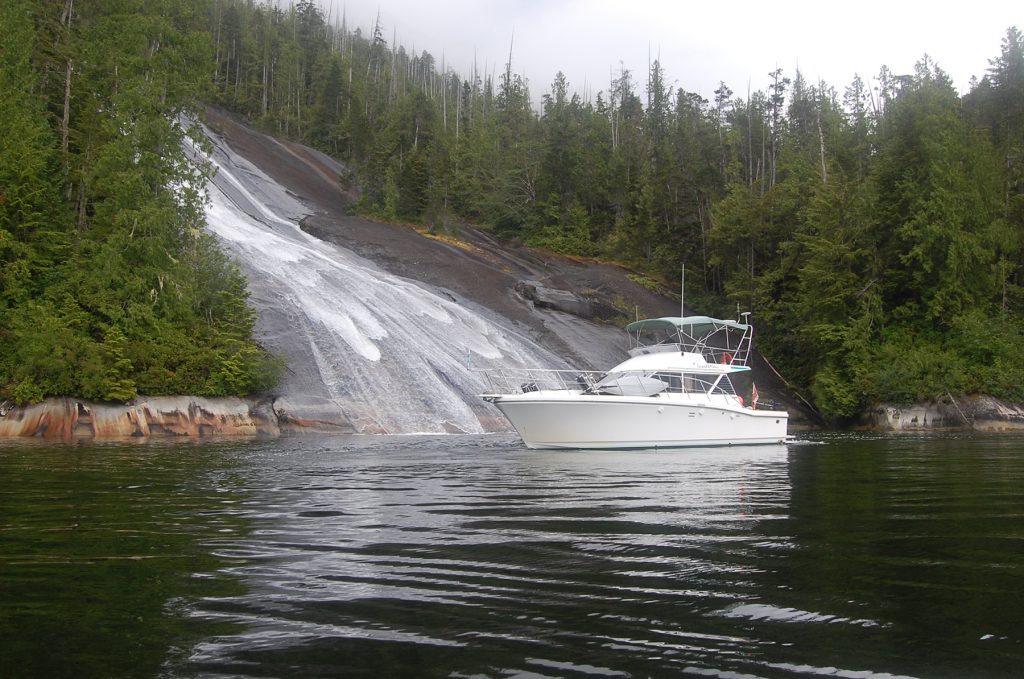 In transit, the wind came up as we neared Campbell River and it was evident we would miss the slack tide heading into our destination.  A call went out to a well-protected anchorage and marina, Gorge Harbour located on west end of Cortez Island. We had been there before, always without any reservations and always found ourselves left to anchor in the bay rather than at the marina floats. However, this time it was imperative that we get a slip with power to charge our batteries. To our surprise, the dock master told us they had one last slip and we accepted. Heading around the spit and into Gorge Harbour to get out of the wind and rough seas, we arrived and were greeted by cheerful and enthusiastic young dock hands. With our vessel secured and after a brief introduction to the amenities of the facility, we hooked up to the power and started charging our batteries.  
We typically prefer to be at anchor, self-sufficient and enjoying the natural beauty of our temporary surroundings, with or without other like-minded boaters.   Marinas are not usually our thing and we reserve the decision to stay at them to provision, obtain fuel, and or do laundry,  during the two key months of cruising each year.  Of course, we have the occasional desire to treat ourselves to a shore visit, a nice restaurant or a special event along the way.
While the dilemma of the broken pulley for the genset still was a problem, we thought we would take advantage of the moment and enjoy a nice dinner at the marina restaurant. We had heard it was good, but unfortunately each of the two previous visits, the restaurant was fully booked with reservations. And to our disappointment, so it was on this evening.  On our last visit to Gorge Harbour, there was no place at the dock, because of the annual Ranger Tug rendezvous, and it was once again scheduled on this weekend.  As luck would have it, several Ranger Tug owners had taken shelter from the rough seas en route and postponed their arrival at Gorge Harbour. This was to our benefit. We were offered another day of moorage and subsequently a table at the restaurant. We began to relax and enjoy the ambience of Gorge Harbour.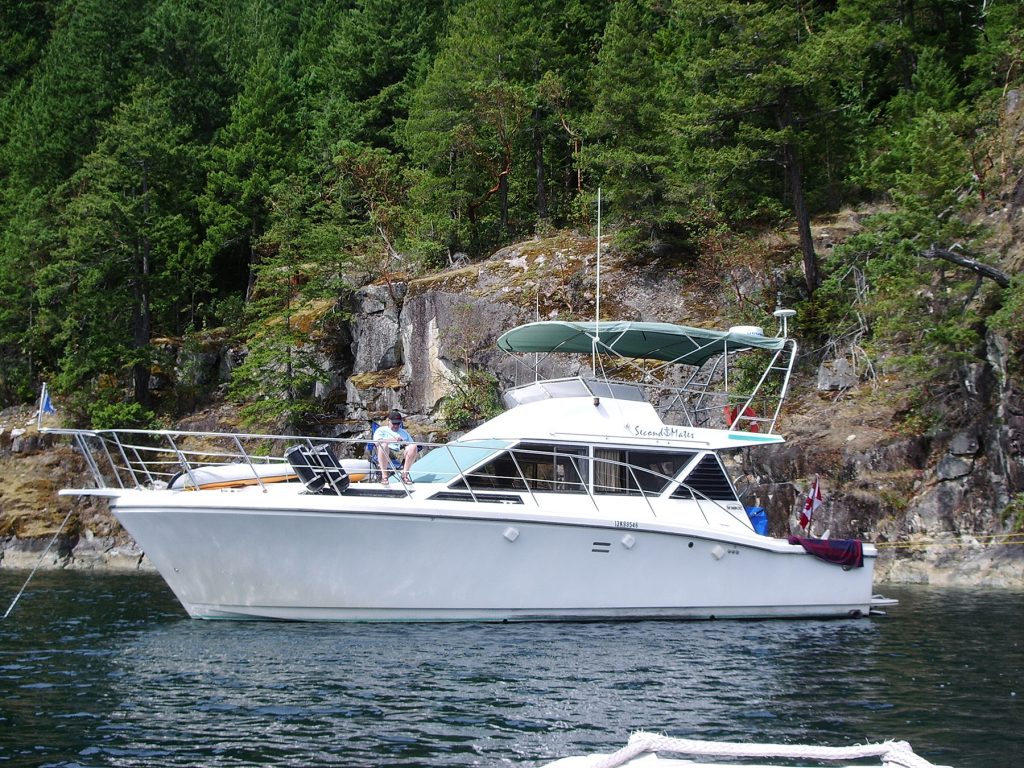 This large harbour on the west side of Cortes Island is entirely protected and entered through a narrow "neck" of water, hence the name "Gorge". In operation since 1969, the Marina had been bought and sold many times, with the current owners Richard and Michelle Glickman purchasing it in 2000 and then completely renovating it, adding land and facilities, new docks and services, and extensive landscaping.  All the work was completed about 10 years ago, with the result being a full-service Marina and Resort. It's a resort not just for boaters, but also for campers and RVs, and for families looking to rent a holiday cottage, or honeymooners wanting a romantic lodge room.
The boats on the dock  ranged from the 126 foot luxury yacht, M.V. Sinbad, gleaming in the sun, to about 20 Ranger Tugs of various sizes, there to rendezvous, and a host of other boats, including our own  40 foot M.V  Secondmates, seaworthy, but decidedly  scruffier than the spotless Sinbad, or the Ranger Tugs, for that matter.  This was the fifth year for the Ranger Tug rendezvous, and they were a congenial and fun group of boaters.
Our first order of business was a bit of a walkabout to see the grounds and check out the store and other facilities.  Up the gangway, onto the grounds which are extensively gardened, we crossed a little bridge and were at the Resort office and store.  In the office, we enquired about the possibility of somebody around having the vital pulley we needed to get the genset going again.  They came up with a few suggestions, but were unable to put phone numbers with them and, unfortunately, this idea went nowhere.  The store, our next stop, was well organized and full of all of the necessities any boater could want, with a decided emphasis on the organic, seasonal, and whole grain range of all the possibilities.  There was a well-stocked liquor store, a supply of DVDs for rent, and fresh goodies from a local bakery, which looked delicious. 
Near the docks, there was an outdoor fire-place "room" advertising a group called Easy Street playing a variety of genres through the evening and into the sunset.  People were already gathering on the hillside for the entertainment and we hustled over to get seats at one of the picnic tables. Easy Street proved to be an informal guitar and vocal duo from Comox which produced several hours of engaging, toe-tapping tunes, which kept us very well entertained.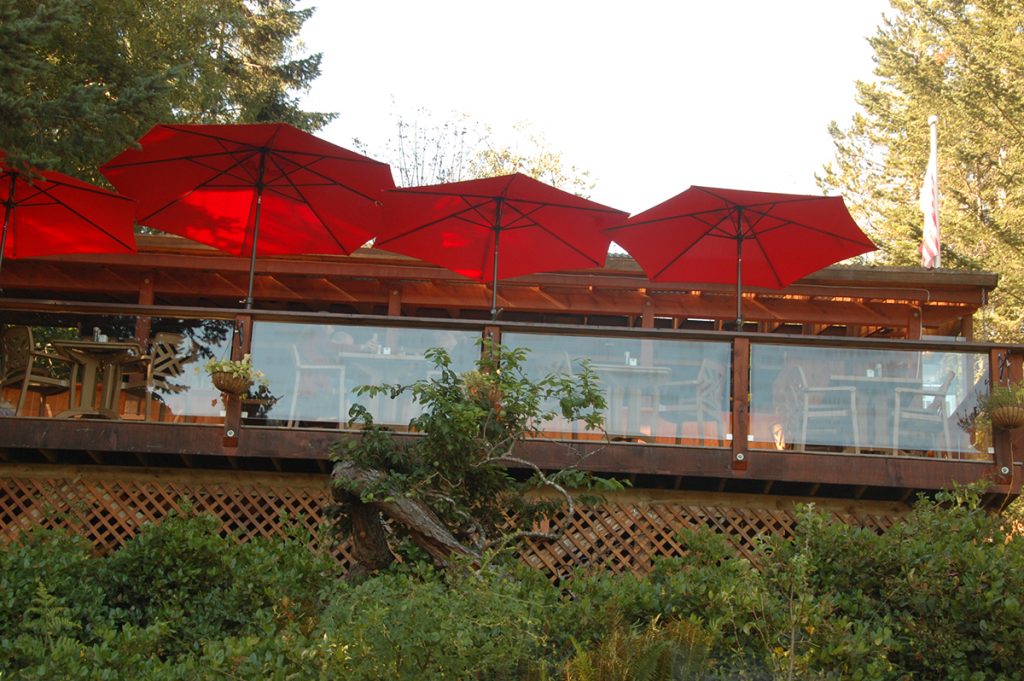 We whiled away most of the next day visiting with the other boaters, who were a remarkably friendly bunch and admiring the gardens and pond on the Resort grounds. At 6 pm we were on our way into The Floathouse Restaurant, and we were not disappointed.  The chicken curry served with rice and peppers was delicious, and the lamb chops, served medium rare, as requested, were a rare treat in more ways than one.  We shared a chocolate pate dessert and a bottle of white wine to round out the meal.  All of it was of excellent quality and beautifully served. While the Resort is open year round and seeing more and more boaters and other visitors in the off-season, The Floathouse restaurant is open only on weekends in the off-season. 
Manager Bill Dougan proudly explained to us that "I have been "the first boss" for many local kids and I know the burden that can carry. To take a kid, and after a season see them go out of their way to make a guest happy and for them to take pride in that is something that I know they will take with them through life.  My people are the basis for our success, and knowing that my staff and this community have my back has been the greatest reward of all. "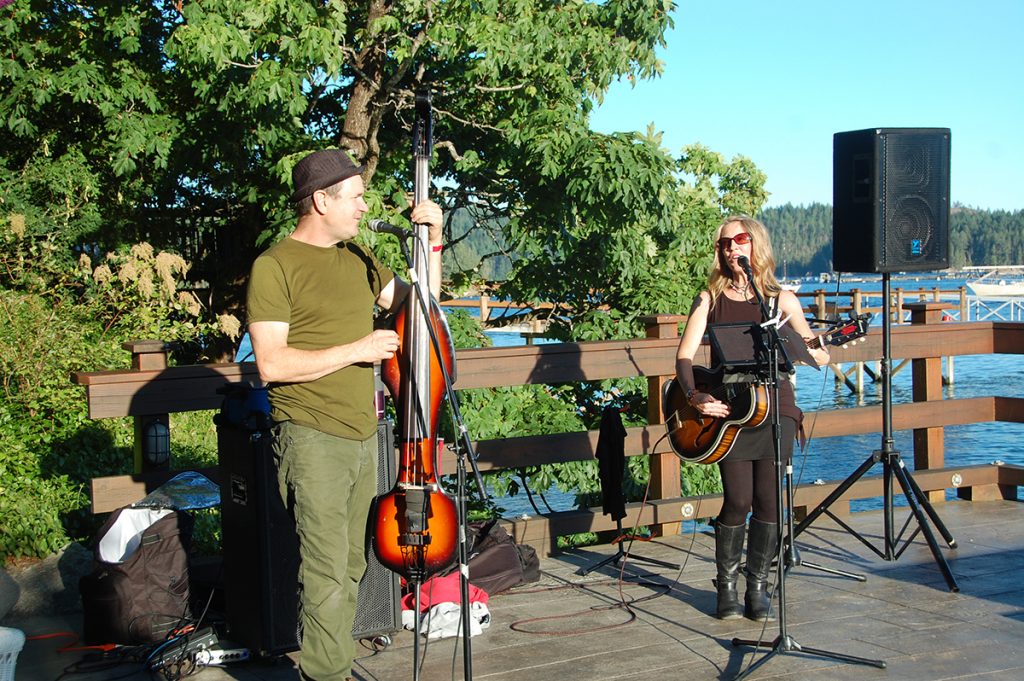 We'd had a great break from our "boat issues" and, refreshed, we refuelled Secondmates at the  gas dock and headed home to resolve them.  After a couple days of repairs, we would return to the lure of cruising to continue our summer. The sun was shining and the solar panels were doing their job, once again.
---
Planning Your Trip:

Sunshine Coast – https://sunshinecoastcanada.com/

Desolation Sound Marine Provincial Park – http://www.env.gov.bc.ca/bcparks/explore/parkpgs/desolation/

Gorge Harbour Marina Resort – http://gorgeharbour.com/

Charts: CHS Chart 3538 – Desolation Sound – Sutil Channel

Georgia Strait Alliance – http://georgiastrait.org

best boat, Best boat buying website, best boat marina website, best boat travel website, best place to rent a boat, boat accessories, boat angler, boat boondocking, boat buyers guide, boat camper, boat camping, boat dealers, boat DIY, boat Fishing, boat Fixer, boat Home, boat information, boat insurance, Boat Maintenance, boat marinas, boat marinas in Alberta, boat marinas in BC, boat marinas in Canada, boat marinas in Manitoba, boat marinas in Saskatchewan, boat marinas in the USA, boat marinas near me, boat products, boat rentals, boat repair, boat road test, boat sharing, boat sites near me, boat supplies, boat Tech, boat tips, boat touring, boat trade, boat Travel, boat traveling, boat travelling, boat vacation, boat vacation cost, boat websites Canada, boating Canada, Boating Canada's Boat Lifestyle Magazine, Boating Lifestyle Magazine, boating website, British Columbia, canadian destination, Canadian marina websites, expert boat information, find a boat dealer, how much does a boat cost, how much does marina cost, how to choose a boat, how to drive a boat, marina products, marina supplies, motor boat, power boating magazine, top boat website, used boat reviews best boat, Best boat buying website, best boat marina website, best boat travel website, best place to rent a boat, boat accessories, boat angler, boat boondocking, boat buyers guide, boat camper, boat camping, boat dealers, boat DIY, boat Fishing, boat Fixer, boat Home, boat information, boat insurance, Boat Maintenance, boat marinas, boat marinas in Alberta, boat marinas in BC, boat marinas in Canada, boat marinas in Manitoba, boat marinas in Saskatchewan, boat marinas in the USA, boat marinas near me, boat products, boat rentals, boat repair, boat road test, boat sharing, boat sites near me, boat supplies, boat Tech, boat tips, boat touring, boat trade, boat Travel, boat traveling, boat travelling, boat vacation, boat vacation cost, boat websites Canada, boating Canada, Boating Canada's Boat Lifestyle Magazine, Boating Lifestyle Magazine, boating website, British Columbia, canadian destination, Canadian marina websites, expert boat information, find a boat dealer, how much does a boat cost, how much does marina cost, how to choose a boat, how to drive a boat, marina products, marina supplies, motor boat, power boating magazine, top boat website, used boat reviews