"Family Fun, Family Sized"
By Timmy MacNamee
Boat test #1682
A one stop shop for a family friendly pontoon? We think so! The Aquapatio 255 SDE, by Godfrey brings all angles of quality craftsmanship, and endless possibilities. Simplicity meets luxury with an array of options, a variety of exterior and interior color combinations, and of course the quality and reputation of Godfrey Boat Company.
Its two door entry located at the side and rear of the 255 SDE, open up to a spacious cockpit with split bench seating, giving an open concept feel for style, and plenty of comfort for its 16 person capacity. Popular features like the movable cupholders, and versatile table for cockpit and bow make for a perfect time to sit back, relax, and enjoy the company. Additional cockpit options include a chaise storage or change room, porta potty, and bow filler cushion to turn the bow area into a handy place for the kids play space or for those who like to soak up the sun.
The ambience of the 255 SDE come to life with the optional RGB lighting package, with cockpit mood scent lighting, giving those "moonlight cruises" a subtle glimmer of style mixed with relaxation to enjoy the evening vibes. Feel like a true captain at the helm of the 255 SDE with copious space and simplified dash. The electronics package combines all functions of the Fusion stereo system and RBG lighting at the touch of your fingertips. Conveniently toggle between different lighting and sound zones for the rear adjust volume and colour to any area your crew desires.
Almost saving best for last, the Aquapatio 255 SDE features a large non-skid upper deck rated for 4 people. Talk about sending the kids to recess! The upper deck comes equipped with a curved slide to put a grand slam on the fun factor. (PSA: Adding dish soap to the slide may or may not increase acceleration). People of all ages have a fun time with this special feature, and Godfrey certainly scored a point in the cool department for this one.  The upper deck casts generous space over the cockpit below, and the optional full Bimini for the bow can be incorporated to add additional shade when wanting to take a break from the sun, or protect from the weather.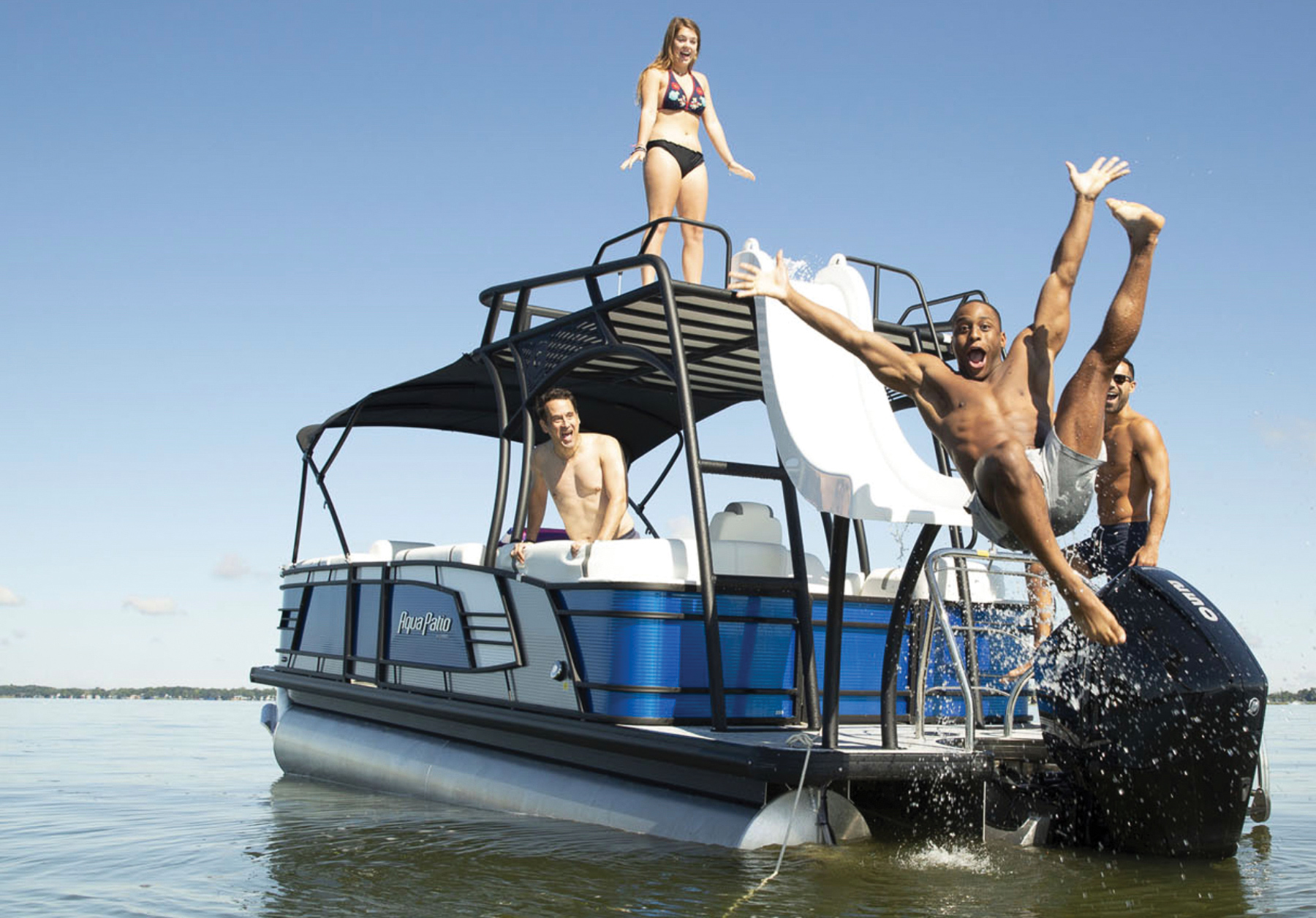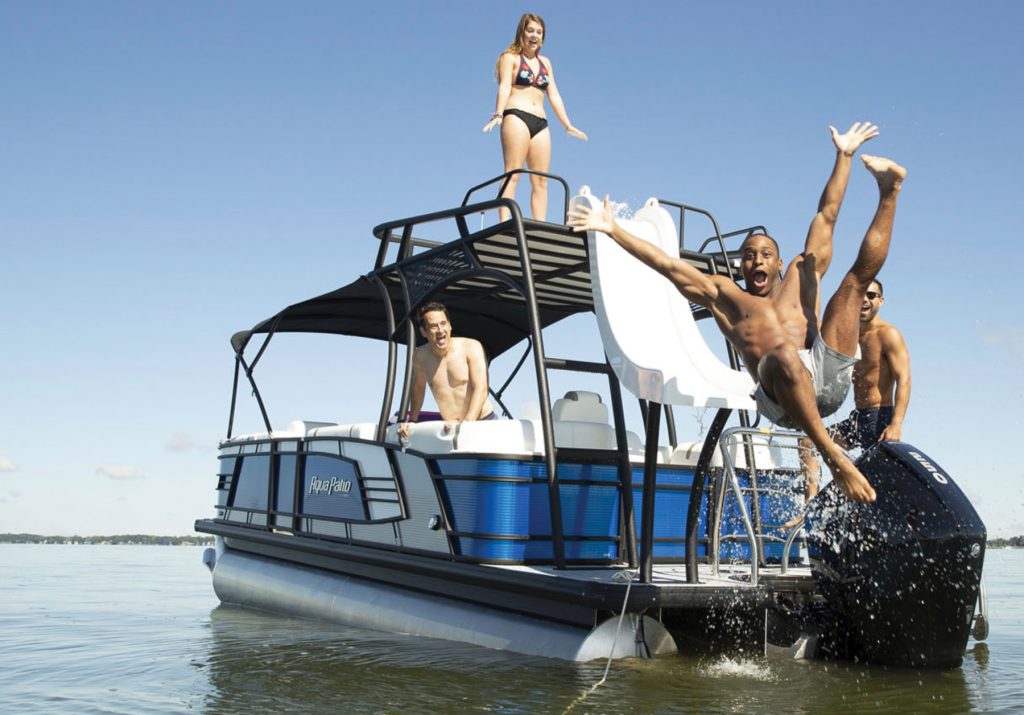 With the 255 SDE's 27' triple tube set up, the extra floatation is pleasantly smooth while cruising and driving. The sporty look and feel make for extra flair, and the 255 SDE can be equipped with a variety of engine sizes, the 250 V8 being the common weapon of choice. It packs lots of power and the entire set up provides ultimate versatility for watersports.
All in all, the 255 SDE shouts "good times". With Godfrey's credible reputation, premium quality, and endless option packages, how could you not feel at home on the water.
---
Specifications
Length Overall: 25' 10"
Beam: 8' 6"
Diameter: 27"
Dry Weight: 3,236
Capacity: 16 ppl
Fuel: 45 gal
Additional Options: $5000-$10,000
MSRP: approx. $147,900 w/ a 300HP Merc
For more information: www.godfreypontoonboats.com

aquapatio, best boat, best boat models, best boat trailer, best center console, best centre console, best performance boats, best pontoon, best power boat, best runabout, Best Used, Best Used boat, boat, boat accessories, boat buyers guide, boat guide, boat lifestyle, boat Lifestyle Magazine, boat parts, boat rentals, boat rentals near me, boat review, boat reviews, Boat Show, boat test, boat tests, boat touring, boat traveler, boat vacation, Boating, BOATING Buyer's Guide, boating Canada, boating guide, BOATING in-water Tests, boating life, boating lifestyle, Boating Lifestyle Magazine, BOATING rentals, BOATING rentals near me, BOATING traveller, boating vacation, Family, family boat, friends, go boating, go boating Canada, Godfrey, how to choose a boat, marina accessories, marine accessories, moonlight, new boat products, New Boating Products, new boats for 2022, new boats for 2023, outboard, performance boats, Pontoon, Pontoon Boat, power boat, power boating, Power Boating Canada, powerboating, RBG Lighting, stereo, Tender boat, top boat models, top boats, top cottage boat, top cruiser, top power boat, top power boats, V8, Watersports aquapatio, best boat, best boat models, best boat trailer, best center console, best centre console, best performance boats, best pontoon, best power boat, best runabout, Best Used, Best Used boat, boat, boat accessories, boat buyers guide, boat guide, boat lifestyle, boat Lifestyle Magazine, boat parts, boat rentals, boat rentals near me, boat review, boat reviews, Boat Show, boat test, boat tests, boat touring, boat traveler, boat vacation, Boating, BOATING Buyer's Guide, boating Canada, boating guide, BOATING in-water Tests, boating life, boating lifestyle, Boating Lifestyle Magazine, BOATING rentals, BOATING rentals near me, BOATING traveller, boating vacation, Family, family boat, friends, go boating, go boating Canada, Godfrey, how to choose a boat, marina accessories, marine accessories, moonlight, new boat products, New Boating Products, new boats for 2022, new boats for 2023, outboard, performance boats, Pontoon, Pontoon Boat, power boat, power boating, Power Boating Canada, powerboating, RBG Lighting, stereo, Tender boat, top boat models, top boats, top cottage boat, top cruiser, top power boat, top power boats, V8, Watersports