There is more than one way to afford the boat of your dreams
By Brad Roberts
So you want to buy a boat, but you're worried about how much it will cost, or whether you can afford it. You wonder whether, in this economy, there's money available or if the banks simply aren't lending for recreational purchases. You wonder "What's the best way to finance my dream?"
Where do you turn to get the answers? We asked the very same questions to a number of professionals in the industry to get some answers for our readers.
Financing Options
Cash. While some boat purchases are made in cash, and usually for smaller amounts, this is the least recommended option. People consider a cash option simply because they don't want another payment. However, when considering the cost of the boat, you have to add in the costs to cash out investments and the potential income tax implications that may bring, which in the long run may be in fact far more costly than financing. In reality, most boat purchases are financed through one of the other methods.
Personal Credit Line (PCL). If you elect to put your boat purchase on your personal credit line, you're really self-financing the purchase. The advantage of this option is the quick access to funds without having to apply for financing and wait to be approved. Typically the minimum payment is three percent of the outstanding balance, which may be a higher monthly payment than what you could negotiate through a boat loan, although interest-only PCL's do exist. The downside is that this method severely limits your future borrowing abilities for emergency situations and is therefore not usually recommended.
Bank Loan. If you approach one of the banks or credit unions, their typical approach to a boat loan is to provide you with a secured credit line with the security being your home. Homes are what the banks are comfortable with, they know how to do well, and once again you're borrowing against your largest asset and limiting your future funding options. Your local branch will typically not finance any boat older than 10 years, and if it is worth over $50,000, they will only typically go up to a maximum of 20 years less the age of the boat.
Marine Financing through a dealer. This is by far the preferred option for a large number of reasons. Your local marine dealer likely has an arrangement with a third party finance company that has access to a number of lending institutions and typically at the "dealer finance centre" level (several levels above the branch level and not accessible to the public).
These centres have what's called computer approved loans. Neither the bank nor one of its employees ever actually speaks to the customer, and this is one way that they keep their rates lower. Other advantages include a fast turn around time (usually under a few hours), a lending system that truly understands boats, up to a twenty year amortization, and the boat buyer doesn't ever have to leave the dealership to go and step foot in the bank. A major upside is that the only collateral is the boat itself, so you still have the available equity in your home for future borrowing or emergency situations. The only downside really is that this type of financing is only available through reputable dealers, so it's not accessible for private purchases or sales.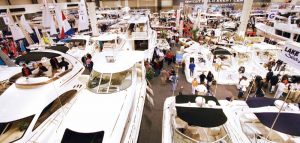 New versus Used
When we asked repeatedly about finance rates for new versus used, we consistently received good news. The interest rates are relatively the same whether you purchase a new or used boat. What varies is the period that a lender is willing to amortize the purchase over. Generally, the rule of thumb is that new boats can be financed over a maximum of about twenty years. Used boats can be amortized over a shorter period of time, typically twenty years less the age of the used boat. So a boat built in 2005, being 5 years old, could be financed over a 15 year amortization period.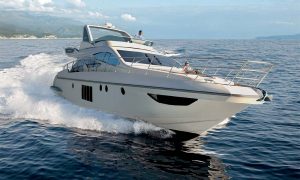 What's it all mean?
The best news is that yes indeed there is money available to finance the boat of your dreams, and at decent interest rates. Some institutions and companies were clearly more comfortable with our questions, while others declined to answer at all. The best answer I got was from Will Walker, at Walker Financial Services. He said "A good boat loan is more than just about rate, there are a lot of other factors involved like amortization and resale value. If you don't plan to keep the boat forever, and most people don't, then you have to consider if your purchaser will be able to get financing for it when you're ready to sell. You deal with a professional for the survey and the insurance, why not deal with an expert in all areas including of course the financing?"
He made good sense, so I asked Will which comes first: finding the make model and year of the boat of your dreams, or getting the answer to "How much boat can I afford?" His answer was somewhat predictable, suggesting that it's a little bit like house hunting in that people typically get pre-approved for a mortgage amount before they go looking at any serious level.
Once you ask that question, the answer may very well surprise you. It's highly likely that a new or only a few years old boat, although being a higher price tag overall, will actually finance better, for a lower monthly amount because of the longer amortization, than will an older boat with a much lower price tag. And you have to consider that once the boat passes over that magical 20 years old mark, when you're ready to sell your buyer won't be able to get financing. So you're stuck with it until you can find a buyer who'll pay the cash.
So don't get caught off guard by sticker shock, don't buy based just on the interest rate or the monthly payment amount, get some advice that will steer you in the right direction today and for years of happy cruising to come….and go find that boat of your dreams today.
Information Sources:
Used Boat Prices Information
www.boatvaluebook.com
Walker Financial Services
www.toyloan.com