By Timmy McNamee
The MasterCraft XT Line redesign made a jaw dropping debut in 2022 for its upgraded size, aesthetics, and unparalleled performance in its wake surf waves. What was formerly a series known for its crossover capabilities, the XT line now delivers more wakes and waves like never before. The MasterCraft XT 23 has quickly proven to become the flagship model for MasterCraft since its debut, being the Wake Boat of choice for world-renowned professional wake surfers, Austin Keen and Ashley Kidd. 
While the MasterCraft XT line offers options in many sizes ranging from 20 to 25 ft, with variations between traditional and pickle fork bow, the XT 23 delivers it all in the perfect package for the ultimate experience on the water. With MasterCraft's standard features of GPS speed control, Ilmor Engine, Klipsch Audio, Billet Clamping Board racks amongst other necessities; the XT23 equipped with SurfStar system, it gives you everything you need and want from your wake boat. As before, the ergonomics of the seating and the layout give MasterCraft an added advantage over its competitors. This makes a 23-foot boat seem one foot larger.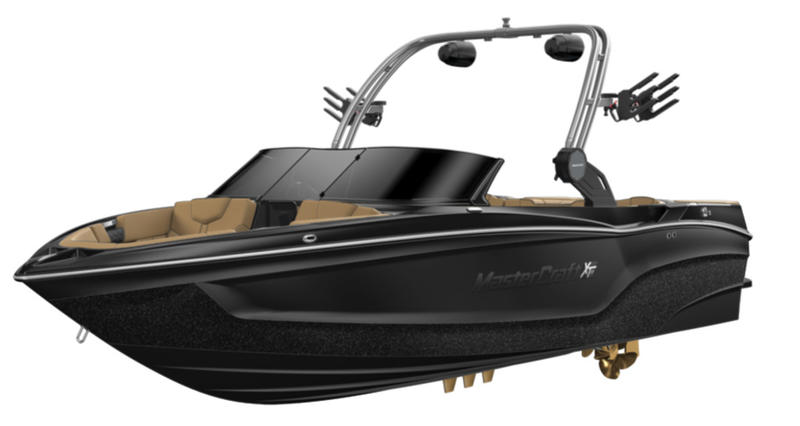 Opt between a 7" touch screen or dual screen dash for your preference of helm display, where SurfStar, accessory controls, and speed controls are effortlessly programmable at the touch of a button. Surf Star delivers a zero to 100 percent tab device system creating the perfect waves and wakes, which means the versatility with MasterCraft Boats has proven to be the best on the market; past, and present. Coupled with Ilmor Marine Engines exclusive to MasterCraft, owners are seeing a 40 percent savings in fuel expenses over other manufacturers of its class. Now that says something. 
There's a reason both of wake surfing's top athletes in the sport have chosen MasterCraft Boats, and there's plenty of reasons you should too. Run, don't walk – get to your local dealership or marina and check out the re-designed MasterCraft XT23. We promise, this beauty will not disappoint. 
---
Specifications
LOA: 23'
Beam: 102"
Weight: 2,750 lbs
Max HP: Ilmor 6.0/6.2 L
MSRP: $255,000 CAD

For more information:  www.mastercraft.com

2023 MasterCraft XT23, buying a new boat, MasterCraft boats, MasterCraft XT23, new boats, Wakeboard, Wakesurf 2023 MasterCraft XT23, buying a new boat, MasterCraft boats, MasterCraft XT23, new boats, Wakeboard, Wakesurf