By: Timmy McNamee
New features for the Centurion Fi23 stand out amongst its competitors, and frankly it differs from any other model in the Centurion lineup with an all-new interior pattern and stitching. With an updated hull and new interior aesthetics, the Fi23 packs a serious punch outside and in.
At first look, the Centurion Fi23 shows off its unique yet classic gel lines which gives Centurion a powerful image in the industry. Paired with the new pattern and stitching on its interior, it complements the Fi23 as a classy, "kick-butt" looking ride. Higher freeboard allows for a deeper, more comfortable seating arrangement which makes a huge difference in the traditional bow design for the Fi23. With ample width and comfort, the bow of the Centurion Fi23 may be one of the most spacious amongst its competitors and offers maximum comfort whether facing forward or aft. Throughout the cockpit, cupholders, 12V and USB ports are accessible to accommodate all guests, with an optional rear sliding bench seat and backrest for times your crew wants to sit in on the action happening behind the boat. Both the transom and bow have a convenient walk through to access either end of the boat, and optional flip up transom seating is available for lounging and relaxing.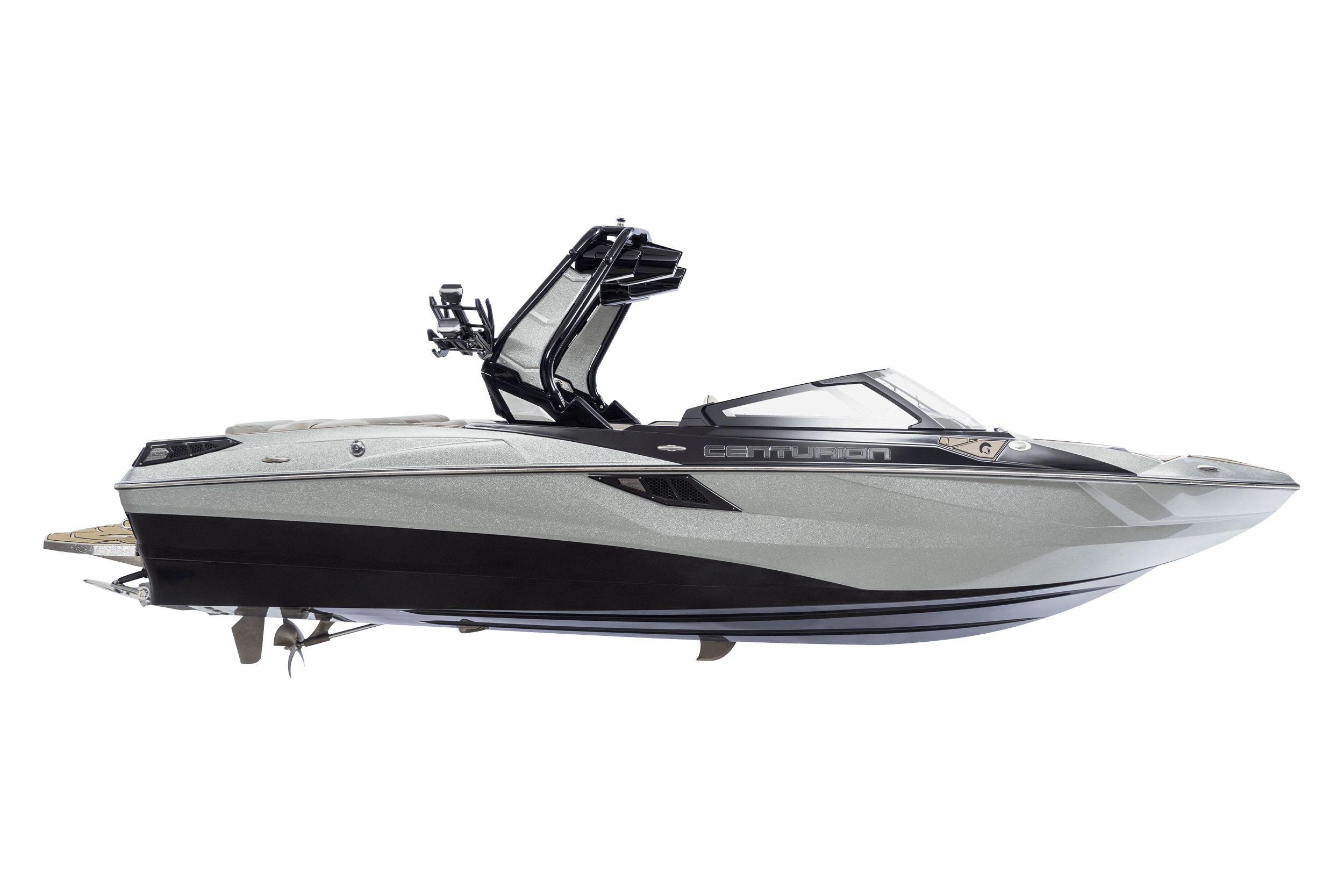 The wakeboard tower is beautifully appointed tying in all the style Centurion has to offer. With optional Cross Fire or Rev 10 speakers, the sound matches the boldness of the Fi23 in its overall attitude and image. A standard 5,250 lbs of ballast come available with Centurions QuickPro Surf System which delivers smooth, clean, versatile waves catering to any skill level and rider size. A dual touch screen helm is simplistic and futuristic with paddle shifts alongside the steering wheel for easy touch and go settings for speed and adjustment. RamFill was upgraded with larger ball valves delivering even more speed to fill times, so you can spend more time on the water and less time filling. An optional rear facing tower camera comes convenient for wake surfing allowing the driver to have full eyes on the back of the boat whilst driving. 
The Centurion Fi 23 is a boat for the books if you're looking for a well-rounded wake boat offering value and luxury. In one of the most popular size ranges on the market, the Centurion Fi23 is one to keep on your radar. 
---
Specifications
LOA: 25'
Draft: 3'0
Ballast: 5250 Lbs
Capacity: 14
Fuel: 89 Gal
Dry Weight: 6,900 Lbs
MSRP: See local dealer

For more information: www.centurionboats.com

2023 Centurion Fi23, buying a new boat, Centurion boats, Centurion Fi23, new boat, new model, Wakeboard, Wakesurf 2023 Centurion Fi23, buying a new boat, Centurion boats, Centurion Fi23, new boat, new model, Wakeboard, Wakesurf