By: Timmy McNamee
New for 2023, Kawasaki unveils two new models to their more cost-efficient Ultra line up. Following in the footsteps of its supercharge 310 LX, the Kawasaki 160LX delivers similar aesthetics and image, however stays reserved without the power and supercharged engine like its bigger sister. 
The 160LX stands out amongst the rest for its versatility and cost efficiency in value for the options it carries. With an all-new taller front and rear bumpers, a spacious rear deck, low-profile handlebars, and LED accent trim lighting, the Ultra 160's futuristic image makes it arguably one of the most appealing looking jet skis on the market.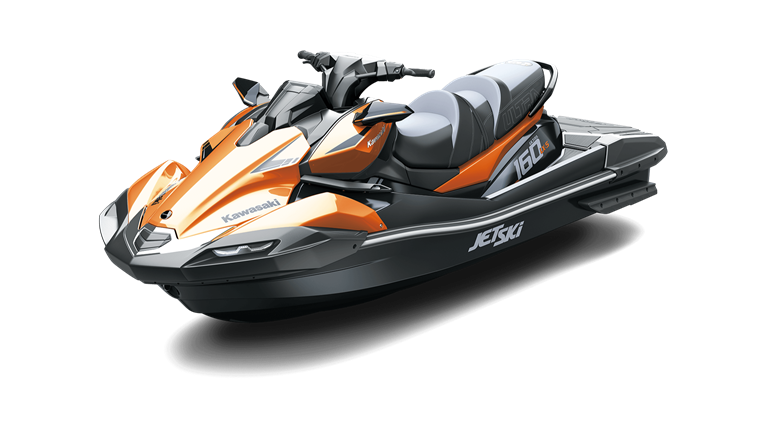 Showing off more technology and features than ever before, the Ultra gorgeous 7" 'TFT' colour display conveniently has all functions of the Ultra 160LX. GPS Mapping, speed control, Kawasaki smart reverse with deceleration, smart steering, Bluetooth stereo controls, launch control, cruise control and adaptable power modes. The JetSound 4-S audio system is booming with clarity and volume at even the highest speeds. Coupled with the large swim deck at the rear, the Kawasaki Ultra 160LX comes standard with a back-up camera for the benefit of watersports activities. In operation, a slimmer seat with more leg room gives the rider an overall feeling of comfort and control. A start multi-mount system can be mounted on the back platform for the ease of carrying more gear and accessories, and a whopping 80L fuel tank ensures an effortless day on the water. 
A great choice for those looking for a versatile cruising PWC, that comes outfitted with luxury options, this beautiful machine will catch the eye of all those who see it. 
---
Specifications
LOA:

140.9"

Beam:

47"

Fuel:

80 L

Weight:

988 LBS

Max HP:

100 HP

Engine:

KAWASAKI 

MSRP:

$21,999 CAD
For more information: www.kawasaki.ca

2023 kawasaki, Boating, Kawasaki ULTRA 160LX, new boat, new model, on the water, personal watercraft, ride the wave, Watersports 2023 kawasaki, Boating, Kawasaki ULTRA 160LX, new boat, new model, on the water, personal watercraft, ride the wave, Watersports