Shining a spotlight on the newest marine power engines to make a wise decision on a new boat purchase or re-powering.

 
By Timothy P. Banse

A couple of seasons ago, Power Boating Canada's editors declared The Year of the Outboard Motor. This season, things are different. The big news isn't limited to fancy valve trains, pistons, and forged crankshafts building great gobs of horsepower. Instead, today we celebrate engine management, electronic controls, and firmware. With that in mind, some enthusiasts might consider it appropriate to label the 2022 boating season as the Year of the Electron for how marine engine electronics have evolved in sophistication. For the record, this explosion in marine engine technology last occurred some 30 years ago when electronic fuel injection replaced the venerable carburetor, revolutionizing the marine engine performance that nowadays we take for granted. Let's visit upon the details.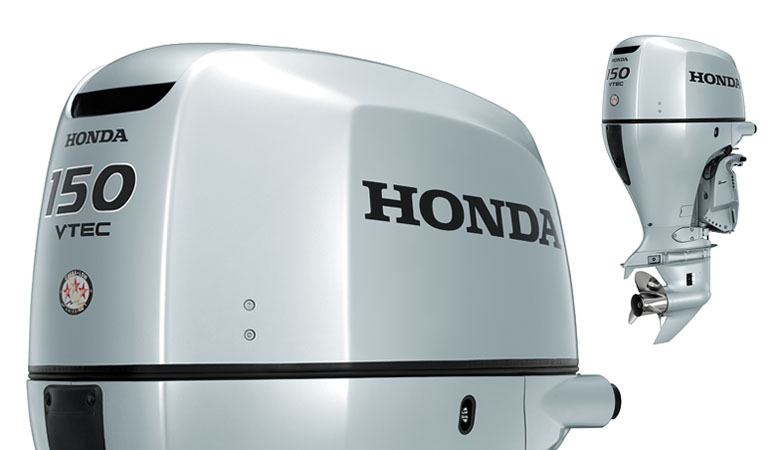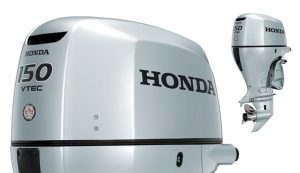 Honda Marine

 
For 2022, Honda Marine redesigned its BF115 and BF150 outboards and concurrently introduced the all-new Honda BF140 retiring its BF135. Appropriate for a broad range of boats (freshwater, saltwater, and fishing), all three newbies offer a 5-year, non-declining factory warranty that provides the same coverage on the last day as the first. Two different color options, Aquamarine Silver and Grand Prix White, are offered. 
These upgraded/new four-strokes feature multiple rigging options worth doting on. The first example is Honda's Intelligent Shift and Throttle (iST) and mechanical control interface with HondaLink Marine. This new integrated smartphone application boasts onboard sensors that continuously monitor and report engine health, including RPM, operating temperature, fuel flow, oil pressure and temperature, and fuel pressure. Live 24 hours a day, seven days a week, no matter the location, it monitors real-time boat location, speed, and the opening and closing of hatches or doors. More good news, HondaLink Marine works with any boat rigged with NMEA 2000 certified engines, not just Honda-powered boats,
For more information visit:
www.marine.honda.ca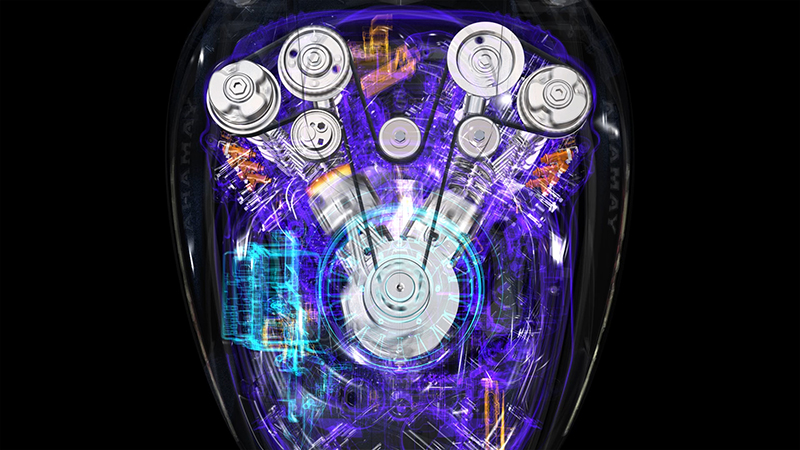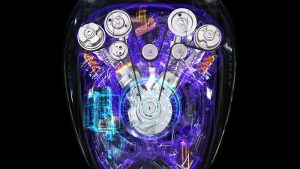 Yamaha Marine
Over the past year, while you were fishing, Yamaha's white lab-coated technicians have been fine-tuning the VMAX SHO and developing HARMO, an electric outboard. Let's begin with V MAX SHO. Available in 200, 225, and 250 hp models, this was the first outboard to prove a four-stroke outboard could be as lightweight and powerful as a two-stroke. For 2022, it's been upgraded by boosting battery charging capability by a whopping 40 percent, from 50 to 70 amps. Yamaha's advanced Battery Management System is faster to install than conventional systems. On triple through quint (5) installations, it only requires two starting batteries freeing up room inside the boat and making battery care and management more effortless.
Also new, Yamaha's TotalTilt simplifies trailering and trimming in shallow water. Double tapping the trim button tilts the outboard motor from its current position to either full tilt-up or down to the engagement of the trim rams. TotalTilt eliminates the need to tediously hold the trim button.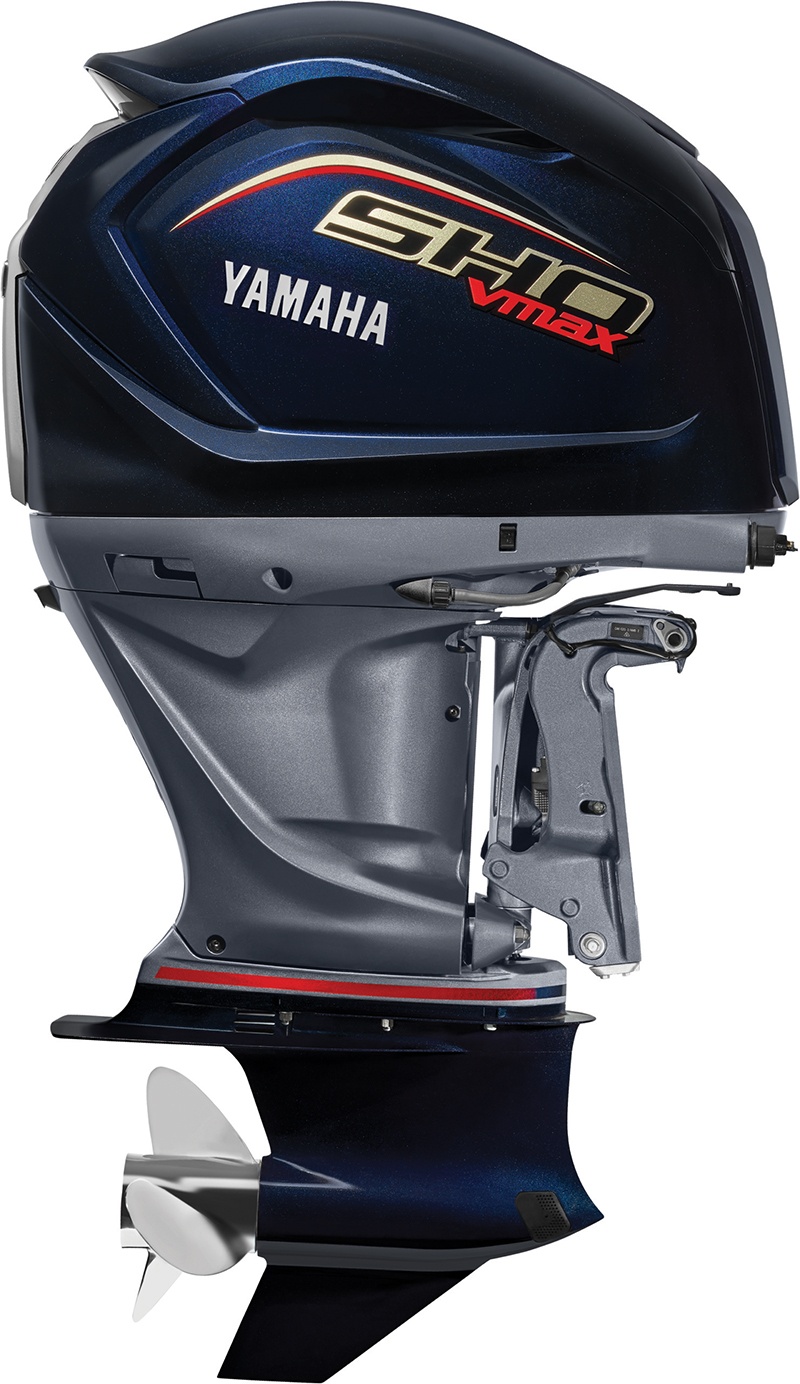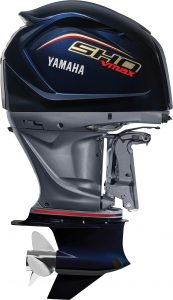 Perhaps the most tantalizing news from Yamaha is HARMO, not an acronym but rather an invented name derived from the harmony between a vessel, propulsion system, passengers, and the environment. This electric boat control system combines a rim-drive electric motor spinning a large diameter impeller with joystick control. While rim drive motors are standard fare in bow thrusters and other marine applications, HARMO is its first application as an outboard motor. With 48-volt power supply flowing electrons to a high-yield, low-drag 3.7-kilowatt motor, its 225 pounds of static thrust is the equivalent of a 9.9-horsepower gas-powered motor. Run time depends on battery type, size, configuration, and operational parameters. HARMO weighs 121 pounds
Available in both single and twin configurations, HARMO runs silently. HARMO, featuring Helm Master EX system controls (replete with joystick), maneuvers boats up to 32-feet. Acceleration comes on strong. With a 140-degree steering arc, handling is sharp, nimbly rotating a single-engine boat within its length. In twin configuration, it crabs a boat sideways. When docked, the extreme 74-degree tilt angle raises the impeller clear of the water.
For more information visit:
www.yamaha-motor.ca
Volvo Penta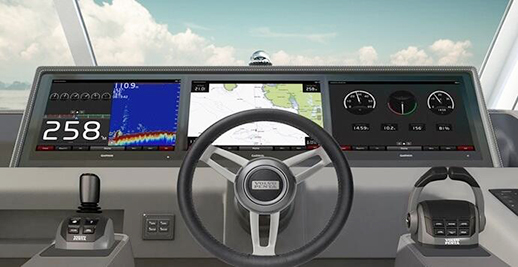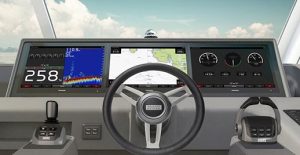 The big news from Sweden is an Assisted Docking system with its genesis derived from a long history of collaboration between Volvo Penta & Garmin. Two independent systems, Volvo Penta, Assisted Docking, and the Garmin Surround View Camera System, work in tandem to make docking a boat much like parking a car. Garmin's Surround View Camera System, replete with its 6-camera array, boasts 360-degree real-time views. Captains maneuvering boats up to 100 feet in a tight situation benefit from improved situational awareness and surefooted control Garmin Surround View is available with the Volvo Penta Glass Cockpit System for Volvo Penta Inboard Performance System (IPS) installations. Teamed with Glass Cockpit, Garmin Surround View comes to life together with Volvo Penta Assisted Docking.
This next generation of marine automation allows a captain to defy the elements by removing the negative dynamics of wind and current, in other words, enabling safe and sure boat docking in challenging conditions. Another unique feature of Assisted Docking is how it lets a captain stop dead in the water to view boat position in Garmin Surround View on the Glass Cockpit screen. Then based on the camera view, make tweak adjustments with the joystick. Pressing Assisted Docking on the Volvo Penta joystick automatically updates the display. In addition to 360-degree-view cameras, Garmin Surround View can be equipped with user-configurable Visual Bumper and Distance Markers (similar to cars) showing when an object gets too close
more information contact:
www.volvopenta.com
 Suzuki Marine
Suzuki Marine has unveiled a line of precision controls for its 2022 Model Year outboard motors. Advanced Drive-by-Wire Controls, Keyless Starting, Smart Multi-Function Displays. Drive-by-wire shift/throttle technology is compatible with a range of new Suzuki 4-Stroke Outboard models ranging from 115 horsepower to the company's flagship 350 horsepower V6. Suzuki Precision Control boasts silky smooth shifting and razor-sharp throttle response. Teamed with Suzuki Marine's Lean Burn Control Technology, these advanced controls optimize fuel efficiency, saving money and extending range
Available in single-lever binnacle, dual-lever binnacle, and single-lever flush mount configurations, Suzuki Precision Controls synchronize up to six outboards via a single binnacle lever. This includes the flexibility of having one lever control a single outboard, one lever controlling multiple outboards, or two levers independently controlling multiple engines for docking, putting a boat on the trailer, or other close-quarter maneuverings.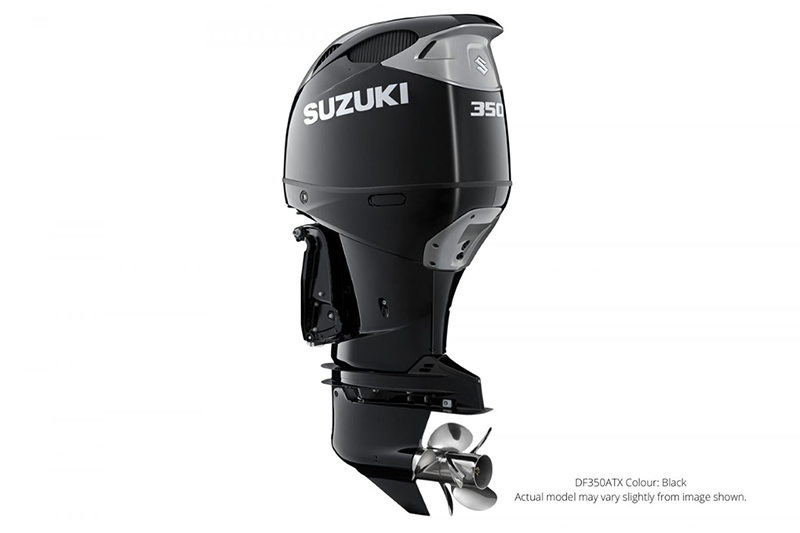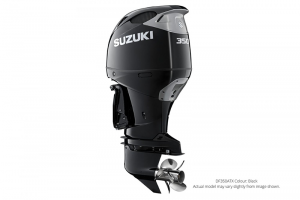 Boaters can further enhance the boating experience by integrating Suzuki Precision Control with the new SMG-4 Multi-Function Gauge or other great Suzuki options. For example, boaters can activate the system's Auto Trim setting to automatically adjust Power Trim and Tilt settings to a pre-set position when the boat reaches planing speed.
Suzuki has also introduced an automotive-style Keyless Start that works with any SPC 2.0 control setup. The wireless key fob is lightweight, waterproof, and even floats if accidentally dropped over the side. When the fob is within one meter of the keyless control unit, a touch of a button starts one, two, or up to six engines. Shut down takes a single touch is all that's needed. Keyless Start includes two key fobs. Dealers can program additional fobs, up to six per boat. KS features an immobilizer. These motors will not work without their specific fob in close proximity, preventing unauthorized use of the boat and discouraging theft of Suzuki outboard motors because they will not operate on another boat without their proprietary fob.
Suzuki Keyless Start integrates with the SMG4 Multi-Function Gauge, programming a six-digit passcode to start the engine should the fob be lost or damaged. The gauge displays a low-battery warning when the fob's CR2025 button battery gets low. The Keyless Start switch panel can be mounted horizontally or vertically, based on available space and the layout of the helm.
For more information visit:
www.suzuki.ca
Vision Marine
You've probably noticed electric outboard motors are a rapidly emerging technology, standing poised to replace traditional internal combustion engines. Electric outboards are nothing new. Anglers have been using them for years to troll lakes and rivers. More recently, Torqeedo and ePropulsion electric outboards have arrived. The latest player is Vision Marine Technologies.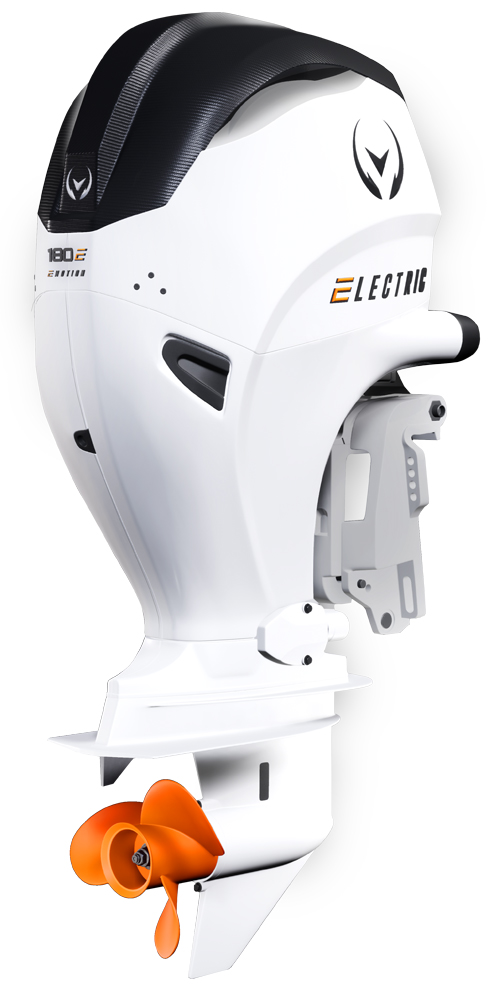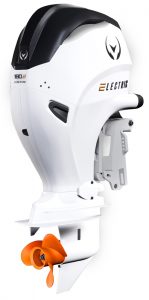 After years of research and development, this Canadian company has launched the world's most powerful production electric outboard – the E-Motion 180 (180 hp). Affectionately dubbed the Tesla of boating, this alternative to 150 – 200 hp petrol outboard engines will find a happy home in 18-25 ft RIBS and sport boats. It is powerful enough to cruise at 20 mph (17.4 knots) with a range of 70 miles
Vision Marine Technologies' flagship propulsion package, E-Motion, combines an advanced battery pack, inverter, and high-efficiency motor. Its litany of features and benefits are eyebrow-raising:
Zero emissions.

Reduced noise voiceprint.

Odorless & smokeless
(There is no exhaust).

Access to smartphone applications.

24/7 monitoring of essential functions.

A 90% reduction in fuel and maintenance costs.

A two-year warranty.

E-Motion's 180 is similarly sized to a gasoline-fueled outboard but with fewer moving parts. It weighs a svelte 180kg/396lb, compared to 216kg/476lb for a 200hp V6 Mercury Verado. That said, its modest weight saving is offset by the 400kg/881lb 60kWh battery pack. Then again, unlike a fuel tank, battery pack weight remains constant no matter whether full or close to empty. Predictably, top speed and range depend on the size and weight of the hull. On a 20ft sports boat, it should be good for up to 64kmph (35 knots). Battery charging using a 220V shore power connector takes 12 hours. A full recharge costs about $5 to $10. Battery life is projected to be 10,000 hours. Servicing requirements are minimal, paying a considerable dividend (90%) in reduced running costs. Another bonus, silent running, due to the electric motor's lack of exhaust. Zero emissions are another plus.
For more information visit:
www.visionmarinetechnologies.com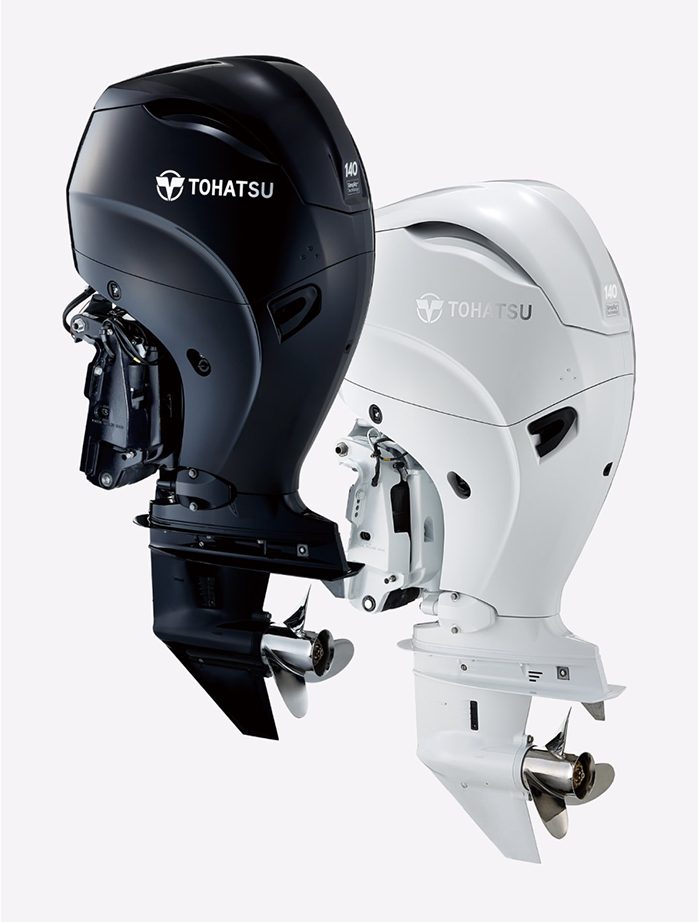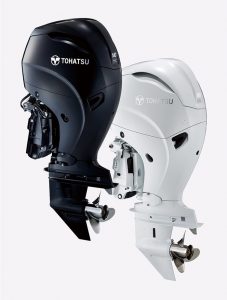 Tohatsu
Late last year (2021), Tohatsu Corporation introduced the MFS140, a 140-horsepower model. Simply put, this V4 engine is notable for its performance-tuned exhaust manifold that maximizes low-end torque and boosts acceleration. Company engineers assert its torque to displacement ratio which makes it perform like a beast in all boat styles, from light to heavyweight. Tohatsu further points out its new outboard performs as strongly as a 150-horsepower motor. 
MFS140A Is a SOHC-4V with spark plugs centered in the combustion chamber for efficient combustion paying big dividends in strong acceleration and fuel efficiency. The gear cases ' 2.08:1 ratio strikes a balance between low end torque and top end performance. With trolling in mind, a variable idle adjusts engine speed from 650 to 850, in 50 rpm increments. The high output alternator makes a respectable 41 amps
Besides the 140 introduction, we're hearing credible rumors of an imminent engine introduction. As of press time, we remain in the dark about precisely what the horsepower rating will be or any other particulars. Holding cards close to the vest, our contact at Tohatsu declined to provide even a hint of what's to come.
For more information visit:
www.tohatsu.com

Mercury Marine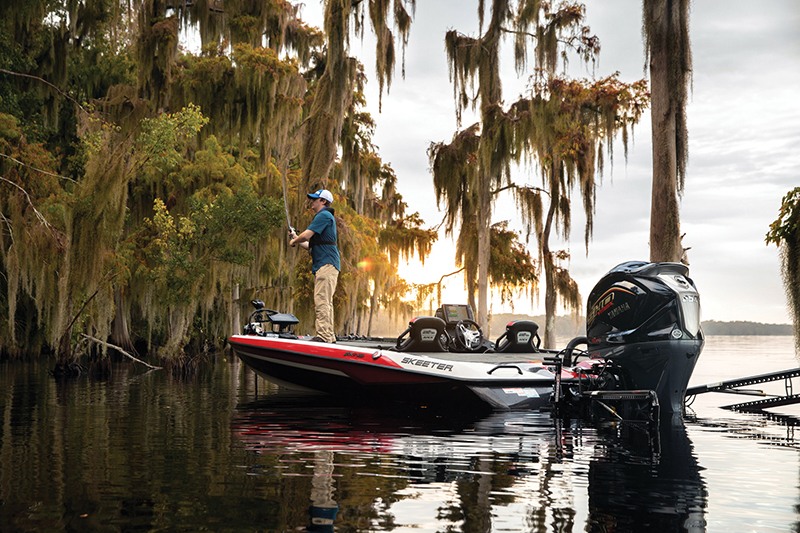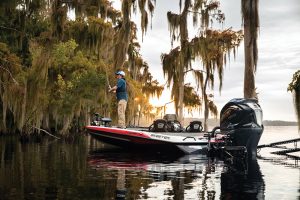 Finally, you may remember Mercury Marine's tsunami splash earlier this year when it introduced the thunderingly powerful V12 Verado, a technological wonderment. As of this date, Mercury has nothing new to show, but we have heard rumors of a pair of engines waiting in the wings. A company spokesperson says, "Mercury does not comment on pending product releases…" Stay tuned.

For more information visit:
www.mercurymarine.com

best boat, Boating, Buyers guide, buying a new engines, center console, Cruiser, fishboat, Honda, marine power, Mercury, new engines, new power, outboards, Pontoon, Power Boating Canada Magazine, power boating for dummies, Power boats brands, repowering engines, speed boat, us power boating, what is power boating, what power boats, Yamaha best boat, Boating, Buyers guide, buying a new engines, center console, Cruiser, fishboat, Honda, marine power, Mercury, new engines, new power, outboards, Pontoon, Power Boating Canada Magazine, power boating for dummies, Power boats brands, repowering engines, speed boat, us power boating, what is power boating, what power boats, Yamaha