It's a crossover without sacrificing luxury and comfort.
Boat Test #1755
By: Captain Christopher Kourtakis
The Barletta 22 CC Cast-N-Cruise has to be one of the best looking fishing pontoons on the market today. She is sleek, powerful and performance driven with the functionality of a fishing vessel. This pontoon will not disappoint whether you choose the standard layout or option for a tri-toon.
The styling of the 22CC is fast. That is the best way to describe it as the railing trails off to the back giving the appearance of moving fast even when it is at the dock.
The two plush forward loungers can be found on either side of the bow seating area. Both loungers have a chaise lounger built in for maximum comfort and enjoyment. The second couch on the port side is located midship and just across from the helm.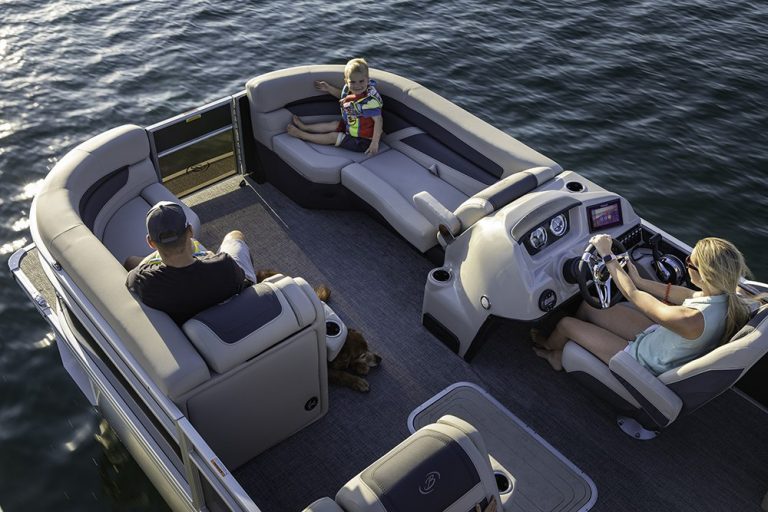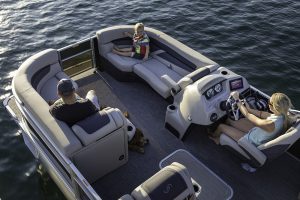 The aft is wide open with standard stainless steel fencing and chain system, with easy access to the permanently mounted 4-step telescoping swim ladder on the starboard side.
Plush rear facing casting captain's chairs are on either side of the aft area. Both seats recline, swivel, and have movable arm rests, and are identical to the captain's chair at the helm. 
There is a station just in front of the ski bar and motor that has molded in rod holders on either side for when you are not using them and two rod holders on the top that are perfect for trolling. This layout provides excellent access to the water without having to worry about snagging hooks on the upholstery.  
The helm station is exactly what you would expect from Barletta. Two gauges are mounted directly in front of the tilt steering wheel. The optional Simrad multi-function is immediately to the right and just below the display is an array of accessory switches. The stereo remote is on the left of the wheel and the throttle is economically mounted on the right side of the helm. 
If you want a crossover without having to sacrifice luxury and comfort, the 22CC is the boat that you want. Not only will she turn heads as you fly by, her functionality will meet the needs of everyone in the family. 
Specifications
(Specs are based in two and three tubes)

LOA: 23' 2"
Beam: 8' 6"
Hull Weight: 2,572/2,834
Log Length: 22' 3"
Tube Diameter: 25"
Draft: N/A
Fuel Capacity: 24/34
Max Horsepower: 150/200
Max Persons: 10/12

MSRP: $70,210 USD

For more information: www.barlettapontoons.com

Barletta, Barletta cabrio, best boat, best boat models, best boat trailer, best center console, best centre console, best performance boats, best pontoon, best runabout, Best Used boat, boat accessories, boat parts, boat reviews, boat tests, boat touring, BOATING Buyer's Guide, boating guide, BOATING in-water Tests, boating lifestyle, Boating Lifestyle Magazine, BOATING rentals, BOATING rentals near me, BOATING traveller, boating vacation, crossover, go boating, go boating Canada, how to choose a boat, marine accessories, new boat, New Boating Products, new boats for 2023, performance boats, Pontoon, pontoon reviews, pontoon test, Power Boating Canada, Tender boat, top boat models, top boats, top cottage boat, top cruiser, top power boat Barletta, Barletta cabrio, best boat, best boat models, best boat trailer, best center console, best centre console, best performance boats, best pontoon, best runabout, Best Used boat, boat accessories, boat parts, boat reviews, boat tests, boat touring, BOATING Buyer's Guide, boating guide, BOATING in-water Tests, boating lifestyle, Boating Lifestyle Magazine, BOATING rentals, BOATING rentals near me, BOATING traveller, boating vacation, crossover, go boating, go boating Canada, how to choose a boat, marine accessories, new boat, New Boating Products, new boats for 2023, performance boats, Pontoon, pontoon reviews, pontoon test, Power Boating Canada, Tender boat, top boat models, top boats, top cottage boat, top cruiser, top power boat