The 2019 Jeep Cherokee offers a practical and dependable choice for everyday adventures with premium on-road manners and impressive tow ratings and fuel efficiency.
For 2019 the Jeep Cherokee will be available with two high-efficient engines options: the 3.2-liter Pentastar V-6 and the 2.4-liter PZEV Multiair2 Tigershark I-4 – both mated to a nine-speed automatic transmission.
One of the most technologically advanced engines in the automotive industry, the all-new 2.0-liter direct injection turbocharged inline four-cylinder engine is rated at 270 horsepower and 295 lb.-ft. of torque and is mated to a high-efficient nine-speed automatic transmission and engine stop-start technology to optimize fuel economy and minimize greenhouse gas emissions.  Benefits of the new engine include outstanding fuel economy with low emissions, quick 0-60 miles per hour launch performance, and enhanced drivability.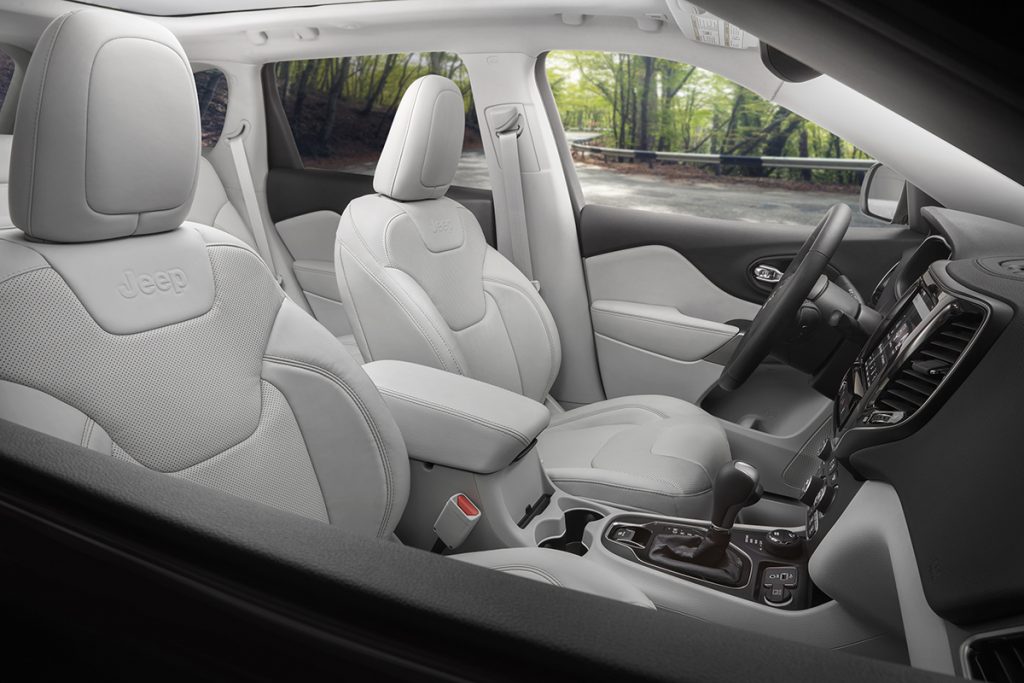 We do not normally consider a 2.0L four cylinder engine to have the power and torque to pull a boat, but amazingly this engine can handle up to 4,000 pounds when it is outfitted with the 'Class 3' trailer hitch platform, and tow up to 4,500 pounds when equipped with the Trailer Tow Package. This will be an ideal vehicle to get your boat to the lake for a day of riding the waves.
The all-new 2.0-liter I-4 features a twin-scroll, low inertia turbocharger with an electric actuated waste gate for exceptional responsiveness and performance, even while driving over difficult terrain. The turbo is mounted directly to the cylinder head to reduce emissions and improve durability. A dedicated cooling circuit lowers the temperature of the intake air, throttle body and turbocharger.
Direct injection, coupled with turbocharging, enables more efficient combustion, reduced emissions and increased performance. The 2.0-liter I-4 engine's fuel pump supplies the engine's 2,900-psi high-pressure common-rail injection system. These high pressures produce better fuel atomization and allow for more precise fuel delivery than port fuel-injected systems, which in turn improves both performance and efficiency.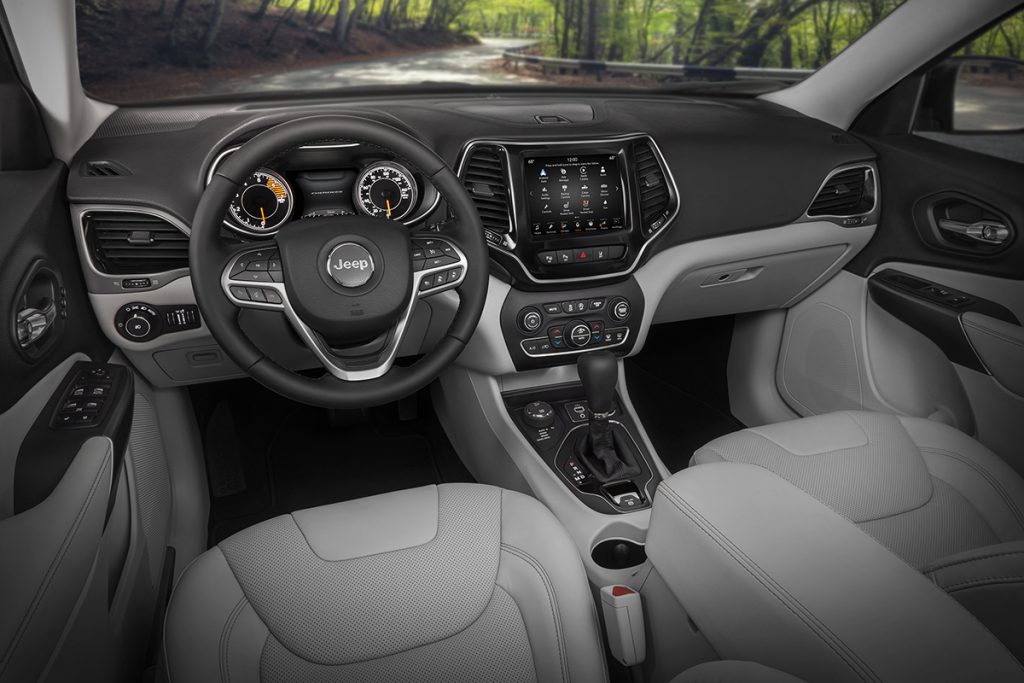 Each cylinder bore is fitted with gallery-mounted piston oil cooling jets to limit piston temperatures, reduce spark knock and increase piston durability.  Select-fit main and rod bearings enable reduced clearances to help lower system oil demand and oil pumping effort.
The ignition system includes a high-energy ignition coil for better fuel efficiency. Precious-metal spark plugs with iridium and platinum provide lasting durability. Located in the center of the cam cover, the spark plugs are easily accessible when service is required. Sodium-filled exhaust valves and plasma-coated piston rings also help extend the engine's life and bolster durability.
The 10.7:1 compression ratio in the 24-valve 3.2L V6 engine aids in lowering fuel consumption and improves performance while the variable-displacement oil pump further reduces parasitic losses to maximize fuel economy. The pump is programmed to operate as needed, staying in low-pressure mode at rpms below 3,500, and then bumping up pressure as demand follows engine speed.
The 2019 Jeep Cherokee is equipped with an electronic power steering system (EPS), which improves fuel efficiency and contributes to the Jeep Cherokee's nimbleness with a turn circle radius of approximately 37 feet in 4×2 models and approximately 38 feet in 4×4 models. With EPS, the power assist is provided via an electric motor system rather than a traditional hydraulic system. Because the system is fully electronic, the driver experiences optimal steering effort at all vehicle speeds, and there is less noise and better fuel efficiency since there is no parasitic loss from a power steering pump. This technology also enables active safety features, such as LaneSense Lane Departure Warning with Lane Keep Assist and ParkSense Parallel/Perpendicular Park Assist.
Exterior
The 2019 Cherokee stays true to its heritage with a wide and commanding stance and an aggressive wheel-to-body proportion for a distinctive identity. Aggressive approach and departure angles contribute to best-in-class capability. It is a vehicle that offers a fresh look, and maintains its unmatched capability in all weather conditions, on the road or trail.
The new Jeep has an all-new front fascia, hood, LED headlamps, daylight running lamps and fog lamps, with a new lightweight, hands-free power liftgate. The rear storage space has been improved and is more convenient with greater cargo volume. There are five new wheel designs, including premium 19-inch wheel on Overland models. A dual-pane sunroof is available for those who enjoy the open-air freedom with sun and the wind.
The signature waterfall hood mated to the seven-slot grille and a single piece, sloping new lightweight aluminum hood, projects clean visual lines that separate from the front fenders, further contributing to the distinctive, premium look.
Drivers can embrace adventures on rugged terrain as Trailhawk models include protective steel skid plates underneath, which complement its rugged exterior appearance, exemplary departure angles, higher fender flares and ride height plus dedicated 17-inch off-road tires for class-leading 4×4 capability, resulting in the most capable mid-size SUV in the market.
Consumers will have a choice of 12 different exterior colours: Blue Shade, Sting-Gray, Velvet Red, Firecracker Red, Olive Green, Hydro Blue, Light Brownstone, Granite Crystal, Billet Silver, Diamond Black Crystal, Pearl White and Bright White.
Cherokee's exterior evolution offers more interior comfort and convenience, delivering everyday practicality with outstanding ride and handling characteristics, independent front- and rear-suspension systems with world-class body torsional stiffness, and more than 80 safety and security features.
Interior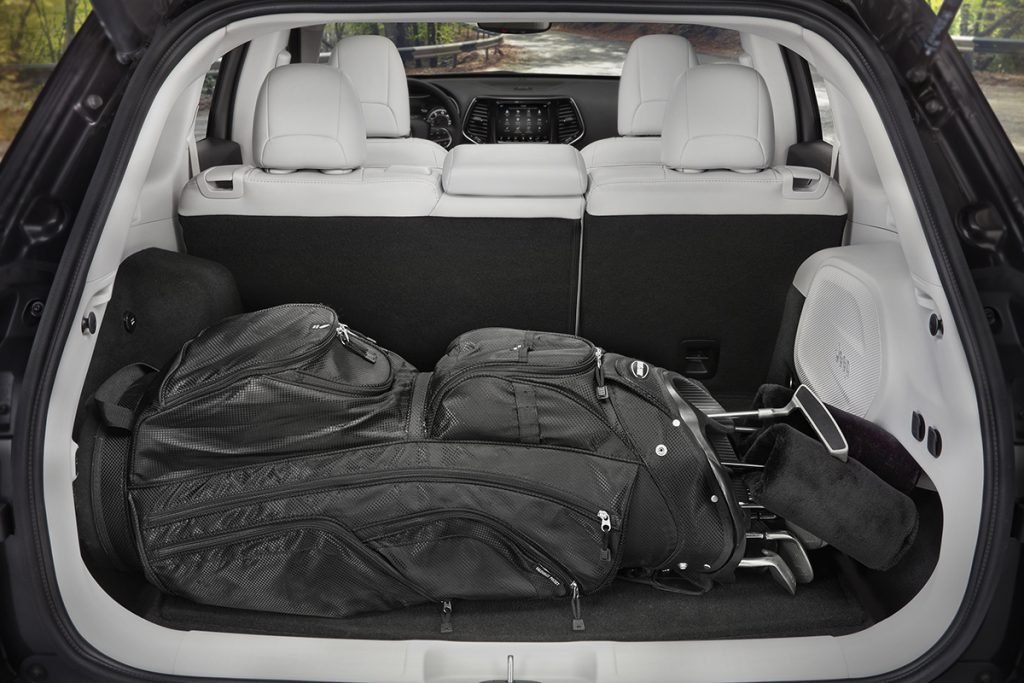 The updated interior of the new 2019 Jeep Cherokee receives a fresh and elegant touch while remaining a practical and comfortable environment. Premium hand-sculpted forms tie signature Jeep design cues and high-quality materials together with precision craftsmanship. A driver-oriented cockpit loaded with easy-to-use, useful technology, clever, thoughtful storage features and more than 80 available safety and security features – including eight standard air bags –provide occupants everything they need for any adventure they undertake.

Ergonomically designed seats that support the contour of the body are trimmed with premium cloth or quality Nappa leather and come available as power adjustable, heated/ventilated seats with memory. Premium cloth fabrics include a unique "Hex" interlocking graphic. The available 60/40 split second-row seats adjust fore and aft for increased passenger comfort and cargo flexibility.

Available in five different trim configurations – Latitude, Latitude Plus, Limited, Overland and the rugged Trail Rated Trailhawk, the 2019 Jeep Cherokee is manufactured in the United States at the Belvidere Assembly Plant in Belvidere, Illinois.

For more information on the 2019 Jeep Cherokee visit www.jeep.ca 

best boat, Best boat buying website, best boat marina website, best boat travel website, best place to rent a boat, boat accessories, boat angler, boat boondocking, boat buyers guide, boat camper, boat camping, boat dealers, boat DIY, boat Fishing, boat Fixer, boat Home, boat information, boat insurance, Boat Maintenance, boat marinas, boat marinas in Alberta, boat marinas in BC, boat marinas in Canada, boat marinas in Manitoba, boat marinas in Saskatchewan, boat marinas in the USA, boat marinas near me, boat products, boat rentals, boat repair, boat road test, boat sharing, boat sites near me, boat supplies, boat Tech, boat tips, boat touring, boat trade, boat Travel, boat traveling, boat travelling, boat vacation, boat vacation cost, boat websites Canada, boating Canada, Boating Canada's Boat Lifestyle Magazine, Boating Lifestyle Magazine, boating website, Canadian marina websites, expert boat information, find a boat dealer, how much does a boat cost, how much does marina cost, how to choose a boat, how to drive a boat, jeep, jeep cherokee, marina products, marina supplies, motor boat, power boating magazine, top boat website, Towing, used boat reviews best boat, Best boat buying website, best boat marina website, best boat travel website, best place to rent a boat, boat accessories, boat angler, boat boondocking, boat buyers guide, boat camper, boat camping, boat dealers, boat DIY, boat Fishing, boat Fixer, boat Home, boat information, boat insurance, Boat Maintenance, boat marinas, boat marinas in Alberta, boat marinas in BC, boat marinas in Canada, boat marinas in Manitoba, boat marinas in Saskatchewan, boat marinas in the USA, boat marinas near me, boat products, boat rentals, boat repair, boat road test, boat sharing, boat sites near me, boat supplies, boat Tech, boat tips, boat touring, boat trade, boat Travel, boat traveling, boat travelling, boat vacation, boat vacation cost, boat websites Canada, boating Canada, Boating Canada's Boat Lifestyle Magazine, Boating Lifestyle Magazine, boating website, Canadian marina websites, expert boat information, find a boat dealer, how much does a boat cost, how much does marina cost, how to choose a boat, how to drive a boat, jeep, jeep cherokee, marina products, marina supplies, motor boat, power boating magazine, top boat website, Towing, used boat reviews