Our 2017 TEST ISSUE features over 45 new boat review – everything from personal watercraft to jet boats, from fishing boats to pontoons, from wakeboard boats to cuddy's, cruisers and mega yachts – there is literally a boat for everyone in here.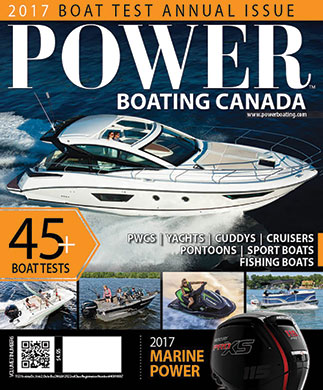 Check out this list and Subscribe today – or come see us at the 2017 Toronto or Vancouver Boat Shows and pickup your copy from our friendly staff in our booth.
Plus in this issue there's our annual review of Marine Power 2017 – what's new and what's returning for the coming season – from every engine manufacturer.
2017 TEST ISSUE LIST:
Azimut – 55S
Avalon – Elite
Benneteau 46 Gran Tourismo
Bennington – 25QXFBWA
Campion – 530 OB
Carolina Cat – 230 SD SunDeck
Carver Yachts – C34 CommandBridge
Chaparral – 21 H2O OB
Chris Craft – Launch 25
Cruisers Yachts – 54 Cantius Fly Bridge
Canadian Electric Boat – Bruce 22e
Four Winns – HD 240 outboard
Formula – 350 CBR
Frauscher – 858 Fantom
Glastron – 259 Sport Cruiser
Jeanneau NC 895
Kawasaki PWC – STX-15F
Larson –  LX 185 OB
Manitou – 27 X-Plode SRW SHP
Marquis Yachts – 660SB
MirroCraft – Dual Impact 1866
MontegoBay – ST8524 DLX
Monterey –  378SE
Neptunus – 625 fly
Polar Kraft – Kodiak 200
Premier – 230 Intrigue
Prestige – 450S
Princecraft – 195 Experience
Ranger TugsR-23 (Yamaha F200)
Regal – 2550 cuddy
Rinker – NEW EX370 – Mercruisers
Scarab Jet Boat – Scarab 255
Sea Doo PWC – Spark Trixx
Sea Ray – Fly 460
Smokercraft – Pro Mag 182
Starcraft  – Coastal 2009
Stingray – 186CC Deck Boat
Sunchaser –  8524 Classic Cruise
Sunseeker – 68′ Sport Yacht
Sylvan – Mirage Cruise 8520
Wellcraft  – 242 Fisherman Centre Console
Yamaha Sport Boat – AR195
Yamaha PWC – GP1800
best boat, Best boat buying website, best boat marina website, best boat travel website, best place to rent a boat, boat accessories, boat angler, boat boondocking, boat buyers guide, boat camper, boat camping, boat dealers, boat DIY, boat Fishing, boat Fixer, boat Home, boat information, boat insurance, Boat Maintenance, boat marinas, boat marinas in Alberta, boat marinas in BC, boat marinas in Canada, boat marinas in Manitoba, boat marinas in Saskatchewan, boat marinas in the USA, boat marinas near me, boat products, boat rentals, boat repair, boat road test, boat sharing, boat sites near me, boat supplies, boat Tech, boat tips, boat touring, boat trade, boat Travel, boat traveling, boat travelling, boat vacation, boat vacation cost, boat websites Canada, boating Canada, Boating Canada's Boat Lifestyle Magazine, Boating Lifestyle Magazine, boating website, Canadian marina websites, expert boat information, find a boat dealer, how much does a boat cost, how much does marina cost, how to choose a boat, how to drive a boat, marina products, marina supplies, motor boat, power boating magazine, top boat website, used boat reviews best boat, Best boat buying website, best boat marina website, best boat travel website, best place to rent a boat, boat accessories, boat angler, boat boondocking, boat buyers guide, boat camper, boat camping, boat dealers, boat DIY, boat Fishing, boat Fixer, boat Home, boat information, boat insurance, Boat Maintenance, boat marinas, boat marinas in Alberta, boat marinas in BC, boat marinas in Canada, boat marinas in Manitoba, boat marinas in Saskatchewan, boat marinas in the USA, boat marinas near me, boat products, boat rentals, boat repair, boat road test, boat sharing, boat sites near me, boat supplies, boat Tech, boat tips, boat touring, boat trade, boat Travel, boat traveling, boat travelling, boat vacation, boat vacation cost, boat websites Canada, boating Canada, Boating Canada's Boat Lifestyle Magazine, Boating Lifestyle Magazine, boating website, Canadian marina websites, expert boat information, find a boat dealer, how much does a boat cost, how much does marina cost, how to choose a boat, how to drive a boat, marina products, marina supplies, motor boat, power boating magazine, top boat website, used boat reviews