Last year turned out to be a banner year in marine power for both the consumer and the engine manufacturers.  From all new additions in the purpose-built sterndrive market, to yet even more powerful outboards, to the very first electric inboard engine – it's been an exciting year of new releases.  Our sources tell us we're in for even more in early and mid-2016!  In this feature, Power Boating Canada shines the spotlight on the highlights of who did what to which engines.  Pick one that's right for you and get ready to start your engine!
MERCURY MARINE
In 2015, the Verado outboard line grew with the addition of two models last spring: the Verado 350, and the Mercury Racing 400.  The new 350s' design taps into the engine's cooling system to cool the supercharger and reduce the effort required to compress air, thereby increasing efficiency and durability.  Plus, at just 668 pounds, the Verado 350 is 95 pounds lighter than its nearest competition, with a 26″ engine spacing it allows for dual outboard installations in a very small space. The new Veradro 350 is available in Phantom Black, or two white options: Cold Fusion and Warm Fusion.
Mercury also introduced the new Flo-Torq Soft Shift Rubber (SSR) HD, claiming it as the quietest and smoothest shifting propeller hub system in the market for high horse-powered outboards, delivering a 10-19% shift clunk improvement vs. other rubber hub systems and a 25%+ improvement vs. solid hub designs.  This new design won a 2015 NMMA Innovation Award.
The remainder of Mercury's outboard division looks as follows. The four-stroke Verado line consists of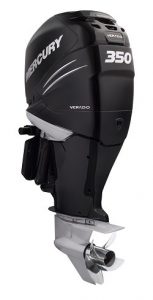 now four six-cylinder engines from 225hp to 350hp; and two four-cylinder models from 175hp to 200hp.  The three Pro Four Stroke models, 200hp 250 and 300hp, all run on the same fuel as the Verado 300 (91 octane is recommended, but using 87 octane won't compromise warranty coverage).  Mercury's outboard joystick technology – a combination of the Axius system and the independent hydraulic steering for each Verado engine – is an option on new models of Verado 250 to 350hp models.
The two-stroke/direct injection OptiMax line features ten different models.  The PRO XS line ranges from 115 to 250hp with eight different models to choose from with 1.5L, 2.5L and 3.0L powerheads; while the 3.0L OptiMax powerheads' two incarnations from 200hp to 250hp complete the line.  The OptiMax engines have consistently lead the industry in power, fuel efficiency, reliability, and versatility tests.
The jet-powered lineup features four models of four-stoke outboards from 25 to 80hp; while the single inboard model available is a SportJet® drive based on the 200hp V6 Direct Fuel Injection (DFI) OptiMax engine.
The Mercury SeaPro line of commercial outboards features four models: 75, 90, 115 and 150hp.  The SeaPro engines feature Mercury's proprietary formula XK360 an extremely low copper content aluminium alloy, which leads the industry in corrosion resistance, the larger Command Thrust gear case, and twice as stiff upper engine mounts compared to the recreational model engines.
Completing Mercury's four-stroke outboard line are an additional twenty-five engines from 2.5hp to 150hp.  The 2.5 to 6hp portable models feature integrated fuel tanks for true portability.
The sterndrive line also grew in 2015 with the introduction of the 6.2L engine last July. When the 4.5L V6 was introduced last year as the world's first-purpose built marine sterndrive, we knew it was merely a matter of time before Mercury would choose to create their own block for their larger displacement engines.  That's exactly what they did.  It's a whole new V8 engine, every part, every system, every idea was rethought and re-engineered. Mercury designed and built the 6.2L engine specifically for marine use rather than adapting and marinizing an automotive engine. The 6.2L is not burdened with automotive restrictions and unnecessary technologies that result in additional cost and complexity without adding value. The result is a perfect balance of power, easy maintenance, superior corrosion-resistance and a quiet, pleasurable ride.  The new V8 comes in four configurations: with and without ECT, and 300hp and 350hp versions produced by the 377 CID/6.2L block that features a 4.0″ x 3.75″ (101.6mm x 95.25mm) bore and stoke.  All engines run on 87 octane fuel and can withstand 10% ethanol blends.  Will Mercury build their own block for the 8.2L engine?  We will have to wait and see.
The rest of the sterndrive lineup remains unchanged with a total of nine models to choose from: the tried and true 3.0L and 4.3L engines are still available next season; the new-in-2015 4.5L, the 5.0, 5.7L, and the new 2016 6.2L small block engines, and the 8.2L big block.
The MerCruiser inboard line consists of six models from the 6.2L to the 8.2L H.O.,  with all being available with DTS.  There are two tow-boat inboard engines in MerCruiser's lineup, the 320hp and 370 hp, and both feature customization options with either red or silver accents.
The MerCruiser diesel family has six sterndrive models – QSD 2.0L, 2.8, and 4.2L – and three inboard models – TDI 1.9, 3.0 and 4.2.  All engines feature thermostatically optimized closed-coolant systems, ultimate corrosion resistance, and fuel-injection systems that virtually eliminate the noise and harshness you expect from a diesel engine.
Although not entirely new engines, the Mercury Remanufacturing line offers completely rebuilt engines from longblocks to inboards (in standard and opposite rotation), and both alpha and bravo sterndrives.  This option lets you keep the boat you love but upgrade the power to regain some of the zip the tired old engine may have lost at a fraction of the price of a new powerplant.
For more information visit www.mercurymarine.com
EVINRUDE
Evinrude introduced their two-stroke direct injection engine in 2003 – the original E-TEC.  In 2014, the design team started with an entirely new and clean sheet of paper with one mandate: to design a truly all-new engine block on which to base their new outboards – the E-TEC G2.
Rather than taking a traditional engine block that was originally designed for a carbureted flow of fuel,
and adapting it to perform with a direct injection fuel delivery model; the new G2 block was designed from the get-go to be a direct injection engine.  The end result is an outboard which Evinrude claims has  the most torque – 20% more, the lowest emissions – 75% lower, and the best fuel economy – 15% better – not to mention the longest operating time before a required scheduled maintenance period. Plus it's available in over 400 colour combinations as well.  Currently there are six G2 models from the 200hp in-line 3 cylinder, to the 300hp V6, however there are some strong rumours that there may be some mid-range jet models on the horizon as well!  If you took your new Evinrude E-TEC G2 engine on its maiden voyage today, it wouldn't require its first dealer-scheduled maintenance until – wait for it – January 2020!
The original E-TEC outboards are still a very large part of the landscape.  These tried and true workhorses remain unchanged for 2015. There are eight High Output (HO) engine in the E-TEC lineup from the 15hp HO to the 250hp HO. There are six V6 engines from 150 to 300hp that feature a unique mix of the largest displacement in their class and the lowest weight.  The single V4 115hp engine weighs in at 390 pounds.
There are seven E-TEC two-stroke outboards inline models from 25hp up to 90hp.  In this same power range, Evinrude also offers a 55hp multi-fuel engine, and two commercial engines: 65hp and 90hp.
The purpose-built pontoon series offers four models from 65 to 150hp featuring rubber motor mounts, special gearing and larger displacements for more torque.  There are three jet outboards in the Evinrude lineup from 40hp to 105hp, which they claim are the lightest jet outboards available.
Finally, there are five portable outboard models from 3.5hp to 15hp, and one 15hpHO model.
All original E-TEC engines require no dealer scheduled maintenance for 3 years or 300 hours (even the iridium spark plugs don't need changing), are 3-Star and EU rated with extremely low Carbon Monoxide emissions and require no oil changes – ever. And of course there are fewer parts on an E-TEC engine compared to an average four-stroke.
For more information visit www.evinrude.com
YAMAHA MARINE
Yamaha Motor Canada offers exclusively four-stroke outboards in four different groupings in their engine line.
The high-power lineup consists of fourteen outboards from the 115 jet drive to the original 115A and the new F115B introduced last year, all the way up to the F350.  The F115B weighs in at just 377 pounds and features a 1832cc (111.8ci) in-line four-cylinder engine, Yamaha's patent-pending Shift Dampener System (SDSTM) to reduce the 'cluck' of shifting gears, and is available with mechanical controls.  It fits in a 26" mounting centre space which is great for the repower market. The new-in-2015 F175's in-line four-cylinder 2785cc (170.0 ci) fuel-injected engine is matched with a 50 amp. Both new engines use regular 87 octane fuel.
The V MAX SHO family now offers eight different models from the new VF115 to the new VF250.  The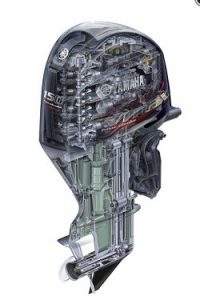 V-MAX SHO 250 and 150 models are available in 25-inch shaft version, which Yamaha calls "x-shaft".  Two new V MAX SHO models – a 115hp and a 175hp were introduced back in the  spring of 2015.
The mid-power line consists of fourteen outboards from the 25hp and 25hp hi-thrust engines to the F90 and F90 jet drive. There's nothing new in this range for next season.
Yamaha's portable outboards range from 2.5 to 20hp.  The new F8 was released fall 2014, and there's another new edition coming this January 2016.
Yamaha's Helm MasterTM control system is more than just a joystick.  It is a fully integrated boat control system with an electronic steering system, throttle and shifting controls, an electronic key system and a joystick controller.  The system is only available on new installations (not the repower market unfortunately), but can now handle up to four engines!
Yamaha's outboard line will include a total of forty-two engines by this coming spring.  You'll have the option of specifying a Yamaha outboard as OEM equipment with even more manufacturers on your new boat this coming year.
For more information visit www.yamaha-motor.ca
VOLVO PENTA
It was last spring when Volvo once again changed the face of marine power with the introduction
of their revolutionary forward-facing sterndrive.  The 'forward drive' was inevitable given Volvo's IPS prop-forward pod drives.  The forward drive produces a much better and more customizable wake for water and tow sports, tighter turns thanks to the directional thrust, and a faster time to plane compared to an inboard engine.  However, it doesn't trim up as high as a traditional sterndrive, which could create some trailering issues or water depth challenges around the dock.  The Forward Drive got a lot of marketing attention including its very own website: www.volvopentaforwarddrive.com and you'll find it as standard equipment or the preferred power option in many tow sports boats.
It was 2012 when Volvo Penta released the new 364 cubic inch V8-380 based on GM's fourth generation small block called the L96, and a new tuned-down 5.7L V8-225.    Both engines were innovative second generation engines that provided multiple advancements over the predecessors.  Then last November 2014, they introduced two more new second-generation sterndrive engines.  The new 4.3-liter catalyzed V6 engines – rated at 200 and 240 horsepower – will supplement Volvo Penta's current V6 product line.  In addition to  reducing CO emissions at idle by 95 percent (WOW!), the new engines offer better fuel economy through common-rail direct fuel injection; higher torque and acceleration using Variable Valve Timing (VVT), freshwater cooling, and extended service intervals and simplified servicing given the common engine platform.  Both current and new engines are available with DPS, OceanX and SX drives as well as Electronic Vessel Control (EVC) options. The engines also come with constant RPM in turning maneuvers as a standard feature that's great for tow sports.
Then just last month, November 2015, they unveiled the new family of next-generation 5.3L V8 featuring the industry's first direct fuel injection for better low-end torque and unmatched fuel efficiency. The new lightweight all-aluminum block allows these engines to offer unparalleled power-to-weight ratio, and a standard closed cooling system ensures a more consistent internal temperature, longer life with no internal parts exposed to raw or salt water.
The Volvo Penta Aquamatic gasoline sterndrive line is driven by twenty-two different engines, available in non- and catalyst versions, from 200 to 430hp; while the diesel sterndrive lineup features ten different configurations from 130hp to 400hp.  Volvo's IPS lineup offers nine engines from 250 to 850hp for yachts from as little as 30 feet to up over 100 feet.  Their diesel inboard line offers over two dozen incarnations from 11hp to 864hp.  To find the best setup for your boat try the 'engine configurator' app on their website.
For more information visit www.volvopenta.com
SUZUKI MARINE
Suzuki celebrated their 50th Golden Anniversary in 2015.  The marine division offers four-stroke outboards from 2.5hp to 300hp.
In their portables line, they unveiled two battery-less fuel injection models in 2013 – the DF15A and DF20A – and expanded that in 2014 with the new DF25A and DF30A which won the 2014 IBEX Innovation Award for outboard motors.   The new engines allow smaller boat owners to benefit from the increased fuel economy and easier starting that fuel injection offers without the need for an external battery.
The mid-range line has eleven different models from 50hp to 175hp all of which feature the company's Lean Burn Fuel System that uses up to 14% less fuel in the mid-range speeds where outboards spend most of their running time compared to the original engine models.
Finally, the high-power line has six models based on the 55 degree V6 block with power outputs from 200 to 300hp, including their latest 250hp model introduced back in 2013.
For more information visit www.suzuki.ca
BRP
Late in 2015, BRP introduced their Intelligent Shift and Throttle (iST) option onto their Rotax jet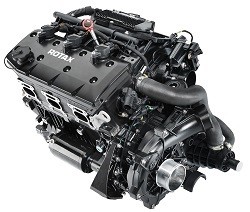 propulsion system engines. The first rollout will be seen as an available option on all Scarab jet boat models and Chaparral Vortex models. The system brings electronic control to formerly mechanical functions in jet propulsion. The iST system allows boaters to optimize low-speed maneuverability in a variety of environmental conditions.  It's far more than just an electronic actuator that lowers the reverse gates, the iST system allows the boat driver to adjust the neutral position on-the-fly from the helm.
BRP also released an all new Rotax 300hp watercraft engine last year.  The new Rotax 1630 ACE incorporates new technology that produces 15% more power with only 9% more displacement. The 1630 cc engine offers the industry's best power to weight ratio, and that's including the external cooling system. The new powerplant is available on three 2016 Sea-Doo models: the RXP-X 300, the RXT-X 300 and the GTX Limited 300.
For more information visit www.brp.com
HONDA MARINE
Honda introduced their most powerful mid-range engine earlier in the fall of 2015: the all new BF 100.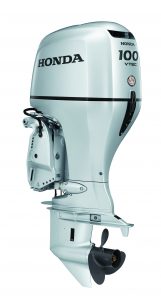 The new engine is a 4-cylinder, 1,496cc (91.4 cubic inch) 4-stroke model weighing in at 366 pounds (166 kg).  Like all Honda Marine outboard engines, it's based on the same design and technology that powers Honda automobiles such as the Accord, CR-V, Civic, Fit, Odyssey, and Pilot.  The new engine features a neodymium magnet flywheel that produces 44 total amps and 35 charging amps; Lean Burn Control that automatically adjusts the air/fuel mix according to speed and load while maximizing power throughout the acceleration range – providing best-in-class fuel economy in cruise mode (2,000 to 4,500 rpm); and Variable Valve Timing and Lift Electronic Control™ (VTEC™) first debuted in the Acura NSX sports car, VTEC™ technology offers a broad, flat torque curve and smooth power delivery throughout the outboard's entire operating range.
Their flagship outboard – the BF250 was introduced in 2011.  The 250hp 3.6L 24-valve sixty-degree V6 outboard is based on the Honda Odyssey minivan engine and claims to have the best-in-class fuel economy.  That, along with a host of other innovations and advancements, went on to help the BF250 win an IBEX Innovation award that year.
Honda Marine manufacturers a total of twenty four-stroke outboard models: from the lightest weight 2.3hp portable engine in the industry all the way up to the flagship 250hp outboard.  The entire line meets the rigorous California Air Resources Board (CARB) 3-Star standards. They also offer an industry-best True 5-year, non-declining limited factory warranty.
For more information visit www.hondamarine.ca
TOHATSU OUTBOARDS / NISSAN MARINE
Tohatsu America Corporation is the U.S. and Canadian distributor of Tohatsu and Nissan Marine Outboards.
Under the Tohatsu brand name, they offer nine portable models from 2.5 to 20hp with their 4hp, 5hp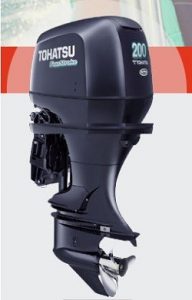 and 6hp featuring a front mounted shift handle – an industry first in this horsepower category.  The eight Tohatsu mid-range four-stroke models are highly efficient and go from 25 to 90hp.  There are five larger engines from the in-line 4 cylinder DOHC 16 valve 115hp  to a 3.5L narrow design V6 with 250hp.  The TLDI (Two stroke Low pressure Direct Injection) Series features seven models from 25hp to 115hp, all of which have achieved 3-Star CARB ratings for ultra-low emissions, and come with a 3-year limited warranty.
Under the Nissan brand name, the company offers a total of eighteen models – thirteen four stokes from 2.5hp to 50hp, and five TDLI models from 40hp to 115hp.
For more information visit www.tohatsu.com  and www.nissanmarine.com
APS
Advanced Power Sports has a lineup of nine portable four-stroke outboards ranging from 2.6hp to 25hp. All engines feature a 24 month limited warranty.
For more information visit www.tomoscanada.com
CUMMINS
Cummins and MerCruiser transitioned away from their joint partnership and back to their parent companies in 2014.   Customers with 5 to 15 litre engines should contact Cummins directly for parts and service, while customers with engines up to 5 litres as well as drives and controls should contact Mercury Marine diesel division.
Cummins and Konrad Marine's joint partnership has 480 and 550 horsepower diesel sterndrive package options.  The 480hp has both a leisure and commercial application approval. It offers 37% more horsepower and 129% more torque than gasoline outboards; and beats other commercial diesel sterndrives with 46% more horsepower and 54% more torque.
The 550hp is aimed at the leisure market and features 875 ft. lbs. of torque.  There are a wide variety of packages available utilizing one of six sterndrive models and 9 variations of the QSB 6.7L engine.
For more information visit www.cummins.com and www.konradmarine.com
TORQEEDO
Torqeedo – those little grey and orange unmistakable outboard motors – celebrated their 10th Anniversary in 2015.  The electric outboard initially drew a lot of questions and nay-sayers, but they have now proven themselves in both power and reliability.  There are 14 different models ranging from a very portable 1hp outboard to an 80hp commercial grade outboard!  The Deep Blue line has expanded to include a hybrid drive system as a 40, 80 and 160 hp equivalent.
Torqeedo introduced an all-new electric inboard this past year.  Called Deep Blue i-1400 or i-1800, it's the first high-power propulsion system in serial production. Available in 40hp or 80hp versions, the true inboard design works as a shaft drive or sail-drive.  The battery comes with a long-term battery capacity warranty: 9 years after commissioning, the batteries will still have 80 % of their original capacity, even if you use them every day.
The "Torq Trac" is a dashboard for electric motors that tells you on your smartphone how far you have left to go on the battery. A solar powered 45W battery charger keeps both the travel and ultralight models topped up with free solar power.  Torqeedo's Power 26-104 lithium ion battery features unique intelligence that protects against short circuits, overloads, deep discharge and wrong polarity, while providing an incredible performance of 2,685 Wh for only 55 lbs of battery weight.
For lakes which ban or restrict the use of other engines, Torqeedo opens up a whole new world of powerboating with performance without breaking the rules or costing a small fortune.
For more information visit www.torqeedo.com
LEHR
It was five years ago that we introduced Lehr propane outboard to our PBC readers. At that time, only a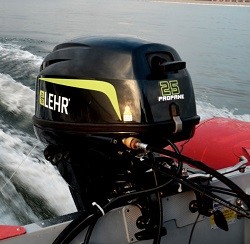 2.5 and 5hp model were available, and back in 2014 the company added a 9.9hp version.  A propane engine does not pollute the water, has no ethanol or fuel-related issues, produces zero evaporative emissions, starts easily with no priming or choke required, and requires no winterizing.  Propane has a 110 octane rating compared to 87 to 93 octane ratings for gasoline, which simply means more power per stroke.
In 2015, Lehr announced their all new 25HP (30.4 cu in / 498 cc) outboard motor with an internal battery that offers easy electric start with no rigging or battery clutter in your boat.  The new 25hp outboard weighs just 172lbs (20" shaft) to 194 lbs (25" shaft) and comes with a full 3-year warranty.
For more information visit www.golehr.com

best boat, best boat models, best boat trailer, best center console, best centre console, best performance boats, best pontoon, best runabout, Best Used boat, boat accessories, boat parts, boat reviews, boat tests, boat touring, BOATING Buyer's Guide, boating guide, BOATING in-water Tests, boating lifestyle, Boating Lifestyle Magazine, BOATING rentals, BOATING rentals near me, BOATING traveller, boating vacation, go boating, go boating Canada, how to choose a boat, marine accessories, New Boating Products, new boats for 2023, performance boats, Power Boating Canada, Tender boat, top boat models, top boats, top cottage boat, top cruiser, top power boat best boat, best boat models, best boat trailer, best center console, best centre console, best performance boats, best pontoon, best runabout, Best Used boat, boat accessories, boat parts, boat reviews, boat tests, boat touring, BOATING Buyer's Guide, boating guide, BOATING in-water Tests, boating lifestyle, Boating Lifestyle Magazine, BOATING rentals, BOATING rentals near me, BOATING traveller, boating vacation, go boating, go boating Canada, how to choose a boat, marine accessories, New Boating Products, new boats for 2023, performance boats, Power Boating Canada, Tender boat, top boat models, top boats, top cottage boat, top cruiser, top power boat