Check out these 12 fishing and safety accessories.
By Captain Bill Jennings        
Any advantage in the sport of fishing is always welcome. Here are some of our picks from this year's new fishing accessories list that can give you a further advantage. The greater your advantage, the greater your catch.
---
The GoPod Marine
 

Spotlight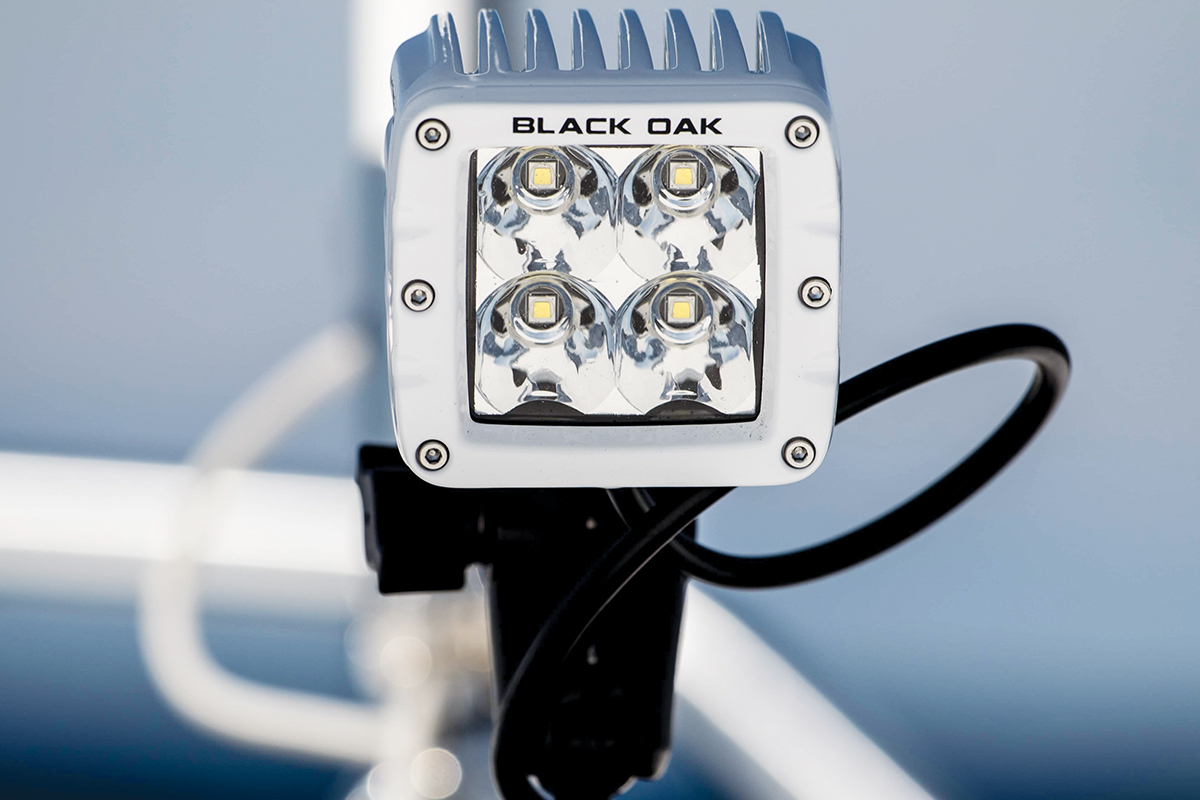 There are few places where it is more important to see what you are doing than on a boat, especially if you are fishing. This new GoPod marine spotlight could well be your answer. It securely mounts to your boat and illuminates surroundings for safe travel in the dark. 
This spotlight does not have to be permanently mounted and will easily clamp on tubes, 1" to 1.8" in diameter or to any flat surface. Its durable housing is DuPont powder-coated aluminum. Rated at 3,000 lumens, this spotlight will project for more than 2,500 feet. The GoPod spotlight comes standard with a 12-volt socket harness as well as a standard wiring harness. No matter the application, the GoPod provides a huge amount of customizable light with a low amp draw, to save your battery. When you no longer need it, just stow and go.
---
Backpack 'Em
A backpack can be a good way to have the tools you need, without storing them full time on your boat. This new Ylinsha bag is not only designed to carry your fishing gear, it also comes with a fish lip gripper, fishing pliers and a handy hook remover. The shape and storage pockets were designed by a group of fishing enthusiasts. The sectional compartments allow you to carry a variety of other items, such as a first-aid kit. The carry strap is designed to accommodate multiple carrying positions. This Ylinsha bag, including the named tools, sells for under $25 with a choice of black or khaki.
---
Be a Cool Fisherman
Staying comfortable in your boat is an important benefit and having sun protection is a good start. Taco Marine, a manufacturer of fish and sport boat accessories, has got you covered. ShadeFin is a shade solution that easily attaches in seconds into rod holders, tops and arches for convenient, portable shade for almost any boat. 
The ShadeFin has a coverage area of five feet by six feet that can be set up for multiple areas of your boat, including fore, aft and sides of tops, or anywhere there is a rod holder. The fabric is high quality WeatherMAX, with an ultraviolet protection factor rating of 50-plus. Colour options are simple—black or white. 
Supports are anodized aluminum and the total weight is only 12 pounds. The ideal boat applications are center consoles between 25 and 35 feet, with a hard or canvas T-Top, and rod holder mounts. Many bay boats can also benefit from the ShadeFin's sun protection. A protective mesh storage bag is included and a three-year limited warranty applies.
---
Stay Connected
Experienced boaters understand the importance of a personal locator device when it is needed. For over 65 years, ACR Electronics has been engineering the latest in communication devices, including emergency position radio beacons, personal locator beacons, search and rescue transponders, two-way satellite devices, man overboard devices and automatic identification systems for awareness of area traffic.
The company's new ResQLink AIS Personal Locator Beacon incorporates multiple levels of signal technologies in one compact package. Once activated, the ACR beacon delivers a complete communication link to emergency services, integrating GNSS (Global Navigation Satellite System) positioning, 406 MHz, 121.5 MHz RDF signals and AIS transmission. 
It even provides confirmation that the international satellite system has received the distress message. The man overboard function transmits an AIS signal within VHF radio range, and it is plotted onto connected chartplotters to request local assistance from nearby vessels. 
An ACR personal locator beacon, could one day save your life. 
---
A Robot at Your Helm
How many times have you located fish only to find your boat drifting away? Rhodan Marine Products have designed a solution that some might call a "Smart" Trolling Motor. They have combined a GPS virtual anchor, an autopilot and a wireless trolling motor into one remarkable package.
When you find a spot where the fish are biting, touch the anchor button on the remote fob and the GPS-guided trolling motor will automatically keep the bow within a few feet of the chosen spot, allowing you to concentrate on fishing. The trolling motor delivers a strong 80 pounds of thrust for accurate positioning. Each package includes the smart motor, a wireless fob, a quick release mount, a 5" RAM mount, and a three-blade propeller.
---
A Garmin
 

that

 

Sings

 

When you say Garmin, most people don't think radios, but Fusion Apollo radios by Garmin is changing that. Their latest hideaway stereo provides customers even more flexibility and provides the very best on-board audio entertainment possible. Here are some of the key features. 

With its compact design, the WB675 can simply be nestled inside the helm console, a glovebox compartment or mounted completely out of sight, providing maximum dash space. Using digital signal processing and marine digital media, this unit includes built-in bluetooth. A unique feature is the WB675's ability to provide premium sound from four separate audio zones. 

Garmin's WB675 hideaway stereo has been tested against salt fog, UV, humidity and extreme temperatures that can cause electronic failures in standard radios. There is a three-year warranty and a 60-day money back guarantee. The suggested retail is under $500.  
---
Snap Crackle and Pop
When canvas covers shrink and snaps corrode, closing and opening the dome snaps on your cover can be a difficult task at best. Enter the Top Snapper, a canvas dome snap tool that makes the task very easy. 
Stainless-steel notched blades slip over the snap shoulder to position the snap. One blade allows you to fasten snaps from the inside and the other blade allows you to fasten snaps from the outside. This stainless-steel snapper tool works to both close and open snaps without damaging the canvas. It comes with a wrist lanyard and a lifetime warranty. 
---
Latest Fish Finding Technology
The HDS PRO, ActiveTarget 2, ultra-high definition chartplotter/fishfinder, from Lowrance gives anglers the latest complete package in fish-finding technology. This new updated version of the Lowrance ActiveTarget live sonar enables anglers to quickly recognize if lures and techniques are working in real-time allowing them to make fast adjustments to get a fish strike. It introduces two new chart overlays for ActiveTarget Scout mode and Ghost 360 in a new 10-inch display. 
With its higher resolution views, you get a smoother and more consistent image across the entire range, with a full live-action picture in forward, down and scout views. To maximize its effectiveness, HDS PRO, Active Target 2 offers full networking control of trolling motors. autopilots, engines, power-pole and more. 
---
Any Way You Want It
Here's a multiple use product that's custom made to fit your boat. Deckpad is an inflatable platform that will add convenience to a fishing boat and versatility to a bowrider. 
Deckpad provides a custom standing platform for various locations in your boat and even one for attachment to your transom. They stock sizes to fit the interior of dozens of existing boat models, but if a custom fit is required, they employ a parametric process to ensure you get exactly the shape you want.
The quality product uses military drop-stitch fabric, stainless-steel hardware, and construction techniques field-tested in the harshest of marine environments. Deckpad can add to the efficiency of any fishing boat, but it can also turn a family bowrider into a practical fishing boat.
---
An In-water 'Garage' for Your Boat
Here is an innovative solution to keeping your boat clean and dry. Instead of a lift, "SeaPen" has come up with a floating sandwich of rope, a growth-resistant liner and a polyethylene frame, onto which you drive your boat. The boat is supported by the water under this material sandwich. This eliminates the need to mechanically raise the structure and boat above the water level. 
If water spills into the structure, a 110-volt pump will automatically pump the water out, keeping the boat dry. The gateway at one end allows you to simply drive your boat on and off the platform. This "boat garage" provides a docking solution for special water conditions and for areas where lifts are not permitted.
www.solsticedockingsolutions.com
---
Greater
 

Strength

An outboard transom plate makes good sense. They will secure the integrity of your outboard by evenly distributing stress through the transom. And you can be sure they will do the job properly if it is made by Livorsi Marine. 

These new transom plates are offered in your choice of anodized aluminum or 316 stainless-steel for total saltwater protection. Order with either two or four mounting holes. If your boat stringers interfere with your mounting position, simply order the Livorsi "S" brackets, and for very large outboards, oversized backing plates are also available. Livorsi Marine knows that boaters like choice, so they offer their brackets in several colours and you can even order them with your boat name inscribed.
---
See More …
 

Catch More

Furuno's CHIRP Side-Scan provides offshore anglers a 750-foot view of fish to both port and starboard, and provides an easy and better way to spot hazardous underwater structures. While the safety benefits are obvious, such as reducing the risk of unexpected shallow waters and uncharted obstructions, Furuno's new side scan also gives fishermen clear echoes from fish targets, reefs, crab pots, and kelp. 

Setup requires only an appropriate transducer and a free software update that includes other notable features, including Furuno's unique "Fish-It & Drift-It." This fish feature allows fishermen to create a temporary Fish-It Waypoint around promising targets. The Furuno's CHIRP Side-Scan will work on most boat types.

"Smart" Trolling Motor, ACR Electronics, Deckpad, fishing accessories, Furuno, Furuno's CHIRP Side-Scan, Fusion Apollo, Garmin, GoPod marine spotlight, HDS PRO, Livorsi Marine, Lowrance ActiveTarget live sonar, ResQLink AIS Personal Locator Beacon, Rhodan Marine Products, SeaPen, ShadeFin, Taco Marine, Top Snapper, Ylinsha bag "Smart" Trolling Motor, ACR Electronics, Deckpad, fishing accessories, Furuno, Furuno's CHIRP Side-Scan, Fusion Apollo, Garmin, GoPod marine spotlight, HDS PRO, Livorsi Marine, Lowrance ActiveTarget live sonar, ResQLink AIS Personal Locator Beacon, Rhodan Marine Products, SeaPen, ShadeFin, Taco Marine, Top Snapper, Ylinsha bag