Boat Test #1514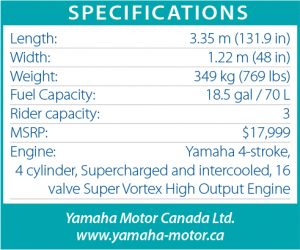 Yamaha's 2018 Waverunner lineup features a dozen models to choose from spread over four different lines: rec-lite, recreation, luxury and performance – so there's something for every rider of every capability. The GP1800 is one of only two models in their performance category – the other being the VXR. A word of advice: don't put a first-timer on this rocketship!
Right from the lightweight NanoXcel 2 hull and deck, the GP1800 features the very best Yamaha has to offer. Inside the hull you'll find their Super Vortex High Output (SVHO) engine – a 4-stroke, 4 cylinder, supercharged and intercooled, 16 valve powerplant that boasts the largest displacement of any PWC engine in the industry at 1.8 litres (1,812 cc). It features a larger supercharger and a new oil cooler on the outside, new forged pistons inside the engine, and an updated fuel injec-tor system.
The contoured seat will hold three com-fortably, and I love the exclusive R.I.D.E sys-tem that gives the driver ultimate control. With two handle-bar control levers (pull the right lever to go forward, and the left lever for reverse) it's very intuitive, and if you pull them both the system reacts with precise control. To understand fully – you just gotta go try it for yourself!
As you get used to the raw power, and the nimble and quick to respond hull, you'll appreciate the Slant Detection Switch – it's a little electronic switch that stops the engine immediately if the GP1800 becomes over-turned, protecting motor from unwanted water ingestion. It's added protection to the kill switch around your wrist. Pushing the lim-its of the GP1800 – will push your limits and skill as a rider – and it's a thrilling exercise!
All Yamaha WaveRunners come with a full warranty and purchasers can opt for the Yamaha Protection Plus coverage that extends the warranty period by 12, 24 or 36 months.

best boat, Best boat buying website, best boat marina website, best boat travel website, best place to rent a boat, boat accessories, boat angler, boat boondocking, boat buyers guide, boat camper, boat camping, boat dealers, boat DIY, boat Fishing, boat Fixer, boat Home, boat information, boat insurance, Boat Maintenance, boat marinas, boat marinas in Alberta, boat marinas in BC, boat marinas in Canada, boat marinas in Manitoba, boat marinas in Saskatchewan, boat marinas in the USA, boat marinas near me, boat products, boat rentals, boat repair, boat road test, boat sharing, boat sites near me, boat supplies, boat Tech, boat tips, boat touring, boat trade, boat Travel, boat traveling, boat travelling, boat vacation, boat vacation cost, boat websites Canada, boating Canada, Boating Canada's Boat Lifestyle Magazine, Boating Lifestyle Magazine, boating website, Canadian marina websites, expert boat information, find a boat dealer, how much does a boat cost, how much does marina cost, how to choose a boat, how to drive a boat, marina products, marina supplies, motor boat, personal watercraft, power boating magazine, top boat website, used boat reviews, Waverunner, Yamaha