A true custom boat-building experience at an affordable price, right here at home in Canada.
By Brad Roberts
On a seven acre facility, inside a 72,000 square foot plant in St Catherine's Ontario, sits one of Canada's longest serving boat builders – Neptunus Yachts. The heritage goes all the way back to the Netherlands some forty years ago.
Power Boating Canada took the opportunity to tour the Neptunus Yacht plant this spring to bring to our readers an inside view of this semi-custom boat builder who's quietly been serving the most discriminating boat buyer for decades now. In fact, some owners are on their second or third Neptunus yacht.

Celebrating the Past
Jan Willem De Jong came over from the Netherlands in 1989 along with his partner Martin.  They had formed a partnership with CNC Yachts to build a few boats for them, and things started to go south.  Three boats were finished, two were not when the Canadian dollar strengthened and the luxury tax in the USA was brought in.  CNC went under, and Jan and Martin had a decision to make: do they pull out or dive in?
SPECIFICATION
OA:  66' 4" / 19.9 m
---
Beam:  16' 7" / 4.07 m
---
Draft:  4' 8" / 1.4 m
---
Displacement  77,000 lbs / 35,000 kgs
---
Fuel:  1,130 gals / 4,292 L
---
Water: 3 00 gals / 1,140 L
---
Waste:  130 gals / 494 L
---
Engines:  Twin CAT C-18 ACERT @  1,000 HP each
---
Generator:  21.5 kW
---
Max Speed:  31 knots
---
Cruising Speed:  26 knots
For more information
Neptunus Yachts
8 Keefer Road, St. Catherines,
OntarioL2M 7N9
www.neptunusyachts.com 
In 1991, they rented the old Hinterhoeller Sailboat plant from the bank, hired about a dozen of the former CNC Yachts employees and began developing new models.  Business was slow in the first year or two.  By 1994 Neptunus was the only builder making yachts of any significant size in Canada.  Their decision to dive in had started to pay off and they had seven boats in production.
By 1999, the all-new 54 Express introduced a complete new concept.  The design featured a full-height sliding glass door in the aft under a fully enclosed hard-top.  "Back then, it was an industry leader – now everybody has one – perhaps we should have patented it," Jan laughed as he recounted the story to me.
Between 1995 and 1999, Neptunus came out with a 65 and a 70 foot express motor yacht, with everything from the mold to the finished product built right there at the factory from start to finish.  "By 2000, we had grown to 60 employees and in 2001 the company was sold to an investor out of Oakville.  I was running production from 2001 to 2004, and in 2004 I was promoted to the VP of Sales and Marketing," Jan shared proudly as he recounted the history.
"By 2007, our workforce had grown to 110 employees.  Then everything changed seemingly overnight – more like in four to five months – but it felt like overnight.  The economic crash of 2008 hit the entire boat-building industry hard.  Banks weren't lending money, you couldn't sell your product all because of the collapse of the housing market in the USA, the Canadian dollar got really strong, and oil hit an all-time high."
Neptunus Yachts, unlike many boat manufacturers, survived mostly through great management, no inventory to carry (the two boats in production were both sold by the end of 2008), cutting staff to less than ten employees, and a second investor (who bought the company in 2008) "…who was able to keep the doors open and the lights on," Jan said.
Better Times
"Even though a lot of people thought Neptunus was gone because we spent no money on marketing and we didn't go to the boat shows, by 2012, things had started to come back.  There are over 200 Neptunus Yachts out there currently, and as those satisfied owners begin to look for a new boat, that provides us with approximately two to three new sales per year," Jan smiled as we started to talk about better times.
"Today, our new boat customer is 60 to 70 years old, usually a gentleman, most likely a business owner, and their partner.  Some are retired and are looking for some-thing different, something semi-custom that they can be a part of the process from start to finish.  We just don't offer what other manufacturers offer – like choosing the upholstery or engines.  If you want to put the galley over there, and move the stateroom layout around, we let you do that because it's your boat!"  Neptunus Yachts offers a true custom experience at an afford-able price right here at home in Canada.

Looking Forward
I asked Jan about how they went about moving forward, cautiously, after having narrowly escaping closing the doors.  He said, "As we ramped up again, I did a survey of my existing customers and asked them if they were looking at a new boat, what were some of the features they would be looking for and why.  The results were interesting: no (or few) stairs, a huge master stateroom with a large head, the size of the guest staterooms didn't matter as much as they were for guests and their children and grandchildren who came aboard only once in a while, and then only for a short few days at a time.  They wanted to handle the boat on their own and go out for three to four months cruise without having to bring a captain along.  Yet, they still wanted that option, and so crew quarters were necessary as well. The result is our 650 Express – it fills all the requests and more."

Highest Industry Standard Possible
There are a few world-wide standards under which boat and yachts are classified.  The North American traditional standard that most boaters would be familiar with is ABYC (American Boat and Yacht Council) .  The European standard is the CE certification which has four levels – "A" thru "D".  Neptunus Yachts builds every one of their boats to the CE "A" classification which basically means 'unlimited offshore' – capable of running in 4 metre or 12 foot seas.  It's the highest standard in the entire industry.  It requires a complete re-design of the vessel from the thickness of the fiberglass, to the fire-suppression system, to the entire electrical harness and systems, to the noise suppression, and every on-board safety measure.  The result is a yacht that is self-sufficient in hostile seas.
The Yacht Itself:  The 650 Express
The 650 is the newest member of the Neptunus fleet.  Boarding onto the massive hydraulic swim platform, you'll find stairs (not a ladder) up either side to the large aft deck covered in teak flooring that spans the full sixteen foot beam. Here you'll find a massive aft bench seat behind a beautiful wooden table – add a few folding Captain's chairs and it's a private dining area with a view that would be the envy of many.  To compliment, there's an outdoor grill to starboard, a wet bar entertainment centre to port, and a telescopic awning overhead.  Under the aft deck, an optional crew cabin can be found.  It's accessed through a ship-worthy door in the transom, and from here you can move forward to access the large standing-height engine room while docked. (The engine room can also be entered through a deck floor hatch while underway if required.)
Staying outside, both sidewalks are wonderfully wide as we move forward to the bow where you'll find a massive sunpad. From here (or from the swim platform, or on the dock), thanks to the remote yacht controller, the owner has full remote control of the engines and both bow and stern thrusters. There's also a remote self-launching anchor, 3,500 pound windlass with foot pedal controls, beautiful stainless and over-sized cleats, and chain rode storage under two flush-deck hatches that are large enough for fender storage as well.  The anchor locker and forward cabin are separated by a solid bulkhead designed to maintain the yacht's integrity in the unlikely event of a crash that crushes the bow.  All around the outside, a beefy and gleaming stainless rail provides protection as you navigate your way around.
Returning to the aft deck, entry to the cabin is through a full height sliding glass door that slides out of the way to both port and starboard creating a seamless space between inside and out.  The salon is aft and features an l-shaped couch to starboard and a loveseat to port to provide seating for the entire family.  Keep in mind the layout can be entirely customized to your specifications.

Forward and up one step, the full equipped galley is amidships and features quartz or granite countertops, and beautiful hardwood cabinetry, both in your choice of finishes.  You'll find a fridge, freezer, ice-maker, dishwasher, convention microwave, full cooktop and a normal sized oven.  An optional island is available for even more counter space.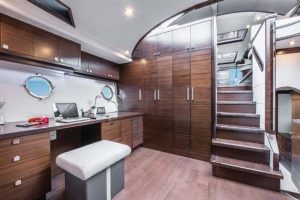 In front of the galley, and unusual to an express yacht, is a full dinette to port for up to four adults.  The full front wrap around windshield affords this dining experience a wonderful view even in inclement weather. To starboard you'll find a fully equipped helm station with twin Captain's chairs.  The helm layout is spectacular with full instrumentation on the panel, and all systems controls to your right hand: both bow and stern thrusters, throttle controls, ignition switches and trim tab controls.
A curved staircase that's open to above takes us down to the cabin level. There's a choice of two or three cabin layout down here with the forward v-berth cabin featuring an island queen bed with Tempur-Pedic mattress and storage underneath, wonderful headroom and natural light, and cedar-lined hanging closets.  It has its own private head with separate tiled show-er and natural light from the overhead skylight in the deck.  The day head is access from the hallway, and lies to star-board just ahead of the third double bed stateroom.  This space could also be configured as an office with a desk and filing space.  Stacking washer and dryer are here as well. (The built-in ironing board is a nice added touch.)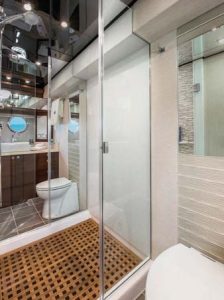 The master stateroom lies aft under the galley floor.  As you step into this full beam space you'll find a unique 44-inch diameter round window to either side that provides a wonderful view out-side, and great interior light.  Flanking the island queen Tempur-Pedic mattress are 'his and hers' cedar-lined hanging lockers, and a total of twelve drawers.  The dark wood cabinetry is set off with white vinyl wall and head-liner coverings.  Sheer and blackout blinds, as well as direct and in-direct lighting options, truly let you customize the mood of this space as you may wish.  The 'his and hers' master head layout is truly unique.  Separate doors to the sink and head for each side meet in the middle at the full glass and good sized shower.
Power is supplied for all Neptunus Yachts exclusively by Caterpillar engines, mostly due to their reliability and service accessibility world-wide.  The 650 express is powered by twin CAT C-18 ACERT engine offering 1,000 HP each that deliver a top speed of 31 knots and a best cruising speed of 26 knots. The diesel fuel fills are located on both side-walks for convenience under a stainless cover.
Overall, the 650 Express offers the interior space of a motor yacht with the profile and exterior styling of an express yacht.
The Delivery Difference
Where most manufacturers spend a half-day or so touring a new owner through their new boat upon delivery, Neptunus is different.  By this point in the customer experience, there have been many interactions between the new owner and Jan throughout the design and construction process and both parties are very familiar with each other.  Jan himself spends a full day or two aboard the boat with the new owner, going over a full vessel inspection of every hatch and corner of the boat.  Together, they review every system, how it operates, and Jan shows the new owner how to operate it, and then he wants them to operate it themselves.  They go over in a real life cruise environment how to run all the electronics.  "Most of our new buyers are experienced owners, so it's usually a matter of familiarity more than any-thing, but it starts with me doing it for them, and by the time we've been together for two days, I'm sitting back and they are doing everything, and are now very confident and happy with their new boat," Jan shared.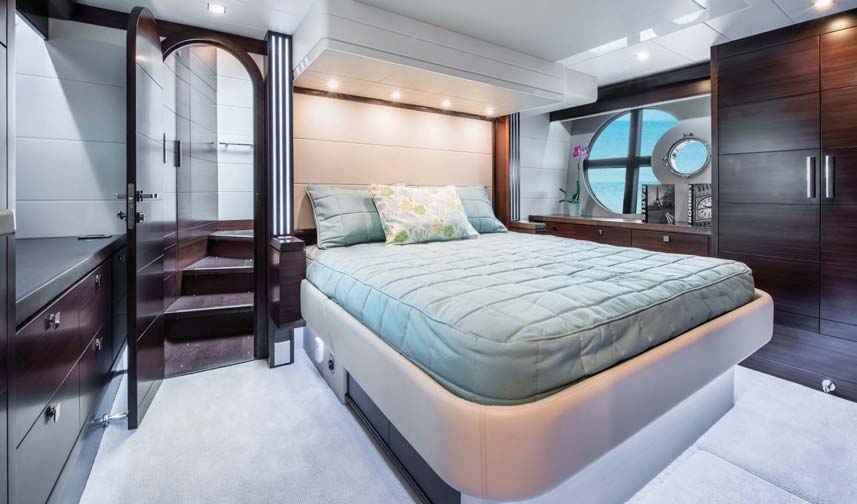 The Future
At present, there are 38 production staff plus 5 more office staff that are the heart of Neptunus Yachts.  Of their past six new boat orders, four came from previous Neptunus owners and two are new customers.  "We've just received an order for a 2017 delivery that will take us eight months to build.  That customer, like most, will come to the plant about five to six times to see their new boat in production and take photos so they have a full story on their boat," Jan said.
"At Neptunus, we are a small custom boat builder who builds to the highest standards in the industry at a competitive price."





best boat, Best boat buying website, best boat marina website, best boat travel website, best place to rent a boat, boat accessories, boat angler, boat boondocking, boat buyers guide, boat camper, boat camping, boat dealers, boat DIY, boat Fishing, boat Fixer, boat Home, boat information, boat insurance, Boat Maintenance, boat marinas, boat marinas in Alberta, boat marinas in BC, boat marinas in Canada, boat marinas in Manitoba, boat marinas in Saskatchewan, boat marinas in the USA, boat marinas near me, boat products, boat rentals, boat repair, boat road test, boat sharing, boat sites near me, boat supplies, boat Tech, boat tips, boat touring, boat trade, boat Travel, boat traveling, boat travelling, boat vacation, boat vacation cost, boat websites Canada, boating Canada, Boating Canada's Boat Lifestyle Magazine, Boating Lifestyle Magazine, boating website, Canadian marina websites, expert boat information, find a boat dealer, how much does a boat cost, how much does marina cost, how to choose a boat, how to drive a boat, marina products, marina supplies, motor boat, power boating magazine, top boat website, used boat reviews best boat, Best boat buying website, best boat marina website, best boat travel website, best place to rent a boat, boat accessories, boat angler, boat boondocking, boat buyers guide, boat camper, boat camping, boat dealers, boat DIY, boat Fishing, boat Fixer, boat Home, boat information, boat insurance, Boat Maintenance, boat marinas, boat marinas in Alberta, boat marinas in BC, boat marinas in Canada, boat marinas in Manitoba, boat marinas in Saskatchewan, boat marinas in the USA, boat marinas near me, boat products, boat rentals, boat repair, boat road test, boat sharing, boat sites near me, boat supplies, boat Tech, boat tips, boat touring, boat trade, boat Travel, boat traveling, boat travelling, boat vacation, boat vacation cost, boat websites Canada, boating Canada, Boating Canada's Boat Lifestyle Magazine, Boating Lifestyle Magazine, boating website, Canadian marina websites, expert boat information, find a boat dealer, how much does a boat cost, how much does marina cost, how to choose a boat, how to drive a boat, marina products, marina supplies, motor boat, power boating magazine, top boat website, used boat reviews