By Brad Roberts
Water levels have been all over the news this spring.  From the water level challenges of Georgian Bay and the Upper Great Lakes, to the flood-ravaged areas of Central Ontario cottage country, nearly every news and weather forecast has been reporting on the ups and downs of our rivers and lakes. There's too much water in the rivers of Central Ontario's cottage country, and there's nowhere near enough water in our Great Lakes.  Here's how to understand what's going on, and some solutions to help you and your family get out on the water this summer.
The Issues
We asked Georgian Bay Forever Executive Director David Sweetnam for his take on this situation.  "There are two problems: the longer term issue that needs a flexible solution, and the short term problem that needs an almost immediate fix.  If action had of been taken action back 15 years ago, we'd be a lot further ahead today. We didn't act, and it has taken a lot of study, and a lot of scientists to get to where the government on both sides of the border will trust the information.  Building that trust has taken time.  We can't take any more time." 
I pressed David on two popular theories as to where the water has gone: out the bottom of Lake Michigan and down the St. Clair River and over Niagara Falls.  He responded, "The flow rate today is less than 1% different than it was in the mid-1950's, pre-erosion, pre-dredging changes to the St. Clair River channel.  The study done at that time suggested dredging but also suggesting installing compensating structures that were fixed (not variable) downstream.  Those were never installed."
"When you see the water flowing, you have to remember that half as much again (1.5 times) is evaporating off the surface of the lakes before it ever reaches the St Clair River," David said.  The surface area of Lake Huron, Georgian Bay and Lake Michigan is 117,000 square kilometres – all of which is subject to global warming and thus evaporation.   "Georgian Bay Forever is focussing on the economic impacts of low water levels: shipping lighter loads, property values declining, marinas losing business, tourism declining, and such," David said.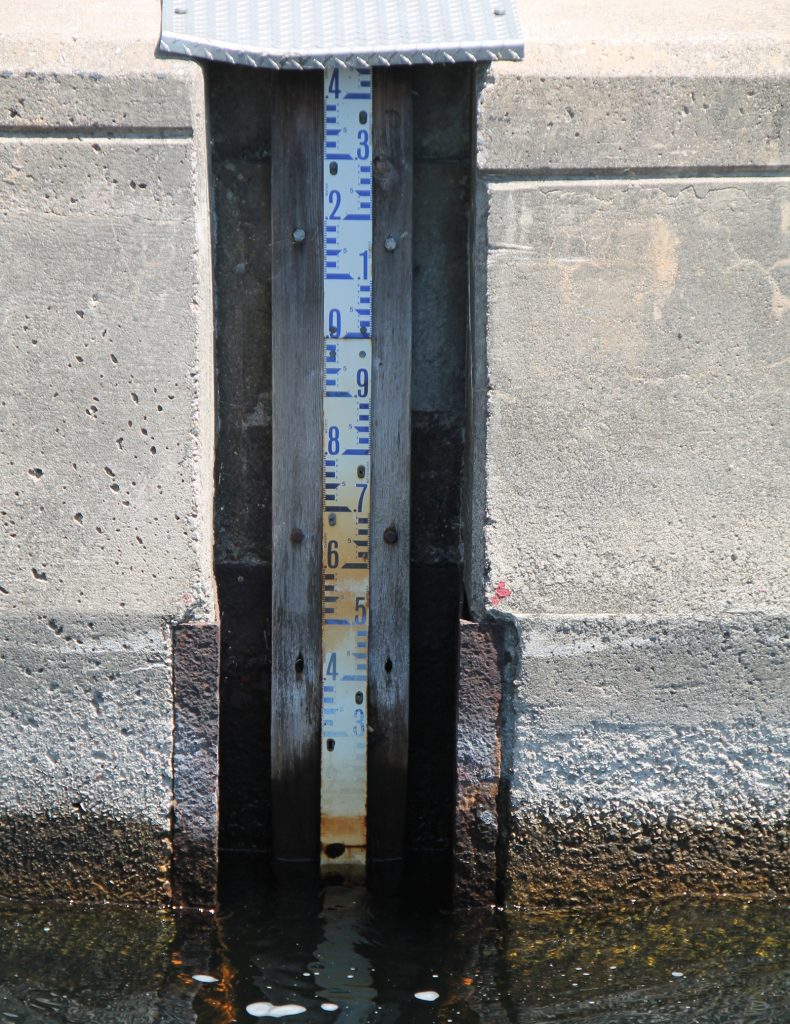 Simply putting a lock where Lake Huron meets the St. Clair River, doesn't address downstream.   "We have to have a solution that protects all the user groups, commercial operators, shoreline businesses and communities, and recreational stakeholders. A system that can put water levels back into the happy area – not extreme highs or extreme lows – and at the same time a solution that is flexible to be able to deal with higher water levels in the future," David continued.  "That solution is to focus on the upper Niagara River at the outflow of Lake Erie."  The US Army Corps have said no to installing concrete blocks to slow the river flow because that solution is not flexible.  "The next step is to get money approved to look at technical options in the Niagara River.  The chemistry of concrete in the last 40 years has changed drastically, and variable solutions to water management challenges are now available that didn't exist when the original studies were done.   We need to look at the solutions being used in the Thames River in the UK, and the water management that Holland does," David said. 
Despite the media attention and hype, the fact is that according to the water level gauges in both Georgian Bay and St. Lawrence River we are only about 5 to 6 inches below chart datum.  It is not like the lakes are dry, but it is a challenge that at the beginning of the season we are this low – the water level are forecast to drop as the summer continues.   
How Does It Affect Me?
It's obvious by large number of the 'missing' and 'help wanted' social media posts that many cottage owners lost all or a part of their docks in the spring floods that hit central Ontario rivers hard.  The damage was devastating for property and business owners along the banks, many of whom are still awaiting the full damage report and the waters to recede before they can begin the repair work.  Others, like island cottagers and marina operators, left high and dry on the Great Lakes, are wishing for a way to divert that extra water their way.
The Fisheries and Oceans Canada website, www.waterlevels.gc.ca, posts this warning: "Below average water levels in the Great Lakes are expected to continue into the summer months, according to the forecast prepared by Environment Canada and the United States Army Corps of Engineers. Mariners should exercise extreme caution while navigating in the Great Lakes, especially during periods of strong winds when water levels can rise or fall significantly very quickly."
To stay in touch with the issues and solutions being proposed, as well as know what the water levels are at right now in your area, the following web links may be helpful.
Unfortunately, as boat and property owners passively watch the various levels of government and International Joint Committee's discuss both short and long term possible solutions, most are asking a more active question: 'What can I do to save my summer this year?"
Possible Solutions
The range of solutions varies depending on your particular situation.  Boat owners who keep their cruiser or island cottage access boat at a marina may simply have to wait for an expensive dredging of an entire marina and entrance channel.  Others are opting to keep their boat on a trailer and use the launch ramp each time.   Cottage owners may have to rebuild, replace or extend their dock.
Floating Docks.  A floating dock allows for fluctuating water levels, and in most areas doesn't require the same permit process that repairing or replacing an old crib dock does, because there's no permanent change to the lake or river bottom that could potentially impact the fish habitat.  As water levels change, you put out more dock sections to reach the water depth you need.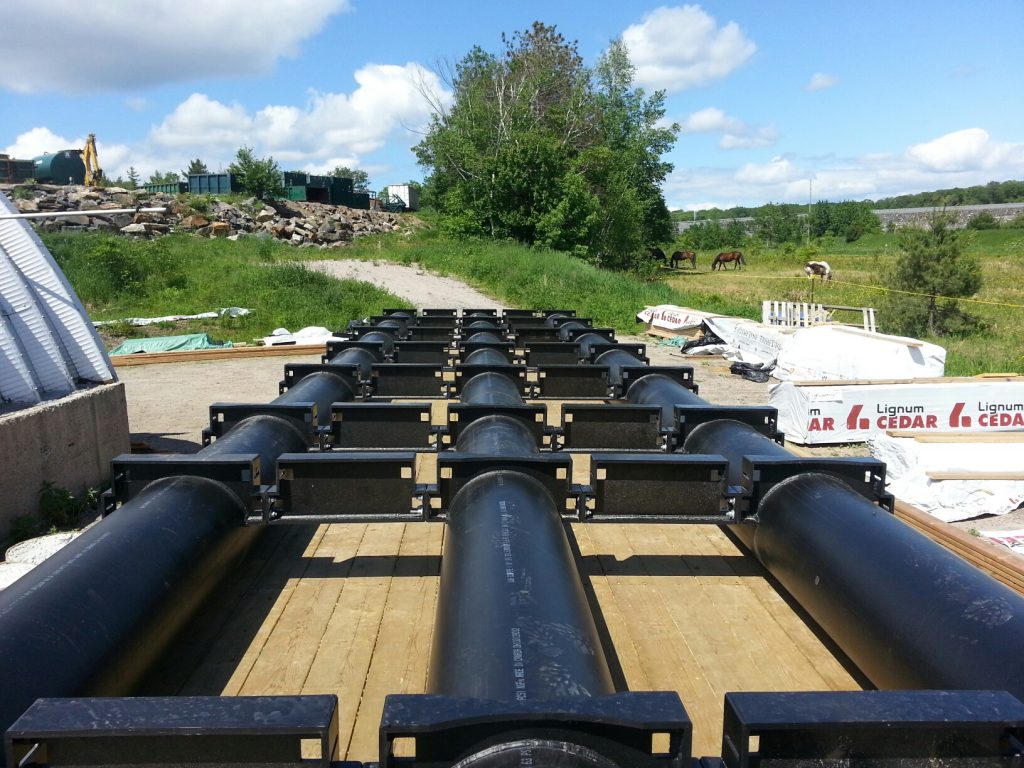 Mathew King of Dock Kings in Parry Sound told us "We just finished construction on an 8-foot x 40-foot dock for a customer just south of here."  For most folks, that would be one very large dock.  For this island cottage owner, Mathew said "with this extension, it will mean he's now 200 feet out from his shoreline, just to get to where he can put his boat on a lift."  Mathew reported a huge increase in requests for quotations this spring.  "I was out to one site, the customers' crib dock was six feet underwater and we could see the pickerel swimming by on top of it," he said.  "What we are seeing is cottage owners who are replacing their old crib or fixed docks with a floating pontoon dock made out of High Density Polyethylene (HDPE) to deal with these water levels challenges not only this year, but for years to come.  Because of our ½" thick walls, the Plastics Pipe Institute estimates the service life of our HDPE pontoons to conservatively be 50-100 years. If they are going to spend the money, they are looking for a forever solution."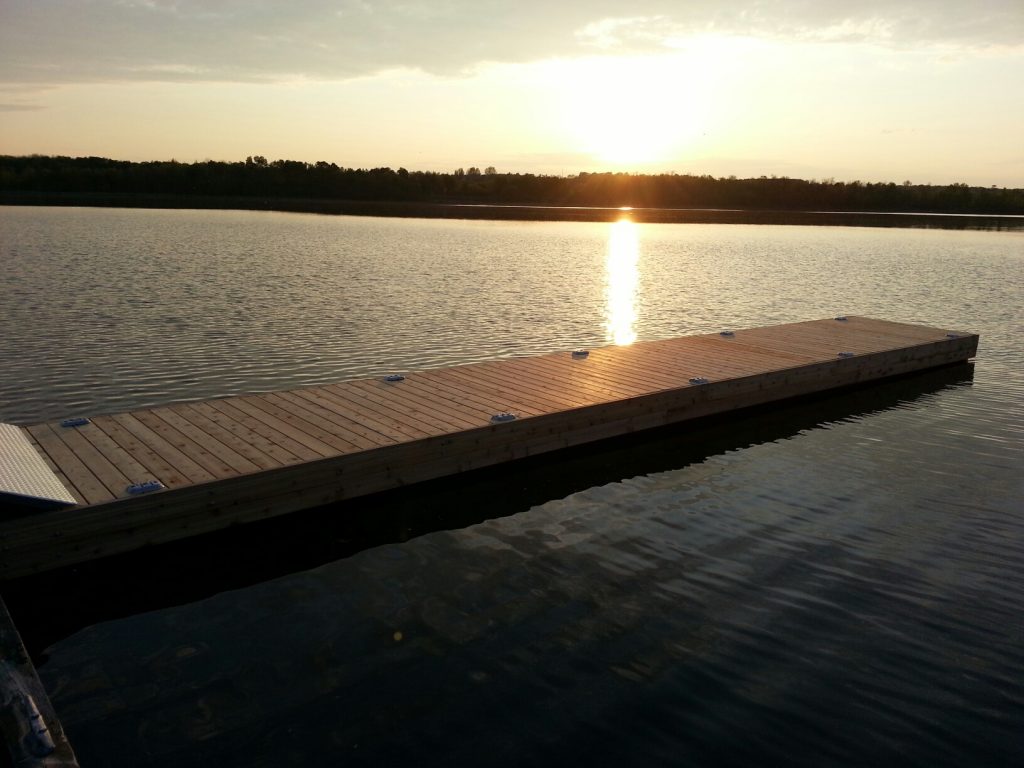 "Typically a well-designed floating dock will only submerge a maximum of one-third of the diameter of the tube, so even with a heavy snow load, it pops up and out of the ice.  So leaving it in all winter isn't an issue," Mathew said, "the pontoons float on top of the ice and snow the same way they do on the water."
Removable Docks.   Another option is a removable dock, which has many of the same benefits that a floating dock has in terms of typically not needing a permit (check with local building and zoning by-laws in your area to be sure).  The traditional cottage dock design dating back to when you were a kid, likely had a few uprights of different heights that sat on the lake or river bottom and supported a number of dock sections which spanned between the uprights.  It was a huge amount of work to put in and take out on the semi-annual 'dock weekend'. 
Hewitt Docks has an innovative solution to this.  Their roll-in docks feature two or more large 24" diameter plastic wheels mounted to the bottom of the uprights.  The upright adjusts with a simple hand winch like you'd find on a boat trailer.  Cranking the winch raises or lowers the height of the deck off the water, so there's no need to re-position or move the dock mid-season as water levels drop drastically.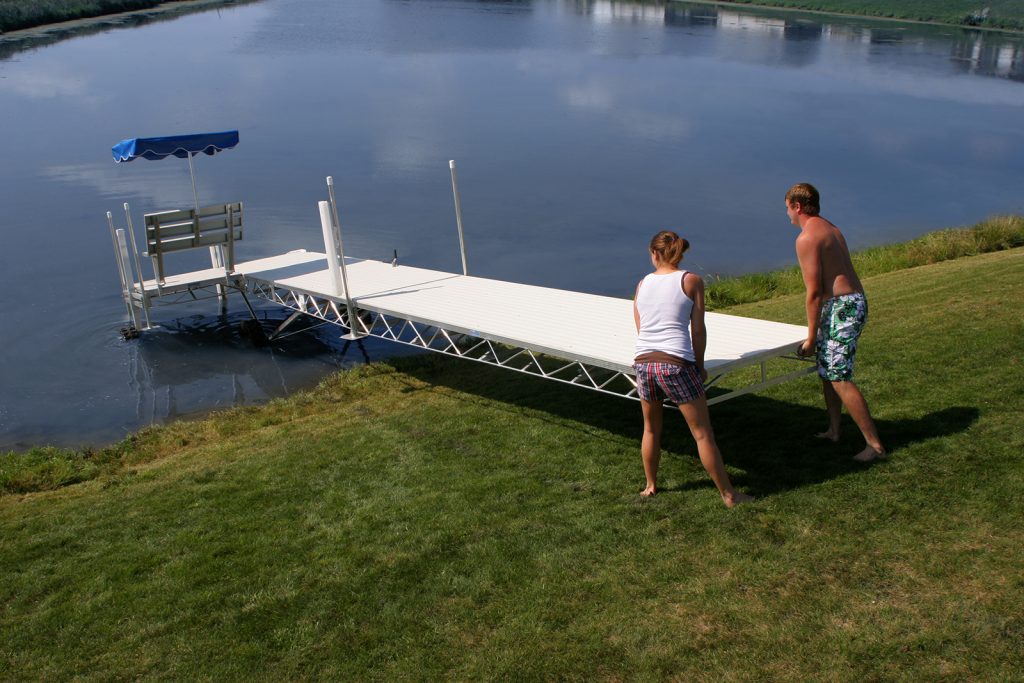 I caught up with Larry Hewitt, President of Hewitt Docks, to get his take on the water levels challenge and what he is seeing. "A lot of moisture is needed everywhere across the country it seems," Larry said.  "We've had a heck of busy year here.  Order are coming from all across Canada and the USA.  We have already shipped a lot of inventory, and we still have more that is ready to be delivered."   Larry told me that 40 years ago they were a 2 man shop, and that they idea of building a rolling dock grew from a conversation sketched out on a cocktail napkin. "Today, 70 people work here and we specialize in residential, with some resorts and restaurants customers.   Our aluminum docks with the lightweight aluminum frame and non-skid powered-coated decks are our biggest sellers – about 95% of what we make," he said.
"It's a DIY solution.  The customer can put the sections together like a freight train.  That way, even with just one set of wheels , it's nothing to put up to 48 feet of dock out."  I asked him about bringing it in at the end of the season.  He laughed, "It's easy with an ATV or a trailer hitch on your car. Even our boat lifts we are now equipping with wheels.  That way as the water level changes year to year, as I expect it will for many years to come, they can adjust both how far they roll the dock out from shore, but also the height of the dock off the water."
Summary
Joe Comuzzi, Canadian chair of the International Joint Commission, echoes the sentiments of David Sweetnam:  we cannot wait.  "Although future water levels are uncertain, we cannot ignore the damage from record low water levels," said Joe, in a report issued April 26, 2013.  "From Georgian Bay to Door County, from shoreline property owners to the shipping industry, we heard calls for action, and we urge governments to act in response to our recommendations."  

floating dock, water levels floating dock, water levels