Volvo Penta is announcing a revolutionary new level of joystick driving with the integration of shift, throttle, and steering into a single joystick control.
Since 2012, joystick steering has been an integral part of the company's trademark helm-to-propeller experience. Now, maneuverability, course adjustment, throttle and shift can be controlled through one joystick – and therefore, a single hand.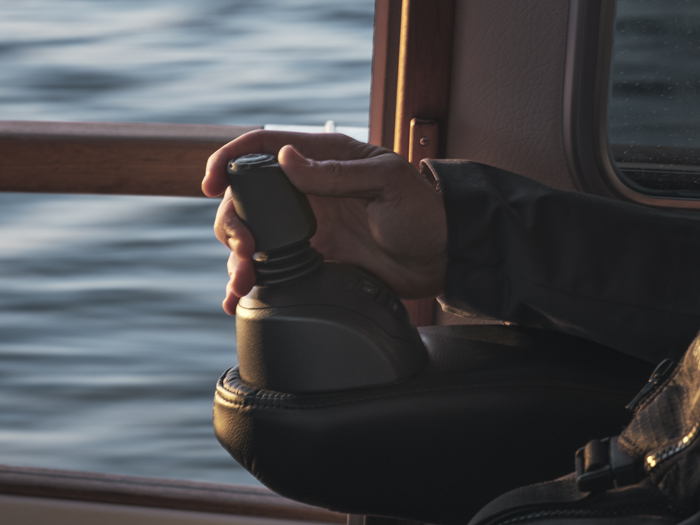 Simplicity at your fingertips.
A unique innovation for the marine industry, joystick driving, sets a new benchmark in intuitive, flexible driving – one that transforms the game entirely. With the new joystick driving, you won't just level up your skills; you'll redefine them.
Simply push the joystick forward to engage the gear, speed up or slow down, and release it to remain at a certain speed. The acceleration will be proportional to the angle of the joystick. When the joystick is pulled back, the throttle reduces, and the boat will stop. To further enhance the driving experience, electronic gear shifting enables smooth acceleration and deceleration.
When you activate the joystick driving function, key driver information – the requested gear, speed, and heading – is automatically displayed in the Volvo Penta Glass Cockpit helm display. You can tailor the joystick driving view to show the information you need – for full control of the situation.
'The first time you try our new joystick driving, the function is so seamless and intuitive, you feel like it has been there forever, says Anders Thorin, marine electronics product planner at Volvo Penta. 'Integrated shift, throttle and steering into the same control delivers a completely new driving experience – where the joystick can be used for your complete journey – without needing to touch the steering wheel or control lever. It feels like this is the way you were always meant to drive.'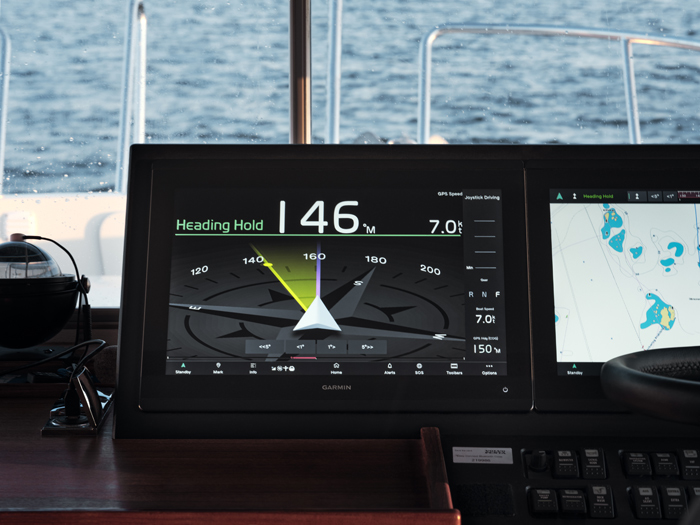 Taking a human-centric approach.

Designed with a keen focus on efficiency and comfort, the new joystick driving delivers new standards of cruising and gives you the freedom to explore with ease. The joystick can be conveniently installed on the armrest of the driver's seat, ensuring an ergonomic driving posture. It is an excellent solution for all kinds of vessels, small or large, including commercial ships, guaranteeing comfort over extended periods.

Original Equipment Manufacturers (OEMs) now can create pioneering helm stations and driving experiences. This latest iteration of joystick driving opens entirely new possibilities for helm design, catering to the evolving preferences of the marine industry.

"We envisage a fundamental shift in future helm design. A user-centered approach will take centre stage, and we are developing solutions that facilitate the creation of helm stations tailored to individual comfort, efficiency and safety. With our new joystick driving, you can have a seamless experience without ever having to leave the captain's chair or moving your hand between different controls. Personalized design, automated functionality, and simplistic solutions like joystick driving will form the basis of a modular helm design approach that boaters can select from, as they design their future helm", says Anders Thorin.

Make the experience your own

Joystick Driving will be available as a direct upgrade to those who already have Joystick Steering onboard and the latest generation of Electronic Vessel Control (EVC 2). It can also be installed as a new feature and vessels will require electric steering, Volvo Penta autopilot, and a Volvo Penta Glass Cockpit display of any size.

Joystick Driving: next level boating

With Joystick Driving, Volvo Penta is making boating not just a luxury experience, but an art. Experience the joy of simplicity, the thrill of control, and the ultimate in flexibility. Welcome to the next level of boating. Volvo Penta's Joystick Driving – It's not just a game changer; it's your game changer.

2023 new boats, Boating, controls, integrated steering, Joystick, new boats, Penta, Volvo 2023 new boats, Boating, controls, integrated steering, Joystick, new boats, Penta, Volvo