This flagship of the line entertains a dozen but handles like a single person go-cart.
By Brad Roberts
Being in the industry for over 25 years, I've driven and tested a lot of boats and engines. A lot. Great models that advanced our industry to new heights, and some not so great models. Some that were so innovative and cutting edge, that looked so good on paper and in the brochure, and even tied to the dock, that I just couldn't wait to take them out on the water.  And when I did, I had what one of my mentors referred to as 'lunchbag letdown' – the latent promise and potential that appeared to be there simply didn't materialize.  The boat didn't deliver, perform or function well out on the water – you know, in the 'real world' where we all do our boating. 
Other times, I've tested what I call 'a sleeper'. A boat that looks pretty average, nothing sensational, and middle of the road. I get in, take my notes, perhaps find something fun to write about, and then take it out for a spin on the water and get a completely surprized by the performance. It's fun to drive and corner and cruise in, and it reminds me once again of why I love both this industry and doing what I do.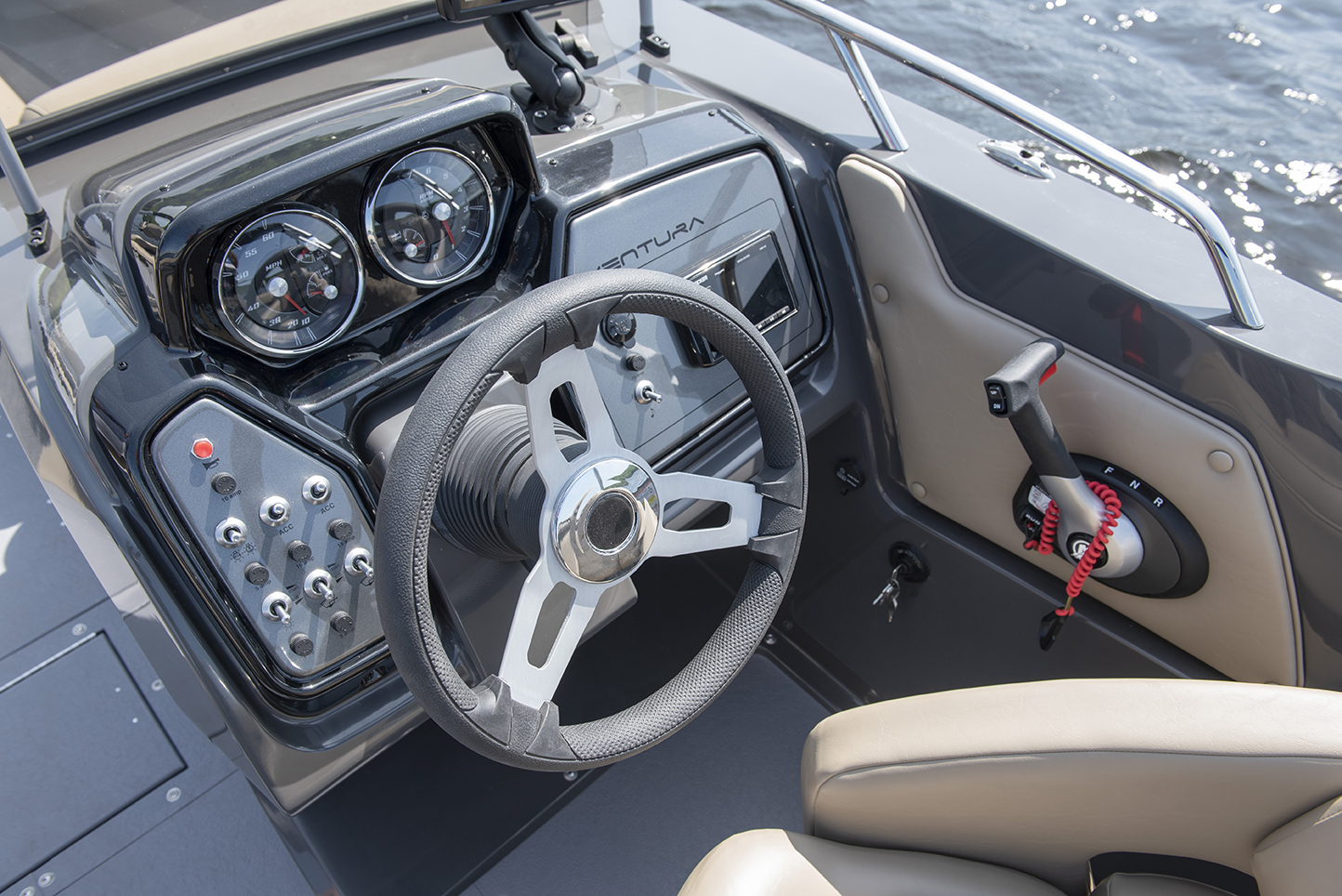 And then, once in a while, I receive a gift.  A special boat comes along that gets you, grabs you and draws you in.  It speaks to you.  It's just – as they say in NASCAR – "perfectly dialed in". That magical, and often frustratingly elusive, 'sweet spot', that is achieved when you find the perfect balance between all the factors, when every aspect of the boat works together in perfect harmony.  Many writers, including myself, have over the years made the analogy between a boat and a fine expensive sports car in terms of their amazing acceleration and tight responsive handling that produce an ear-to-ear grin. They are simply pure fun to drive. The Ventura 224 goes beyond that even. Let me explain.
The largest of six models in Princecraft's deck boat line, the Ventura 224 comes in at 22 feet two inches in length, with a 97" beam. The Ventura line is a hybrid, as most deck boats are, the deck of a pontoon boat mated to the hull of a traditional runabout. That right there is where the Ventura gift begins.  Just as a toaster oven isn't a very good oven and is usually a worse toaster, I expected moderate to lackluster performance the first time I ever ran one of these boats several years ago.  The boat didn't disappoint me then, and the 224 doesn't disappoint today! More on that later.
Let's take a look at the Venture 224 from the keel up.  The hull bottom is CNC cut from flat sheets of H36 aluminum alloy, which according to Princecraft is 25% harder than the aluminum used in competitors boats, purposely chosen for strength and longevity.  Rolled and formed into the Ventura hull design that results in a ride-pleasing thirteen degree deadrise, the  seams are riveted together for the strongest and longest-lasting joint (the same process as used on commercials and recreational airplanes). Double plating from the bow to midships adds strength and increased the worry-free 'beachability' of the Ventura.  

Princecraft designers also added double-plating where the 83"chine width meets the hull sides. The reverse-chine design of the Ventura hull adds stability at rest – great for fishing! – and increased lift for a reduced time to plane, as well as water-gripping performance in the turns. 
Once the aluminum stringers and crossmembers are fitted into the hull, closed cell foam is added in and around all the storage compartments resulting in a nearly silent hull.  Honestly, out on the water you have to stop and remind yourself that you're driving an aluminum boat – it's that quiet. 
Add the gunwales and hull sides, and then the entire hull is painted with a high gloss Urethane High Solids paint – in your choice of white and light gray – that results in an automotive quality mirror finish with no orange peel.
All of the above is what most buyers won't even notice. Rather, they focuss on the deck layout. The Ventura 224 is built on a pressure treated wood deck covered in marine grade 20 oz carpet. The storage compartments and livewell lids are fashioned out of aluminum and fit perfectly flush to create a flat deck nobody will trip or stub a toe on. 
Up at the open bow (which from the helm provides a low unobstructed view of the water) there are two folding fishing seats with no inch hinges that fit into flush deck bases so you can remove them if fishing isn't on the agenda that day. The open space could – and will likely be – used as a suntanning lounge by your teenage daughters.  Under the deck there's a 20 gallon 44" aerated livewell, and on deck there's plenty of room to mount a 12 or 24 volt trolling motor. The deep cycle batteries are accessed from the cockpit and lie amidships for ideal weight balance under the forward deck. Two forward cleats are easily accessible for docking.
The cockpit is one step down into the boat from the forward deck, and you'll find a plush upholstered chaise lounge covered in marine grade soft vinyl in front of the helm station, and a double-wide sofa to port, with cupholders conveniently built into the armrests.  The port side access door is just in front of the L-shaped lounge to port wrapping around the small removable table that's perfect for a lunch break or snack. All the furniture is set on rot-free roto-cast bases with generous storage underneath.  The starboard-side helm console features a smoked windscreen, black dash with Princecraft branded analog gauges, a three-spoke sporty wheel mated to a No-FeedBack steering system (that further adds to the fine sports car feel), a 200-watt Kicker stereo with Bluetooth and USB powering four speakers. The lockable rod storage compartment further suggests the fishing origins of this now family-friendly deckboat.

Aft of the helm chair, an optional privacy enclosure is a must have in my opinion, before you head back to the aft deck where two more folding fishing chairs are mounted around a second 20 gallon forty-four inch long aerated livewell.  A small but robustly built swim step and stainless ladder is located to starboard. Looking at the exterior of the Ventura, you'll note forward docking lights in gleaming chrome mounted into the sides just above the gunwale for those nights that you just had to wait for the sun to go down and the stars to come out before heading home. The fuel fill is recessed into the port side conveniently above dock level and angled like a on vehicle, so it's less likely to cause a spill whether you're filling from a marina pump or a Gerry can.
Options to consider depending on your family's needs and wants, include adding the anodized wakeboard tower and or the stainless steel water ski tow bar, and depending on the weight of your crew and boarders or skiers perhaps upgrading to the available 200hp outboard.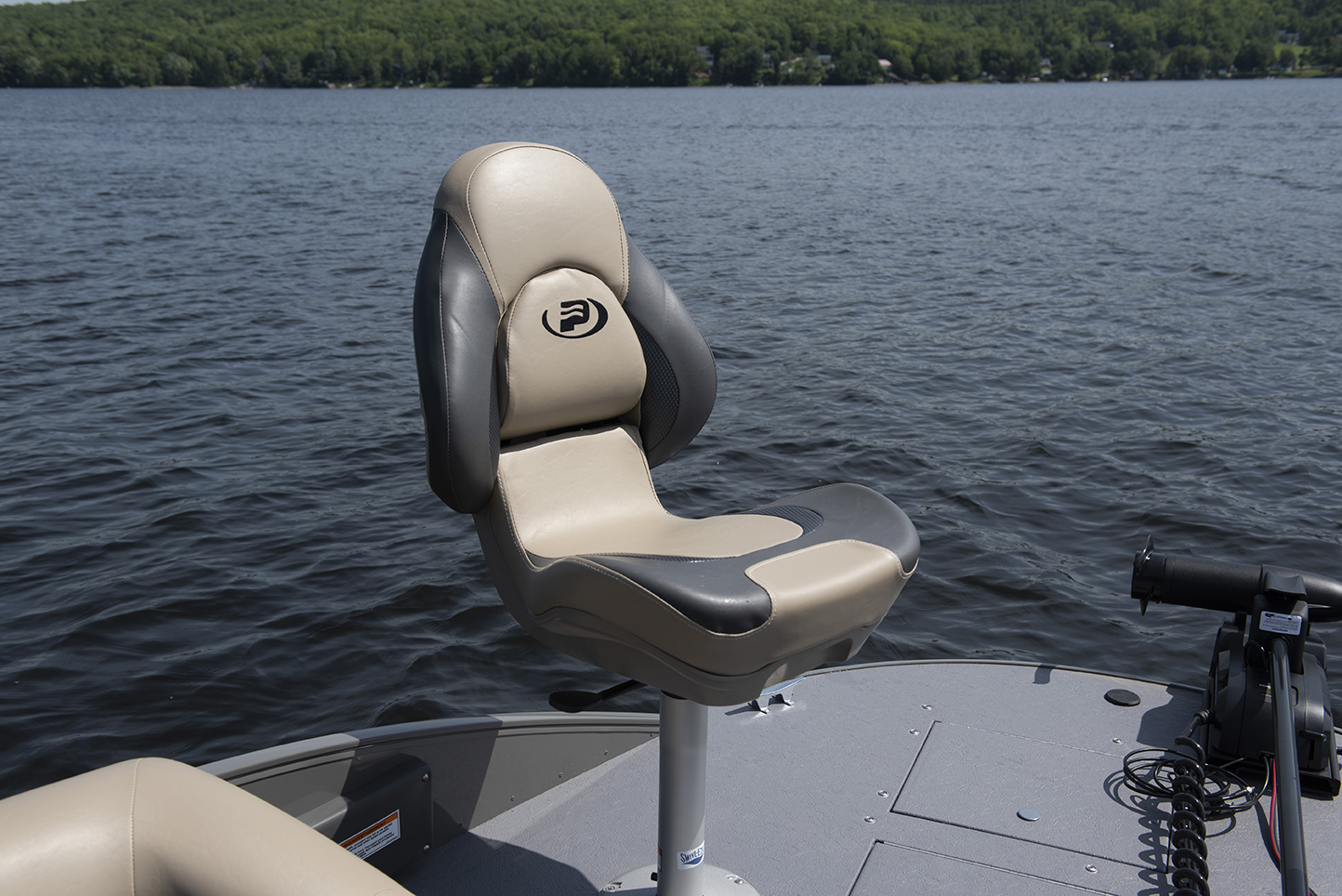 Performance wise, you simply have to get to a Princecraft dealer and drive a Ventura to truly understand what I'm trying to convey in these words on the page.  It's dialed in perfectly. From a blistering hole shot – even with the standard 3.0L inline 4-cylinder Mercury 150 Four Stroke outboard – to exciting g-force inducing cornering that digs in and refuses to budge or fall out of line.  Alone out on the water with a light chop, the two bow seats removed so I could get an unobstructed view of the water, I felt like I was in a high-end go-cart racing around a test track. Every input from the helm was instantly delivered by the prop and felt in the seat of my pants.  Even the mid-range acceleration tests were exiting! The lighter weight of an aluminum boat compared to fiberglass simply means that fewer horsepower is needed to produce the same speed. Plus the generously-sized reverse chine and lighter hull of the Ventura make it possible to stay up on plane further down to the lower rpms for increased fuel economy while still "going fast" as my three girls always asked for. 
Go take this gift for a ride yourself. You'll find the Ventura 224 offers the agility and the comfort of a genuine sport boat with a real deep-v hull, the spacious layout of a pontoon boat so you can bring the family, and an ear-to-ear grin-producing feeling you won't soon shake.  
---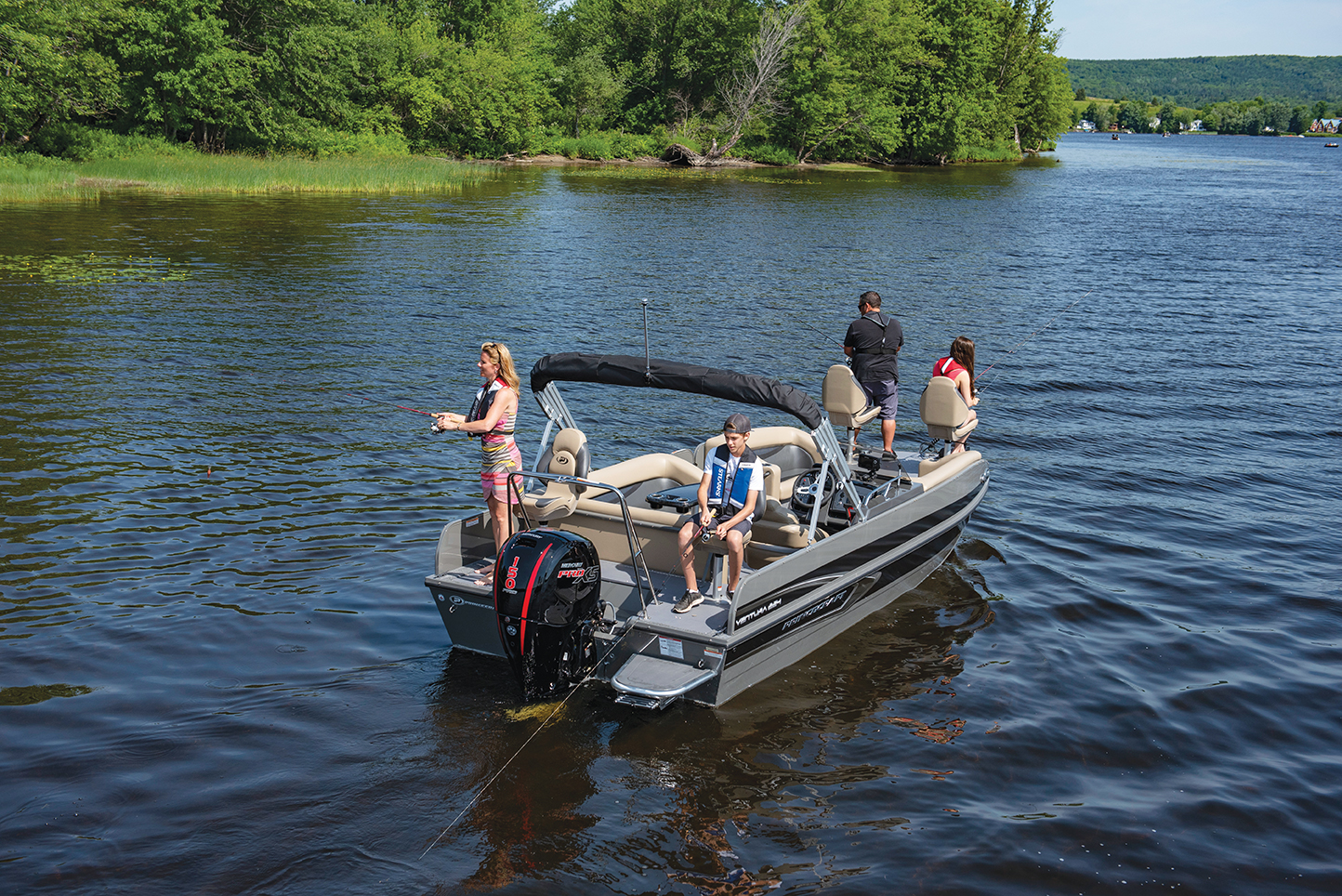 Specifications
Length: 22' 2" / 6.8 m
Width: 97" / 2.5 m
Chine Width: 83" / 2.1 m
Draft: 31" / 0.8 m
Deadrise:  13 degrees
Transom: 25"
Weight: 2,250 lbs / 1,021 kgs.
Fuel Capacity: 46 gals / 174 L
Max Capacity: 12
Max HP: 200
MSRP: from $62,200 CDN
For more information: www.princecraft.ca

best boat, Best boat buying website, best boat marina website, best boat travel website, best place to rent a boat, boat accessories, boat angler, boat boondocking, boat buyers guide, boat camper, boat camping, boat dealers, boat DIY, boat Fishing, boat Fixer, boat Home, boat information, boat insurance, Boat Maintenance, boat marinas, boat marinas in Alberta, boat marinas in BC, boat marinas in Canada, boat marinas in Manitoba, boat marinas in Saskatchewan, boat marinas in the USA, boat marinas near me, boat products, boat rentals, boat repair, boat review, boat road test, boat sharing, boat sites near me, boat supplies, boat Tech, boat tips, boat touring, boat trade, boat Travel, boat traveling, boat travelling, boat vacation, boat vacation cost, boat websites Canada, boating Canada, Boating Canada's Boat Lifestyle Magazine, Boating Lifestyle Magazine, boating website, Canadian marina websites, Deck Boat, expert boat information, find a boat dealer, how much does a boat cost, how much does marina cost, how to choose a boat, how to drive a boat, marina products, marina supplies, motor boat, power boating magazine, Princecraft, top boat website, used boat reviews, ventura best boat, Best boat buying website, best boat marina website, best boat travel website, best place to rent a boat, boat accessories, boat angler, boat boondocking, boat buyers guide, boat camper, boat camping, boat dealers, boat DIY, boat Fishing, boat Fixer, boat Home, boat information, boat insurance, Boat Maintenance, boat marinas, boat marinas in Alberta, boat marinas in BC, boat marinas in Canada, boat marinas in Manitoba, boat marinas in Saskatchewan, boat marinas in the USA, boat marinas near me, boat products, boat rentals, boat repair, boat review, boat road test, boat sharing, boat sites near me, boat supplies, boat Tech, boat tips, boat touring, boat trade, boat Travel, boat traveling, boat travelling, boat vacation, boat vacation cost, boat websites Canada, boating Canada, Boating Canada's Boat Lifestyle Magazine, Boating Lifestyle Magazine, boating website, Canadian marina websites, Deck Boat, expert boat information, find a boat dealer, how much does a boat cost, how much does marina cost, how to choose a boat, how to drive a boat, marina products, marina supplies, motor boat, power boating magazine, Princecraft, top boat website, used boat reviews, ventura