No matter what type of boat your family has – from a traditional aluminum car-topper to a weekend cruiser – getting out and having fun on the water is the primary objective.  There's no better way to do that than with a bunch of water toys.  Power Boating Canada scoured the market and selected our top picks of the hottest toys for the summer. For the kid in all of us, of course!
---
Sitting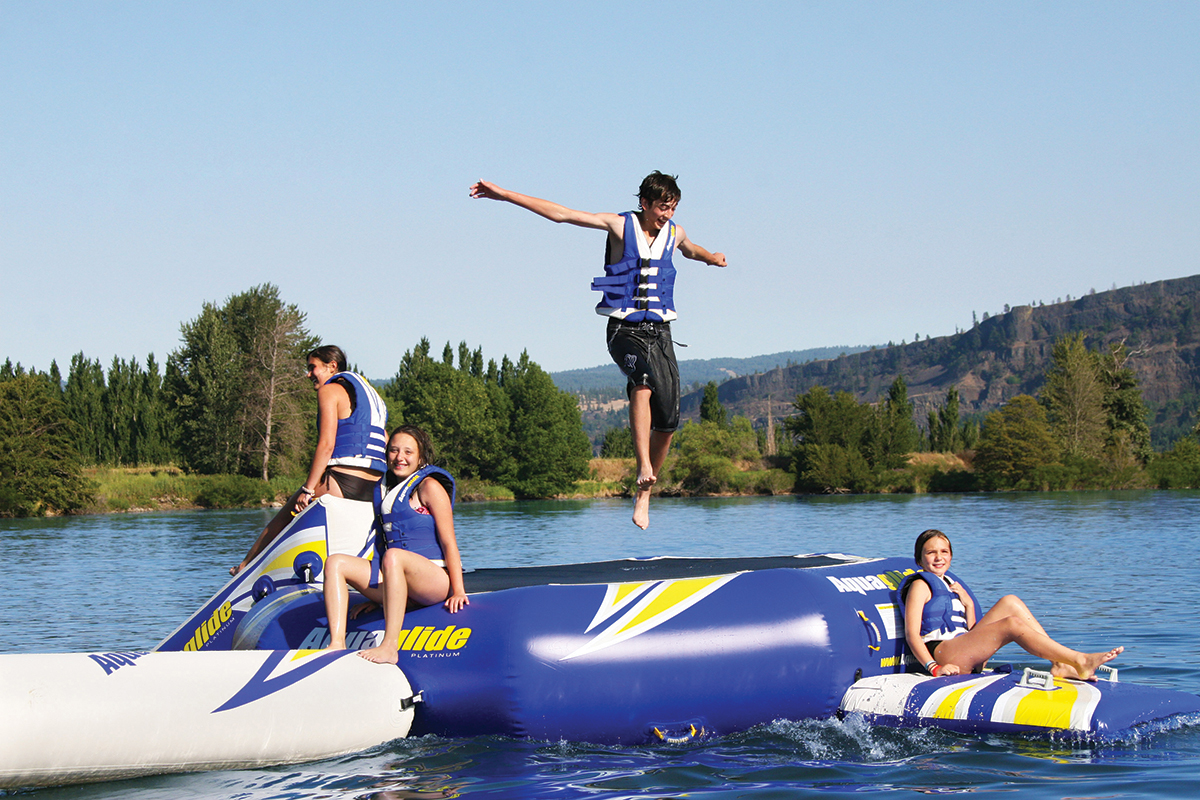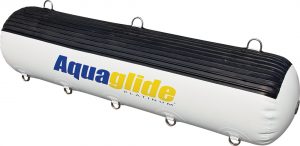 Whether it's anchored between cruisers in your favourite weekend anchorage, or just off the cottage dock, we think the Aquaglide Rebounder (www.aquaglide.net) is the ultimate water trampoline by day, and the most comfortable stargazing platform by night. At 16' wide and 36" high, it'll hold up to 5 users. Add a log and a slide and you've got your very own waterpark, and you'll never hear "this is boring" from your kids again.  Approx: $1595 ($2175 with slide and log).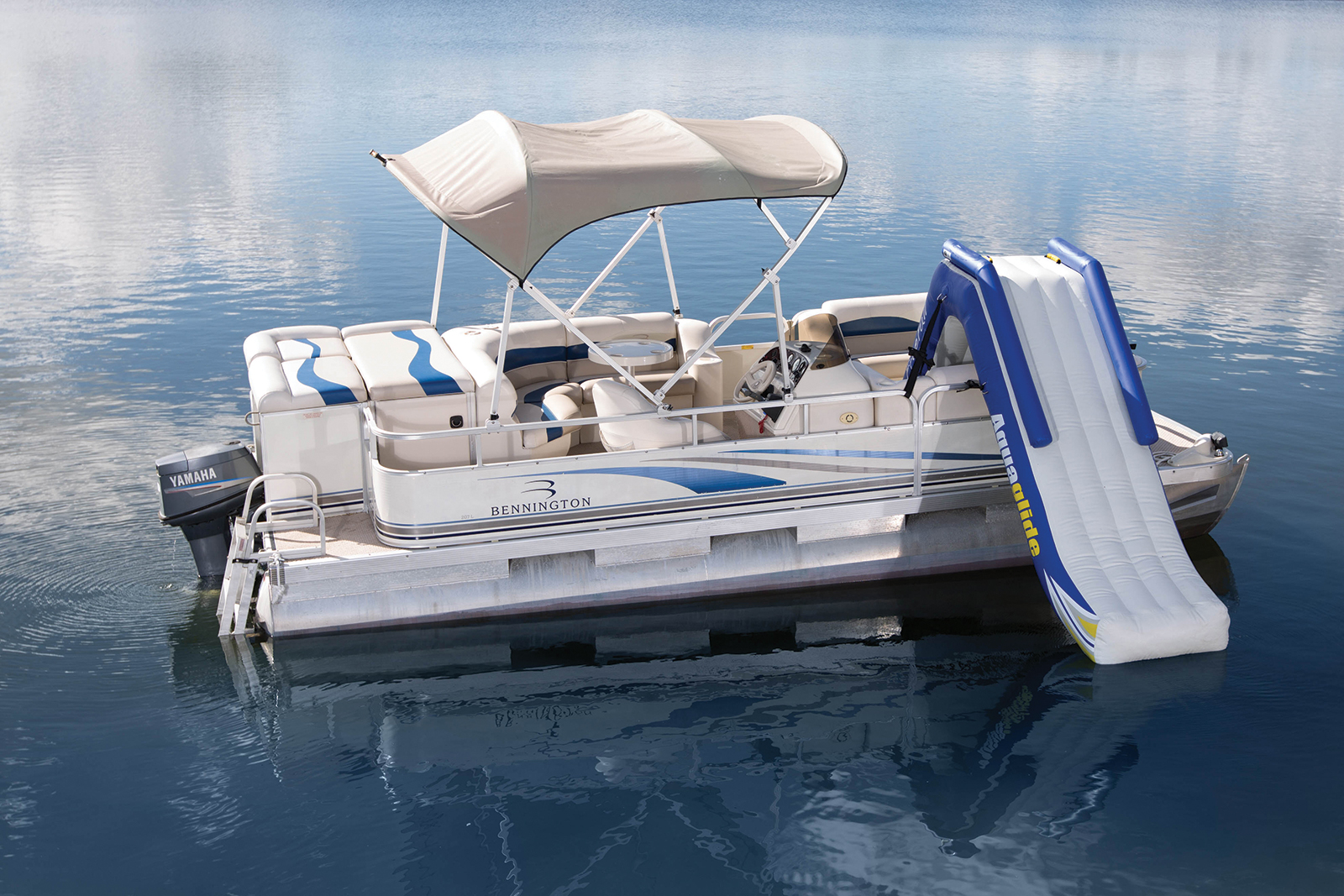 Now this is cool! The Aquaglide inflatable pontoon boat slide (www.aquaglide.net) comes with its own 12V pump, and fits any size pontoon or deck boat for hours of fun. We can hear the giggles and splashes now! Approx: $595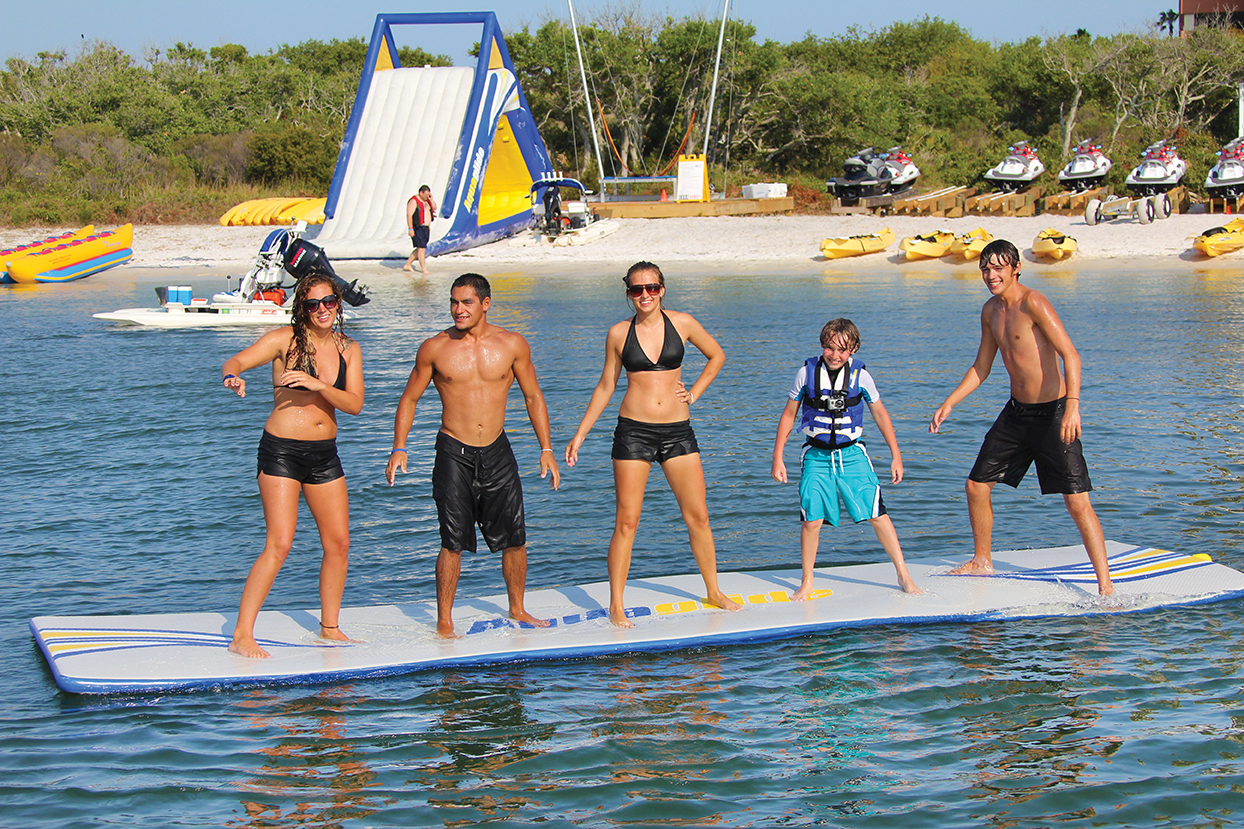 The AquaGlide Splashmat (www.aquaglide.net) is commercial grade so it will last years longer than any foam-type mat. Although it is 18' long x 5' wide, it is inflatable so it will fit into your cruiser's bilge or you cottage boathouse for storage. It makes a great lounger off the swimplatform or cottage dock. Approx: $1,277.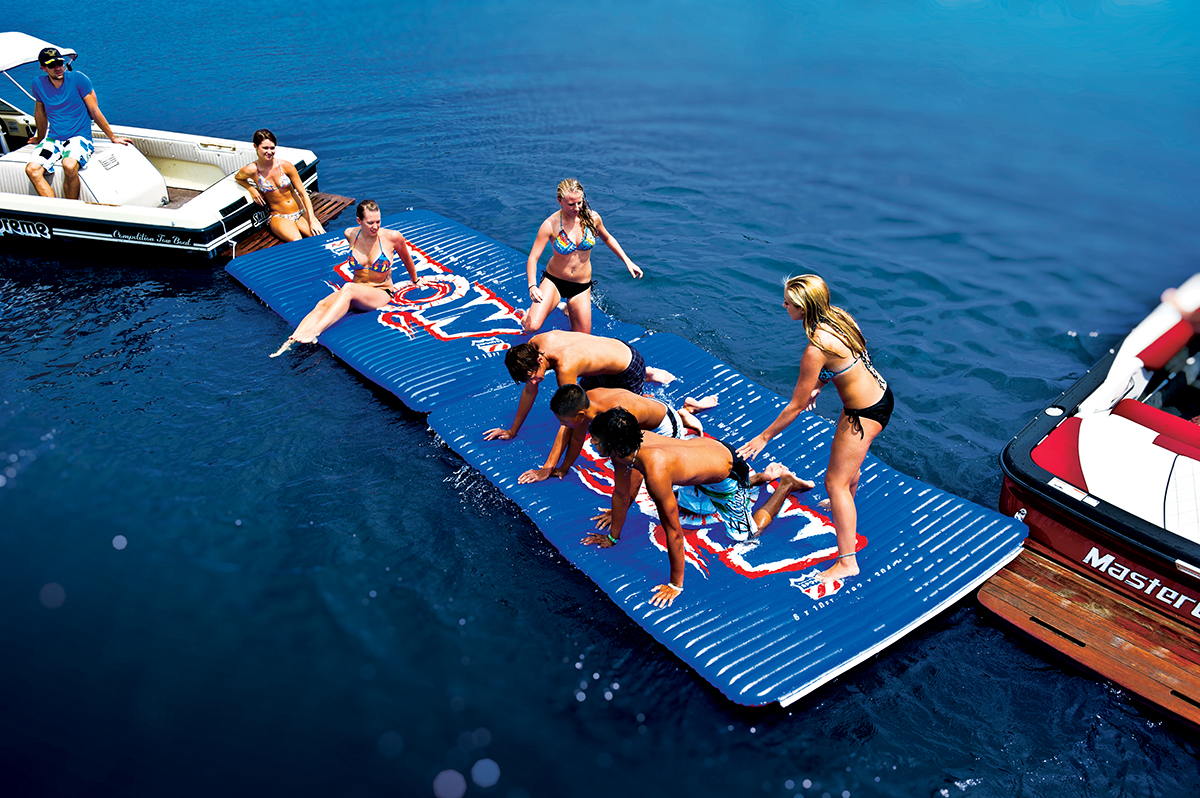 The WOW Water Walkway (www.wowwatersports.com) will support four to six adults, is 10' long x 6' wide with anchor grommets at each corner, and has a neat zipper feature to zip two or more together. Approx: $229.
---
Steering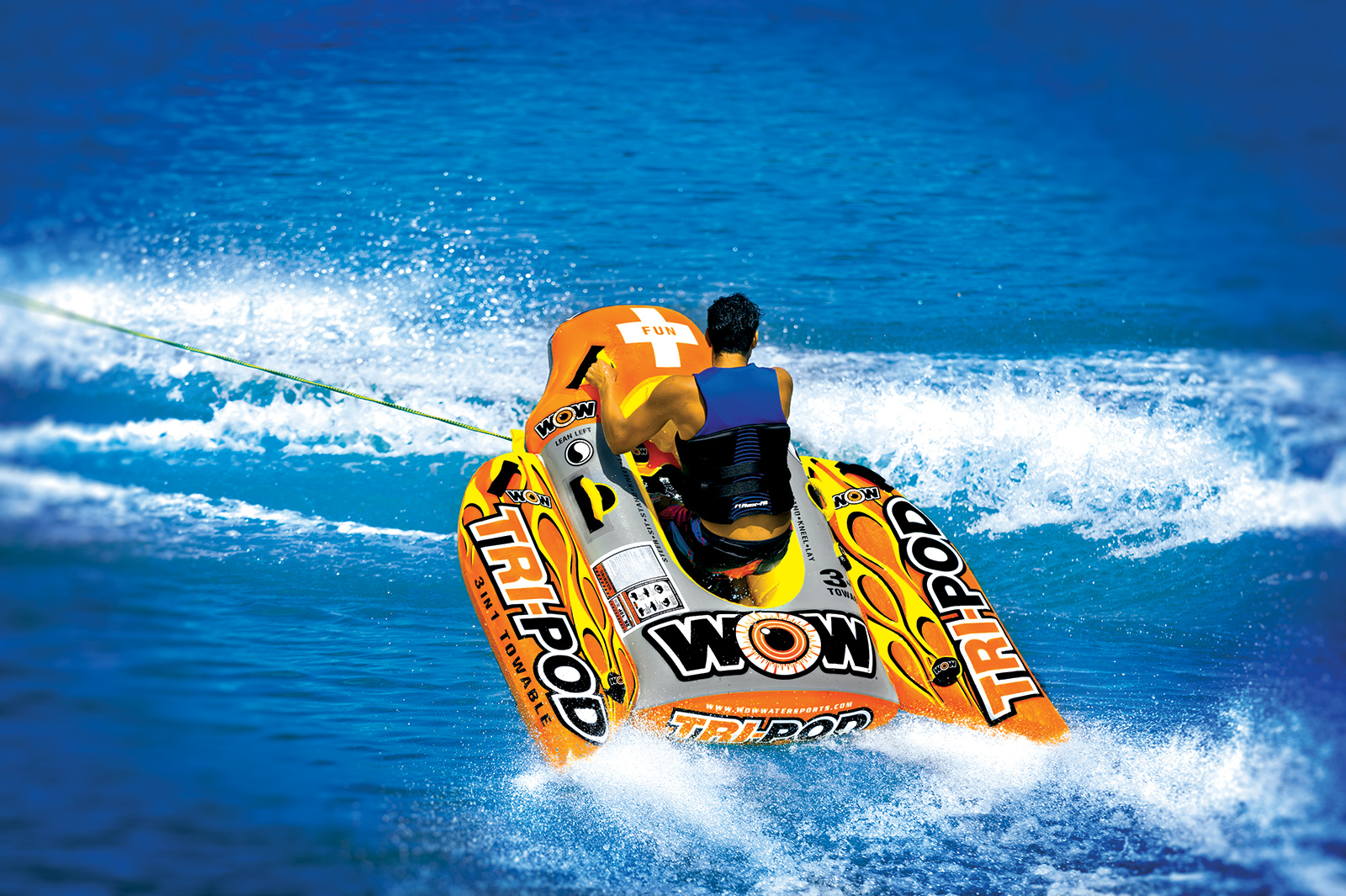 The WOW Tripod (www.wowwatersports.com) is the first 3-in-1 inflatable towable ever! Tow it as a cockpit with wings, or unzip the wings and use it as a cockpit alone, or zip the wings together and you have a super-fast deck tube. Ride it alone or with a friend. The double webbed foam handles with knuckle guards are sewn into the Tuff shell nylon cover, and the Drop Speed Bottom gives the Tripod steering capability. 75"x75", approx: $349.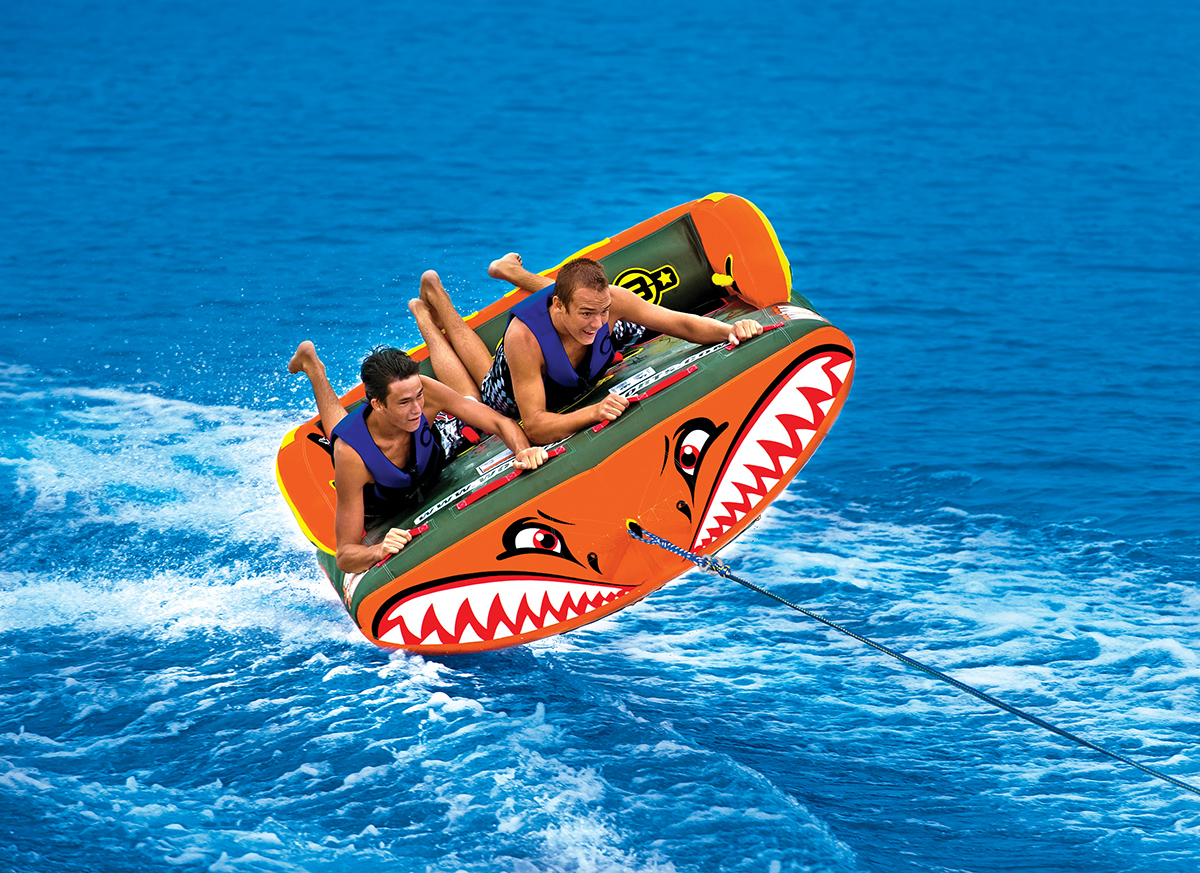 This mean machine is a new way of riding a towable tube. The teeter totter action of the WOW Tilt-o-Rama (www.wowwatersports.com) crossing the boat waves or in the turns gives you a more thrilling ride. Tow it from the front or the back for sitting, kneeling, or prone position riding options. The kid in you will shriek with joy!  78" x 72". Approx: $449.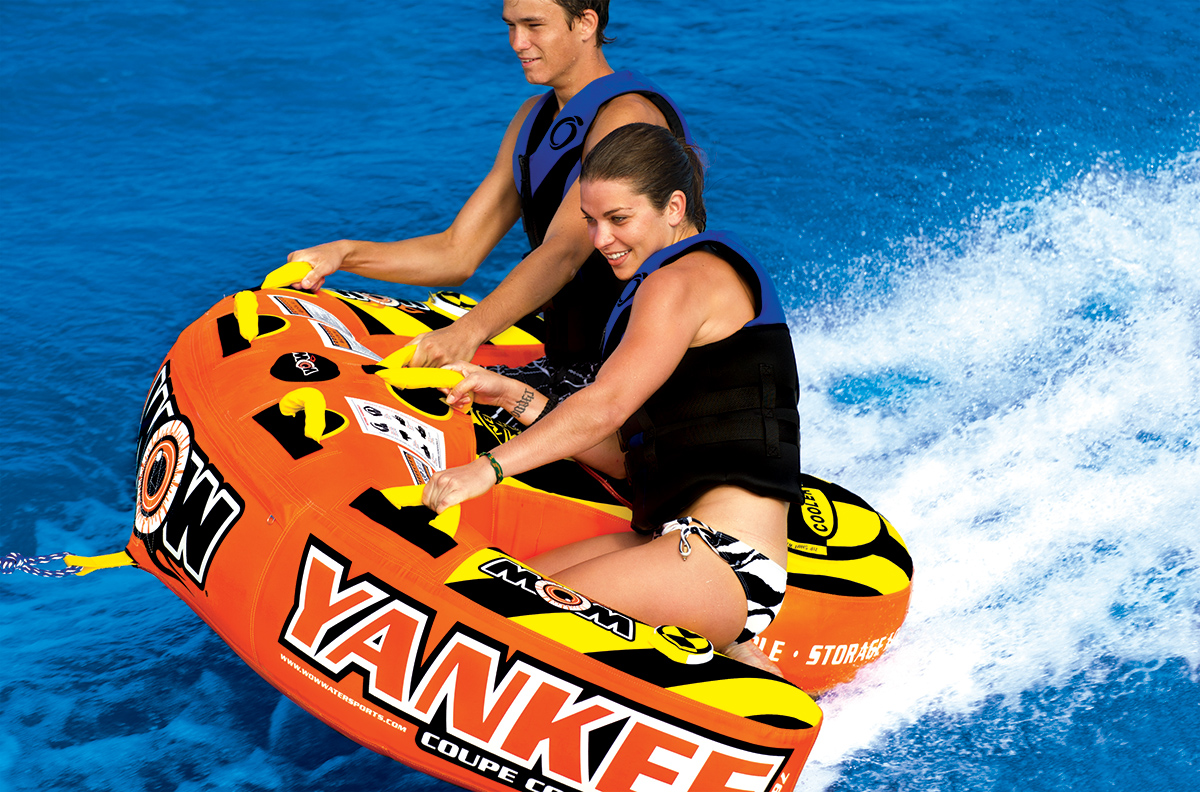 The WOW Yankee Coupe (www.wowwatersports.com) is both a 1 or 2 person towable and a floating lounger with a high back rest and a beverage cooler. After getting pulled around the lake in the chariot or jockey position, flip out the leg support/foot rest and relax in lounge mode. 76" x 54" Approx: $299.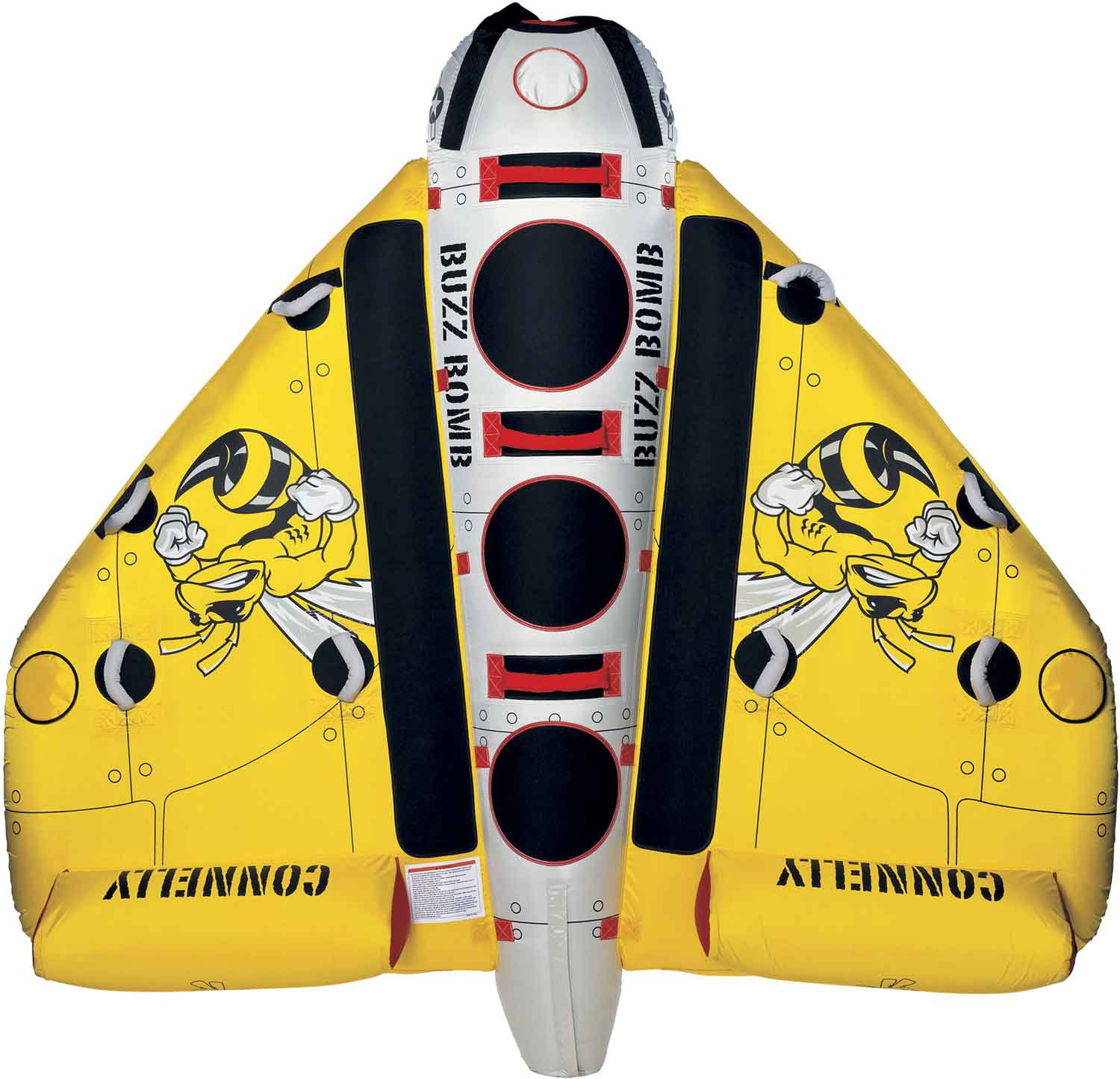 The Connelly Buzz Bomb (www.connellyskis.com )holds up to 5 riders and 650 pounds in almost any configuration you could want. This tube has handles everywhere – 11 of them – to let riders move around while underway. Anyone for a floating game of Twister? 103" wide x 18" long, Approx: $349.
---
Standing
The Muskoka Surfboard Company (www.muskokasurfboard.com) first caught our attention at the Toronto Boat show this past January because of their wooden disc. I remember my Dad telling stories about skiing behind the boat on a wooden disc, but such a thing wasn't available on the market today – until now.  Both their 6ft surfboard (that weighs just 15 lbs) and their 48" round disc are made from water repellant African Obeche and Purple Heart hardwoods laminated together with waterproof marine glue, then shaped by hand, sanded, and sealed with linseed oil. Their website shows an adult skiing on a board behind a 20hp outboard on an aluminum boat. We just can't wait to try this! Board approx: $499; Disc approx: $299.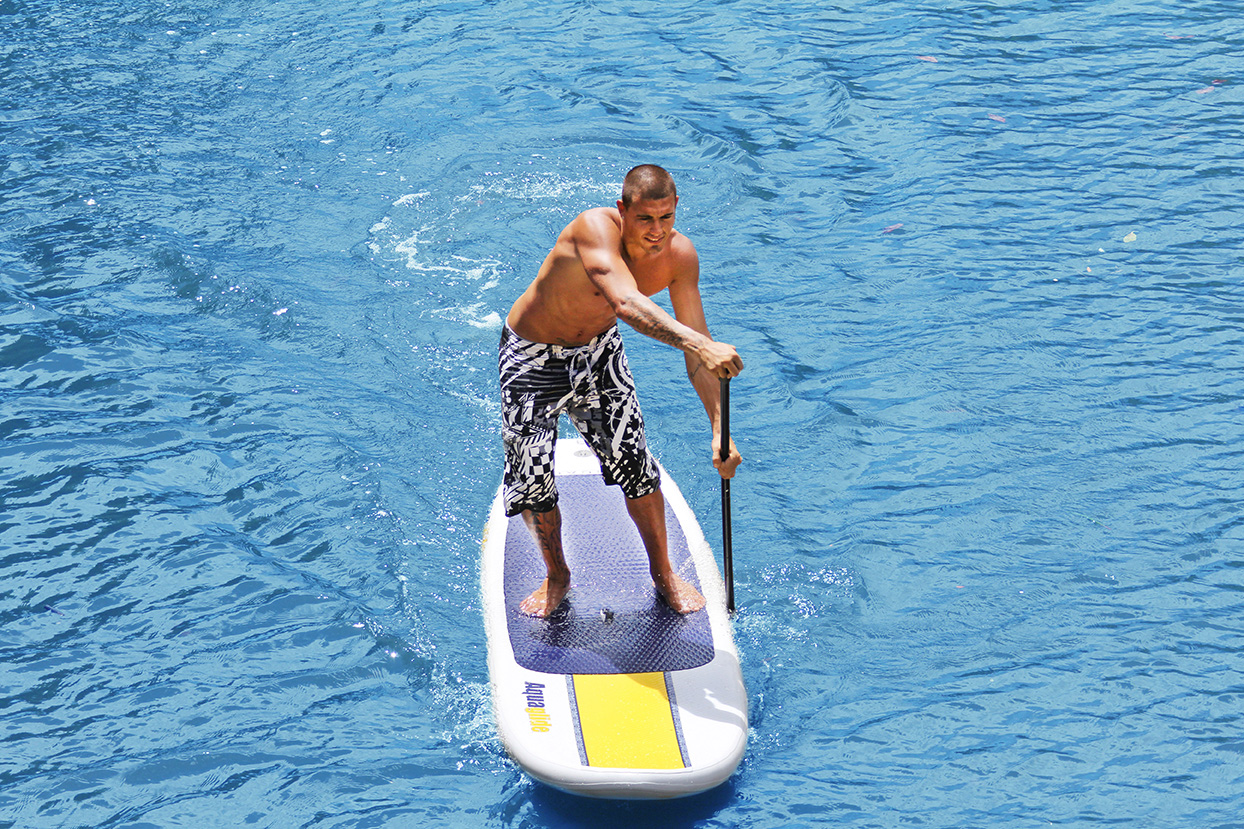 There's even an inflatable SUP available that's great for cruising boaters! Aquaglide's 10 foot SUP (www.aquaglide.net) comes in its own backpack sized bag, with a 3 piece paddle and inflates easily with the included pump. Its 10' long x 31" wide x 4.75" thick, weighs just 35 lbs, and supports riders up to 265 lbs. approx: $1,325.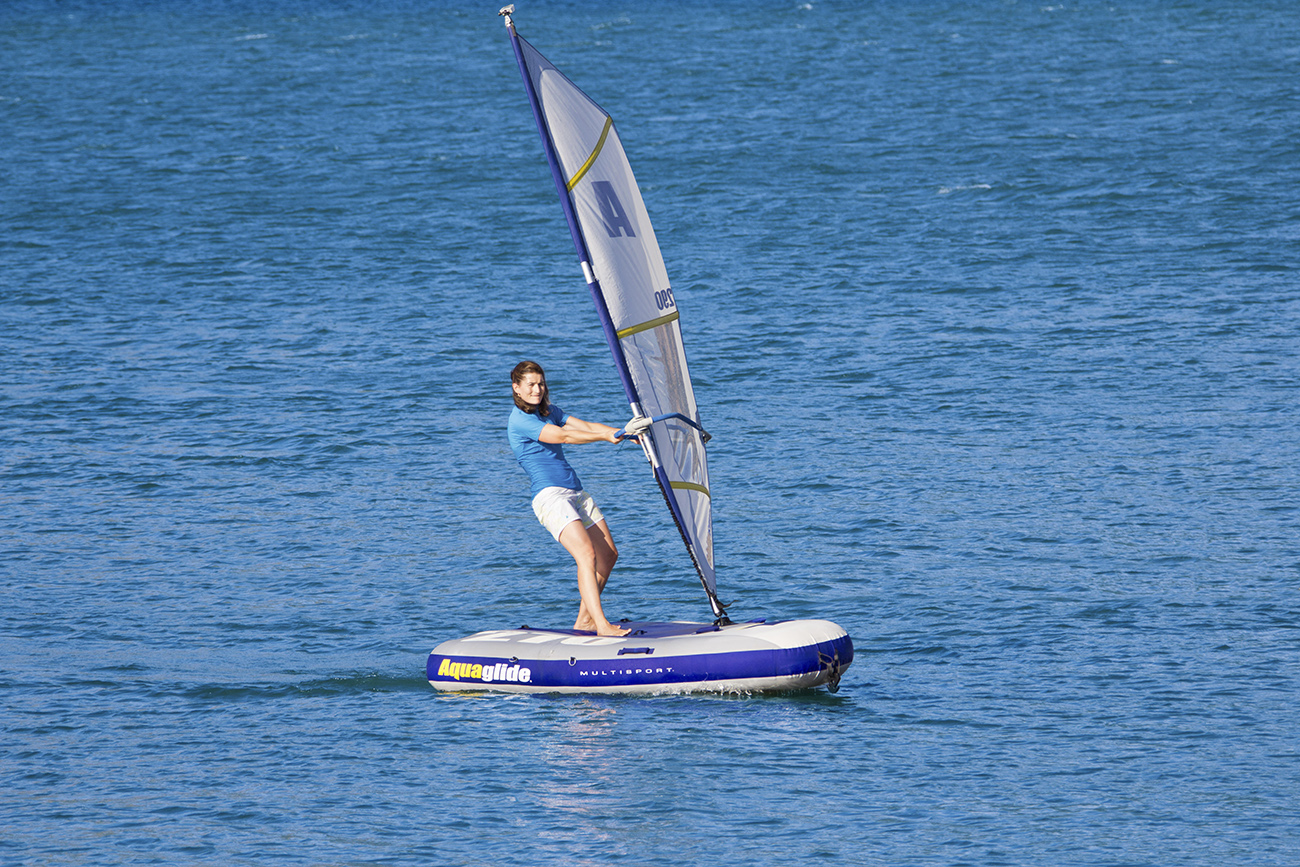 The Multisport 270 (www.aquaglide.net) is a sailboat, windsurfer, kayak or towable board all in one. No matter your age or athletic ability, the brochure claims you'll be able to sail or windsurf on your first try. It won an Innovation Award at IMTEC and 40,000 units have already been sold! It's small and light enough to check as airplane luggage or fit into the truck of a car, but can handle winds up to 20mph! Approx: $999.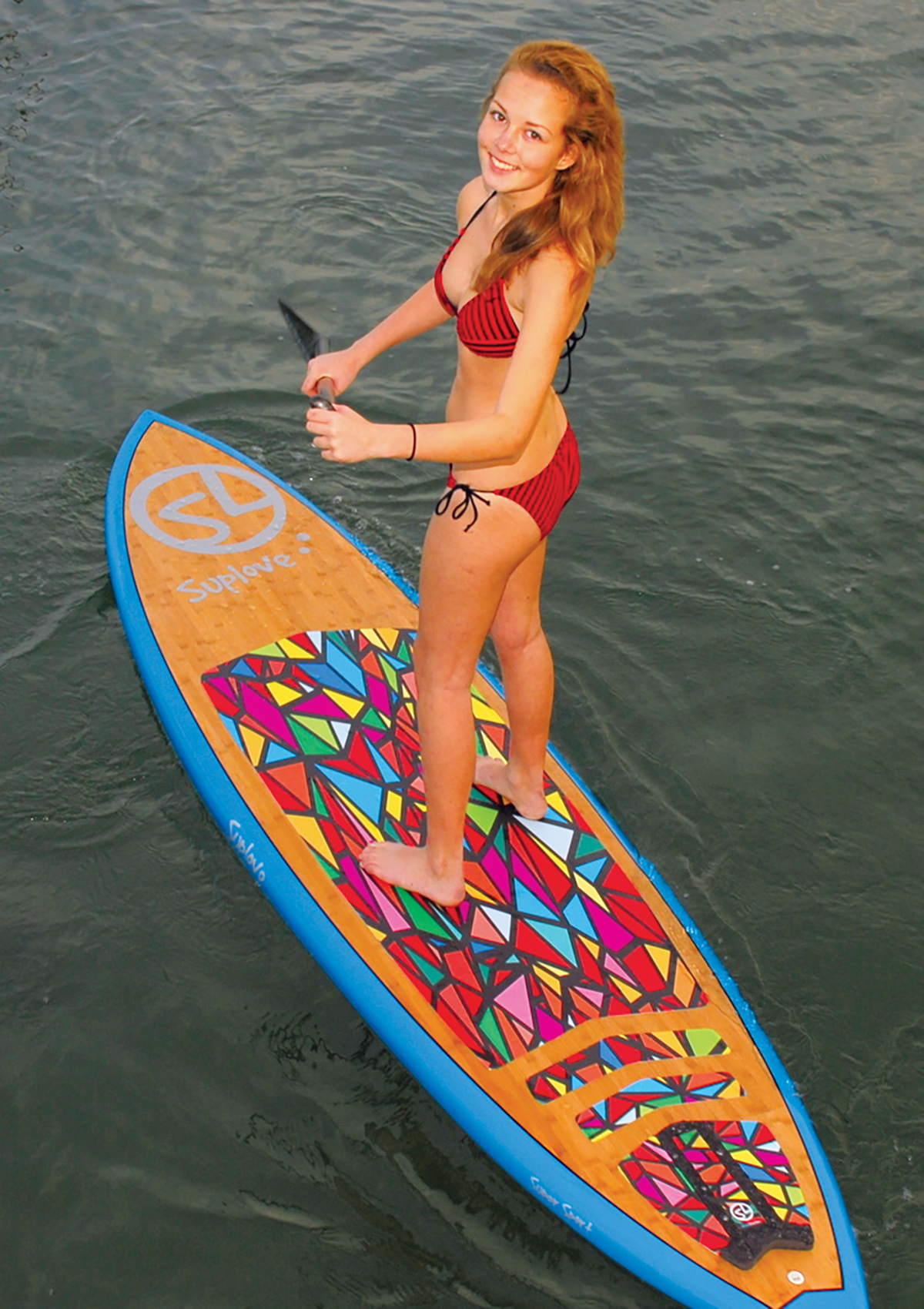 Originally from Hawaii where surfing instructors stood to take photographs, Stand up paddleboards (SUPs), or 'Hoe he'e nalu', have become all the rage in recent years. Larger and more stable than a windsurfer board, and propelled with a long-shaft and wide-blade paddle, these boards are all the rage all over North America. We found a Canadian supplier based in Collingwood Ontario – Suplove (http://supsaublebeach.ca/Sales/index.html) – that stands for "LOVE Stand Up Paddleboards". From approx: $1395.
---
S'More Stuff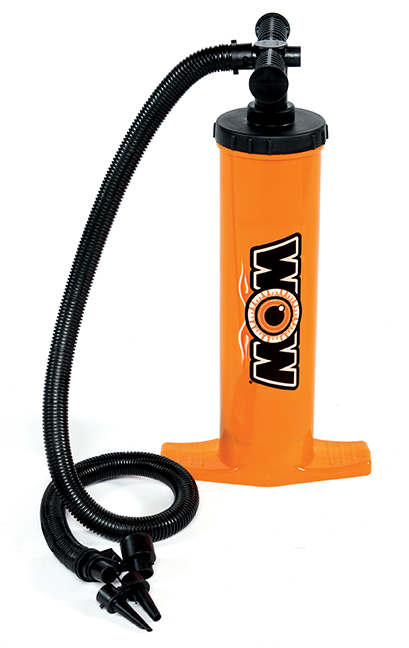 No matter what water toy you need an efficient inflator. We like the double-action hand pumps that inflate as you push down and pull up, or a 120V model if you have hydro easily available. Cruising boaters can store one or two of these towables until they reach the anchorage and in a few minutes have all the toys inflated for a week or a weekend of fun. Even cottage owners need them to help with storage space that's always at a premium. Inflating your toys to 2.6 PSI helps them perform their best and extends their lifetime, without the risk of breaking a seam as they expand in the summer sun.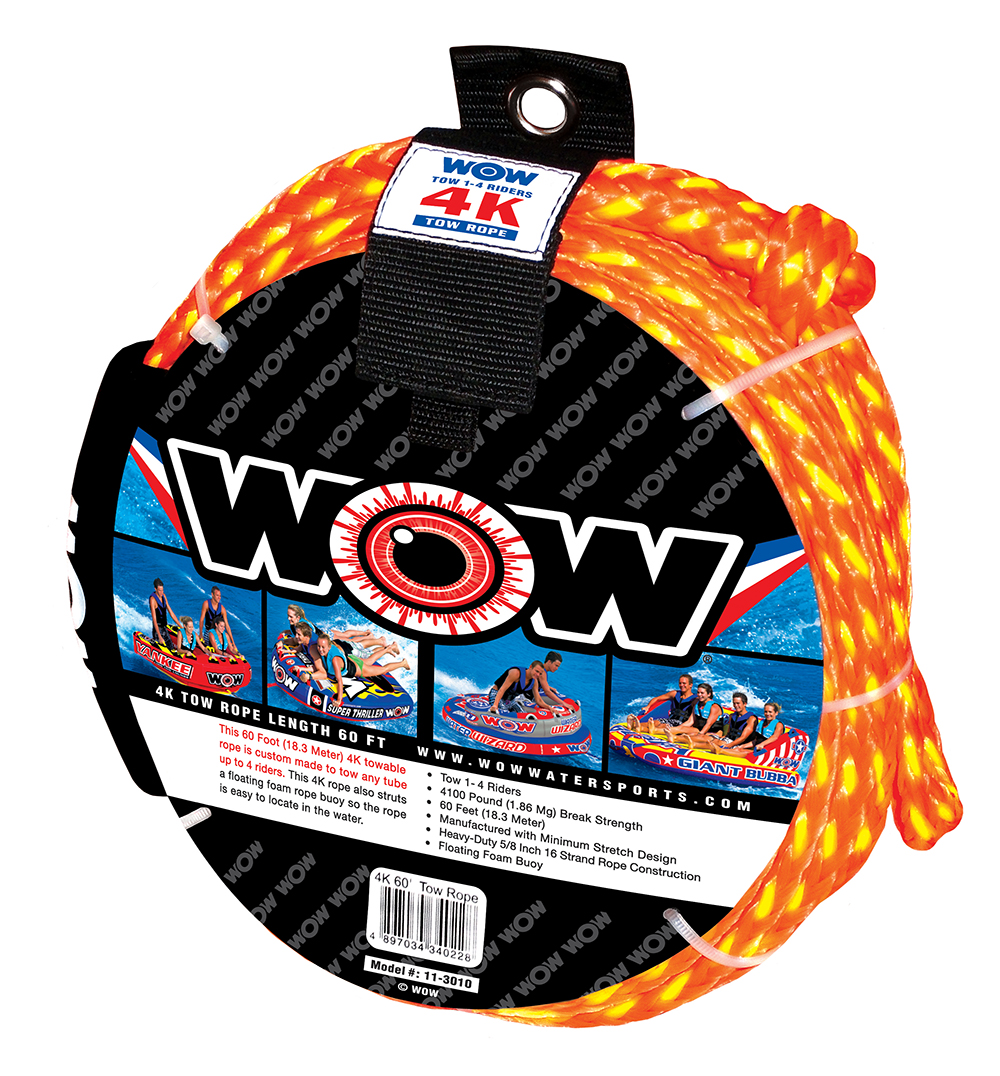 We recommend using a floating line for towing and all water sports. Look for one with a floating handle to make locating it in the water very easy. The length of rope you'll want to use really depends a lot on your experience level and the wake pattern of your boat. The longer the rope the wider the wake is for jumping, the shorter the rope the more aerated, and therefore less buoyant, the water is because of the prop or jet wash.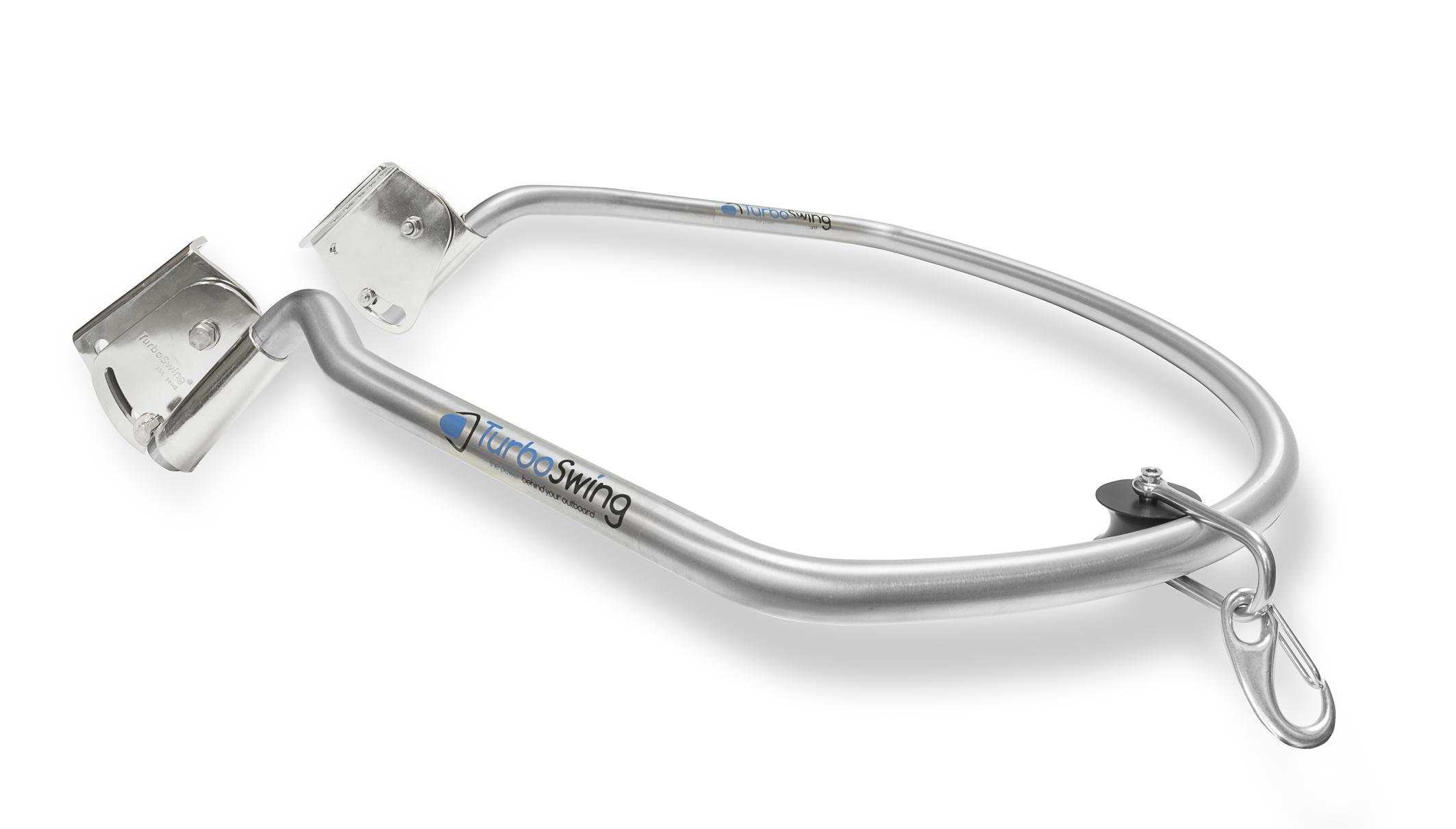 TurboSwing (www.turboswing.com) makes every boat into a tow boat with a stainless-steel towing arch that attaches directly to the transom thru-bolts on any make of outboard engine. We like that the stress on the transom is reduced, the pulling point is raised above where it would be if using the D-rings on the transom, and the safety aspect of the tow rope attachment point being positioned well away from the prop. Different TurboSwing models are available for various engine horsepower sizes, including twin engine installations, and the tow bar is easily removed. Get an extra EZPulley to pull two tubes at once. From $485.
---
Safety
The best day on the water is the one you can tell the story of over and over. So here's a few safety tips to remember.
Make sure everyone is always wears a properly sized PFD – remember, an inflatable PFD isn't legal for the person being towed.

Always shut off the engine when around people in the water to prevent both carbon monoxide poisoning and potential injury from propellers.

Know the water. Shallow areas, slow speed zones, etc.

Follow the dogbone pattern: a long straight stretch down the middle of the lake with large loops at each end. This keeps your wake well away from other's boats and docks, and gives your riders the best overall experience.

Review the hand signals with everyone in the water and on the boat prior to each day's activites.

Water on the water, beer on the pier.
best boat cleaning supplies, best new boat products, boards, boat accessories, boat chairs, boat checklist, boat cleaning supplies, boat equipment, boat furniture, boat hacks, boat Lifestyle Products, boat supplies, boat tips, boat water purifier, boat water softener, boating equipment, boating gear, How to clean a boat, how to level a trailer, how to set up a boat, inflatables, must have boating gear, new boat products, toys, water softener, water toys best boat cleaning supplies, best new boat products, boards, boat accessories, boat chairs, boat checklist, boat cleaning supplies, boat equipment, boat furniture, boat hacks, boat Lifestyle Products, boat supplies, boat tips, boat water purifier, boat water softener, boating equipment, boating gear, How to clean a boat, how to level a trailer, how to set up a boat, inflatables, must have boating gear, new boat products, toys, water softener, water toys