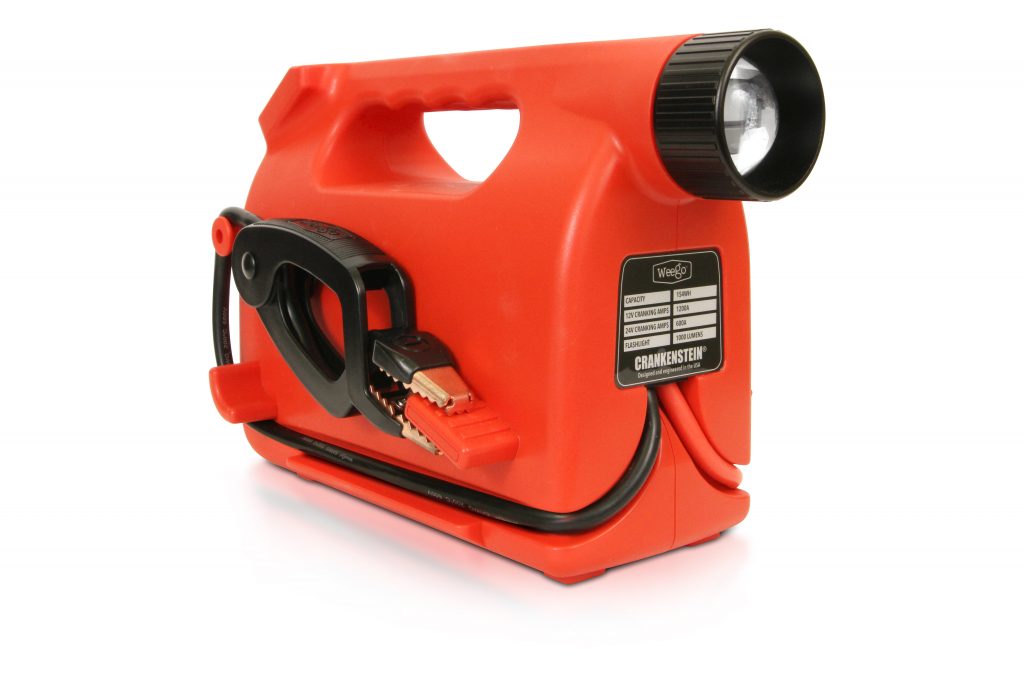 Weego, the innovators of portable jump starters, has launched their Crankenstein™ Jump Starting 12V/24V Power Pack – a powerful, new, combination 12- and 24-volt portable jump starting solution, designed for the marine market. Crankenstein revolutionizes jump starting with industry-first features built into a compact power pack that is just nine pounds – 80% lighter than comparable lead-acid jump starters. Powered by the most reliable lithium-iron phosphate batteries, Crankenstein is ruggedly built to be the smartest, safest, most powerful and most compact solution available.
Powerful – Crankenstein provides 1,200 cranking amps and 5,000 peak amps for 12-volt systems and 600 cranking amps and 5,000 peak amps for 24-volt systems – even capable of jumping vessels over 30-feet. Unlike many portable jump starters, Weego Crankenstein will jump start 0-volt batteries safely and automatically, eliminating down time until a replacement battery is installed.
Smart – A premium OLED screen clearly walks boaters through the jump and communicates warning messages, light brightness level, connection quality, and more for intuitive, effective and safe use, and a built-in voltmeter is included to measure voltage. In addition, Weego's Hotfoot™ technology allows operation in temperatures as low as -28 degrees Fahrenheit, warming up Crankenstein's internal batteries to -5 degrees Fahrenheit for an assured jump in extreme cold. Crankenstein features auto on and off for all functions to simplify start-up and preserve battery life.
Rugged – Crankenstein's reinforced case is built to withstand the rigors of repeated use and handling in the harshest of marine environments. It is IP65 rated for water, dust and dirt resistance, perfect for storing in lockers, dock boxes or other unprotected environments. And it works in extreme temperatures with an operating range of -28 to +140 degrees Fahrenheit. Built for years of daily use, Crankenstein's battery is rated for up to 2,000 life cycles and will hold a single charge for over one year.
Versatile – The unique clamps with tapered tips are powered on both sides guaranteeing all of Crankenstein's power is available for a jump, even in the tightest battery compartments or bilge spaces. They open extra wide with half the effort of traditional clamps for the easiest yet most secure connection possible. An intense 1,000 lumen LED work light with adjustable focal length and brightness level is built-in offering 15 hours of extra light during night watches, at 100% intensity on a single charge. Crankenstein also has an SOS and strobe feature for emergencies, lasting up to 30 hours. The unit can be charged in just six hours while on the go with the supplied USB-C DC charger or from a standard AC wall outlet.
Crankenstein is priced at $699, and is certified to the standards of the BC, FCC, CE and RoHS. Each unit includes a USB-C 15V/2.4A wall charger, a 12V DC USB-C car charger, a 40-inch charging cable, storage bag and a quick start guide.  For more information visit myweegopro.com.
accessories, best boat, Best boat buying website, best boat marina website, best boat travel website, best place to rent a boat, boat accessories, boat angler, boat boondocking, boat buyers guide, boat camper, boat camping, boat dealers, boat DIY, boat Fishing, boat Fixer, boat gear, boat Home, boat information, boat insurance, Boat Maintenance, boat marinas, boat marinas in Alberta, boat marinas in BC, boat marinas in Canada, boat marinas in Manitoba, boat marinas in Saskatchewan, boat marinas in the USA, boat marinas near me, boat products, boat rentals, boat repair, boat road test, boat sharing, boat sites near me, boat supplies, boat Tech, boat tips, boat touring, boat trade, boat Travel, boat traveling, boat travelling, boat vacation, boat vacation cost, boat websites Canada, boating Canada, Boating Canada's Boat Lifestyle Magazine, Boating Lifestyle Magazine, boating website, Canadian marina websites, expert boat information, find a boat dealer, how much does a boat cost, how much does marina cost, how to choose a boat, how to drive a boat, marina products, marina supplies, motor boat, power boating magazine, top boat website, used boat reviews