This crossover outboard-powered yacht offers luxury, space and manoeuvrability in a unique design and layout that truly works for families and couples alike.
By Brad Roberts
If you're anything like me foot-itis is a consistent problem. Bigger is indeed better when it comes to boats – in most areas: living space, sleeping space, storage space, entertaining space. There's one area where larger quite often means giving something up rather than gaining something, and that area is performance.  A yacht doesn't perform the same way an express cruiser or sport yacht does, mostly because of its' size and weight, but then those boats don't have the space that a yacht does.
Enter the revolutionary Regal 38 XO.  Unveiled to the public for the first time at this past February's 2019 Miami International Boat Show, the Regal 38 XO is the third model in the company's very innovative outboard lineup joining the already successful 26 and 33 XO models. Outboard power means several things that make this series particularly attractive: more interior living space in a shorter length, easier maintenance and servicing of the enignes, and lower draft depth offering increased exploring options including shallower anchoring bays or beaching. Can you image beaching a 38 foot yacht? Now you can.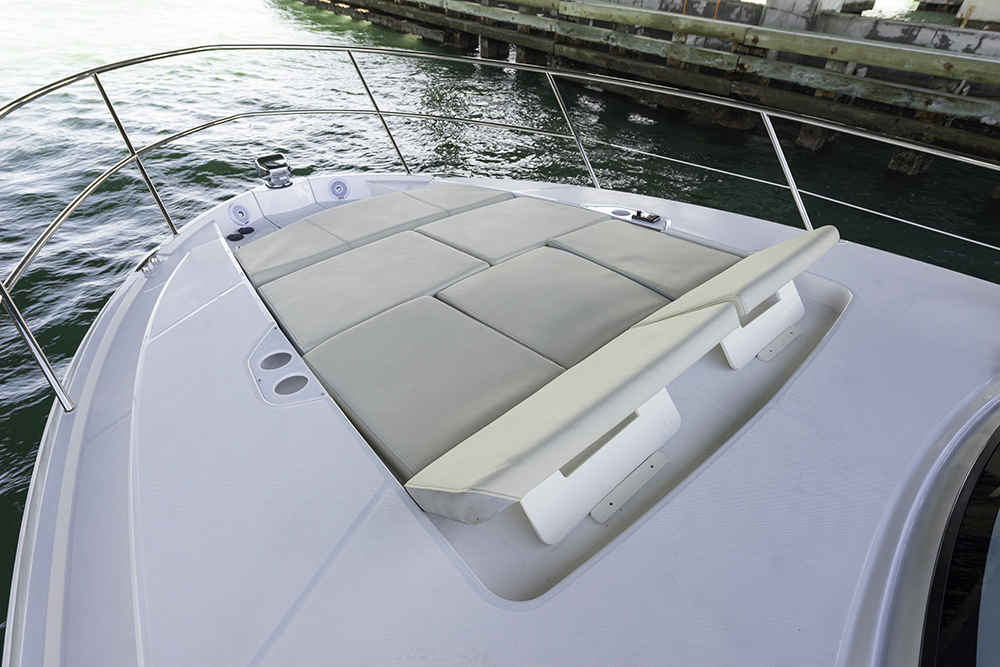 My favourite place on this all-new for 2019 yacht-certified crossover model is the bow. The innovative bow sunpad looks pretty standard at first glance.  Further inspection reveals a six-position multi-purpose entertainment area complete with Fusion speakers and a stereo remote control so you can change the music and the mood without getting up.  Let's begin with the lowered area up at the anchor locker. Two large and deep storage locker hatches form the floor of this area which serves as a very comfortable foot-well for when the forward portion of the sunpad is raised to create a bow seat with an incredible view. It creates a wonderful solo reading nook or a romantic dining spot for two both with incredible views. The aft portion of the sunpad also inclines to create a traditional sun pad to stretch out on. Thanks to the 38 XO's high sheerline, the bow is relatively flat and level unlike some competitive models. The windlass and foot pedals make anchoring in your favourite bay simple for a deck hand of any age.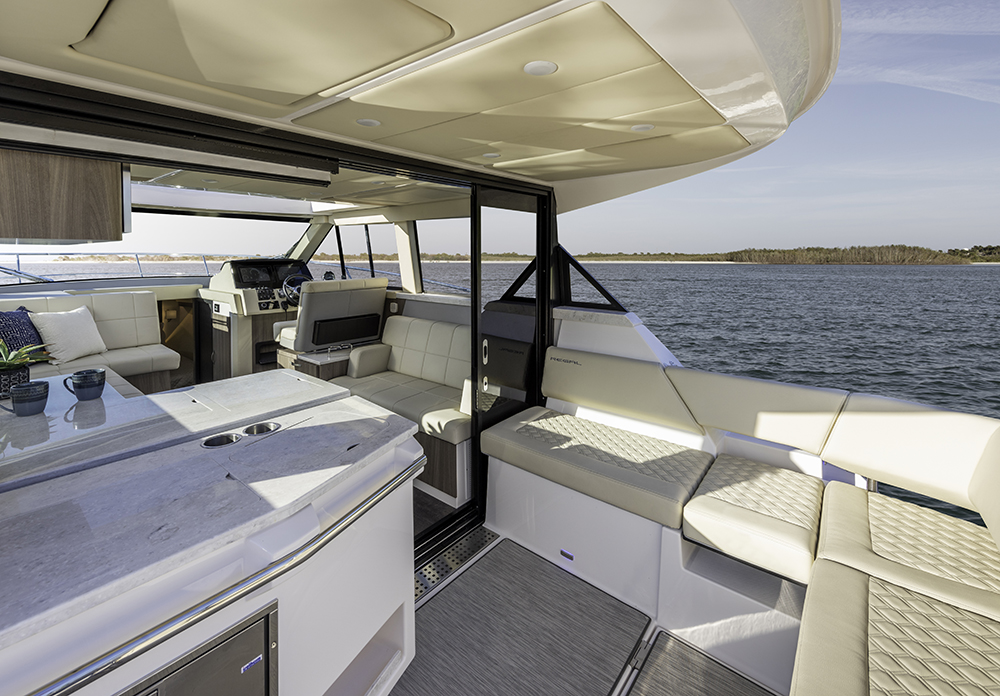 Moving aft, beautiful stainless side rails and hand rails on the hardtop guide you (and your kids) safely around the cabin to the aft patio. Yes you read that correctly, it's not just an aft deck, it's truly an outdoor patio featuring luxurious hand-stitched seating for up to six adults (with tons of storage space underneath the seat bases), wrapped around a large and beautiful wooden removable table. Entrance to the swim platform is to the port side, and the entrance to the cabin is through a centerline sliding glass door.  Overhead, a TV drops down from the fiberglass hardtop.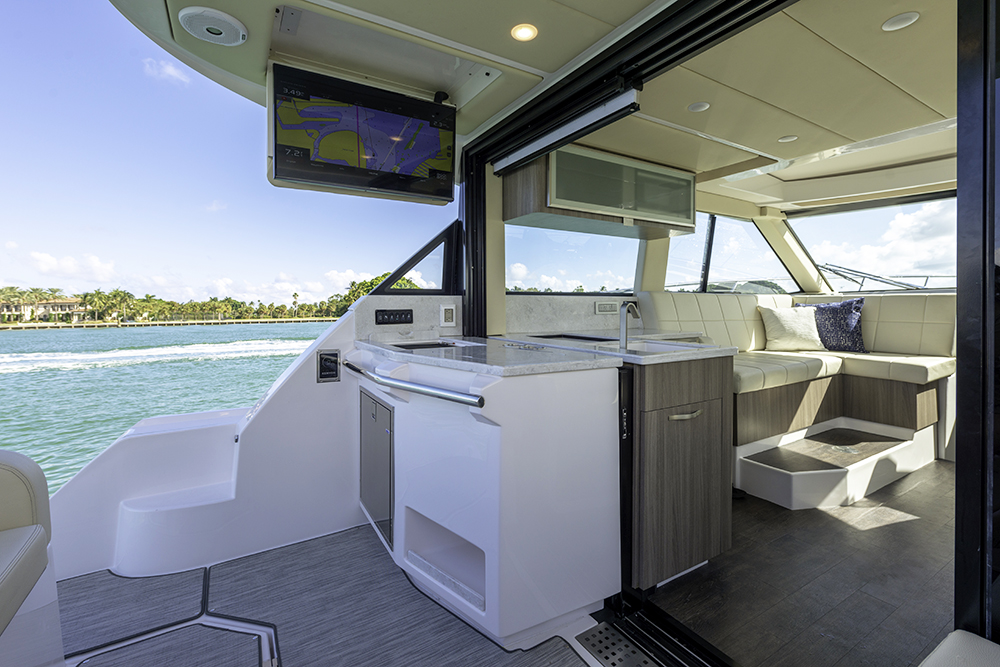 The split galley design of the 38 XO functions equally well for our Canadian boating seasons. Slide the two-piece glass door closed in the cooler shoulder seasons of spring and fall and easily prepare a meal in the port-side aft galley. The galley is well equipped with an oversized fridge and freezer, microwave, impressive storage space, a good-sized sink and ample counter space. Or, in the warmer months and with a simple the push of a button, open the sliding door and the retractable window and you create a seamless entertaining space that flows from inside to out. Outside you'll find a smokeless grill, optional fridge, a convenient trash can and more counter space to feed your crew easily.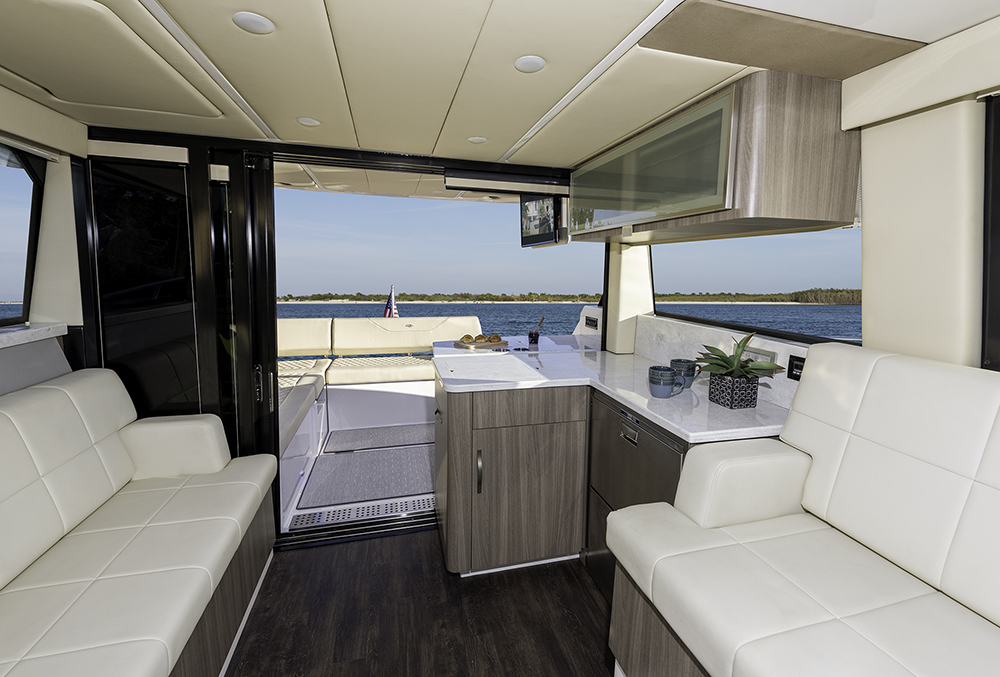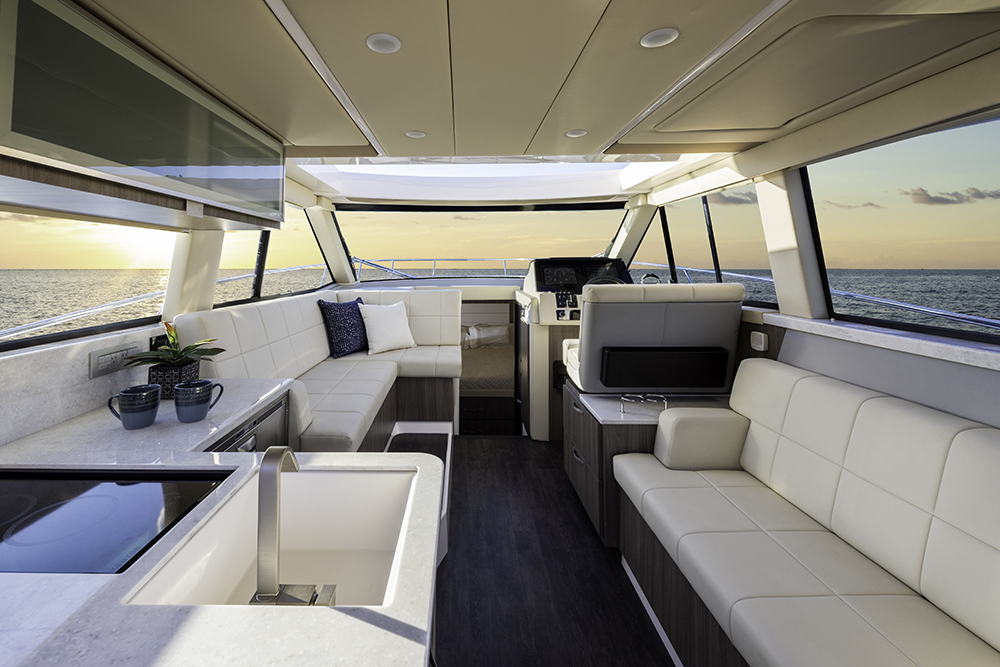 Moving forward in the cabin, you'll notice the massive windows wrap around a full 360 degrees for nearly unobstructed view while cruising or at anchor. While you're in the marina, blinds offer complete privacy. Opposite the galley, there's a loveseat to starboard behind the double-wide helm seat, and an l-shaped sofa opposite the helm. The helm is equipped with a standard 16" Garmin display (or optional 12" dual displays), luxury wrapped and stitched wheel, well located throttle and a stainless cupholder. Overhead, the hard top open to allows the sunshine and breeze in for a true express cruiser feeling.
Going below, down the hardwood stairs, you'll find a large best-in-class forward guest stateroom with California-queen v-berth with long narrow windows in the hull sides that let in plenty of light and make it easy to see what's going on without leaving your bed. The master stateroom is aft, under the cabin floor and features a full-beam layout with a king size bed that converts to two twin beds when necessary, large windows on both sides, abundant storage space, a large TV and a settee to port it's a private quiet escape haven. To starboard is a full size head, separate from the port-side full-size shower for maximum convenience.  Interior comfort is maintained by three air conditioners: two 16,000 BTU units and one 27,000 BTU unit.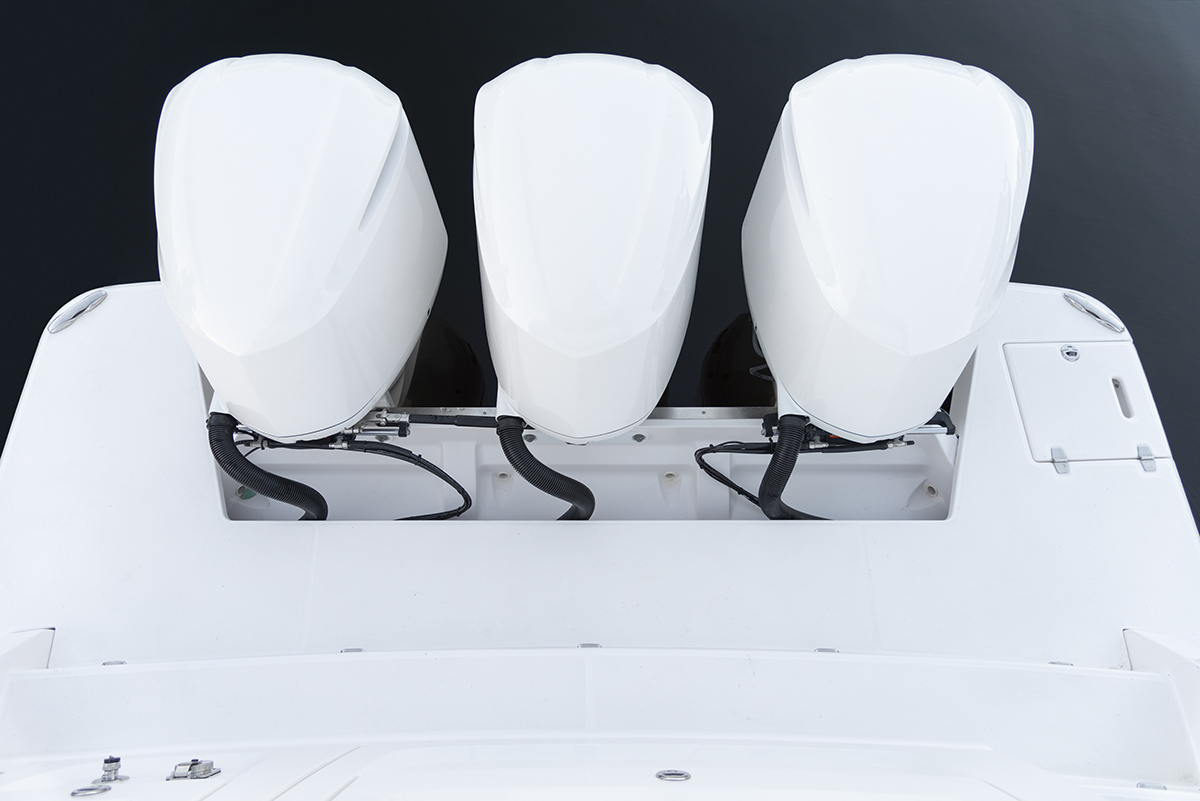 The 38 XO's power is provided by three outboards positioned aft of the full beam swim platform that allow you to walk from side to side comfortably without climbing over an engine – even when they are trimmed fully up. Choose from triple Yamaha V8 5.3L F350's (max 1050hp) or triple Yamaha V6 4.2L F300's (max 900hp). Finished in white, and with an impeccably clean and neat wiring harness, the three big outboards look right at home – not cumbersome, not out of place at all, I think thanks in part to the high transom that feature two large storage areas for shore power cords, fenders, swim gear water toys and more. Either of the two big outboards power options will spin large props with plenty of blade surface for speed, control and manoeuvrability. However, for those who want more, Regal offers an optional bow thruster, and an optional Optimus 360 joystick and power steering which would make finessing your way around the locks, the gas dock or a narrow slip an absolute breeze.  Performance wise out on the water, 38 XO captains can expect to run relatively flat (almost no bow rise thanks to the all-new bottom and running surface) at cruising speeds with perhaps a slight amount of trim tabs applied, and max out at a top speed of around 50 mph.
Overall, the 38 XO offers an innovative and unique design in an outboard powered yacht that is a brilliant crossover between the luxury and space of a yacht and the power, manoeuvrability and performance of an express cruiser. She would make an excellent family cruiser for weekends and week-long summer holidays, or serve equally well as a "Great Circle Loop" boat for a couple to live-aboard on for a year or more.
best boat, Best boat buying website, best boat marina website, best boat travel website, best place to rent a boat, boat accessories, boat angler, boat boondocking, boat buyers guide, boat camper, boat camping, boat dealers, boat DIY, boat Fishing, boat Fixer, boat Home, boat information, boat insurance, Boat Maintenance, boat marinas, boat marinas in Alberta, boat marinas in BC, boat marinas in Canada, boat marinas in Manitoba, boat marinas in Saskatchewan, boat marinas in the USA, boat marinas near me, boat products, boat rentals, boat repair, boat road test, boat sharing, boat sites near me, boat supplies, boat Tech, boat test, boat tips, boat touring, boat trade, boat Travel, boat traveling, boat travelling, boat vacation, boat vacation cost, boat websites Canada, boating Canada, Boating Canada's Boat Lifestyle Magazine, Boating Lifestyle Magazine, boating website, Canadian marina websites, expert boat information, find a boat dealer, how much does a boat cost, how much does marina cost, how to choose a boat, how to drive a boat, marina products, marina supplies, motor boat, power boating magazine, Regal, top boat website, used boat reviews