Comfort and convenience in a performance-minded pontoon.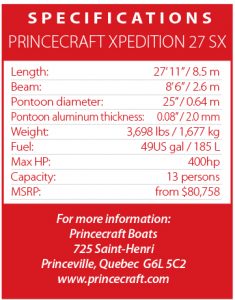 It was sixty-five years ago that a small company, Aluminum Boats & Canoes, that would eventually become Princecraft Boats, began building boats in the small rural town of Princeville, Quebec.  Today, Princecraft builds aluminum fishing and deck boats, as well as eight different pontoon series, from start to finish in their manufacturing plants and ships them all over North America.  The Vogue series is their top of the line and offers ten different models from 23 to 29 feet in length.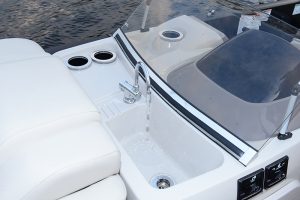 My wife and I had the chance to water test the Vogue 27 SX model this past fall at Princecraft's annual media days on Lac William.  The Vogue 27 SX sat at the end of the docks, looking like anything but a pontoon boat.  The fiberglass upper structure was finished in a light metallic blue and white.  Gone were the square silver aluminum rails. Gone were the thin aluminum fence side panels.  Instead, a complete wrap around fiberglass body with sleek rounded corners and flowing lines greeted us.  "She's pretty – this might change my opinion of pontoon boats," my wife commented.
From the outside I instantly noticed the triple tube Performance Configuration of the Vogue's hull, matched of course to a brand new 2018 Mercury V8 300hp Verado outboard.  I couldn't wait to take her out for a run.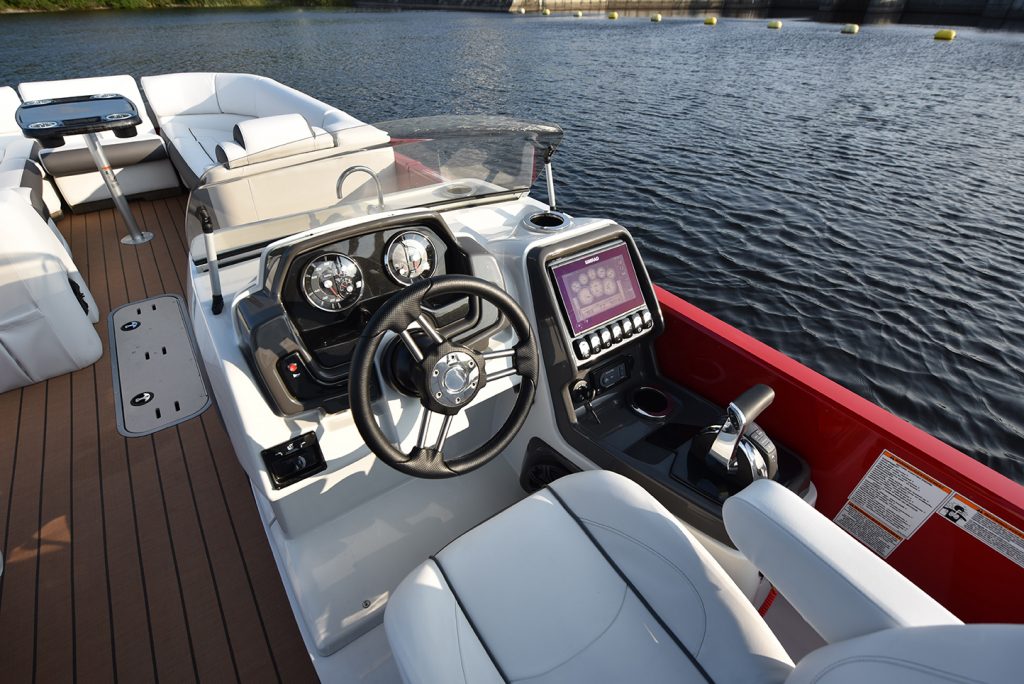 But first, I stepped aboard and did my walk thru and took my notes.  The Vogue 27SX features a unique layout. There is a small bow deck, just large enough to step out onto to lift the pop-up cleat and assist the Captain with docking, or to tie the anchor line to the eyelet conveniently located in the middle over the centre tube.   Inside the bow access gate, twin sofas with forward-facing sunlounger seat backs are centred around a removable rectangular table with cupholders. When you add the bow gate filler seat, it creates a u-shaped conversation area for several adults.  There is ample storage for gear, lifejackets and towels in the seat bases.  The oh-so-necessary popup changeroom is located in the port sunlounger in front of the port access gate.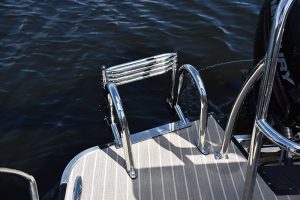 Moving aft, the centre section of the 27SX features a fiberglass helm station, with beautifully upholstered high-back Captain's chair and two matching chairs to port creating a second conversation area.  In front of the windscreen you'll find a freshwater tap and sink. Underneath the helm there's storage with a fiberglass floor to keep your gear dry, easy access to the helm wiring, and the removable fresh water jug. The helm itself is raised for an improved view for the Captain. The Captain's seat features furniture springs not just a foam seat base, armrests and a swivel-and-slide capability to adjust to any ones' preferences.  Access to the underfloor storage compartment in the centre tube is located amidships and there's plenty of room to get down on the floor to reach in to store or remove water skis, wakeboards, etc.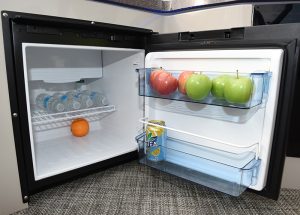 Moving to the stern of the boat, you'll find a unique galley area to the port side that Princecraft calls the kitchen module, complete with a large fiberglass countertop, an integrated refrigerator, a 12 volt outlet, more cupholders, and lots of storage underneath.  To starboard, you'll find a rear-facing sunlounge.  Through the centreline stern access gate you'll reach the swim platform with reboarding ladder to starboard, a stainless storage rack for two fenders, and popup cleats so you don't stub your toes. Our test boat was outfitted with the optional polished stainless ski tow bar that hints at the watersports fun-loving side of the Vogue 27SX.   It's so easy to check the oil level in the new Mercury Verado outboard from here – just flip open the top of the cowling and pull out the dipstick – no need to remove the entire engine shroud. Overhead, the black painted tow tower features a sporty forward-arch design, LED lights, and a bimini top in your choice of black or taupe with quick-release latches and struts.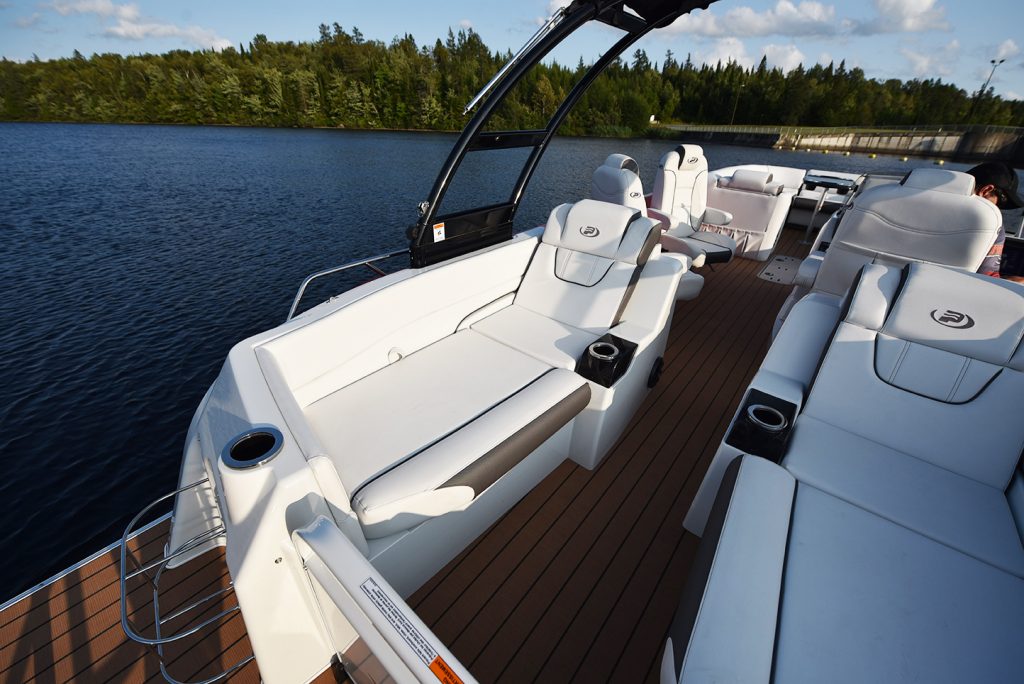 As I settled into the helm seat, I turned the key and the all-new 300hp Verado in white, colour matched to the boat, fired up instantly.  It has a wonderful pleasing throaty sound – that you can turn off if you wish – but then why would you want to?  The 4.6L 64-degree eight-cylinder engine features 279 cubic inches of displacement, a double overhead cam design and 32 valves (4 per cylinder). With the Active Trim mode engaged, I recorded a top speed of 46mph at 5,900 rpm using 24 gallons per hour of regular 87 octane fuel. I was impressed that with Active Trim switched off, over multiple runs and attempts, I couldn't tease more speed out of the engine – proving just how good this feature is at getting the maximum performance out of the engine at all speeds.  The 300hp Verado is velvety smooth producing what feels like a nearly straight line power curve from throttle down to top speed.  Even acceleration runs from a variety of mid-range speeds to top speed produced the same feeling.  In wide sweeping and tight turns, the 27SX leans out slightly creating a fun g-force for your guests, and the Verado maintains the same set rpm thanks to the Adaptive Speed control. The helm features the typical gauge assortment including tachometer, voltmeter, speedometer, trim, and fuel gauges, plus a 200-watt AM/FM/Bluetooth Kicker KMC 10 Stereo.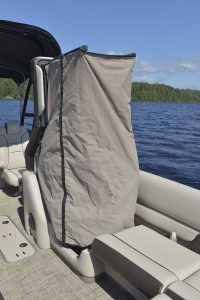 The Vogue 27 SX comes standard with Princecraft's Performance Configuration which includes a full length 3rd centre log with in-tube storage compartment, an under-deck spray shield, full length lifting strakes, a 49 gallon fuel tank, and hydraulic steering which makes handling the 300 horses on the transom a piece of cake.  Princecraft's 25" diameter pontoon tubes are made with H36 aluminum that is 25% harder than the aluminum used by many other manufacturers, and are reinforced at the bow cones.  Mounted to the Z-bar cross channel is a ¾" marine plywood deck which in turn is covered in your choice of marine carpet, or my preference, vinyl flooring, and the entire boat is backed with a limited lifetime warranty that is one of the best in the business.
If you're searching for a pontoon that can keep everyone happy, that offers watersports performance, entertaining space for up to 13, and luxury and quality that you'll be proud to own for decades to come, then schedule a test drive of the Vogue 27 SX at your nearest Princecraft dealer as soon as the ice breaks up in the spring.  
best boat, Best boat buying website, best boat marina website, best boat travel website, best place to rent a boat, boat accessories, boat angler, boat boondocking, boat buyers guide, boat camper, boat camping, boat dealers, boat DIY, boat Fishing, boat Fixer, boat Home, boat information, boat insurance, Boat Maintenance, boat marinas, boat marinas in Alberta, boat marinas in BC, boat marinas in Canada, boat marinas in Manitoba, boat marinas in Saskatchewan, boat marinas in the USA, boat marinas near me, boat products, boat rentals, boat repair, boat road test, boat sharing, boat sites near me, boat supplies, boat Tech, boat test, boat tips, boat touring, boat trade, boat Travel, boat traveling, boat travelling, boat vacation, boat vacation cost, boat websites Canada, boating Canada, Boating Canada's Boat Lifestyle Magazine, Boating Lifestyle Magazine, boating website, Canadian marina websites, expert boat information, find a boat dealer, how much does a boat cost, how much does marina cost, how to choose a boat, how to drive a boat, marina products, marina supplies, motor boat, Pontoon, pontoon test, power boating magazine, Princecraft, top boat website, used boat reviews