Few things spoil a day on the water more than having a cell phone drenched, car keys lost, or eyewear fall and break. With SeaSucker's Large Dry Box, valuable belongings are well-protected from extreme elements, damage and being misplaced. And with the exclusive SeaSucker Vacuum Mount, it can be placed where it's most convenient — without drilling holes and installing it permanently.
SeaSucker's Large Dry Box is sized to accommodate oversized smartphones such as the Samsung S9+ and iPhone XS Max. It measures 7.5" L x 3.5" W x 3.5" H. Built in the USA of rugged translucent polymer, contents are easy to see. Two clips keep the lid closed tight, and a gasket seals out water and dust. A tote cord is attached for easy carrying. A video is available at bit.ly/SeaSuckerDryBox.
What makes SeaSucker's Dry Box so different from any other box on the market is its unique Vacuum Mount. Not a mere suction cup, it holds an incredible 120 lbs. when attached to any clean, non-porous surface, including textured and curved.
Easy to use, the Vacuum Mount is simply placed in position and the integrated power button pumped until the bright orange indicator disappears. When the color reappears after a few days, a few more pumps keeps the Dry Box securely in place.
Two versions of SeaSucker's Large Dry Box are available, with the Vacuum Mount on the bottom for horizontal installation and on the back, for vertical. Both cost $77. The box alone without the mount is $28.50.
For more information visit: www.seasucker.com.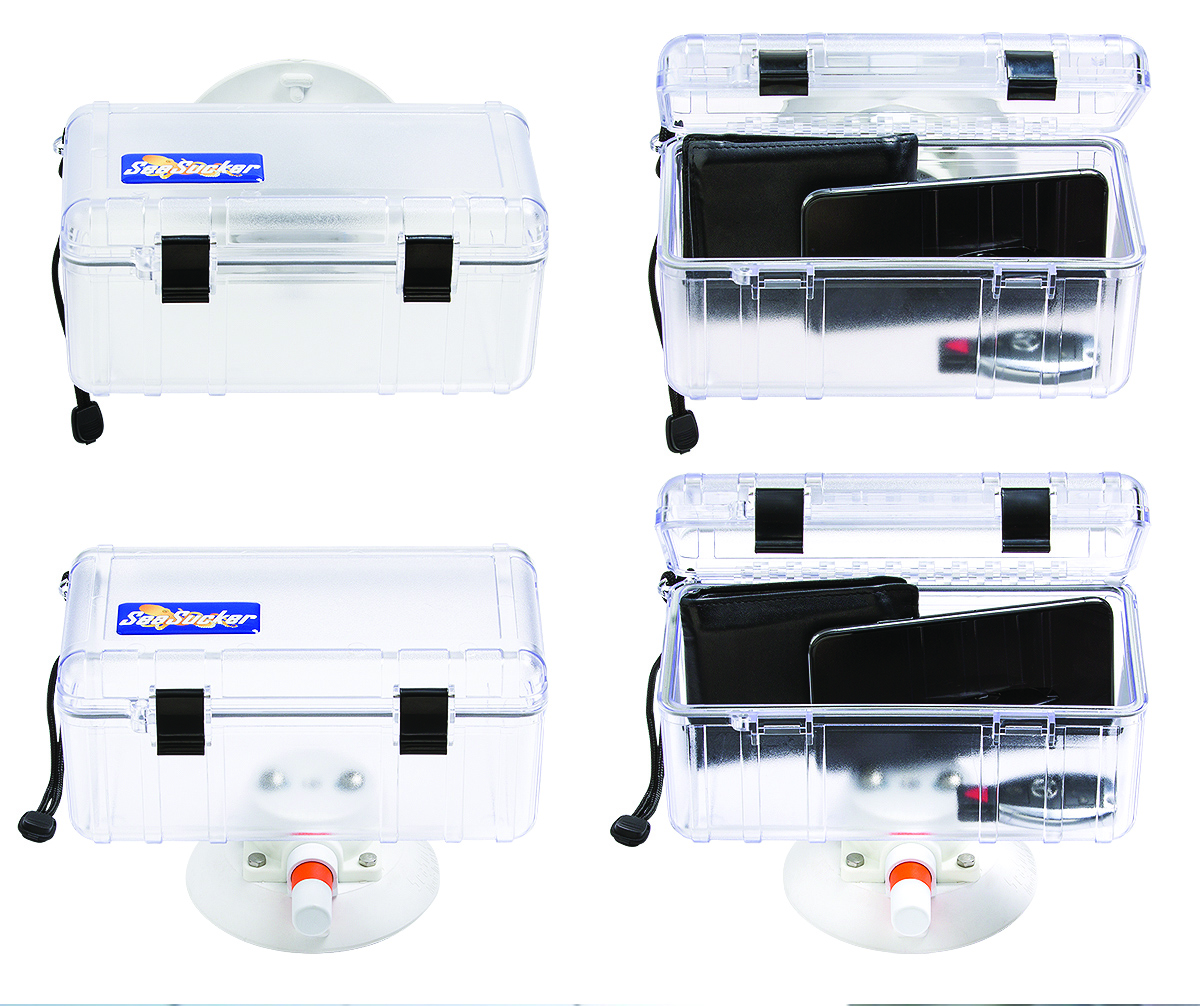 accessories, best boat, Best boat buying website, best boat marina website, best boat travel website, best place to rent a boat, boat accessories, boat angler, boat boondocking, boat buyers guide, boat camper, boat camping, boat dealers, boat DIY, boat Fishing, boat Fixer, boat gear, boat Home, boat information, boat insurance, Boat Maintenance, boat marinas, boat marinas in Alberta, boat marinas in BC, boat marinas in Canada, boat marinas in Manitoba, boat marinas in Saskatchewan, boat marinas in the USA, boat marinas near me, boat products, boat rentals, boat repair, boat road test, boat sharing, boat sites near me, boat supplies, boat Tech, boat tips, boat touring, boat trade, boat Travel, boat traveling, boat travelling, boat vacation, boat vacation cost, boat websites Canada, boating Canada, Boating Canada's Boat Lifestyle Magazine, Boating Lifestyle Magazine, boating website, Canadian marina websites, expert boat information, find a boat dealer, how much does a boat cost, how much does marina cost, how to choose a boat, how to drive a boat, marina products, marina supplies, motor boat, power boating magazine, top boat website, used boat reviews accessories, best boat, Best boat buying website, best boat marina website, best boat travel website, best place to rent a boat, boat accessories, boat angler, boat boondocking, boat buyers guide, boat camper, boat camping, boat dealers, boat DIY, boat Fishing, boat Fixer, boat gear, boat Home, boat information, boat insurance, Boat Maintenance, boat marinas, boat marinas in Alberta, boat marinas in BC, boat marinas in Canada, boat marinas in Manitoba, boat marinas in Saskatchewan, boat marinas in the USA, boat marinas near me, boat products, boat rentals, boat repair, boat road test, boat sharing, boat sites near me, boat supplies, boat Tech, boat tips, boat touring, boat trade, boat Travel, boat traveling, boat travelling, boat vacation, boat vacation cost, boat websites Canada, boating Canada, Boating Canada's Boat Lifestyle Magazine, Boating Lifestyle Magazine, boating website, Canadian marina websites, expert boat information, find a boat dealer, how much does a boat cost, how much does marina cost, how to choose a boat, how to drive a boat, marina products, marina supplies, motor boat, power boating magazine, top boat website, used boat reviews