PORTABLE HEAD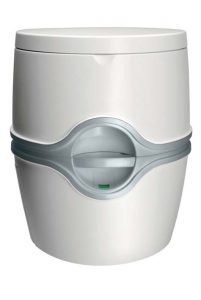 The top-of-the-line Porta Potti® Curve offers boaters all the convenience of a marine toilet, with the comforts of home. The award-winning unit is perfect for those who prefer the lightweight convenience of a non-permanent sanitation system.  It's great for pontoons, cuddy's, and fishing or deck boats, and at just 17.6" high with a seat size of 15.2" x 17.7", this sleek, modern head's small footprint easily fits into the tightest space.
With the optional hold down kit, the Porta Potti Curve becomes affixed to the boat, but removable when needed. The innovative Porta Potti Curve is so convenient, it even has a built-in toilet tissue holder. Flushing is battery-powered, and the unit has level indicators for both the fresh and waste tanks.
Caring for the Porta Potti Curve is easy. When the green waste tank light turns red, users simply lift off the top portion and empty the lower 5.5 gal. splash-free waste tank. Once replaced, the upper 4 gal. water reservoir is refilled.
For more information visit  www.thetfordmarine.com.
---
ICE KEEPER
Canyon Coolers understands the importance of ice retention on all boats.  The PE rotomoulded case comes with bulletproof hinges and a lifetime warranty.  Rubber, non-skid feet will keep the cooler in place when seas get rough.  The Outfitter 75 model will hold 74 quarts – that's 55 cans plus ice.
Canyon designed this product to perfectly fit with-in the dimensions of most leaning posts of center con-sole boats. This cooler is also the perfect optional extra seat.  Anglers also will notice that there is no wasted space or accessories of the Outfitter 75 that will get in your way: three 100 percent recessed cam-type latches as well as recessed handles means this cooler is 100-percent snag free!
Plus, with the brutally tough PE RotoMolded shell, the Outfitter 75 has an IGBC Certified Bear Resistant status. The lid is lockable and a no-lose drain plug comes standard. Canyon's newly updated food grade, leak-proof seal is .4" thick and features the company's proprietary AirTight foam that'll keep cold air in like never before.
How well can it hold ice? That's the best part. This cooler features Huntsman High Density PU Foam  throughout (floor, walls, sides and lid aver-age more than 2 inches). Ice retention is between seven and 16 days! So, your average 8 hours on the water is a walk in the park, even with multiple limits of fish being tossed in, and cold beverages being retrieved.
To learn visit canyoncoolers.com.
---
FLEXIBLE MOORINGS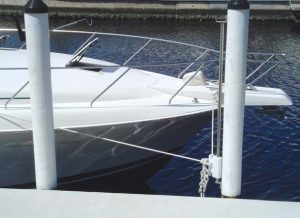 Seasonal and storm-related water fluctuations are a challenge for boaters who keep their boat in the water all across the country.  Built for endurance and durability, TideSlide Mooring Systems are constructed of the highest quality materials and designed to withstand both fresh and saltwater environments. All models are built with solid marine-grade 316L stainless steel and super-strong proprietary polymers to give boaters unparalleled strength and reliability.
TideSlide Systems are offered in an extensive range of sizes and lengths to accommodate every vessel or tie-up, each system model's load capacity is calculated to the US Navy Heavy Weather Mooring Codes.
TideSlide Mooring Systems' innovative patented design was born from real-world storm experience, extensive engineering and testing. Primarily designed for hurricanes, the added benefit of TideSlide is easier tie-up, line handling and safer boarding. The structural, solid shaft design makes installation simple and increases the strength of the pilings or docks that it is mounted to by eliminating inertial loads. It also keeps leverage of the moored vessel to the lowest possible points.
TideSlide Mooring Systems are economical, starting at $329, including mounting hardware.
For more information visit www.tideslide.com.
---
SAFE HOLDING TANK DRINKING WATER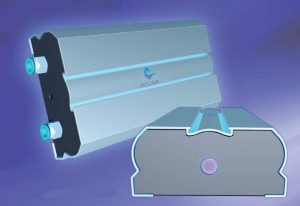 Acuva Technologies has developed efficient and compact ultraviolet light emitting diode based water purification systems that can operate at low power (battery/solar operated) and are practically maintenance-free. Acuva's systems effectively transform water treatment systems by:
Offering a superior technology and replacing UV lamps in current water treatment.
Creating new market spaces currently inaccessible by other incumbent technologies including UV-lamp reactors and reverse osmosis systems.
Unlocking more reliable and efficient water treatment reactor designs that operate at low power and voltage.
UV-LED technology works directly to destroy microbial DNA resulting in effective water purification. Acuva's UV water purification system eliminates the reproduction capability of harmful microbes by disrupting their DNA. By harnessing and concentrating the UV rays emitted from LEDs into water flow, Acuva has achieved efficient DNA damage and water puri-fication while simultaneously reducing power usage.
For more information visit: www.acuvatech.com