Lake Superior North Shore
"Anglers will find plenty of action, and if you're really serious about fishing, plan to visit the Nipigon River."
Lake Superior is the largest freshwater lake in the world and the largest Great Lake, offering boaters a vast playground for a variety of activities, on the water and in its scenic, rural communities. Its' north shore consists of rugged, natural beauty and is a haven for sportsmen, sailors and power boaters alike. Cruise at open throttle, set the sails or flip on the fish finder, Lake Superior caters to those who are always looking for a new on-water adventure.
One of the larger commercial centres on the lake is Thunder Bay. An ideal place to replenish your fuel tanks or conduct routine boat maintenance, Thunder Bay is home to two marinas that offer various amenities, transient docking plus a launch ramp for trailering boaters.
Anglers will find plenty of action, and if you're really serious about fishing, plan to visit the Nipigon River. Located at the crossroads of Highway 11 and 17, this is a haven for anglers and is famed for feisty brook trout. The home of the world record (14.5 lbs) brook trout you can expect to catch brookies in the 5 to 10 pound range. More angling action is found on Superior, which is home to enormous walleye, rainbow trout, lake trout, coho, chinook, pink salmon, whitefish and perch.
Further east, Rossport offers a village dock with services only a short walk away. Past Pukaskwa National Park, the full-service marina in Wawa offers transient docking, fuel (gas, diesel and propane), shore power, pump out, a launch ramp, boat and motor sales and service, plus a restaurant and snack bar. Wawa also offers excellent hiking nearby on the many trails in Lake Superior Provincial Park. Wawa is the last commercial area before reaching Lake Huron at Sault Ste. Marie. First-rate restaurants, shopping, museums, marinas, many festivals and even a casino are all nearby the shoreline. Home of the famous Wawa Salmon Derby, the fishing for a variety of the species that lurk below the area waters is excellent, so be sure to drop a line for that trophy catch.
Lake of the Woods
"The fishing is so good, Lake of Woods is a popular spot among anglers north and south of the border and thousands of sportsmen flock to the region every year."
Acclaimed for its excellent boating and fishing, Lake of the Woods is Ontario's second largest inland lake, spanning 105 kilometers from north to south, and 90 kilometers from east to west. What's more is it boasts more than 14,000 islands, approximately 104,000 kilometers of shoreline, and has an average depth of 7.9 metres. While it's not a Great Lake, Lake of Woods can easily serve up the same excitement as the larger bodies of water to the east.
Whether you're on the water or on the road with your boat in tow, keep an eye out for wildlife sightings. At any given time, it's common to see bear, wolves, deer, moose, fox, or even the rare sighting of a lynx. The area is also renowned for its various species of fish. The fishing is so good, Lake of Woods is a popular spot among anglers north and south of the border and thousands of sportsmen flock to the region every year. While walleye, muskellunge, and northern pike are always the fish du jour, expect rod-bending experience from the large and smallmouth bass and lake trout. Keep in mind, there are limits to the number of fish that can be caught depending on the species.
Cruising on Lake of the Woods is just as exciting as fishing. There are several points to launch your boat, and even more areas to anchor and enjoy this northern area to the fullest extent. The largest commercial centre on the lake is Kenora, located just east of the Manitoba border.
Every year, there are many events including the Corvette show at the curling club grounds held on the third week of June, Canada Day Celebrations in July and Harbourfest – a celebration of Lake of the Woods with a variety of activities including canoe jousting, a wooden boat show, parade and live entertainment – over the August long weekend. Other popular events include the Lake of The Woods International Sailing Regatta, plus the Kenora Bass International, a premiere catch and release fishing tournament that attracts approximately 150 teams from across North America to compete for cash prizes that total more than $100,000.
But regardless when you visit Kenora, there's always something interesting to check out. You may want to visit the award-winning Lake of the Woods Museum, or the Lake of the Woods Railroad Museum with displays; books; artifacts; videos; safety displays; and ex-CP Rail railroad equipment. The local shops are another highlight in the community, so be sure to take the time and browse all the arts and crafts that are unique to the area.
Sioux Narrows is another popular area to visit, located approximately 50 miles from Kenora. First-rate accommodations, insightful gift shops and an array of services are all found in its downtown district. For outdoor enthusiasts, this area also offers an array of leisure activities such as swimming, golfing, hiking and of course, fishing.
Rainy Lake
Trailer boaters will also want to make the journey to Rainy Lake, which is situated east of the Lake of the Woods. With an area that spans more than 85,000 hectares, and boasts 1,495 kilometers of shoreline, while another 1,021 kilometers surround more than 1,600 islands, Rainy Lake certainly qualifies as a popular destination for boaters and anglers. Every year, the area celebrates its active waters in July with the Fort Frances Canadian Bass Championship, the country's top-paying annual fishing tournament.
Lake Superior caters to those who are always looking for a new on-water adventure.
If you're visiting from the USA, Canada Border Services (customs) officers are available at the main marina with notice. If you feel like shopping, dining or simply taking an exciting break from the water, this northern port offers plenty of nearby services and activities. It has many museums, as well as the popular Thunder Bay Art Gallery. Check out the Founders Museum and Pioneer Village, or Fort William Historical Park- the winner of an 'Attractions Canada Award of Excellence'.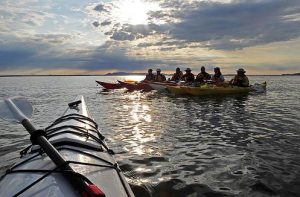 As you cruise east towards Red Rock and Nipigon, you will see what looks like a huge stone figure lying on its back. Known locally as "The Sleeping Giant," it won the People's Choice Award during CBC television's search for the Seven Wonders of Canada. Past Sleeping Giant Provincial Park, both Red Rock and Nipigon have full-service marinas that are open from early June to just after the Labour Day weekend in September. Tie up and receive a recognition certificate of having boated "North of the 49th Parallel" the only freshwater port in Canada that can claim this. All the services boater's require are found here including transient docking, fuel, showers, laundry, electricity, pump out services and a launch ramp. It's a short walk up to the downtown for groceries and a beer and liquor store.
Fort Frances is the largest community in this area and is claimed as one of Canada's major tourist entry points. It's also known as the oldest settled community west of Superior and was first established in 1688 by Jacques de Noyen. Today, it offers all the highlights of a larger centre and caters to visitors with a recently developed waterfront. In addition to offering several services of a larger centre, the local marina features transient docking and once your lines are tied off, outdoor enthusiasts can walk, roller blade or even cycle along the LaVerendrye Parkway. Or, if you have your clubs on board try the links at the popular Kitchen Creek Golf Club, one of the top 18-hole golf courses in Northwestern Ontario.
There's also Pither's Point Park that's situated on Rainy Lake and provides the perfect spot for family picnics or to enjoy a day at the beach. Playground equipment, a dock, baseball diamonds, large open fields, volleyball courts, and even horseshoe pits are found on site.
From the fabulous scenery on Superior's North Shore and the on-water excitement in Kenora, to the natural splendor found in Sioux Narrows and Nestor Falls, a trip to this northern region should be at the top of every serious boater's cruising list.

Far up north, but not out of touch, these communities offer an experience that's well worth the time to get here:
Fort Frances
Kenora
Marathon
Nipigon
Sault Ste. Marie
Thunder Bay
Wawa