Lake Ontario could easily be described as an infinite playground for recreational boaters. Whatever your passion – from trailer boating and fishing, to crewing on a competitive sailboat, to everything in between, Lake Ontario offers it all.
Most peoples' reaction upon reaching the shore is one of awe: the sheer expanse of open and uninterrupted water is amazing. It simply disappears off into the horizon from most vantage points.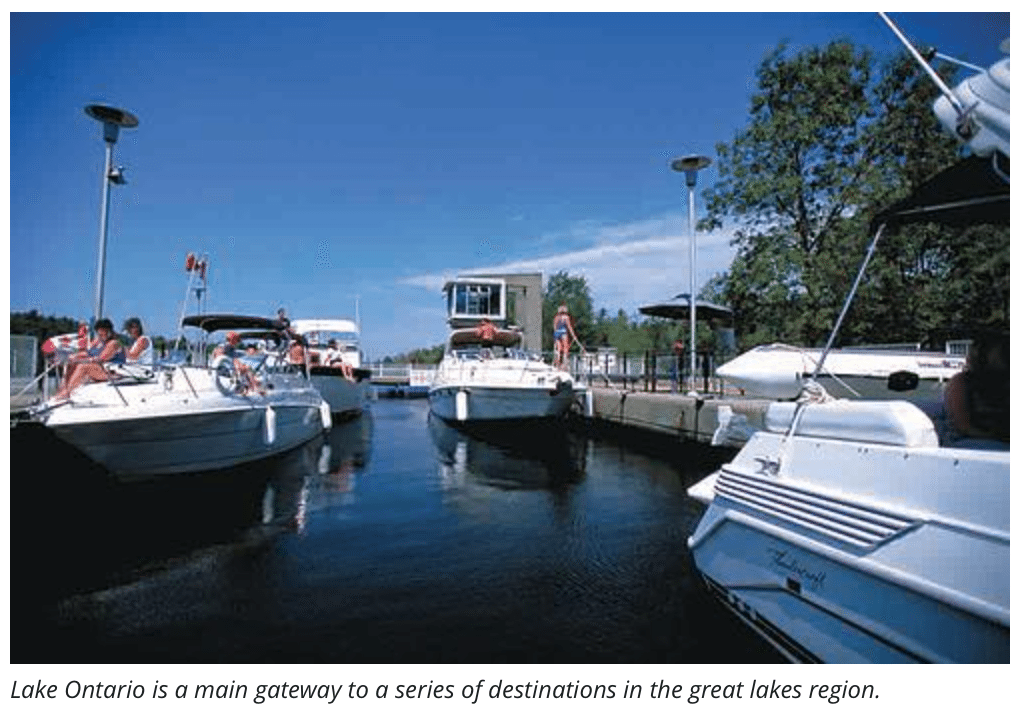 Beginning in the east at Kingston, at the mouth of the historic Rideau Canal and the Thousand Islands area, the history of this great lake begins to come alive. Kingston was once the capital of Canada, but its' fascinating museums go way beyond the city's place in our country's history. The Museum of the Great Lakes, Military Communications and Electronics Museum, Museums of Health Care, Woodworking and a few others are all here. For the more adventurous, Kingston calls itself the Freshwater Diving Capital of Canada. More than 40 wrecks lie on the bottom of nearby waters, for novice to challenging divers to explore. On land, don't miss the Kingston Buskers' Rendezvous in early July each year.
Proceeding further west, the open waters of the Bay of Quinte south of Belleville and Trenton are a sailor's dream with favourable winds blowing nearly all summer long. Trenton is the entrance to the Trent Severn Waterway and plays host to a spectacular Air Show each summer, and the Waterfront Festivals in Cobourg and Oshawa are not to be missed. Sandbanks Provincial Park near Picton has arguably the best beach on the lake. There are plenty of marinas in each of these areas to accommodate visiting vessels with launch ramps, amenities and re-provisioning opportunities to make your visit fun and easy.
Continuing west, the Whitby Harbour has a great history rivaling Toronto in the 1800's, but today services purely recreational boaters and features a festival with fireworks, tall ships, entertainment, and children's activities on the last weekend of July.
A little further west we reach the Greater Toronto Area beginning with the communities of Pickering and Scarborough, with its' majestic bluffs, and proceeding on to the Toronto Islands. The Islands feature an incredible view of the city, and parklands with beaches, barbecues, washrooms, picnic areas and a kids' carnival. On the fringes of Toronto, east or west, there are several marinas that put you at or near the services you might need… plus fabulous shopping and delicious places to grab a bite.
Downtown Toronto has transient slips that can put you right in the centre of everything: from the major league ballpark, to concert venues, world-class theatres, great night clubs, pubs and restaurants, and even hotels. The former site of Ontario Place – that unmistakable big white golfball dome just west of Toronto – has transient slips on the north and south sides. Many events draw boaters to this spot: dazzling fireworks, the Chinese Lantern Festival, and more.
Heading west again, Port Credit Harbour features an in-water boat show in late August each year. There's plenty of transient dockage space available in this community as well as in Bronte Village further west. Both areas have unique shops and restaurants for an enjoyable afternoon stroll and change of pace.
Hamilton lies at the far western end of Lake Ontario, and although famous for its' steel mills, there's a surprise for boaters just beyond the Burlington Skyway Bridge in Hamilton Bay. Along these shores, in the shadow of the Niagara Escarpment there are beautiful parklands and the 120 year old Royal Hamilton Yacht Club and the much more recent Harbour West Marina. The destroyer "HMCS Haida" is now permanently moored in Hamilton Harbour. This warship was active in the Canadian Navy from 1943 to 1963 and is well worth a visit aboard. Smaller towns are strewn along the shores of Lake Ontario, all offer transient dockage and services, and the local entertainment and small town festivals are plentiful: try the Royal Canadian Henley Regatta at St. Catharines, or see the tall ships at Canal Days at Port Colborne.
Heading back slightly east, but still in Ontario waters, Stony Creek on the south shore of the lake has a large marina, surrounded by beautiful parklands and picnic areas. At Niagara-on-the-Lake you can hop on a jet boat and head up through the exciting rapids on the mighty Niagara River to the "whirlpool" at the base of the Canadian Horseshoe Falls. Or catch a play at the Shaw Festival. If you're a history buff – or just want the kids to see history from two centuries ago in action – the War of 1812 comes alive at Kingston's Fort Henry, Niagara's Fort George, or Toronto's Old Fort York.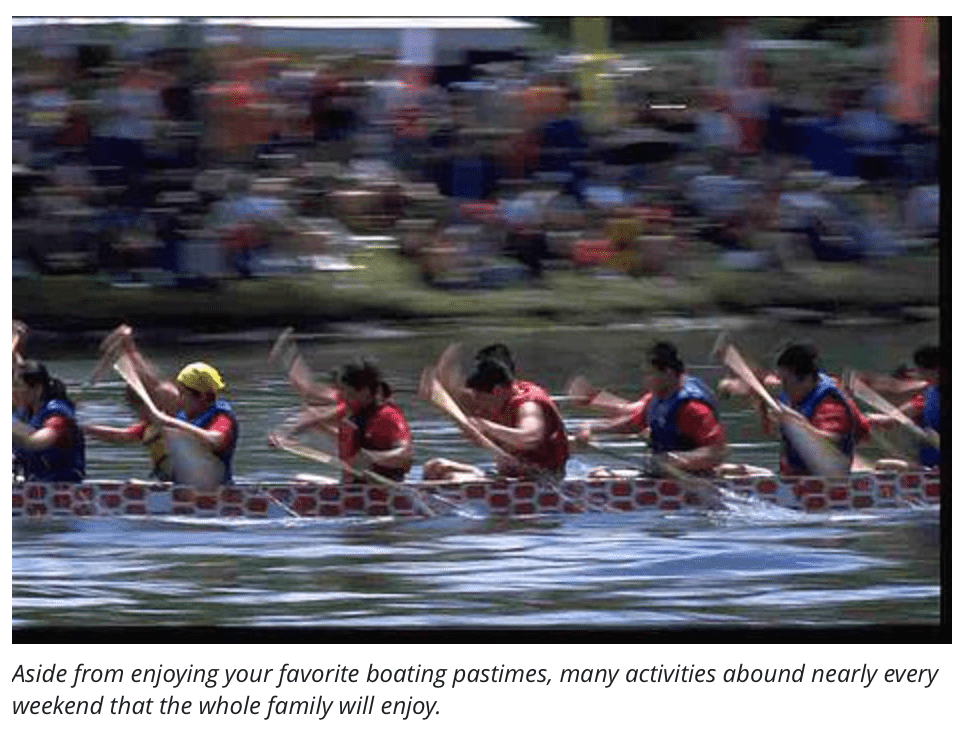 If fishing is your thing, then in the Bay of Quinte the fishing for bass and pickerel is exceptional. Along with both large and smallmouth bass and pickerel, you'll find huge brown trout and rainbow trout along the north shore, right around to the mouth of the Niagara River. Salmon abound in Lake Ontario as well, and there are many well-known derbies to participate in with fantastic prizes available.
Whether Lake Ontario is but a stop on your journey, or a destination all on its' own, no matter what kind of boat you have you'll find this great lake offers more than you could possibly fit into one season – so you'll simply have to come back again and again.
For an up to date list of events, festivals, and details on attractions in each of these great cities, visit their websites:
Niagara on the Lake  St. Catherines