Revving up the excitement for this weekend's annual 1000 Islands Gananoque Poker Run (August 25-26, 2023) is the sponsorship once again of Krytiuk Motorsports.
Written by Jarrett Matthews:
Led by the enterprising Mark Krytiuk, Krytiuk Motorsports is making waves in the high-performance boating community with their passion for quality, innovation, and customer satisfaction.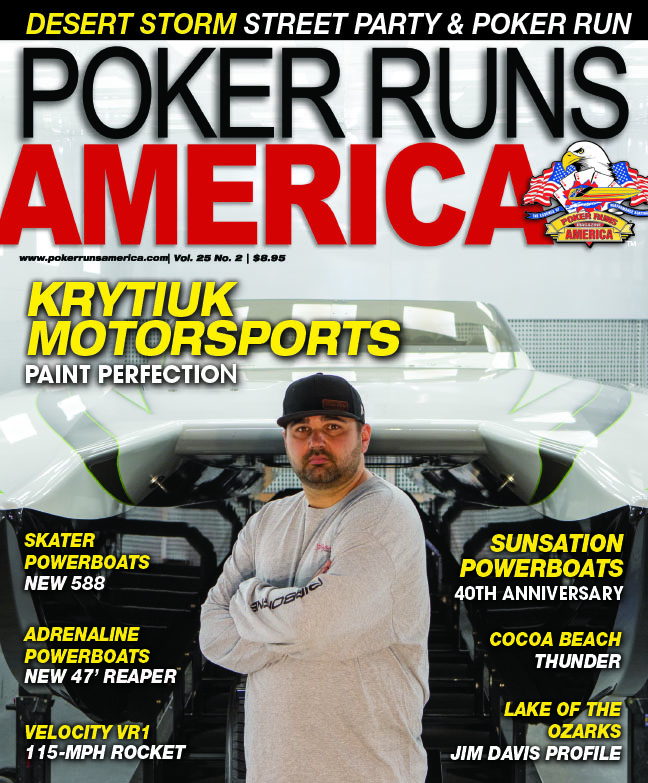 A year after gracing the cover of Poker Runs America Magazine, Krytiuk is back in the limelight. Krytiuk who previously was in a cutting-edge paint and rigging facility in Penetanguishene, Ontario, has now moved to the picturesque locale of Innisfil, Ontario. The transition to a more expansive and advanced facility reflects the company's remarkable growth and its dedication to meeting the demands of a burgeoning customer base.
At the heart of this growth is a surge in business and a heightened interest among boaters seeking to elevate the aesthetics of their high-performance vessels with customized graphics and paint jobs. Mark Krytiuk's commitment to deliver services that are tailored to each customer's unique vision is evident. "We will customize services just for you. No request is too outrageous."
Krytiuk's journey echoes the aspirations of other notable figures in the boating industry, such as Cigarette Racing's CEO Alex Ruiz. He is emblematic of a new wave of young and energetic entrepreneurs who are redefining the realm of high-performance boating. The trend of American boaters tapping into the advantages of the Canadian currency to acquire pristine, fresh paint jobs is indicative of the growing influence of Krytiuk Motorsports.
Mark Krytiuk's personal experience as a powerboat owner fuels his determination to provide a level of service that surpasses expectations. This was the driving force behind the establishment of Krytiuk Motorsports three years ago – an endeavour to elevate the standards of painting, rigging, and overall service within Canada's boating community. Notably, the impact of Krytiuk's work extends beyond borders, capturing the attention of both Canadian and American boating enthusiasts.
As the 1000 Islands Gananoque Poker Run unfolds this weekend, the presence of Krytiuk Motorsports adds an extra layer of excitement. Their sponsorship symbolizes the convergence of innovation and dedication in the realm of high-performance boating. With Krytiuk's vision and expertise, the future of boating aesthetics is set to shine brighter than ever before.
For more information, please visit their website at KrytiukMotorsports.com.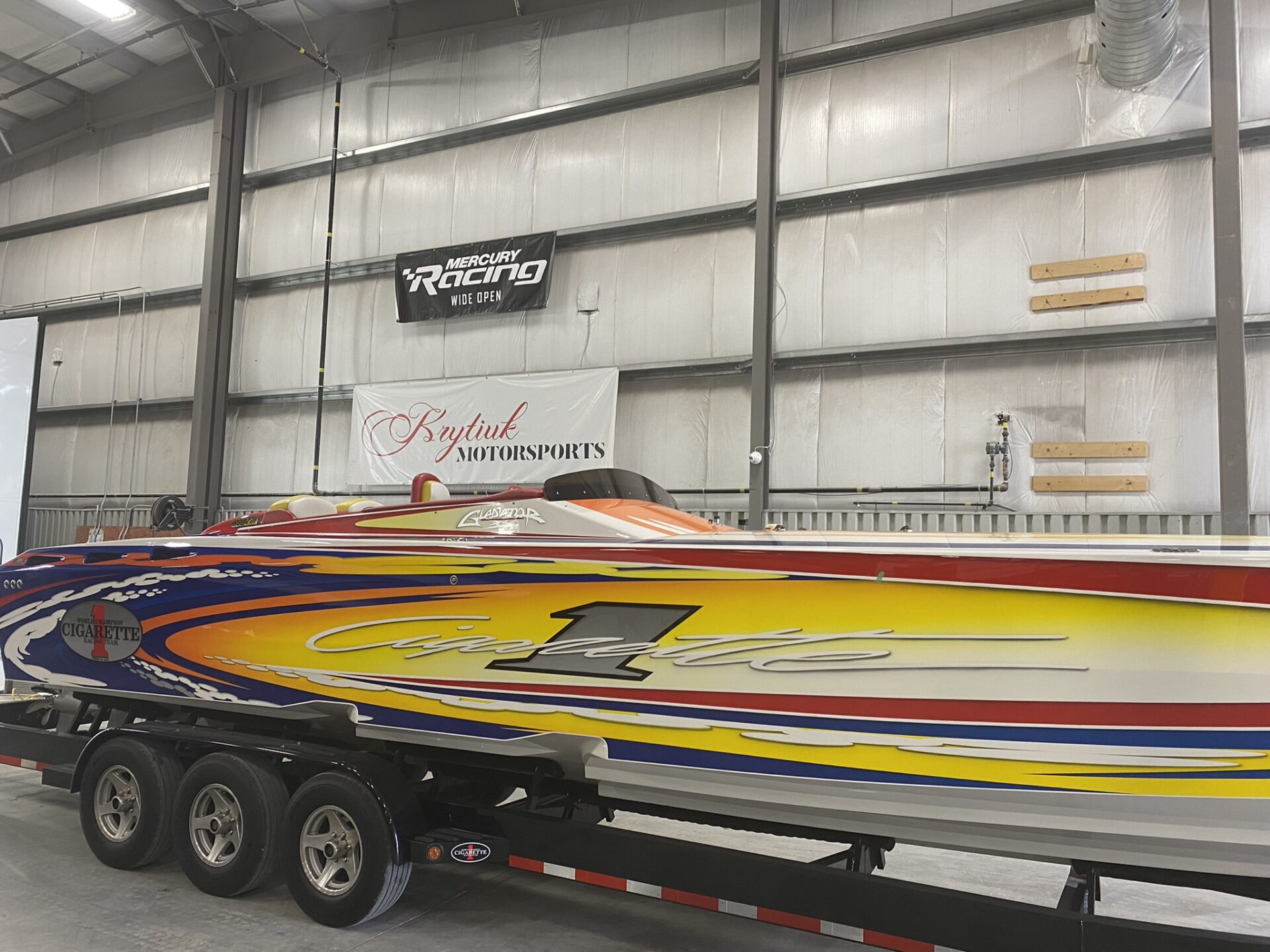 1000 Islands Gananoque Poker Run, Alex Ruiz, American boaters, Annual Event, bespoke services, boat customization, Boat Detailing, boat enthusiasts, boat makeover, boating aesthetics, boating artistry, boating community, boating community growth, Boating Culture, Boating Enthusiasts, boating excellence, boating experience, boating industry, boating lifestyle, Boating Passion., boating performance, boating transformation, boating trends, boating upgrades, Canadian boaters, Canadian currency advantage, Canadian waters, cigarette racing, custom boat designs, custom boat finishes, custom graphics, customer satisfaction, event sponsorship, high-performance boating, high-performance vessels, Innisfil, innovation, marine aesthetics, marine art, marine craftsmanship, marine design trends, marine industry, marine innovation., marine leisure, marine lifestyle, marine luxury, marine visuals, maritime craftsmanship, maritime enthusiasts, Mark Krytiuk, ontario, paint jobs, Penetanguishene, Poker Runs America Magazine, powerboat customization, powerboat enthusiasts, powerboat owner, rigging services, service excellence, sponsorship, watercraft beauty, young entrepreneurs 1000 Islands Gananoque Poker Run, Alex Ruiz, American boaters, Annual Event, bespoke services, boat customization, Boat Detailing, boat enthusiasts, boat makeover, boating aesthetics, boating artistry, boating community, boating community growth, Boating Culture, Boating Enthusiasts, boating excellence, boating experience, boating industry, boating lifestyle, Boating Passion., boating performance, boating transformation, boating trends, boating upgrades, Canadian boaters, Canadian currency advantage, Canadian waters, cigarette racing, custom boat designs, custom boat finishes, custom graphics, customer satisfaction, event sponsorship, high-performance boating, high-performance vessels, Innisfil, innovation, marine aesthetics, marine art, marine craftsmanship, marine design trends, marine industry, marine innovation., marine leisure, marine lifestyle, marine luxury, marine visuals, maritime craftsmanship, maritime enthusiasts, Mark Krytiuk, ontario, paint jobs, Penetanguishene, Poker Runs America Magazine, powerboat customization, powerboat enthusiasts, powerboat owner, rigging services, service excellence, sponsorship, watercraft beauty, young entrepreneurs