As Black Friday approaches, everybody's getting into the spirit of the holidays, and with that Power Boating Canada has searched out some unique gift ideas for all the boaters on your list this season. There's something very special about getting a gift that relates to your boating passion. It sure beats a pair of socks or a tie. Here are some unique and customizable suggestions for what you can get for your boater friends this coming season.

1 – Boating-Themed Tree Ornaments
Decorating the tree for a boating enthusiast just got a whole lot easier with a series of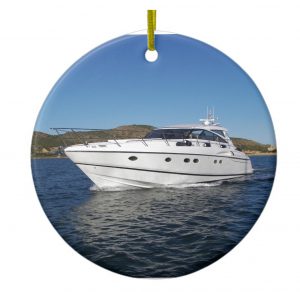 customizable and nautical-themed tree ornaments. Capture favourite family memories with a personalized ceramic ornament. Add your favorite boating or family photos, images and personal messages to both sides of this ornament. A strand of gold thread makes it easy to display this fantastic keepsake. Available in circle, oval, t-shirt, star and other shapes – about 2.8 inches in diameter, and just 1.4 ounces.
Full-color, full-bleed printing
White Ceramic
Add Photos, Artwork and Text
Printing on both sides
No minimum order
Source: www.zazzle.ca/boat+ornaments

2 – Floating Cooler
Nothing is worse than floating on your raft or swimming in the anchorage and having to go back aboard your boat to get another beverage. This insulated Floating Cooler features six numbered cup holders so drinks don't get mixed up. It features a soft-side storage compartment with zipper lid and holds up to 18 cans without ice, or 12 cans with ice. There's a pull-out liner for easy cleaning, and it folds easily into integrated carry bag for ultra-portability or storage on board.
Source: www.amazon.com

3 – Custom Boat Burgee
Nothing says you're a nautical enthusiast like having your own custom boat burgee. Look for a supplier that offers a proof, UV protected and eco-friendly inks, and no minimum order quantity.
Source: www.northstarflags.com/custom-boat-flags.html

4 – Funny Boat Shirts

Nothing beats a custom t-shirt with your boat name for all your crew members.     Upload a favourite photo of your boat, or design a logo and have it made up with embroidered names for every member of your crew.
Source: www.cafepress.ca/+funny-boat+t-shirts

5 – Mini Shockles
From securing light objects to safely strapping down cargo for an extended journey, these innovative MiniShockles make life on the water easier and more carefree.
Common bungee cords gradually lose strength and break unexpectedly. Their hooks rust and often scratch. Next-generation MiniShockles are safer, stronger and more secure. Made from durable, black nylon webbing sewn over a marine-grade elastomer, MiniShockles are built to perform. Known as a bungee cord on steroids, the outer sleeve provides the strength needed to absorb heavy jolts and the elasticity holds valuable gear securely in place. On each end of the MiniShockle is a 316 stainless steel wire gate snap with a safe working load of up to 300 lbs.—10 times the capacity of a standard bungee cord. Easily opened with one hand, soft, rounded edges protect fingers and valuable finishes. MiniShockles are available in 12″, 18″ and 24″ lengths
Source: www.davisnet.com

6 – LED Accent Lighting
All-new color-changing LED strip lighting allows boat owners to set the mood on board. The rugged, low maintenance, eco-friendly, waterproof lighting is sold by Aqualuma in five meter rolls with 60 LEDs per meter. The roll can be cut to the desired length. Also available in warm and cool white.
IP67 waterproof
• 14.4 watts per meter
• Operating temperature: -25°C to 60°C
• Strip can be cut following the cutting lines
• No glass to break as with neon or fluorescent
• Dimensions 5000mm (L) 12.5mm (W) 4.5mm (H)
Source: www.aqualuma.com

7 – Pocket Sized Battery Booster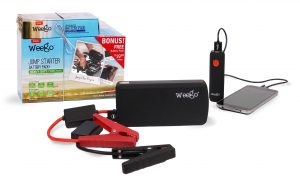 The Weego Jump Starter Battery+ is a portable jump starter about the size of a cell phone that can jump cars, ATVs, snowmobiles, and boats as well as charge a phone or laptop. All you need is this compact little hand-held device – no assistance from another car battery.
For the upcoming holiday season, Weego is offering a special gift bundle starting October 15th. The bundle includes the JS12 jump starter and a free BP26 battery pack.
Source: www.myweego.com

8 – FISH SEEKERS
For all your fishermen on you list! Trolling does not have to be a drag. Ideal for salt and freshwater fishing with a 6-25 lb. test line, Davis Instruments' Fish Seeker enables users to choose their trolling depth from 5′ to 80′ when at a speed of 2 mph.
Using the supplied chart, owners simply attach their rod line snap swivel to a lettered hole and their leader snap swivel to a numbered hole. Then, they release the amount of line specified and Fish Seeker dives to the desired depth.
It's a good replacement for outriggers and heavy lead ball sinkers, but not for use with deep diving lures. Fish Seeker flips over with each strike so users only fight only the fish, not the gear. This handy tool is great for salmon, trout, steelhead, walleye, crappie and striper and is offered in chartreuse, hot pink or clear colors. Just $7.99 and makes a great stocking stuffer.
Source: www.davisnet.com

9 – Steering Wheel Control Knob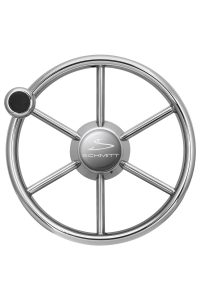 For ease of maneuvering, nothing beats a wheel control knob, especially in wet weather or when one hand is needed for the throttle. Schmitt & Ongaro's new 11″ Destroyer Wheel comes complete with this must-have feature. Smaller in diameter than a standard wheel, it serves well in tight and restricted locations. Ideal for any boat, it's perfect for center consoles, fly bridges, RIBs, runabouts, crabbers and skiffs. When mounted on a stern helm station, it makes backing down safe and easy. Crafted of strong, superior-grade stainless steel, the six-spoke wheel is highly polished for a low-maintenance, mirror-like finish. It's ideal for both salt and freshwater. Its ball bearing knob spins even in the most grueling environments. With its black center cap and control knob insert, the 11″ Destroyer Wheel's rugged good looks enhance any boat décor. Developed for both refit and OEM, the solidly-built 11″ Destroyer Wheel with control knob fits a 3/4″ tapered shaft for ease of installation and maximum rigidity. With a 10° dish, it provides plenty of offset from the dash.
Source: www.schmittongaromarine.com
10 – Emergency Beacon
Waterproof to 60 meters, the Smartfind S10 Automatic Identification System (AIS) Beacon is designed to be carried by divers, boat crews, or anyone who spends time on the water for work or leisure purposes.
When manually activated, the Smartfind S10 transmits both AIS and GPS data to the vessel the individual has come from, and to other AIS equipped vessels within a typical four mile radius to give precise location information to aid the recovery of persons in difficulty at sea.
Bearing and distance information is accurately transmitted and displayed on the AIS receiver or plotter, giving potential rescuers all the information they require to carry out swift retrieval of an individual.
Source: www.mcmurdomarine.com