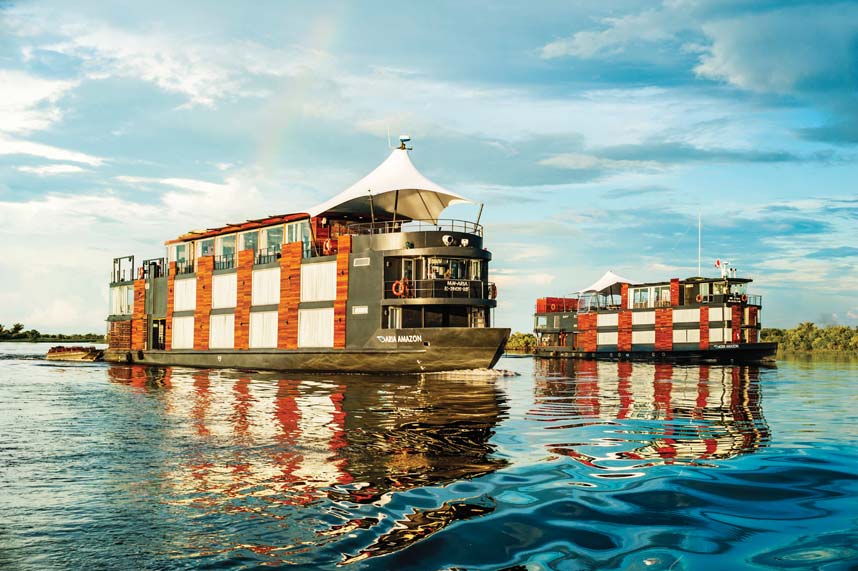 Aqua Expeditions is offering new 2016 voyages to give guests exclusive, insider access to the company's CEO and Founder, as well as consulting star chefs, on its luxury cruise vessels on the Amazon in Peru and the Mekong in Vietnam and Cambodia. Guests on these select 2016 departures will participate in special itineraries that celebrate the creative and entrepreneurial inspiration that make the company's river cruises unique.
FOUNDER-HOSTED DEPARTURES:
On one set of founder-hosted cruises, Aqua Expeditions CEO, Francesco Galli Zugaro, will share his vision for creating this award-winning cruise company, which has pioneered a new standard for luxury small-ship cruising in the industry. Guests can join him on a kayaking adventure along the gentle flows of the Amazon to spot indigenous wildlife on the Aqua Amazon or on a biking tour of local villages, temples and markets along the Mekong River.  Over cocktails, Mr. Zugaro will discuss his insights regarding how he chose his cruise destinations, the construction and design process for his three vessels and his strategy and commitment to responsible tourism, eco-friendly operations and locally sensitive company policies.  Founder-hosted cruise dates are: Aqua Mekong: 3-, 4- or 7-night departures from August 26 to September 2, 2016; Aqua Amazon: 3-, 4- or 7-night departures from November 19 to 26, 2016.
FOOD, GLORIOUS FOOD: CHEF-HOSTED DEPARTURES:
In another set of 2016 departures, guests are invited to meet the two celebrated chefs who design the hand-crafted menus on board the company's three luxury cruisers, reflecting the culinary traditions of these unique river cultures. These chef-hosted itineraries will feature David Thompson, Consulting Chef on the Aqua Mekong, whose Thai restaurants perennially earn Michelin stars, and Pedro Miguel Schiaffino, Consulting Chef on the Aqua Amazon, whose Lima restaurant, Malabar, has been listed in the San Pellegrino World's 100 Best Restaurants. Guests can participate in Master Classes led by Thompson and Schiaffino and visit local markets with each chef to learn about the locally grown ingredients that are essential to creating their signature dishes – such as Chef Thompson's Crab Miang on Betel Leaf and Chef Schiaffino's Causa with Shrimp Escabeche.
Chef-Hosted Cruises: Aqua Mekong (David Thompson): 3-, 4- or 7-night departures from May 13 to 20, 2016 or April 22 to 29, 2016; Aqua Amazon (Pedro Miguel Schiaffino): 4-night departure from March 29 to April 2, 2016 or 3-, 4- or 7-night departures from November 26 to December 3, 2016
To learn more about these exclusive-access cruises, please visit www.aquaex-peditions.com.