Its Poker Run Time!
Story by Jarrett Matthews
Photos by Tamara Taylor and Norm Rosen
As summer arrives with its warm embrace, the picturesque Canadian cities of Kingston and Gananoque prepare to host two extraordinary boating events that are set to captivate enthusiasts and spectators alike. Celebrating its remarkable 37th year, the Kingston, and Gananoque 1000 Islands Poker Runs promise to deliver exhilarating experiences and showcase the power and innovation of the boating world. With a rich history and a lineup of legendary powerboaters, these events are ready to make a splash and leave a lasting impression on all attendees.
More than 400 participants and thousands of visitors will fill restaurants and bars downtown. The 1000 Islands Poker Runs are known as the largest waterfront events of the Summer in the region. It is where, each year, both Americans and Canadians go head-to-head battling it out on the mighty St. Lawrence River-all seeking the best poker hand. This is not a race; it is a game of chance where only the boat with the best poker hand is declared the winner. SPEED has no bearing on these bragging rights.
After organizing and running over 300 events and giving to 50+ different charity organizations we have decided this year's charity of choice will be Big Brothers and Big Sisters.
In these 300+ events, Poker Runs America has run on almost every body of water in North America, cities and villages, entertaining literally thousands and thousands of boating enthusiasts in such areas as: Lake Michigan, Lake Erie, Lake Ontario, Lake Superior, Lake Huron. Tours have included: New York, Rhode Island, Connecticut, North Carolina, South Carolina, Florida, Indiana, Toronto, Canada; Montreal, Quebec; the Caribbean, and even in the early years Lake of the Ozarks-when our speed was sealed to a maximum of 75 mph. 
Nestled on the banks of the majestic St. Lawrence River, Kingston, a city steeped in history, takes centre stage on August 4-5, 2023, for the much-anticipated Kingston 1000 Islands Poker Run. Drawing over 80 of the world's most powerful boats, this event will be a battle in Canadian waters.
Kingston's streets, adorned with echoes of the past, will transform into a vibrant display of modern marvels, with boats, dealers, and manufacturers showcasing their finest offerings. Pride Marina and the Boat Warehouse of Kingston will proudly present their impressive lineup, inviting visitors to indulge in the world of boating excellence.
Over the years, the event has welcomed some of the world's largest figures in offshore boating, including Mercury's Fred Kiekhaefer, who continues the remarkable legacy of his father, Carl Kiekhaefer. Another esteemed attendee this year will be the famous Bob Latham of Latham Marine, who will add his own touch of prestige to the event. Reggie Fountain plans to return in style, arriving in his private jet and honouring the enormous crowd of spectators with a thrilling aerial salute.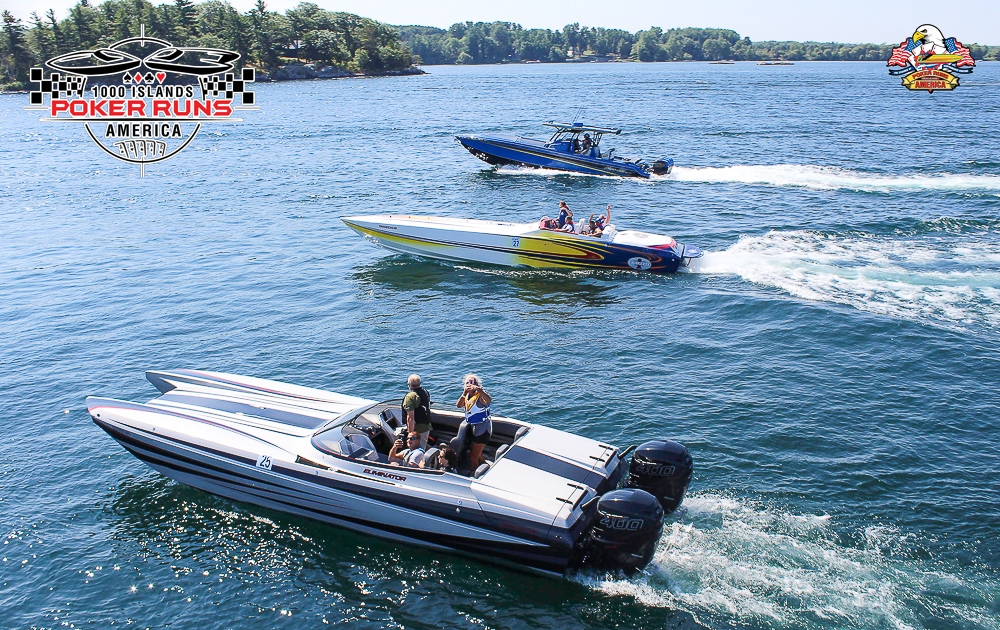 Registration for the Kingston 1000 Islands Poker Run takes place on Friday, with the Poker Runs America trailer conveniently located near City Hall and Confederation Basin. The closed streets create a fantastic viewing area for the event, allowing spectators to witness the high-octane action up close while welcoming participants with enthusiasm. Krytiuk Motorsports and Birch Point Marina will also be present, showcasing their impressive product lines, adding extra excitement to the event.
In a nod to the future of boating and environmental responsibility, the Downtown Kingston Business Improvement Area (BIA) helps to spearhead an initiative to highlight electric vehicles and boats. This special "Electric Avenue" display serves as a testament to Kingston's commitment to embracing environmentally sustainable technologies. With a jumbotron broadcasting some exhilarating moments of the poker run, the display will inspire and motivate attendees to support the electric movement and embrace the next generation of EV technology.
After thrilling days filled with high-speed excitement, the Blue Martini Bar and Grill opens its doors on both Friday and Saturday nights, treating guests to live music and fantastic entertainment. The venue will also host a driver's party on Friday evening, providing an opportunity for participants and enthusiasts to unwind and celebrate the shared love for boating.
Building on the momentum generated by the Kingston Poker Run, the vibrant town of Gananoque eagerly prepares to host its own event from August 26-27. With a captivating bonus event called the "shoot-out," participants will engage in a thrilling speed competition, where the fastest boat emerges victorious. Pushing speeds of up to 200 mph, the mighty St. Lawrence River becomes a playground for these powerful vessels, leaving spectators in awe of their prowess.
The Gananoque Poker Run officially commences on Saturday morning at 10:30 a.m., captivating onlookers as boats traverse the river's waters, reaching remarkable speeds. With a designated lunch stop and the final card stop at Joel Stone Park, the event promises non-stop excitement for participants and spectators alike. At around 3:30 p.m. on Saturday, the winners of the poker run will be proudly announced, adding a touch of anticipation and suspense to the festivities.
Gananoque's event boasts an impressive lineup of legendary powerboaters. From "My Way," Bill Tomlinson's renowned 52-foot Catamaran, to World Champion Greg Rosen's Aqua-Mania, each vessel represents the pinnacle of powerboating excellence. Sheldon Meere, a long-time Poker Runner, will be showcasing his 38 Skater, while Brian McIntyre hopes to break his speed record of 103 mph with his 38-foot Fountain, aiming for an astonishing 110 mph this year. The event will also feature Matthew Dean's 36-foot Nor-Tech, Colin Brown's 35 Fountain, and Joel Levesque's 38-foot Skater, each poised to leave their mark on the event.
As the event approaches its conclusion, Gananoque's Sunday speed trials and shoot-out promise to send waves of excitement through the town. The roaring engines and breathtaking displays of speed will provide a grand finale to this unforgettable boating extravaganza. Joel Stone Park and The Gananoque Museum docks offer prime vantage points for witnessing the spectacle, providing a front-row seat to the heart-pounding action.
When stopping in Brockville, discover Moose McGuire's Pub and Grill, a true gem embodying the essence of a welcoming neighbourhood hangout where both locals and visitors can relish in the company of friends. Immerse yourself in the inviting, laid-back ambiance as you indulge in a delightful fusion of hearty food, refreshing beverages, and the warmth of friendly camaraderie.
With the return of the Kingston and Gananoque 1000 Islands Poker Runs, August is set to be a month filled with unforgettable moments and unprecedented power on the St. Lawrence River. As these iconic events celebrate their 37th year, they continue to inspire and excite boating enthusiasts from all corners of the continent. Who will emerge as this year's champions? The stage is set, the boats are ready, and the anticipation is palpable. Brace yourself for a new era of boating excellence and prepare to witness history in the making. 
1000 islands, 1000 islands poker run, boatingevent, Brockville, discover canada, discover ontario, Eastern Canada, Gananoque, Kingston, ontario, performance boats, poker run 1000 islands, 1000 islands poker run, boatingevent, Brockville, discover canada, discover ontario, Eastern Canada, Gananoque, Kingston, ontario, performance boats, poker run