The following article, written by Bill Jennings, will appear in our upcoming Power Boating Canada Volume 35 Number 3. Want to subscribe for future issues? Click here!
When you hear someone discuss BRP, what comes to mind? If you're an avid winter sports fan, you think Ski-Doo and Lynx snowmobiles; those who prefer to ride on the water might think Sea-Doo personal watercraft. If you're a pilot, you'll know BRP builds Rotax engines for recreational aircraft as well as for karts and snowmobiles. Boaters, meanwhile, will have their own thoughts: you might picture Evinrude outboards and boat manufacturers such as Alumacraft, Manitou, Quintrex, Stacer, and Savage. In summary, when people talk about BRP, they also discuss a diverse portfolio of industry-leading products.
As most of us now know, BRP recently ceased production of their Evinrude outboard motors – outboard motor manufacturing has always been a brutally competitive business with small profit margins. Their involvement in the marine industry, however, is still very much alive: BRP concluded that partnering with a long-established outboard manufacturer to provide motors for their various boat companies would be most viable. They chose Mercury to supply their ongoing power requirements. Such a move not only put a top motor brand on the back of their boats but freed up additional money to further engineer improvements on existing boat lines.
Here's a peek at some of these boat improvements for 2021.
Pontoon boats have evolved from backwater, inexpensive vessels to a highly desired style of craft. BRP's Manitou Pontoon line intends to make this style even more popular. Although pontoons' collective stock has risen, few can be classified as performance oriented. This is where Manitou comes in. Can you build a thirteen-passenger pontoon boat that's also labelled a performance boat? Manitou thinks so. Spotting an opportunity, they designed a superstrong sport toon XT series that can accommodate twin 300 HP outboards – take that to the family picnic.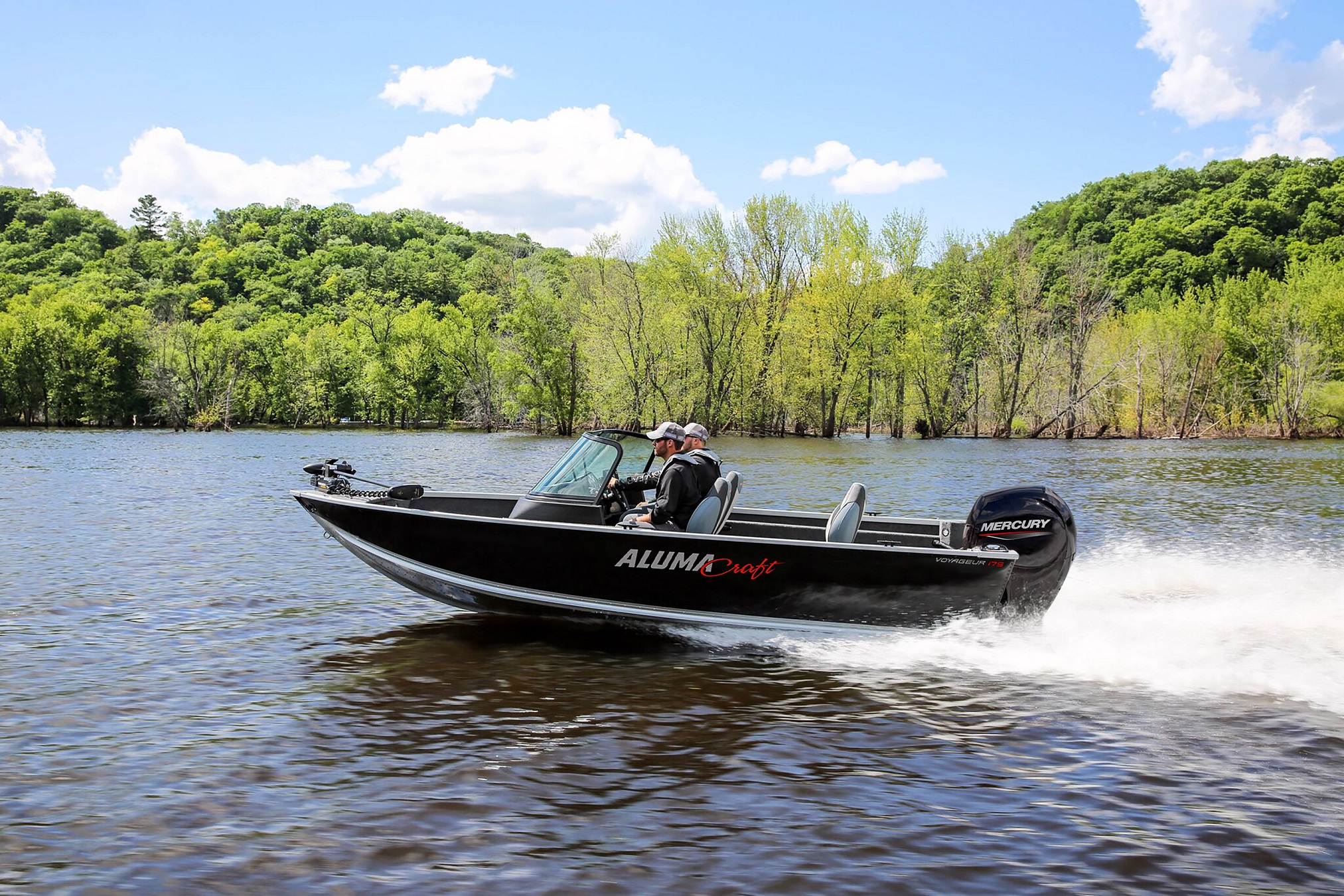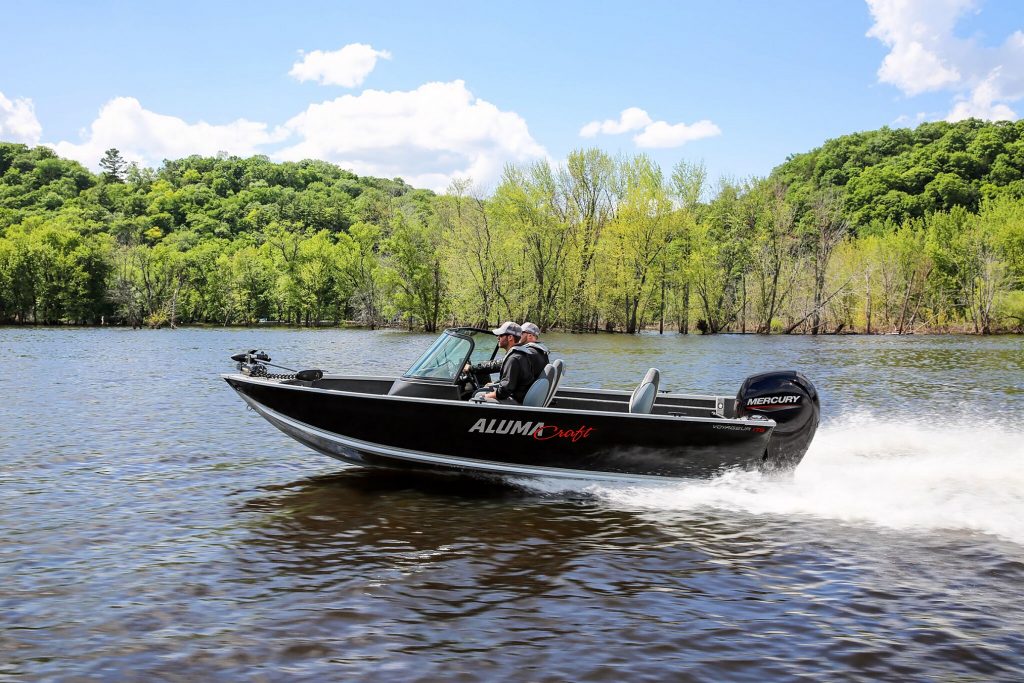 Manitou also boasts several engineering changes to their LX series that include new nose cones, new lifting strake angles, power steering, LED interior and exterior lighting, and colour-matched mooring covers. Their most significant development is what they call "V-Toon handling technology". Instead of building all three tubes to uniform size, the centre tube is larger and mounted lower than the outer tubes. All three tubes are then fitted with positive angle lifting strakes. The "positive" angle eliminates trapping water, resulting in a smoother ride than the "negative" lifting strakes used by other manufacturers. Modifications such as these have dramatically enhanced planing, cornering, and efficiency; the end product is a performance toon that accelerates, planes, and turns much like a traditional V-hull boat at high speeds.

With six different series of pontoons on the menu and another three series rigged for fishing, prospective buyers can easily find a Manitou pontoon that fits within their budget.

BRP has also made engineering and design improvements to their Alumacraft 175 and 185 line of aluminum fishing boats. Design changes and new amenities make these boats as practical on the water as an SUV on the road. Owners of "Competitor FSX" models can now easily reconfigure their boat's platform to accommodate watersports equipment, including a waterski-pylon. This padded rear deck platform allows anglers more space to cast off the stern of the boat; you can also drop two seats into this platform and increase your passenger count. The midship livewell holds 22 gallons while the Competitor FSX Sport's high walkthrough windshield keeps everyone comfortable in poor weather. Considering these improvements, the 75-year-old Alumacraft boat company will still be making a big splash for BRP in 2021.

Yes, BRP rocks. With annual sales of $6.1 billion from over 120 countries and a global workforce of approximately 12,600 resourceful people, they are still very much a player in the marine industry – even if they have stopped producing Evinrude outboards.

Alumacraft, best boat cleaning supplies, best new boat products, boat accessories, boat chairs, boat checklist, boat cleaning supplies, boat equipment, boat furniture, boat hacks, boat Lifestyle Products, boat products, boat supplies, boat tips, boat water purifier, boat water softener, boating equipment, boating gear, BRP, How to clean a boat, how to level a trailer, how to set up a boat, Manitou pontoon, must have boating gear, new boat products, water softener Alumacraft, best boat cleaning supplies, best new boat products, boat accessories, boat chairs, boat checklist, boat cleaning supplies, boat equipment, boat furniture, boat hacks, boat Lifestyle Products, boat products, boat supplies, boat tips, boat water purifier, boat water softener, boating equipment, boating gear, BRP, How to clean a boat, how to level a trailer, how to set up a boat, Manitou pontoon, must have boating gear, new boat products, water softener