This coming November 10th, marks the historic 40th anniversary of the sinking of the Edmund Fitzgerald on Lake Superior.
It was November 10th, 1975 when the "Queen of the Lakes" left Wisconsin, and took to the north shore of Lake Superior to stay sheltered from the winds that were coming from the north east.  The Edmund Fitzgerald  reigned for 13 years as the largest on the Great Lakes at 729 feet long, and 75 feet wide. She was built at a cost of 8 million and launched June 7th 1958.
"With a load of iron ore…." it headed for Cleveland, when the winds shifted to the north west leaving the great ship totally exposed.  The "gales of November came storming" with waves at 30 feet high, winds at 80 mph and gusting to 96 mph.  There are many versions of exactly what happened, each of which leave questions: was it overloaded? was the Captain off course, in too shallow?, did it hit bottom and break the hull in half?, was there an unidentified object that intervened?  With no survivors of the 29 crew members and Captain McSorley, there can be no final verdict. There is a one hour DVD by Southport Video that explores the controversy through stunning underwater footage, rare photographs and beautiful artwork. It's a fascinating and comprehensive look into one of the biggest questions the maritime community has ever faced. You can decide for yourself.
The Great Lakes Shipwreck Museum sits on the shores of Whitefish Point, just north of the little town of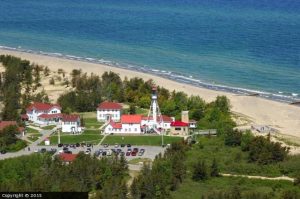 Paradise on Michigan's so-called Shipwreck Coast.  There you'll find artifacts – from the piece of the life-ring that washed ashore, to the brass bell from the ship recovered on one of the exploration missions to some 530 feet below the surface – along with haunting photos of the wreck that is very well preserved in the deep cold fresh water.  The Shipwreck Society is announcing that the noted "Whispers of the North" – a Gordon Lightfoot Tribute Band will present a concert on November 9, 2015, at 7:30pm in Sault Sainte Marie to benefit ongoing historic restoration efforts at Whitefish Point. For details call (906) 635-1742.
Of course, Canadian folk-signer Gordon Lightfoot immortalized the most commonly accepted version of the ill-fated journey in his hit ballad "The Wreck of the Edmund Fitzgerald".  Lightfoot wrote the ballad on an airplane, inspired by a story he read in Newsweek.  The first few haunting notes of that ballad are instantly recognizable by anyone who's ever heard the it, and the lyrics pay a respectful homage to all who take their lives in their hands every day that they sail our great lakes.  We thank them for their service, and we do remember.