By: Timmy McNamee
From its debut launch in 2021, the Yamaha VX line up became Yamaha's flagship amongst their PWC options, proving to deliver an all-around great ride for PWC enthusiasts. With everything from its sporty design and image to its ability and versatility from beginner to advanced riding styles, the Yamaha VX Cruiser is a machine for fun and performance. Introducing all new colour options and trim style for 2023, the VX cruiser meets variety and quality.
The new trim design gives the VX Cruiser a sleeker, sportier look compared to the previous models. The lightweight Nano Excel SMC hull provides ultimate handling and effectiveness for any level of rider and the ultimate driving experience. 
The seating profile of the Yamaha VX Cruiser allows for three passengers. Beneath the handlebars, the watertight glove box is spacious, with LED lighting, USB and a 12V port and outlet. At the bow, the storage compartment opening provides durability in design and even more space for gear, and a designated area to secure safety equipment. But that's not all, the rear seat also opens to reveal additional watertight box for valuables that need to stay dry.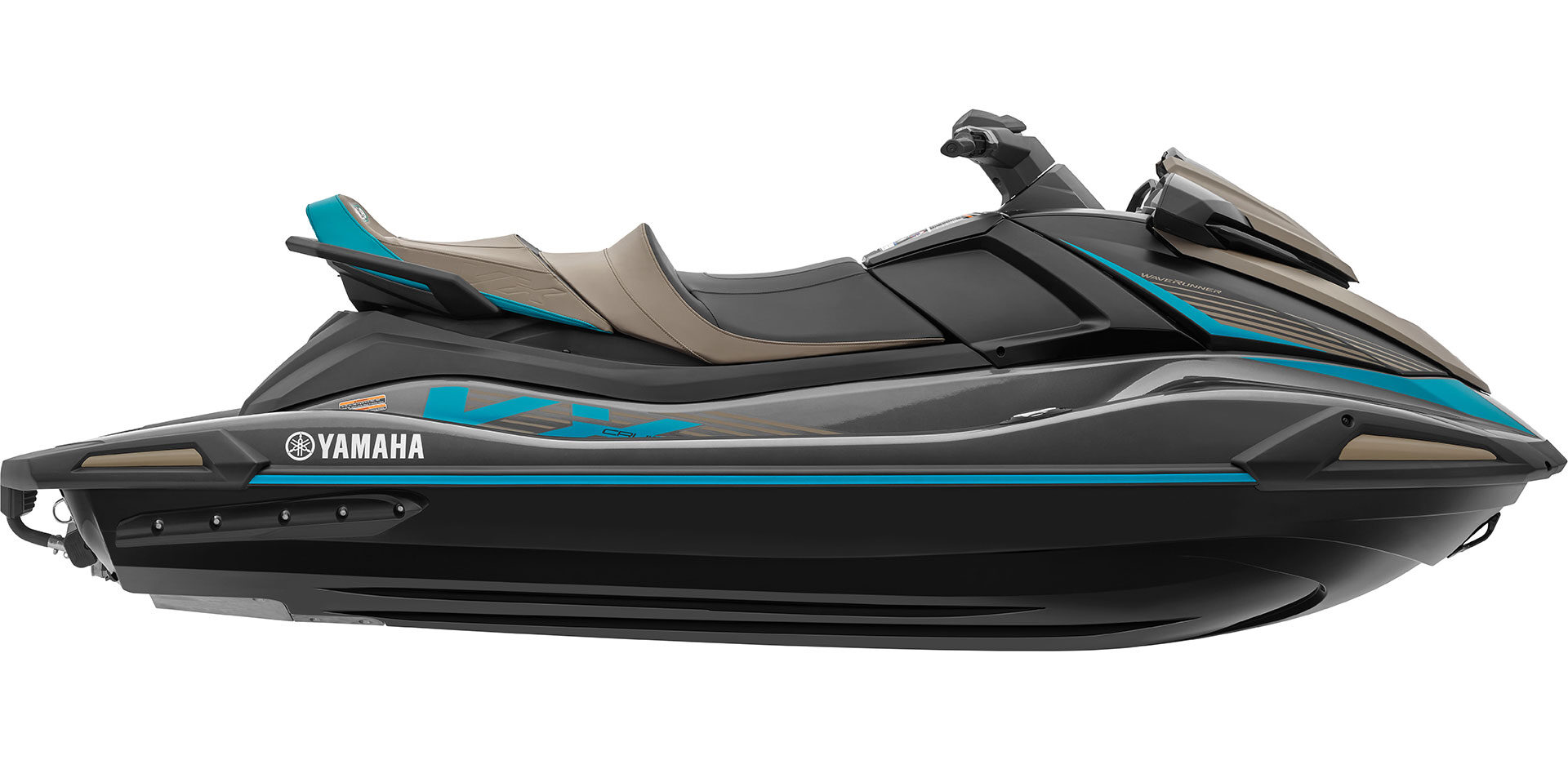 At the helm, the VX Cruiser is simplified in its layout and toggle features and includes Yamaha's Helm Master Control with a 4.3" LCD display. A pin code security entry eliminates the need for an external key fob, and an ergonomic touch pad control is located underneath the steering column providing convenience to all display functions. Equipped with Yamaha's "T.D.E. Mode" for accurate control docking and accelerating, operators can choose between different modes of power normal through to slow. Yamaha's award-winning dual throttle control system makes maneuvering in tights spaces and docking effortless. The right handlebar allows for forward momentum, whilst the left handlebar allows for reversing. This also allows the VX Cruiser to have the responsiveness to 'brake' from momentum, which is fantastic for novice riders.
With many award-winning and ergonomic features throughout each Model Year, the Yamaha VX Cruiser stands out. From novice to aggressive riding, the VX Cruiser delivers quality, performance and grit that contributes to the fun and enjoyment from your PWC. 
---
Specifications
LOA:

132"

Beam:

48.8"

Fuel:

70 L

Weight:

794 LBS

Max HP:

180 HP

Engine:

YAMAHA

Starting MSRP:

$12,499 CAD
For more information: www.yamahawaverunners.com

2023 model, 2023 Yamaha, new model, on the water, personal watercraft, ride the wave, VX Cruiser, Yamaha, Yamaha VX Cruiser 2023 model, 2023 Yamaha, new model, on the water, personal watercraft, ride the wave, VX Cruiser, Yamaha, Yamaha VX Cruiser