By: Timmy McNamee
Big, bold, and beautiful, coming in at 25-and-a-half feet, the all-new Tige Z5 is Tige's largest model to date. Delivering 'limo-esque' size and matching performance, the Tige Z5 serves those with large waterways and an even larger crew.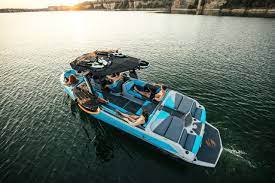 The new award-winning Alpha E3+ Tower with solid shade allows the Z5 to pack ultimate convenience with more storage and shade. Making inboard owners question the basic Bimini, the Alpha E3+ comes equipped with plug and play board bags, life jacket hangers, and numerous tow points. Equipped with gorgeous, appointed tower speakers with optional LED trim lighting, this makes the Alpha E3+ the most ingenious tower and Bimini combo the industry has to offer.
The interior of the Z5 comes packed with storage, cup holders, USB and 12V outlets, with optional wireless charging pads. The cockpit of the Z5 is beautifully stitched and patterned, offering copious space for passengers as Tige lengthened the dimensions of cockpit versus bow space. New for 2023, cool touch material is an option in all vinyl areas so even the darkest vinyl selection is tolerable to the touch. Seating configurations are limitless with Tige's flip up back rests and transformative flip seating, and of course the infamous built in lean back seating with a trash can. Opt for the Z Series flip seat which transforms from step, to aft facing seating, to sun pad. Ample storage is located throughout the Z5 and the flip up transom seats offer a simplistic flip up convenient for stowing footwear prior to walking onboard.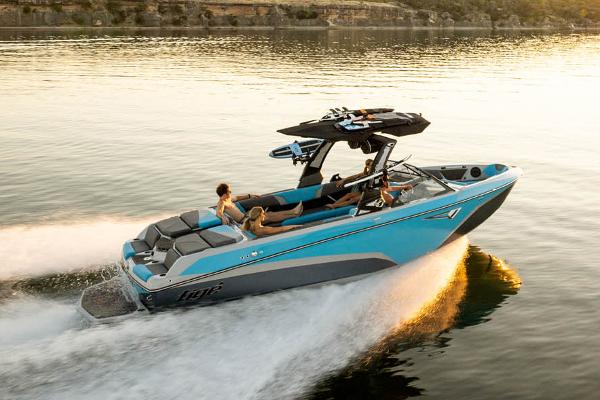 At the helm, the Tige Z5 features a unique low-profile feel, which is convenient for visibility especially whilst wake surfing. You can also opt for the Tige Alumina Steering wheel which features smart – two wings which allow for quick and efficient control of everything on Tige's "Clear" Screen. Toggle between surf system settings, cruise control, audio, and rear camera. The simplistic yet futuristic design of Tige's CLEAR screen gives users one of the simplest experiences behind the wheel. The throttle can be equipped with a thruster control built in to make docking, reversing and picking up a fallen rider effortless.
She's BIG. And if you're looking to tackle bigger waterways or simply have many friends and family share the lake with you – the Tige Z5 delivers all you could want on the water and more. 
---
Specifications
LOA: 25'5
Beam: 102
Draft: 31"
Dry Weight: 6,100 lbs
Capacity: 18 Persons
Ballast: 4.400
MSRP: See local dealer

For more information:    www.tige.com

2023 Tigé Z5, 2023 wakesurf boats, best wakeboats, new boat, Tigé, tigé boats, Tige Z5 2023 Tigé Z5, 2023 wakesurf boats, best wakeboats, new boat, Tigé, tigé boats, Tige Z5