"Fast and Faster"
By: Timmy McNamee
Living up to its reputation being one of the fastest PWC's available on the market, the RXP 300 delivers jam packed power, performance, and the ultimate thrill of speed. Since the RXP 300's debut re-design in 2021, this powerful machine has gained popularity amongst those looking for a race-like and aggressive riding style on the water. Hitting 100 km/h in under five seconds, the Sea Doo RPX 300 will leave you with an addiction to the thrill. 
Given its reputation as part of Sea Doo's performance line, the Sea Doo RPX 300 is equipped with the 1630 ACE engine, and close looped cooling for convenience and power. Its aggressive looking aesthetics match its preferred riding style which favours those with a bold and aggressive approach. Its features complement its comfort that keeps you locked in and connected with the machine at higher speeds and tight turns. The RXP 300's angled foot walls allow for more immediate footing options whilst in motion and allow for maximum control. Its head turning appearance gives an extra edge with standard low-profile handlebars which include Sea Doo's signature Launch Control, which contributes to the smooth aggressive starts the RXP 300 is known for. On the opposite handle, BRP Bluetooth audio and display can easily be toggled through on the dual screen display in front of you. Transition between Navigation, Speed, RPM and playlist media for customization.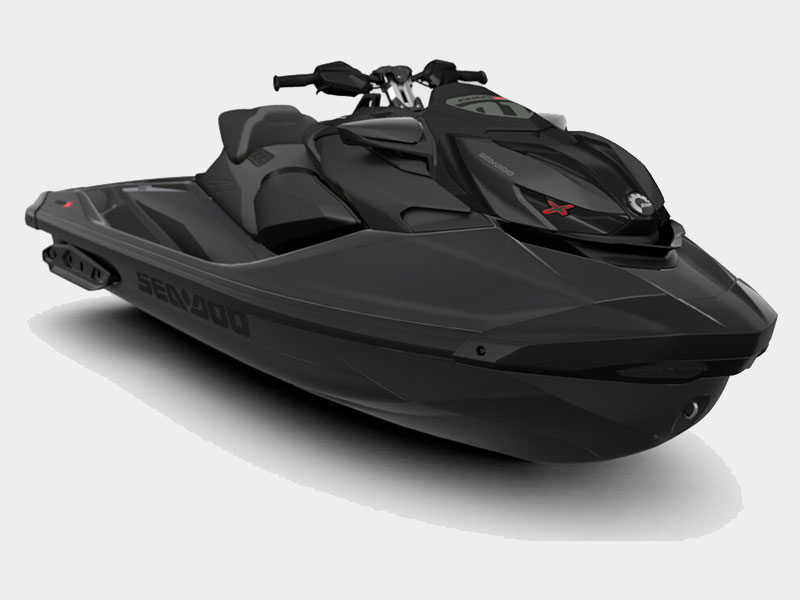 For maximum convenience, the storage space on the RXP 300 is copious with molded fittings for belongings, safety equipment, and a fire extinguisher to keep them securely in place. A separate sealed location provides peace of mind in stowing your cell phone and electronics which is equipped standard with charging ports. Audio speakers are equipped on either side of the dash, and alongside contributing to the Sea Doo RXP 300's sharp look, they provide significant clarity and volume while operating at higher speeds.
Although the Sea Doo RXP 300 is better suited for aggressive individual riding, the ERGO seat back provides customization to accommodate more than one person, and doubles as lumbar support while riding solo for the ultimate feeling of comfort and connectedness. The vinyl features a non-slip texture that contributes to control and maneuverability with minimal sliding while performing tighter turns. The back side of the RXP 300 comes standard with link mounts which allows for the ability to bring more gear, fuel and accessories to perfect your day on the water. An optional boarding ladder can also be configured for easy access from the water and back on your ride. Sea Doo's signature deep V hull has been redesigned with innovative "Shark Gill" design strakes which contribute to unparalleled acceleration and handling like no other PWC on the market. Rider confidence is taken to a whole new level with the maneuverability at top speed and through tighter turns. 
The Sea Doo RXP 300 delivers an all-around ride, from the ability to cruise to the ability to rip at maximum speeds. If you feel the need – the need for speed, the RXP is worth considering if you're into adding exhilaration and thrill to your PWC experience! 
---
Specifications
LOA:

10.8'

Beam:

49.2"

Fuel:

70 L

Weight:

780 Lbs

Max HP:

300 HP

Engine:

ROTAX

Starting MSRP:

 

$20,199 CAD
For more information:  www.sea-doo.com

2023 Sea Doo, 2023 Sea Doo RXP 300, personal watercraft, Sea Doo RXP 300, seadoo 2023 Sea Doo, 2023 Sea Doo RXP 300, personal watercraft, Sea Doo RXP 300, seadoo